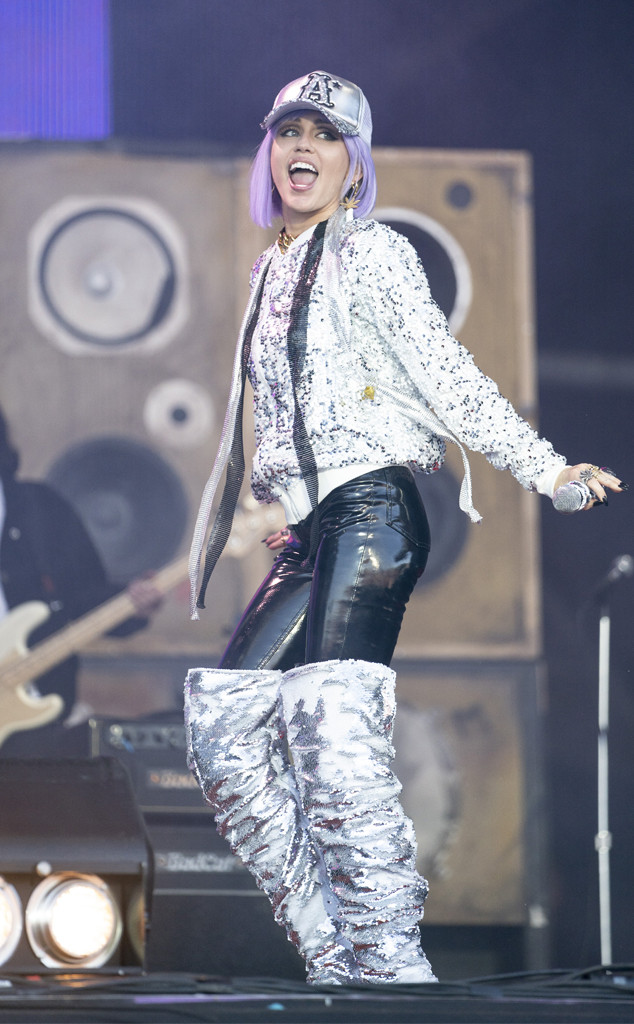 Ki Price/Getty Images
Miley Cyrusis getting her twerk on.
The "Cattitude" songstress spent some of her Wednesday having her own solo dance party. "Someone come over," she wrote on her Instagram Story as she busted out some moves, including dropping to the floor and twerking.
She also gave a shout out to Britney Spears, who frequently shares clips of herself dancing on social media. "@britneyspears commmme over lets dooooo choreooooooo," Cyrus wrote.
"Isn't this everyone @ home alone on a Wednesday evening?" Cyrus added over footage of herself swiveling her hips in front of the mirror and twerking on the floor.
In between clips, she reminded fans it's been a decade since the Wizards on Deck with Hannah Montana episode before resuming her "Hot Girl Summer" dance party. And if you're not clear on what that is, Cyrus cited Twitter user Hot Girl Meg's definition: "Being a Hot Girl is about being unapologetically YOU, having fun, being confident, living YOUR truth, being the life of the party etc."
For this songstress, that means getting her groove on at home.
"LOL #MeTime Isn't this what everyone does when they're home alone on a Wednesday evening," she wrote online.
https://www.instagram.com/p/B0DatKcHa8Q/
View this post on Instagram
Can't stop screaming at this iconic moment!!! You're the fweakin queen!!! ?
A post shared by M C (@mileysyippie) on
The star's outfit and moves were reminiscent of her and Robin Thicke's controversial 2013 MTV Video Music Awards performance, in which she twerked in a nude-colored latex bra and underwear. As fans probably recall, while it spurred outrage from some, Cyrus was unapologetic.
Now, amid new music from the star, she's encouraging women to put themselves first. As she explained to Elle of her next album, She Is Miley Cyrus, "'She' does not represent a gender. She is not just a woman. 'She' doesn't refer to a vagina. She is a force of nature. She is power. She can be anything you want to be, therefore, she is everything. She is the super she. She is the she-ro. She is the She-E-O."
And for the songstress, it's a good time in her life. "I feel the most powerful I've ever felt. I like the way being sexual makes me feel, but I'm never performing for men," she told the magazine. "They shouldn't compliment themselves to think that the decisions I'm making in my career would have anything to do with them getting pleasure. I don't think that because some guy thinks I'm hot he's going to buy my record. It doesn't help me.
"
Source: Read Full Article