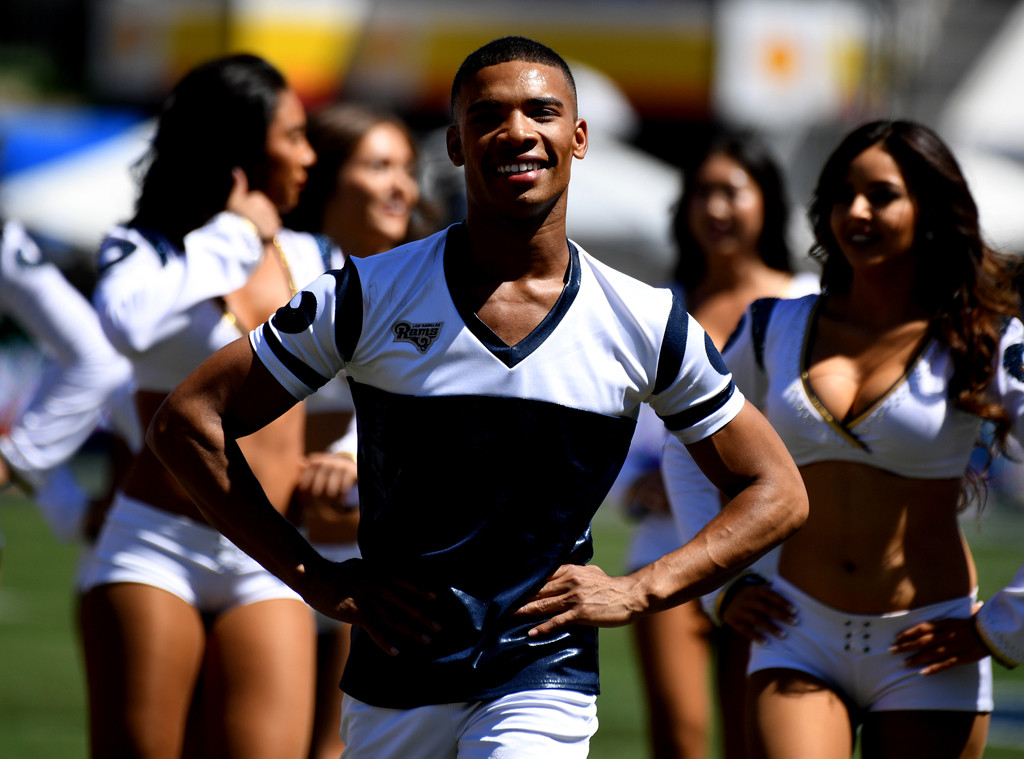 Keith Birmingham/Digital First Media/Pasadena Star-News via Getty Images
The Super Bowl is always a big deal for the two teams competing, and everyone involved in the organization, but this year is different.
When the Los Angeles Rams take the field in Atlanta, Georgia to compete against the New England Patriots all eyes won't only be on their players…their cheerleaders will demand some serious attention.
After two male dancers made the squad for the 2018 season, the LA Rams will continue to make history when Quinton Peron and Napoleon Jinnies appear as the first male cheerleaders to ever perform at a Super Bowl this weekend.
Super Bowl LIII will be full of firsts beginning with the fact that it's the first Super Bowl played at the new Mercedes-Benz Stadium and the first time the Rams have been in the big game in 17 years.
Plus, this year's game will feature the oldest starting quarterback (Tom Brady for the Patriots) and youngest head coach (Sean McVay for the Rams) in Super Bowl history.
When Peron and Jinnies take the field with the 38 other cheerleaders on their team however this game filled with firsts will go down in history for breaking the stigma that cheerleading is a female sport.
In 2018, both the Rams and the New Orleans Saints (who lost to the Rams in the NFC Championship) welcomed the first ever male cheerleaders to their squads and now thanks to their killer football team two of the three OG male NFL cheerleaders will be on the sidelines in the biggest football game of the year.
So, what do we know about Peron and Jinnies?
For starters, they are totally ready to represent for all the men out there who want to perform as a part of the NFL.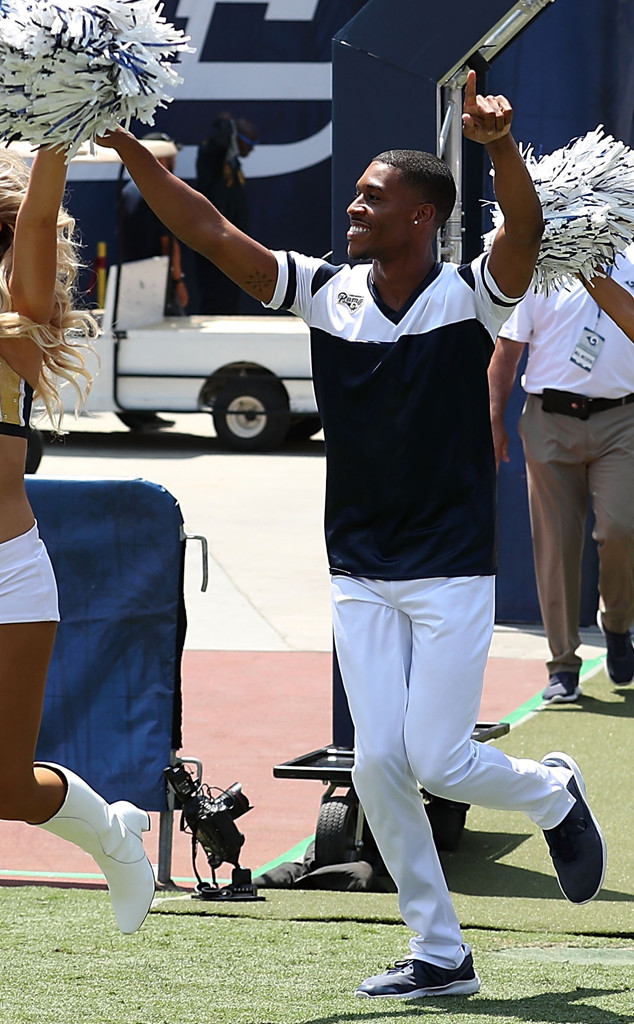 Joe Scarnici/Getty Images
"I think we can both say we have both been reached out to by so many men that are so excited to try out, and not just men our age but young men trying out for their junior high school dance team or cheer team and high schools, and it's exciting to see society change a little bit," Peron said on Good Morning America on Thursday.
"We are extremely excited to see what is going to happen next year," Jinnies added ahead of the big game this weekend.
Even though there have been male stuntmen in the NFL before and there are male cheerleaders at the collegiate level, this is the first season there have ever been male dancers on one of the NFL cheer squads and it's both a major accomplishment and breakthrough.
Discover what these two game changers have done to get to where they are in their professional cheer and dance careers below and maybe learn a few things about what make them two men to watch not only on the field, but in the entertainment world in general as well.
Plus, check out both Peron and Jinnies during the 2019 Super Bowl which airs at 6:30 p.m. ET/3:30 p.m. PT on CBS on Sunday, Feb. 3. They'll be on the sideline kicking butt and dancing up a storm!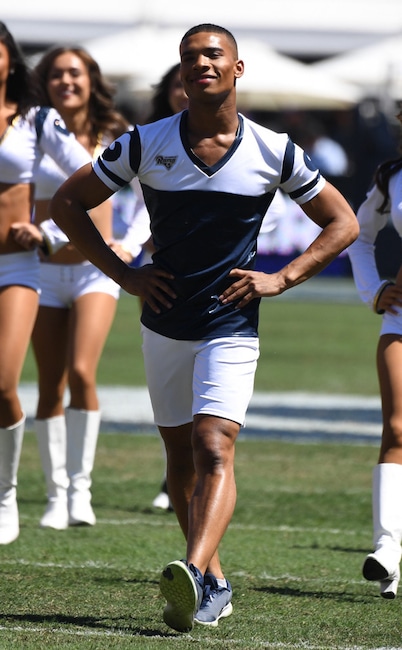 Keith Birmingham/Digital First Media/Pasadena Star-News via Getty Images
Napoleon Jinnies

California or Bust:
Napoleon Jinnies was born in Santa Barbara, California and later attended Orange Coast College. He has also worked in California throughout his adult life.
Dancing Is in His Blood:
Well, maybe not, but he has been dancing for 12 years on teams including San Marcos Dance Team, Esperanza Song Team, West Coast School of the Arts, Pace Elite and more.
Diehard Disney Fan:
In addition to frequenting Disneyland, Jinnies was a performer and numerous characters at the Anaheim theme park over the years. He's been one of Andy's Toy Soldiers, appeared in the Mickey and the Magical Map show and Mickey's Soundsational Parade on Main Street.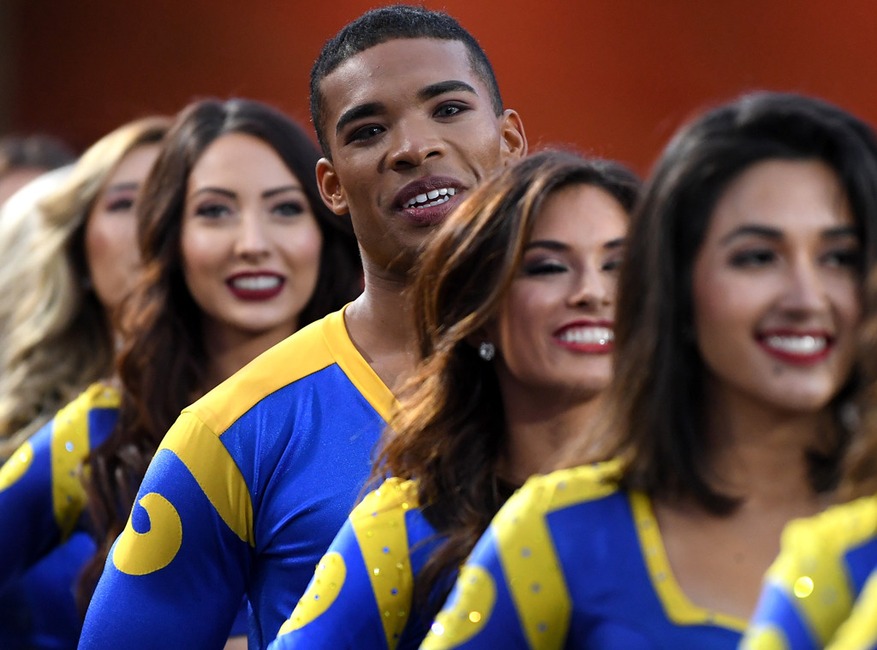 Harry How/Getty Images
Makeup Guru:
When he's not performing, Jinnies is a freelance makeup artist and beauty blogger. He does wedding makeup and his online tutorials are simple, informative and exactly what you want to know.
He Has Thick Skin:
"I felt like, this is the year. This moment in the world, it feels more accepted. If you have the talent and work hard, why not?" Jinnies told Fast Company about trying out this year. "If someone laughs at you, I mean, this is not Carrie: the Musical. My skin is so thick."
Halloween Lover:
It might be the fact that he is in costume a lot as a dancer or the fact that he can do scary makeup better than most professional makeup artists, but when Halloween comes around Jinnies goes all out. Just look at some of his skeleton makeup here.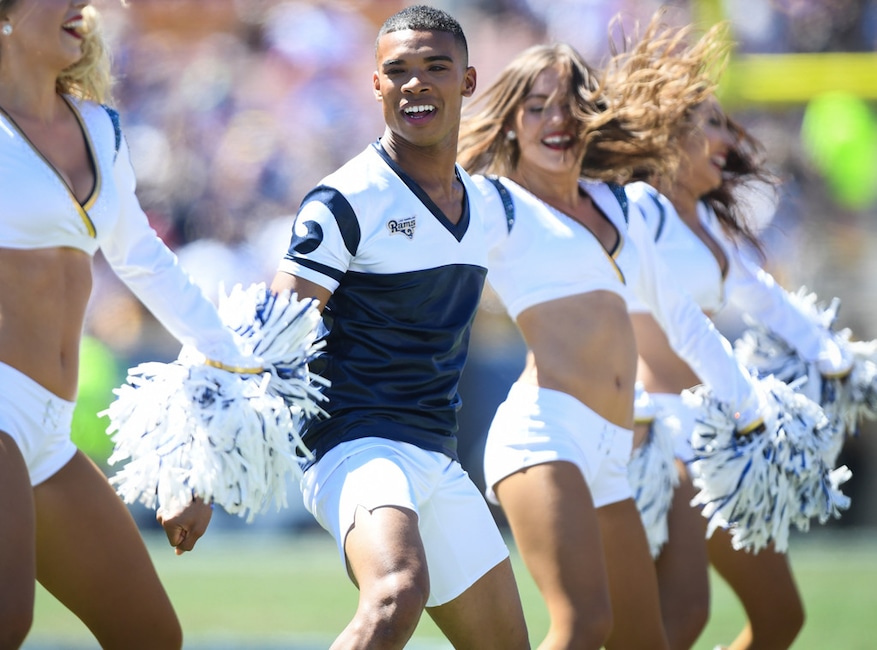 Harry How/Getty Images
All-American Dancer:
The Rams cheerleader might be dancing on the sidelines for American football, but before he took the field he was on an even bigger American team…Team USA. He even won gold with the team.
His Favorite Food Is Totally Trendy:
When asked to reveal his favorite food, Jinnies said, "Aaah SUSHI!" according to his Rams' profile.
Article continues below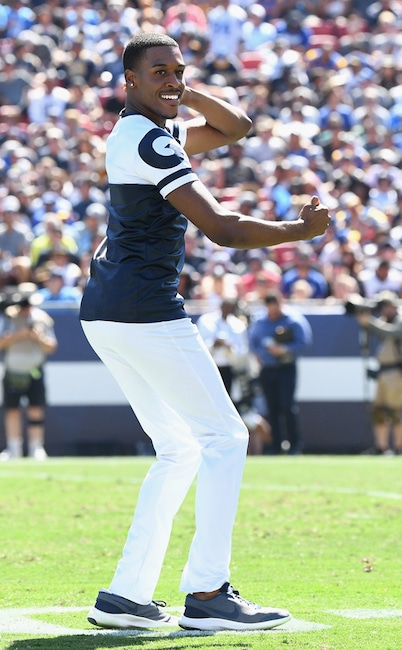 Harry How/Getty Images
Quinton Peron

California Guy:
Quinton Peron is from Rancho Cucamonga, California and went to college at Mount San Antonio College in Walnut, California making him the perfect fit for the newly-moved Rams team.
Disneyland Regular:
In 2017, the now-Rams cheerleader was a staple at Disneyland. He performed as a part of the Christmas Parade and Mickey's Soundsational Parade on Main Street.
Professional Dancer:
Peron doesn't only dance on the football field, he has been a professional dancer for years and been a part of the sport for 10 years dancing in both high school and college. He was also part of the Aladdin cast at Laguna Playhouse in Laguna Beach.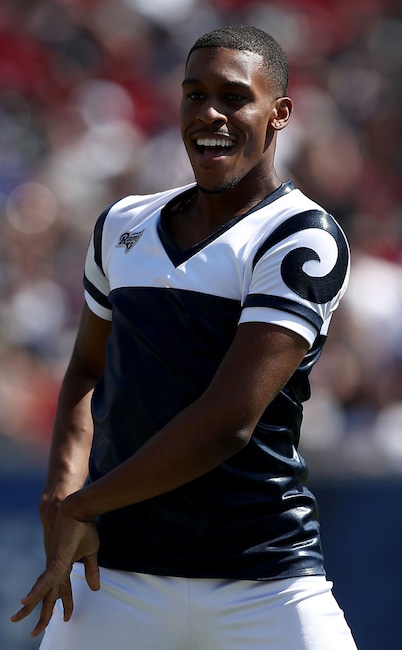 Joe Scarnici/Getty Images
He Can Sing Too:
In 2014, Peron appeared as a part of the choir in Carrie Underwood's music video for "Something in the Water."
He has a Choreographer Alter Ego:
When he's not dancing himself, Peron is creating routines for all sort of competitive teams as Mr. Q. He's been a guest choreographer for the USC Trojan Dance Force Dance Team and Santa Margarita Catholic High School Dance Team in addition to his continuous work with different age levels from dance studios in California.
He Once Worked at Starbucks:
So, basically he would be able to remember your crazy drink order with no problems.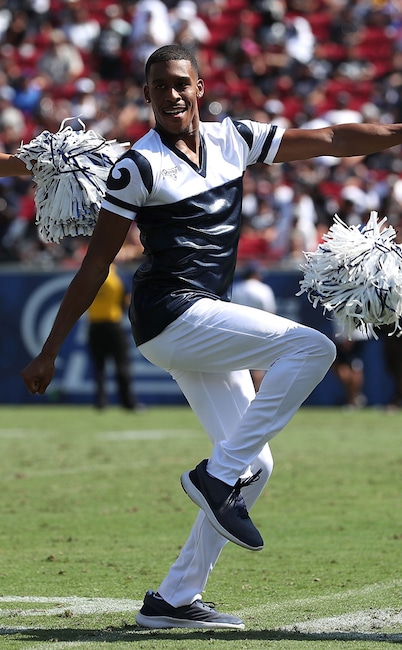 Joe Scarnici/Getty Images
Dancing Is His No.1 Passion:
"Yeah, you get to put on the uniform, but for us this is just another stage," Peron told Fast Company about why he tried out for the Rams. "As a performer, you will do anything to get on another stage."
His Guilty Pleasure Is So Relatable:
According to Peron's LA Rams profile, he is all about getting In-N-Out and watching the Food Network.
Article continues below
Watch E! News Monday, Feb. 4 at 7 p.m. for the biggest highlights and OMG moments from the 2019 Super Bowl!
Source: Read Full Article