Remember earlier this week when those very obviously fake photos of Travis Scott "cheating" on Kylie Jenner surfaced? And Travis had to issue a response denying that they were real?
Yeah, well turns out they're the work of a prankster trying to "fool the internet," and Kylie is 100 percent not here for it.
The reality star posted a message to her Instagram Stories slamming the prank, saying "Idk if this is really a social experiment to some people but you're messing with real people, real relationships, real family. I'm happy my relationship is strong because this is getting out of hand. The internet scares me sometimes for real."
Kylie's sisters Kim and Khloé also commented on the "prank," and they weren't thrilled either—with Kim calling it "absolutely disgusting" and Khloé saying the culprit should be "ashamed."
I hate that I am bringing attention to this but this is absolutely disgusting that you would find this funny to mess with Travis & Kylie who just started a family together. This is really damaging to relationships, families and is just so wrong! pic.twitter.com/KtodBpmiHR
People are absolutely disgusting! The mind games this would do to somebody… That is so completely not OK! This person should be so ashamed of themselves! What filth
For what it's worth, Kylie and Travis seem happier than ever together, and may or may not be secretly married. Clearly a fake photo shoot isn't going to bring them down!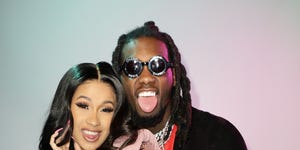 Source: Read Full Article