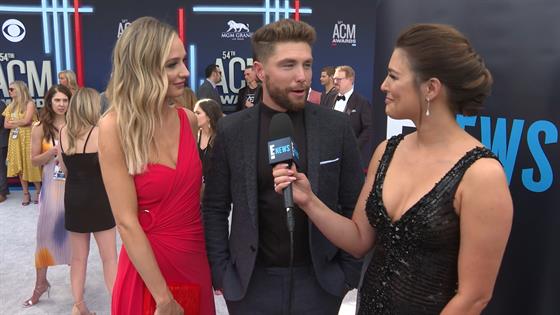 Chris Lane just officially made his "Take Back Home Girl" Lauren Bushnell his future wife.
The country singer popped the question to The Bachelor star on June 16, revealing the engagement news in a video posted on his YouTube page on Tuesday.
In the sweet video, Lane, 34, plays a new song called "Big, Big Plans" he wrote for Bushnell, 29, before he drops down to one knee, asking her to marry him. Of course, she said yes.
"I can't stop smiling," Bushnell wrote in her Instagram post confirming the happy news. "I feel so incredibly blessed that every misstep, mistake and heartache has led me to you. I couldn't be happier to call you mine, forever. The journey was well worth it."
That journey, of course, included a high-profile whirlwind romance with Ben Higgins after they fell in love and got engaged during The Bachelor's 20th season in 2016, only to have their split one year later become the most Googled celebrity break-up in 2017.
Now, two years later, Bushnell was trading a lavish televised made-for-TV proposal for a quiet, private proposal in her parents' backyard in Oregon.
"Thank you Christopher Eric Lane for softening my heart and making it whole," the influencer wrote. "Never going to stop telling you how much I love you and I will hold onto you forever and ever! Lauren Lane has a nice ring to it."
https://www.instagram.com/p/By2-PpYgLSp/
View this post on Instagram
I can't stop smiling ? I feel so incredibly blessed that every misstep, mistake and heartache has led me to you. I couldn't be happier to call you mine, forever. The journey was well worth it. Thank you Christopher Eric Lane for softening my heart and making it whole. Never going to stop telling you how much I love you and I will hold onto you forever and ever! Lauren Lane has a nice ring to it ? PS he wrote me a song ? I linked in my bio for y'all. I can't stop listening or looking down at my hand ? thanks @people for covering ?
A post shared by Lauren Bushnell (@laurenbushnell) on
Lane clearly knew what his future wife would want from a proposal, opting to go for a low-key affair rather than a grand public gesture.
"I knew she wouldn't want some elaborate crazy proposal," Lane explained to People, who first reported the news of their engagement. "So, I decided to keep it pretty casual. I asked her parents for different places in Portland I could potentially take her to, but after a lot of thought I decided doing it at the family cookout would be the most laid-back setting and that she'd appreciate the simplicity of me proposing to her in her parents' backyard."
Given the "laidback" environment, there was one funny unexpected moment, with Lane revealing, "As I was about to propose… I stepped in fresh dog poop with my bare feet. Not at all how I planned it out in my head!"
"Chris is the most thoughtful person," Bushnell told the magazine of the proposal. "He clearly put so much time and thought into not only the song, but also making sure everyone I love most was surrounding us in that moment. Holding each other, hearing the song for the first time and then seeing him get down on one knee is a moment I'll never forget."
While Lane and Bushnell made their debut as a couple less than a year ago in November 2018, walking the red carpet together at 2018 Country Music Awards, the newly engaged pair had actually been friends for years before they began dating.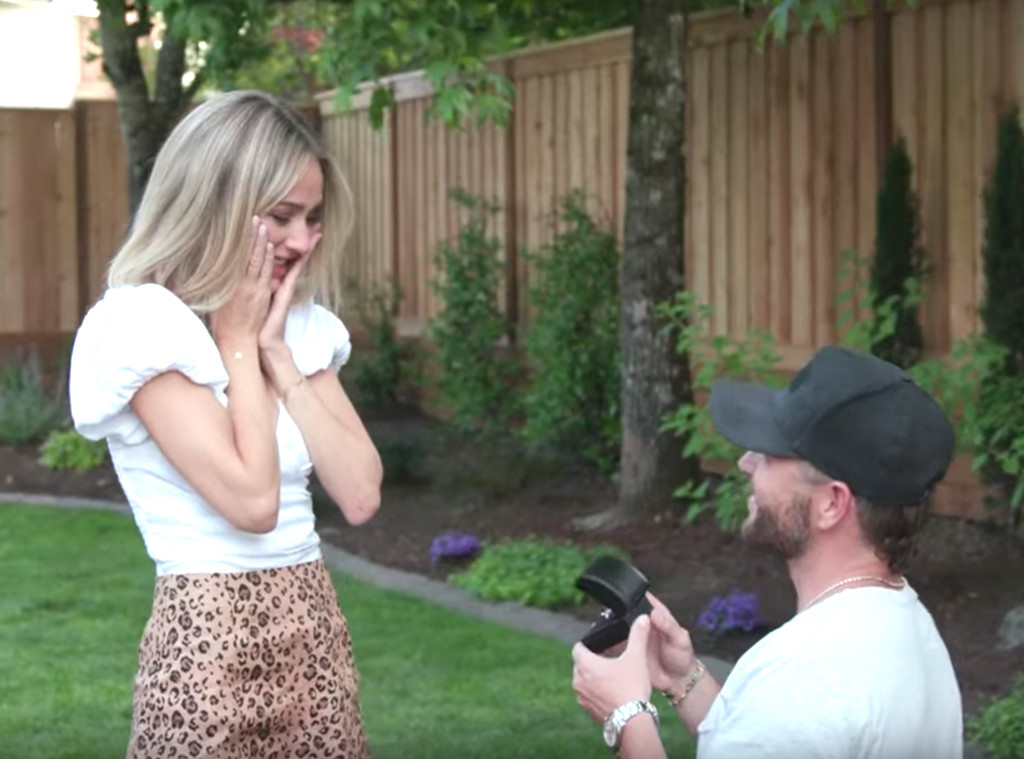 YouTube
"[Lauren] and I have been hanging out not even that long, but realized we both like each other," Lane explained to People in December 2018. "We've been friends for literally several years and just kept in touch here and there, but she went with me to the Bahamas on a random trip."
During an interview with Hollywood Life, Bushnell revealed a bit more information about their friendship turning into a romance.
"We met at an iHeart Radio award show in Austin years ago, gosh it might've been three years ago, and that's when we met initially and kind of just became friends," she said. "Then I ran into him and some of his friends in Nashville a while ago, and just kind of developed a friendship and obviously now we are more than friends."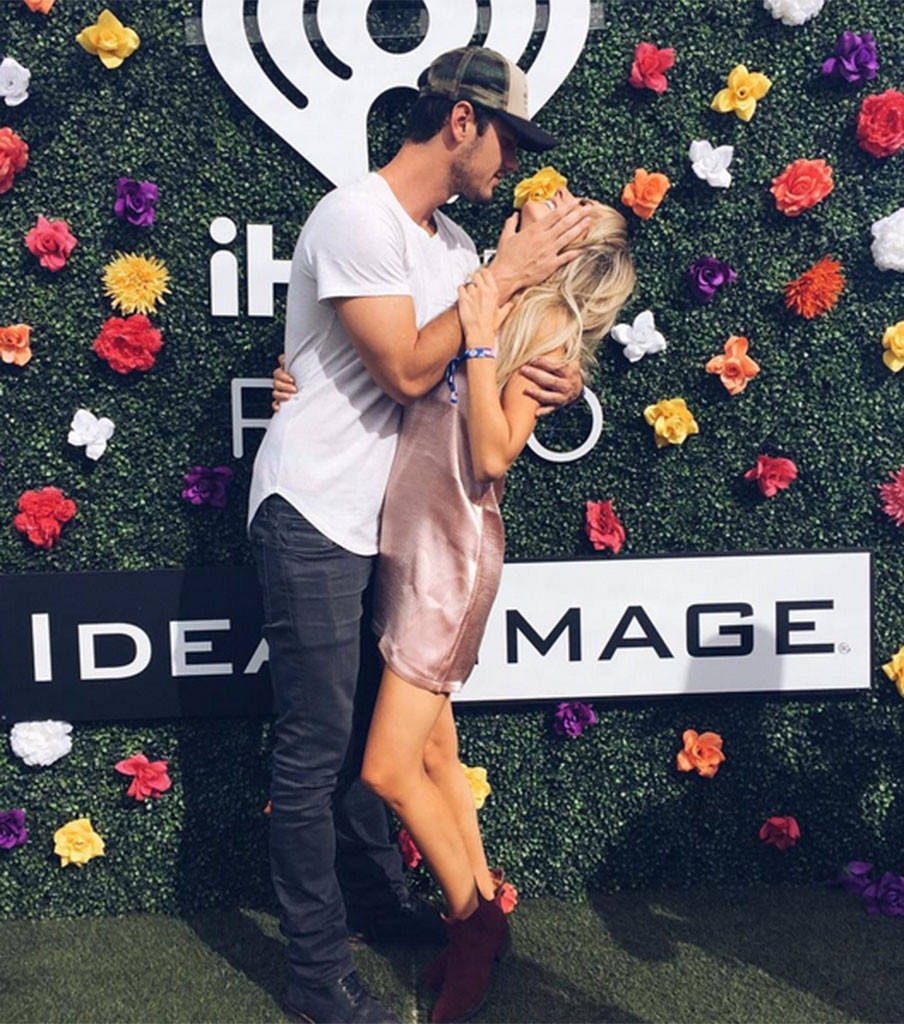 Instagram
The iHeart Radio event she referenced was actually held on April 30, 2016, just a little over one month after almost 10 million people watched as she accepted Ben Higgins' marriage proposal in the finale of his season, and Bushnell happily showed off her engagement ring as the couple posed for photos on the red carpet.
While she was all smiles in public, Bushnell later admitted she had seen warning signs early on about their relationship that she ignored…even on the day Higgins proposed in Jamaica, choosing her over JoJo Fletcher.
"There's so much doubt in your mind and I remember waking up that morning and I kind of had an idea that I was possibly going to get engaged and I remember having so much anxiety about it, which looking back, I don't know if that was my gut being like, wait, timing-wise, this is too rushed or what," Lauren told Reality Steve while speaking on his podcast.
She continued, "But I remember being really anxious that morning to the point where like I kind of snapped at my producer, which I had never done. We were super-close and good friends. I remember locking myself in the bathroom and being so overwhelmed and anxious."
"Now looking back," she said, "I wonder if it was my gut being like, this isn't the right timing. You guys need more time. I don't know. Who knows?"
Despite the anxiety she felt, Bushnell accepted Higgins proposal, and the couple then agreed to star in their own spinoff on Freeform, with the title Ben & Lauren: Happily Ever After? raising eyebrows with the inclusion of the question mark, which would ultimately prove to foreshadow the split that rocked Bachelor Nation one year later.
Still attempting to process her feelings about Higgins saying "I love you" to both her and Fletcher, Bushnell admitted she wasn't too excited about continuing to have their relationship play out on camera, with the second show adding "a lot of stress."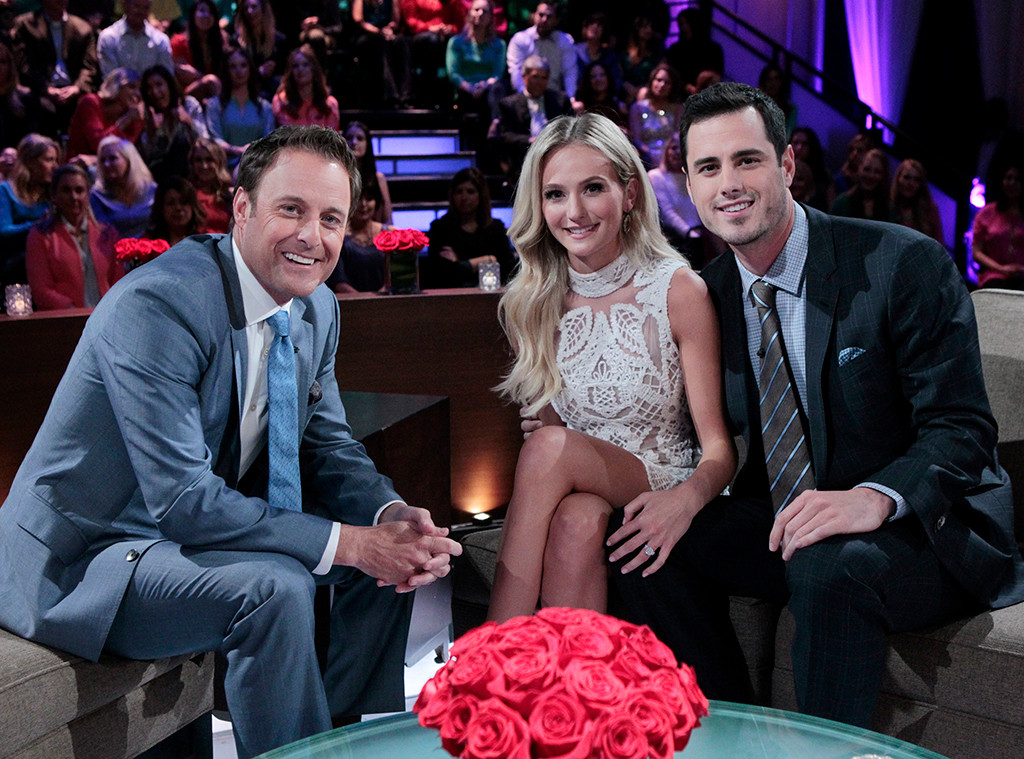 Rick Rowell/ABC via Getty Images
"Obviously we had lots of talks and by no means was my arm twisted to force me to do anything. At the end of the day, I made my own decision, but I remember initially the show was supposed to be about Ben running for office," she explained. "He wanted to get into politics. And not only did I not want to do a reality show, but I also really didn't want my life to be a politician's fiancée or wife or whatever."
Moving away from her family and quitting her job as a flight attendant to relocate to Higgins' home in Denver also proved to be challenging for Bushnell, who didn't think there was "one main reason" for their break-up.
"I don't necessarily think at the end of the day we were the most compatible," she said. "I was craving normalcy, at the end of the day," she said. "I gave up all these things and I just wanted normalcy, and it just felt like we couldn't get to that point, and that was frustrating in itself."
In May 2017, Higgins and Bushnell announced they were ending their engagement, saying in a joint statement, "We feel fortunate for the time we had together, and will remain friends with much love and respect for one another. We wish nothing but the best for each other, and ask for your support and understanding at this time."
At the time, a source told E! News, "They both really wanted to make it work, but Lauren was the only one who was really needing to change a lot of things… She felt like she wasn't being authentic to herself."
After their split, Bushnell moved back to Los Angeles and began focusing on her lifestyle and travel blog, as well as the wine, Dear Rose with Saucey, she was launching.
Three months after her split with Higgins, Bushnell went Instagram official with her new boyfriend Devin Antin, a real estate investor she had met on Tinder before going on The Bachelor and reconnected with.
In her caption, she wrote, "You can't always wait for the perfect time. Sometimes, you have to dare to do it because life is too short to wonder what could have been."
Given her recent split with Higgins, arguably one of the most beloved Bachelors ever, Bushnell received some backlash for going public with her new relationship. Especially after Higgins had been openly talking about his struggles with the split on The Ben and Ashley I. Almost Famous podcast, which launched the same week they had announced their breakup.
In her chat with Reality Steve, Bushnell admitted it hurt her feelings for Higgins to be addressing their breakup on his new podcast.
"I just don't think you should ever use or let anyone around you use a breakup or a tough situation or actual personal feelings or personal life to promote something or benefit off something or profit off something," she explained. "It just makes me feel uncomfortable…I was automatically kind of the bad guy and he was kind of the victim so that was a hard pill to swallow. But at the end of the day, I'm glad I kept true to who I was…I just don't think I'd necessarily talk about those things right away."
She also addressed struggling with whether or not to be open about her romance with Antin, saying, "I felt bad because I'm not trying to hurt anyone by trying to move on with my life—I'm not trying to flaunt anything, rub salt in the wound, but yes, I was trying to move on with my life."
She continued to explain that Higgins addressing their breakup on the podcast "almost exacerbated the situation, where again I was the bad guy and he was the victim because he had this platform where he was talking about all the ways he was feeling, which I wasn't sharing. So naturally, I'm just the person who takes a little more heat. But it didn't bother me, I wasn't angry. Was it sometimes hard? Yeah. But it didn't really get in the way too much of my life, because I just really wanted to move on."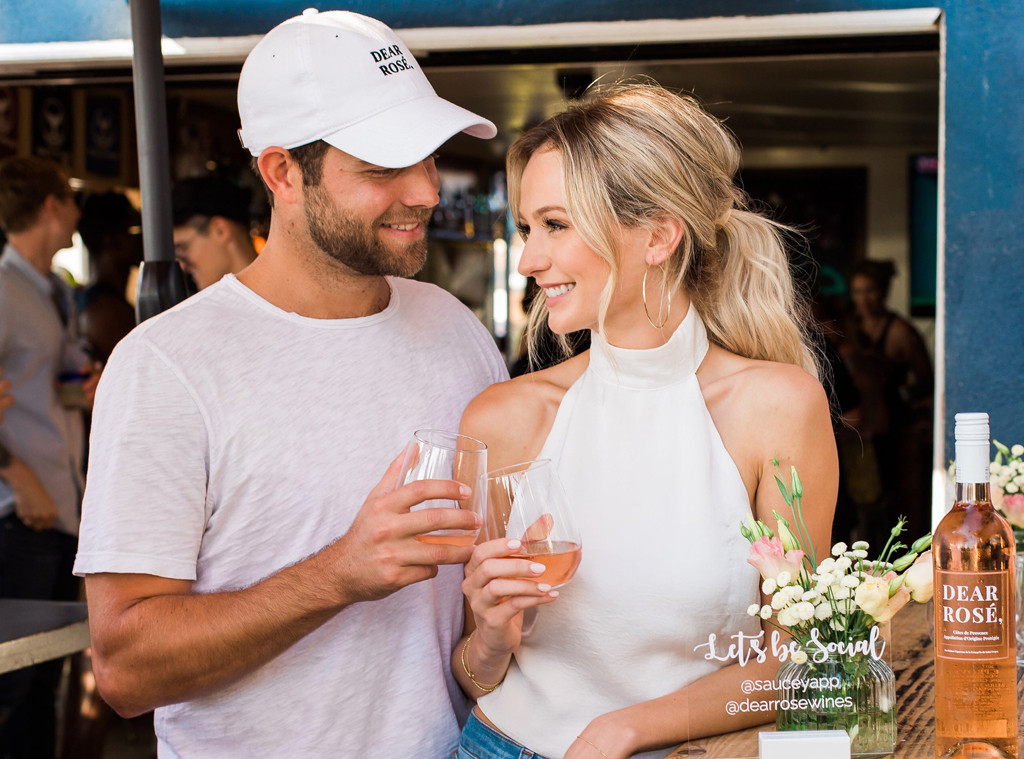 Saucey
But after one year together, E! News learned Bushnell and Antin had quietly ended their relationship in August 2018 after being "on and off for a couple of months."
As fate would have it, just after her relationship ended with Antin, Bushnell ended up on the trip that would reconnect her with Lane, who had just opened up about being single in an interview with Taste of Country.
"I'm not currently dating anyone," for "For Her" singer said. "I'm just enjoying where I'm at in my career and taking it a day at a time."
And when asked if he would ever consider being the Bachelor, he seemed down for the help in finding love.
"Providing I would have enough time to do it, I would," he said. "I wanna be the guy who gets to choose between all the girls."
In 2017, Lane actually performed on the ABC hit series, serving as the musical guest during a one-on-one date during Nick Viall's season, later revealing, "I am a huge fan of the show. This was definitely a bucket list opportunity for me. I am very thankful to my team and The Bachelor team for pulling this off."
Source: Read Full Article