Meghan Markle and Prince Harry were married in May of last year. And ever since they wed, people haven't been totally sold on Meghan. According to a poll, only a little more than half of the general public actually "approves" of her. But why, after almost a year of marriage, do people still have a problem with the duchess?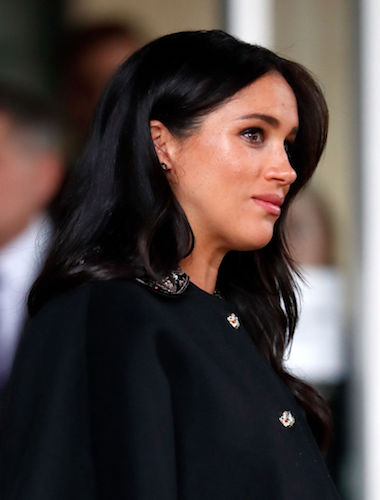 Meghan and Harry's relationship moved very quickly, leading people to question intentions
Meghan and Harry have had a whirlwind of a relationship. The two were introduced back in 2016, and things seemed to go from zero to 100. They dated for about a year and a half before Harry proposed, and they planned a wedding in six months. Only about two months after they wed, Meghan got pregnant, and the couple made the announcement last October. But since things have moved so fast, some people have wondered if Harry and Meghan married for a reason other than love. And it's made people a bit wary of both Meghan and Harry's intentions.
Meghan is often compared to Kate, whom the public generally likes more
It doesn't help Meghan that she's in the same boat as Kate Middleton. Both women married into the royal family, but the public has always had the utmost respect for Kate. She and Prince William began dating back in 2001, so Kate has had plenty of time to grow into her royal role. The public has watched her through the years, and when Meghan joined the family, she was immediately compared to Kate. Meghan is American, and she's been divorced before, so she wasn't exactly the picture-perfect royal. However, she's been breaking barriers, and it doesn't seem like people are giving her enough credit. According to a poll published by YouGov, Kate Middleton has a 64% positivity rating while Meghan's is only at 55%.
There have been many rumors about Meghan and the royal family ever since she married Harry
Another problem Meghan has dealt with since marrying Harry is the constant swirl of rumors. There were rumors that Meghan made Kate cry at Princess Charlotte's dress fitting. There were rumors that Meghan was rude to Kate's staff. There were rumors that the reason so many people have quit Meghan and Harry's staff is because of Meghan. All of these stories have made it hard for the public to like the duchess. However, one thing people need to keep in mind is these rumors aren't definitively true. The media loves to embellish any story about the royal family, and every outlet claims to have "sources" close to the family, yet those sources are never named.
Meghan's family hasn't had good things to say about her, which only adds to the uncertainty
Meghan's family drama is another strike against her. Her
half-sister, Samantha Markle, has
had plenty of negative comments toward Meghan since she publicly began
dating Harry. And Meghan's father has also been caught saying bad things about
the duchess. However, Meghan's friends have stood by her and continue to say
that she's a wonderful person. There are two sides to every story, but when it
comes to the Duchess of Sussex, the public isn't quite sure what to believe. As
a result, she doesn't have the highest approval rating. But in time, as people
adjust more to her being a part of the family and they see how she and Harry
are with their child(ren), things might change.
Check out The
Cheat Sheet on
Facebook!
Source: Read Full Article