As the date of Prime Minister Anthony Albanese's "big reveal" on AUKUS approached, significant elements of Australia's plan to acquire nuclear-powered submarines have begun leaking out of the United States and United Kingdom.
But few details have been officially confirmed and important questions remain.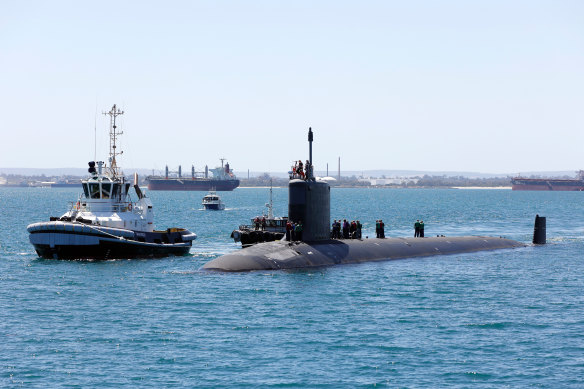 Australia will acquire up to five Virginia-class submarines from the United States.
Here are the five things we are most eager to learn when Albanese stands beside US President Joe Biden and UK Prime Minister Rishi Sunak in San Diego on Tuesday morning (AEDT) to outline Australia's most significant defence acquisition in generations.
How many submarines will Australia acquire, and what type?
Since the AUKUS pact was revealed 18 months ago, it has been widely assumed that Australia will acquire a fleet of eight nuclear-powered submarines. That assumption has been thrown into doubt by the revelation the nation is set to acquire two kinds of submarine: first, a small batch of Virginia-class submarines from the US and then a fleet of new tri-national submarines that will be manufactured in Adelaide, based on a British design and include American components.
The US is reportedly willing to sell Australia between three and five Virginia-class submarines that are likely to be second-hand. How many Virginia subs will we actually buy? And how many of the new "AUKUS-class" submarines do we expect to build in Adelaide?
How much will they cost?
This is the $100 billion, and quite possibly $200 billion, question. There is no doubt the submarine program will be hugely expensive given a single Virginia-class submarine costs between $4.5 billion and $6.6 billion to build.
Taking inflation into account, the Australian Strategic Policy Institute has estimated eight submarines will cost Australia between $116 billion and $171 billion depending on the type chosen. Peter Jennings, a former deputy secretary of the Defence Department, said the submarine program could cost as much as $20 billion a year when it is up and running.
The government has promised to provide an estimate of how much the submarines will cost on Tuesday, but a lot will come down to the timeframe.
The price tag is expected to be small over the budget forward estimates – the next four years – and then build dramatically over the 2030s and 2040s as the submarines arrive.
When will they arrive?
Australia faces a looming capability gap when its current diesel-powered Collins-class boats become obsolete in the late 2030s. This makes the question of when the country gets its hands on a nuclear-powered submarine an urgent one. According to leaked reports from the US and UK, the Virginia-class submarines will begin arriving in Australia sometime in the early 2030s, although we do not know exactly when.
Then comes the question of when the first Adelaide-made "AUKUS-class" vessel will enter service. Britain's next-generation Astute-class submarine – the basis for Australia's long-term submarine – is not expected to enter service until the 2040s, but this process could be accelerated if the three nations put their minds to it.
How much will be built in Australia?
This question is particularly acute for South Australia, given the federal government has promised the Osborne shipyards in Adelaide will be the local manufacturing hub for the nuclear-powered submarine project.
The state is banking on AUKUS creating thousands of jobs and boosting the state's economy. The idea of buying up to five Virginia-class submarines from the US is a worrying prospect for South Australians given this could delay the arrival of any locally built boats. The government may ameliorate this problem by helping to build America's Virginia-class submarines, a welcome prospect for the US given the stretched state of its own shipyards.
Looking longer-term, the British port town of Barrow-in-Furness is excited about the manufacturing work that will come its way if Australia opts for an adapted British submarine design. There's a lot we don't know about how much construction work will be done in Adelaide compared to the US and UK.
How will Australia comply with its nuclear non-proliferation obligations?
This will be a particularly important question for Australia's regional neighbours such as Indonesia and Malaysia, which are concerned by the idea of a nuclear arms race in the Asia-Pacific.
Australia is a non-nuclear-weapons state and has signed the Treaty on the Non-Proliferation of Nuclear Weapons, which aims to limit the spread of nuclear weapons and weapons technology. Vice Admiral Jonathan Mead, the head of the Navy's nuclear-powered submarine taskforce, has said that each nuclear reactor will come to Australia welded, shielded and sealed, never to be opened during the decades-long lifespan of the submarine. The government has promised more detail on how it will ensure it is a good steward of nuclear propulsion technology.
Cut through the noise of federal politics with news, views and expert analysis from Jacqueline Maley. Subscribers can sign up to our weekly Inside Politics newsletter here.
Most Viewed in Politics
From our partners
Source: Read Full Article