If you wanted to see what a successful and fulfilling career as an actor looks like, check out Ethan Hawke's IMDB page. From his big break in Dead Poets Society (1989) through his masterful performance in First Reformed (2018), Hawke has managed to balance commercial successes with projects close to his heart for the past 30 years.
He won't hesitate to take on a low-budget film like he did with Boyhood (2014) a few years back. Patricia Arquette, his co-star in the film, famously said she paid her dog-walker more than she earned making the movie, which was shot on-and-off over 12 years. It was probably the last thing on his mind shooting the film.
When he needs to build up his account balances, he doesn't shy away from big Hollywood films like Training Day (one of his best paydays). Judging by his earnings from major motion pictures and his overall net worth, Hawke's approach to the business works quite well.
$12 million for 'Training Day' and 3-4 films per year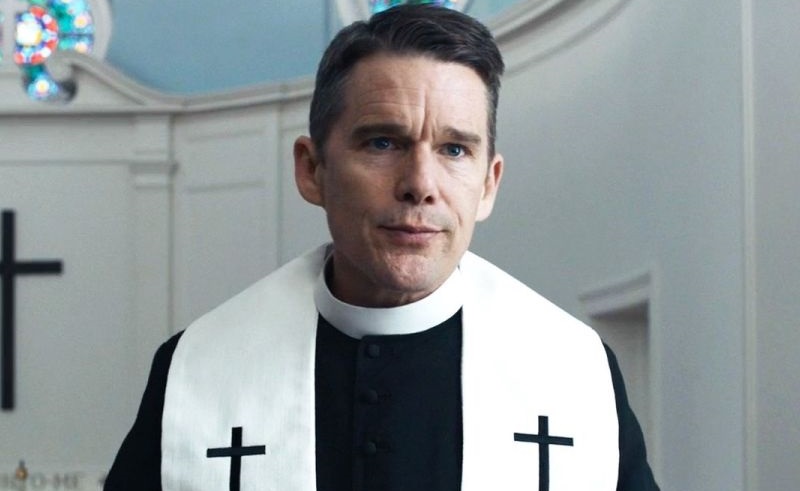 Ethan Hawke in Paul Schrader's 'First Reformed' | A24
In terms of Hawke's fattest paychecks, the one that stands out is Training Day (2001), which co-starred Denzel Washington. According to multiple reports, Hawke took home $12 million for the film. That kept the momentum in his career going and brought his first Oscar nomination at 31 years old.
After co-writing the scripts for Before Sunset (2004) and Before Midnight (2013), Hawke received his first and second Oscar nominations for Best Adapted Screenplay. These films also continued his collaboration with the great Richard Linklater, with whom he's made eight films.
Hawke's Best Actor nod for Linklater's Boyhood made it a total of four Oscar nominations. He's yet to win an Academy Award, but he's racked up a total of 55 awards from critics and festivals around the world in his career. (Despite the Academy snub for his work on First Reformed, Hawke won over 20 awards for his performance.)
He's produced, written, and directed multiple films and has 80 acting credits to his name (often, working in three-to-four films per year). Meanwhile, he's established a reputation as a strong theater actor. He's currently co-starring with Paul Dano in a play on Broadway.
Hawke's net worth estimated near $60 million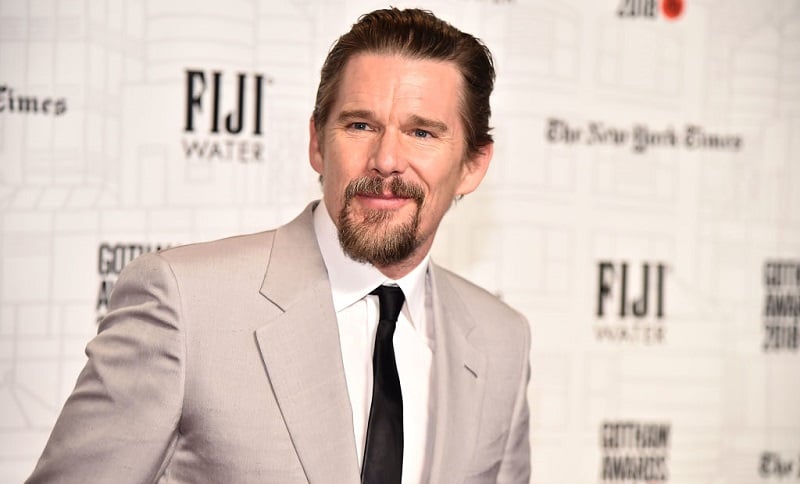 Ethan Hawke attends the 2018 Gotham Awards on November 26, 2018 in New York City. | Theo Wargo/Getty Images
Around 2014, Celebrity New Worth pegged Hawke's fortune at $55 million. Along with Training Day, the site notes Hawke's paydays for Daybreakers ($4 million) and Assault on Precinct 13 ($3 million). Those three films added up to $19 million before taxes and other expenses. Considering Hawke's successes since, that figure has likely climbed closer to $60 million.
When making The Purge, Hawke reportedly settled for a low salary in exchange for a piece of the profits. (He also worked without a trailer or driver to keep costs low.) It was a good gamble, with Hawke reportedly pocketing $5-6 million after the box office returns came back.
Again, Hawke worked on the film to collaborate with a longtime friend (Jason Blum). It's a familiar story for the 48-year-old actor. He's done what he wanted, worked with the people he wanted, and made a fortune in Hollywood. It's hard to think of an actor his age who's done it better.
Check out The Cheat Sheet on Facebook!
Source: Read Full Article