Little Beige Riding Hood
The Crown actor Emma Corrin in Miu Miu is world's away from Princess Diana, with an innocent cap, monastic silhouette and gloves made for snatching awards.
Corrin had been working on the biscuit ensemble from Miuccia Prada for three months and was styled by longtime collaborator Harry Lambert.
Its simplicity is more Little Red Riding Hood than Handmaid's Tale. The Crown cast means business tonight.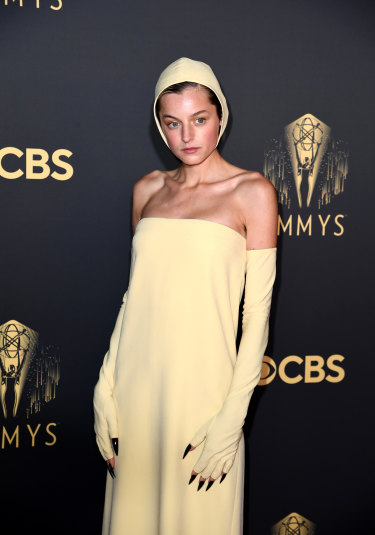 Emma Corrin attends 'The Crown' 73rd Primetime Emmys Celebration at Soho House in London.Credit:Gareth Cattermole/Getty Images
Oh Camilla
You can guarantee that Emerald Fennell, who plays Camilla Parker Bowles in The Crown and wrote the book for Andrew Lloyd Webber's Cinderella on the West End, will sparkle on the red carpet.
The daughter of famed UK jeweller Theo Fennell is wearing Valentino by Pierpaolo Piccioli.
There's a lot going on here with neon green hearts and a green, sheer sleeve trim but a feathered clutch pulls the extravagant look, with more than a touch of Italian jet set, together.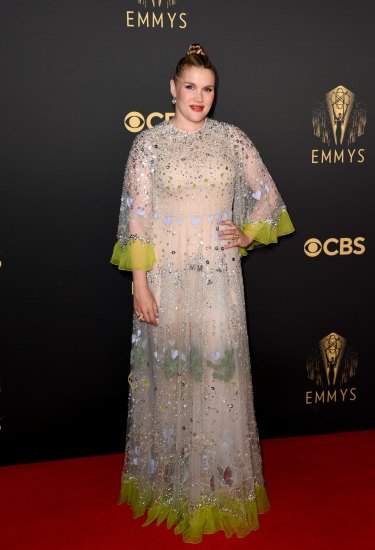 Emerald Fennell attends 'The Crown' 73rd Primetime Emmys Celebration at Soho House in London.Credit:Gareth Cattermole/Getty Images
Cream of the crop
The Crown and Sex Education star Gillian Anderson is not afraid to make a statement in a cropped ensemble from Chloe by Natacha Ramsay-Levi.
The rough skirt hem and eye-catching embellishment is saved from looking like a '70s macrame wall-hanging by the sharp silhouette.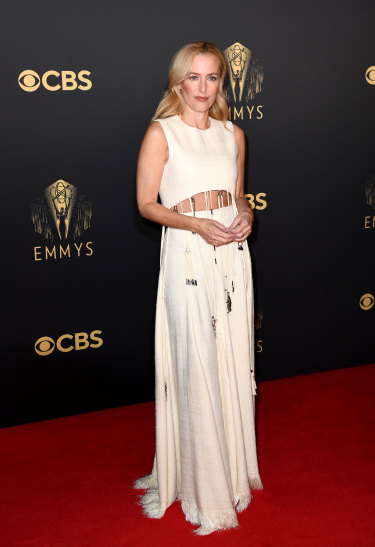 Gillian Anderson attends 'The Crown' 73rd Primetime Emmys Celebration at Soho House in London.Credit:Gareth Cattermole/Getty Images
Royal flush
The Crown's Josh O'Connor has already set the tone for men at this year's Emmys – black tie with a twist.
No surprises that the ambassador for luxury label Loewe is wearing a suit from creative director Jonathan Anderson. The twist? Folded down lapel points and a floral-inspired, actual black tie.
Prince Charles wouldn't be caught dead in it, which is why it's a winner.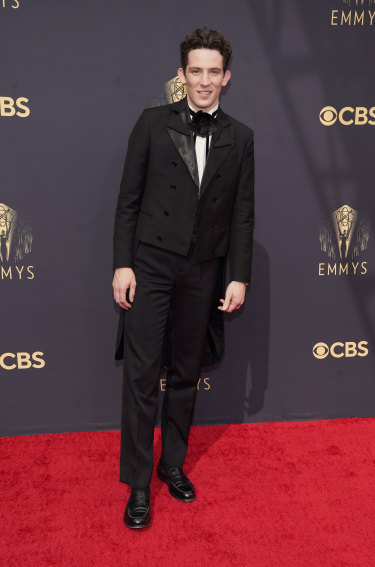 Josh O'Connor arrives at the Primetime Emmy Awards in Los Angeles.Credit:AP Photo/Chris Pizzello
Who to watch on the red carpet
Filtering the looks from the Emmy red carpet takes commitment but here are the stars to pay close attention to.
The Crown's Emma Corrin has quickly emerged as a fashion favourite. The non-binary actor is equally at home in Prada or more experimental Harris Reed.
Sarah Paulson knows the importance of bringing drama on to the red carpet, along with some comedy.
With a Grammy and Tony award Cynthia Erivo knows about winning. The red carpet is no exception. This year she's going all out with sparkling accessories.
The Queen's Gambit star Anya Taylor-Joy has the willowy model frame to transform the red carpet into a catwalk. Expecting fashion check mate.
And riding off the back of last year's Schitt's Creek clean-up, Catherine O'Hara will hopefully bring some Moira Rose to the red carpet.
The Australians to look out for
Australia still has two contenders in this year's Emmys race: actress Yvonne Strahovski and New Zealand-born director Jessica Hobbs.
Strahovski earned her second nomination for supporting actress in a drama series for her performance as Serena Joy Waterford in The Handmaid's Tale. She was previously nominated at the 2018 Emmys, when Thandiwe Newton took home the award for playing Maeve Millay in Westworld.
Hobbs, who has worked extensively in Australian television, is nominated for her work on The Crown. This is her second consecutive nomination.
Australia's other Primetime Emmy Award nominees this year – visual effects supervisor Julian Hutchens for his work on The Boys, and main title designers Patrick Clair, Raoul Marks and Ken Taylor – were not successful. Their categories were announced at last week's creative arts Emmys, the visual effects Emmy going to The Mandalorian and the main title design Emmy to The Good Lord Bird.
Why this year's Emmys are different
US television's entrenched "night of nights", which honours the best and the brightest, has historically leaned into the safest and most well-established among television's blue chip shows. Glancing back, there are few surprises on Emmy night.
This year's two most nominated programs – The Crown and The Mandalorian, with 24 nominations each – are also no surprise.
But the competition nipping at their heels is very much different this year when compared to preceding years. It is a swarm of first-time nominees including Bridgerton, Lovecraft Country and The Boys (in drama) and Cobra Kai, Emily in Paris, Hacks, Pen15, Ted Lasso and The Flight Attendant (in comedy). Can the Emmy game finally be changing?
The night's other strongest contenders – in terms of breadth of nomination – are WandaVision (with 23 nominations), The Handmaid's Tale (21), Saturday Night Live (21), Ted Lasso (20), Lovecraft Country (18), The Queen's Gambit (18) and Mare of Easttown (16).
Top contenders (from left): Emma Corrin as Princess Diana in The Crown, Jason Sudeikis in Ted Lasso and Anya Taylor-Joy in The Queen's Gambit.Credit:Des Willie/Netflix, Colin Hutton/Apple TV+, Phil Bray/Netflix
Welcome to the Emmys
Good morning and welcome to our live coverage of the 73rd Primetime Emmy Awards.
The Crown and The Mandalorian lead the field, but will they triumph on TV's big night? Or can the happiest show on television, Ted Lasso, deliver some much-needed joy with a welcome victory?
Bringing you the action from the red carpet is fashion editor Damien Woolnough. Senior Culture reporter Karl Quinn will join our blog when the ceremony begins around 10am. Culture editor-at-large Michael Idato is in Los Angeles and will bring you the latest from the virtual media room.
We'll bring you every frock, twist and turn over the next few hours. So sit back and join in the fun.
Most Viewed in Culture
Source: Read Full Article