Known for keeping her personal life on the DL (and off social media), Oscar-winning actress Emma Stone, 30, made her first public appearance with boyfriend Dave McCary, 33, at the SAG Awards on Sunday night.
While The Favourite star walked the red carpet solo, Emma sat next to Dave during the awards ceremony. Plus, they took multiple pictures together throughout the evening, so they're very much #official.
But, uh, who is this Dave McCary anyway—and how did he win Emma's heart? Well, it's kind of a funny story…
They met on Saturday Night Live.
The couple first crossed paths in December 2016 when Emma hosted SNL. Dave is a writer and segment director on the TV show, and he directed a sketch Emma starred in, titled "Wells for Boys."
They weren't linked as a couple until almost a year later.
It's unclear when exactly Emma and Dave's relationship turned from professional to personal, as the duo succeeded in keeping their romance under wraps until in October 2017, a source told PEOPLE.
Dave is in the movie-making biz, too.
View this post on Instagram
this is a very small portion of the many wonderful friends who helped make brigsby happen. this was the best day of my life
A post shared by @ davemccary on
In 2017, he took his comedic talents to the big screen when he directed indie movie, Brigsby Bear, starring SNL comic and childhood friend Kyle Mooney. Emma showed her support for Dave when they were spotted together at the movie's Los Angeles premiere that June. The film received overall good reviews, so maybe a cinematic collab is in the couple's future?
He loves San Deigo sports.
Earlier this month, on January 18, Dave and Emma were photographed at a Los Angeles Clippers game against the Golden State Warriors. Since Dave is from San Diego, he was probably cheering for the Clippers (who used to be a San Diego team before moving to LA).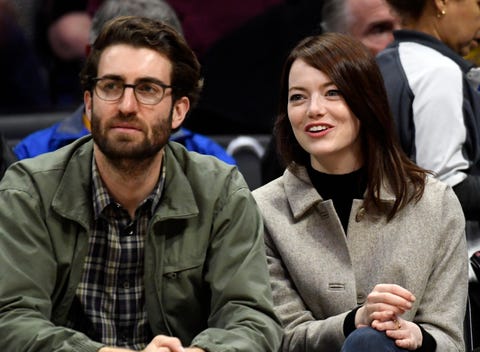 Getty ImagesKevork Djansezian
And while he attended Opening Day at Yankee Stadium, according to his Instagram, it was only to cheer on his home team: The Padres.
View this post on Instagram
Happy Opening Day. Dad and lil sis at Dodger Stadium. Me and lil bros at Yankee Stadium. GO PADRES.
A post shared by @ davemccary on
Speaking of his Instagram, it's public… but not super revealing.
Save your cyberstalking skills for another celeb couple. Dave's Instagram is pretty much a Kyle Mooney fan account, which is great when you need to lol, but not when you want some hot goss. Emma is anti-Insta, so Dave's account isn't likely to include any cute couple pics anytime soon.
View this post on Instagram
so proud of my best bud who deserves every ounce of this xl rosé. see u in the hospital
A post shared by @ davemccary on
Things seem to be getting pretty serious.
Pictures taken at the SAG Awards show Emma introducing Dave to her former Aloha co-star and fellow SAG nominee, Bradley Cooper. The three looked pretty chummy posing for the camera together at the event.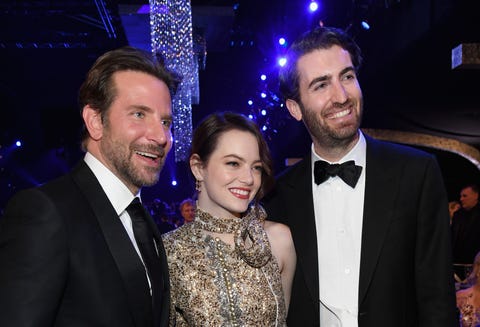 Getty ImagesKevin Mazur
This is the celebrity equivalent of "meeting the friends," so it's probably safe to say this won't be the last time Dave is Emma's date to an awards show.
Source: Read Full Article