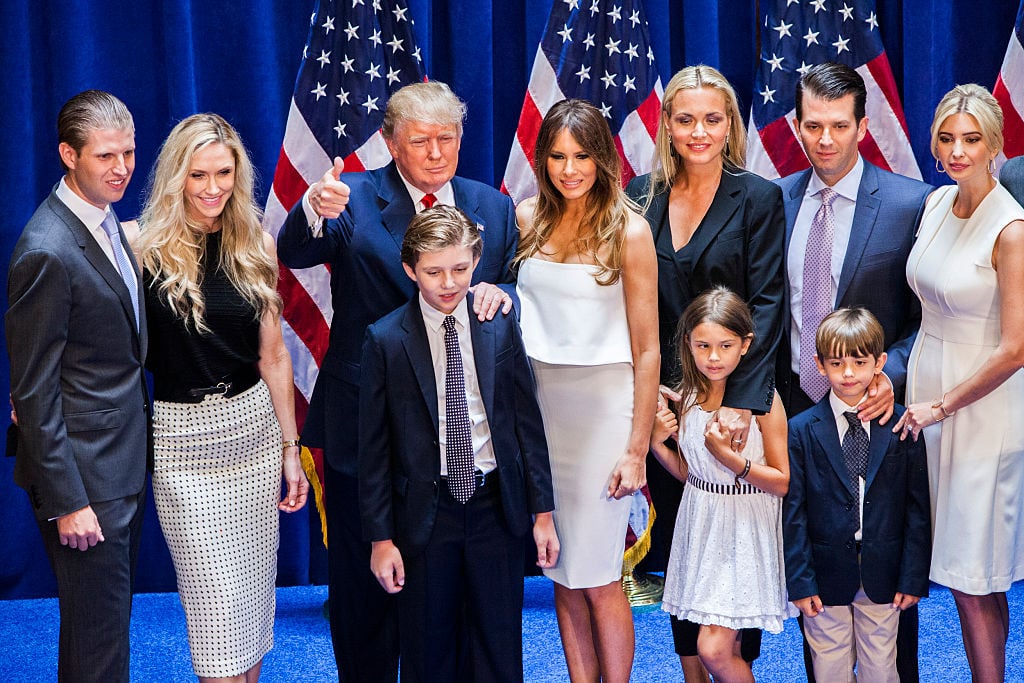 Donald Trump and his family | Christopher Gregory/Getty Images
Despite the cable news discussing and analyzing President Trump every waking hour, it seems we've created a recent image of him being a bit like an old Charles Foster Kane in "Citizen Kane." The idea that he spends time alone just because many of his close advisors and cabinet members moved on is easy for comedians to parody.
In truth, Trump does have a close circle of friends. As small as this might be now, you have to wonder which ones influence him on ideas and his own personal behavior. Or are his closest friends something else entirely at his rallies?
The closest friends in Trump's cabinet
We all know the President sees his cabinet members often during the week, though it now plays out like White House musical chairs. It changes so often, The Atlantic even set up a Presidential cabinet tracker to see who currently runs what and which are closest to Trump.
Who among these are the President's closest advisors? Based on what we've heard, the WH aide he talks to the most is Chief of Staff John Kelly, even if latter seems to present himself as continually plagued by headaches.
While Trump and Kelly may confer with one another on numerous inside matters during the day, it's still unknown how many of his other aides he's closest to. Vice President Mike Pence doesn't seem to see the President every day, so we can definitively say they're not close friends in the fullest sense.
All reports say President Trump likes alone time at night while watching cable news. We can only hope Melania is his closest friend by bedtime.
The closest confidantes of Trump outside the White House
If the President can't call any of his WH staff close friends, he has plenty outside this circle. Town & Country above notes that when Trump goes to Mar-A-Lago, he's truly among his closest allies.
Of course, these are people within the billionaire set, arguably the people he can relate to.
One of these friends is Thomas Barrack, seemingly Trump's closest confidante. Barrack (with the ironic name) has also amassed a massive fortune through assets with Colony Capital Fund. Trump comes and goes with his friendships, yet his relationship with Barrack has been rock solid since the 1980s.
Because Trump wants loyalty from anyone in his fold, he and Barrack have developed enough trust where the President hired him to organize the inauguration.
Regardless, he isn't Trump's only friend. Others include his security chief, Keith Schiller, billionaire businessman Steve Feinberg, Trump's lawyer Rudy Giuliani, Richard LeFrak (who somewhat resembles Trump), real estate guru Howard Lorber, conservative media titan Christopher Ruddy, and Linda McMahon.
What about Trump's family, and golf partners?
From what we know, Trump stays close to his family, including Ivanka and Jared Kushner. Just how much time they spend together is unknown. It's safe to say even children may not know their parents as well as they think they do.
Since we know Trump loves to spend time on golf courses, who joins him on the green? It seems he plays alone most of the time, but he does occasionally play with fellow golfers.
According to Golf Week last year, he played a round with pro golfer friends Jim Herman, Daniel Berger, Justin Thomas during his holiday break in Florida. Perhaps he'll do the same during this Christmas break at the Southern White House.
Are people attending Trump's rallies his true friends?
There isn't any denying that Trump loves being around large crowds, at least at his rallies. This is reportedly what he craves, and once described by The Guardian as medicine for him.
Even though he likes to decompress by himself at night, should we assume his adamant rally supporters are his real closest friends right now?
Keep reading us at The Cheat Sheet for more insightful entertainment news.
Source: Read Full Article