Artist Esther Stewart, left, and curator Fleur Watson.Credit:Paul Jeffers
It arrived with a loud statement nearly two years ago when artist Reko Rennie painted a huge mural on top of a concrete slab, which was then covered up just days later as construction works began.
Now, several months later than originally planned, the $14.5 million Housemuseum Galleries next to Kew's Lyon Housemuseum is on track for a March opening – and 16 more Australian artists are busily creating new works for the inaugural exhibition.
It won't be quite like any other exhibition because the artists have been there every step of the way as the gallery ascended from the concrete, in a constant dialogue with the gallery team about how their works will fit the space.
"I've been able to see the development of the project all the way through," says Esther Stewart, one of the commissioned artists. "It's a really new approach."
Architect Corbett Lyon and wife Yueji's Housemuseum on Cotham Road, with a private art collection boasting the likes of Patricia Piccinini and Howard Arkley, has been open to the public on a limited basis since 2009 but the new adjacent gallery will be open six days a week for a small entry fee.
The inaugural exhibition ENTER features some of Australia's best-known contemporary artists including Sydney Biennale artistic director Brook Andrew and previous Venice Biennale exhibitors Piccinini, Shaun Gladwell and Callum Morton (who also chaired this year's Australia Council selection panel for Venice Biennale).
The new gallery includes a large, central room about 26 metres long by 13 metres wide, with four smaller galleries surrounding it, including a "shopfront" style gallery visible through a window from the street.
Lyonhousemuseum Galleries executive curator Fleur Watson says the gallery will host three major exhibitions each year plus a program of events designed to foster ideas around the works displayed.
Artist Esther Stewart, left, and executive curator Fleur Watson outside the new Housemuseum Galleries.Credit:Paul Jeffers
"[The gallery] has its focus on contemporary Australian art but will have architecture and design as part of the programming, too," says Watson, who most recently curated RMIT University's Design Hub and has a background in architecture.
"Corbett Lyon designed the gallery in line with his interest which comes out of his own research into how people experience art in different spaces."
Stewart's forthcoming work gives a new twist to previous works that explore domesticity through large-scale patterned installations. "Within that process I normally make models to think about how to make a work," she says, "but this is the first time I'll be presenting a model as the work itself."
Her small-scale sculpture will be one of the first things visitors see when they enter the new gallery and Stewart wants people to peer through its windows – to view not just the interior but other artworks through the other side.
"When you crouch down and look through [the windows] you'll see an enormous Piccinini sculpture," she says.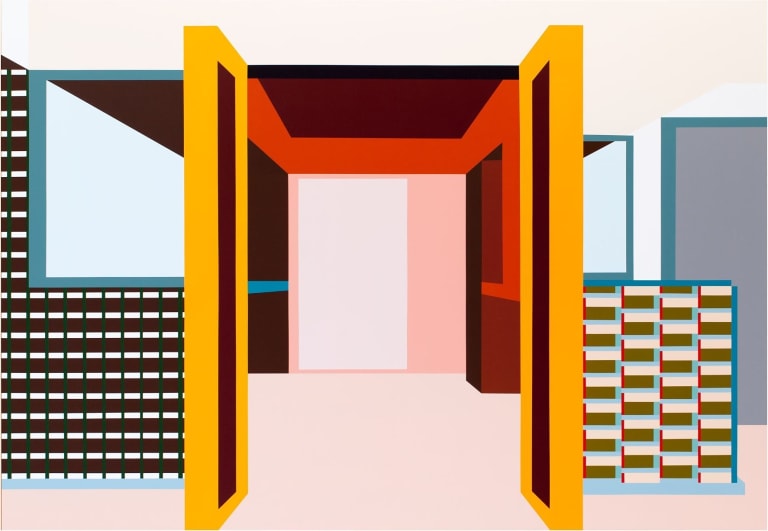 Esther Stewart's body of work including Flatland Dreaming, which won the 2016 Sir John Sulman Prize, references domestic interiors. Credit:Courtesy Sarah Cottier gallery
Stewart is one of 11 of the exhibiting artists being acquired into the Housemuseum collection for the first time. A spokesperson for the Lyon Foundation declined to reveal the total cost of the 16 acquisitions but Watson says it's a "significant investment" in practising Australian artists that "speaks to how we mean to go on".
Corbett and Yueji Lyon inside the adjacent Housemuseum.Credit:Rodger Cummins
The next exhibition will be curated with a yet-to-be-revealed "international partner", she says.
The gallery was originally slated to open in the middle of this year but has been pushed back due to building delays.
ENTER will be the first public exhibition at the Houseumuseum Galleries in Kew, opening in March 2019. The exhibition features Brook Andrew, Ry David Bradley, FFIXXED Studios x James Deutsher, Shaun Gladwell, Nova Milne, Kate Mitchell, Callum Morton, Dan Moynihan, Baden Pailthorpe, Kenzee Patterson, Patricia Piccinini, Ian Strange, Esther Stewart, Kynan Tan, Min Wong and Constanze Zikos.
Source: Read Full Article