Shopping on a budget can be downright anxiety-inducing. For example, you could be standing in a store, under the glare of fluorescent lights, trying to determine whether the $15 waffle maker you're holding in your hands is too good to be true. After all, with a price that low, you run the risk of buying a poorly-made product that ends up breaking in a week or two. That's why I'm in favor of doing my budget-friendly shopping on Amazon, where I can read reviews from actual customers. And all of these things under $20 with high Amazon ratings come backed with hundreds — if not thousands — of glowing reviews.
From beauty products to books to electronics to kitchen gadgets — there's something for every wallet-conscious shopper on this list. (Yes, there's even a $15 waffle maker, which means you can forego the aforementioned stressful experience of making that buying decision under the harsh glare of fluorescent lights.)
And at $20 and under — none of these items will break the bank. So go ahead and click through — with ratings as high as these, you can rest assured your purchase will be a savvy one.
1

A Luxurious Silk Sleep Mask That Blocks Out All The Light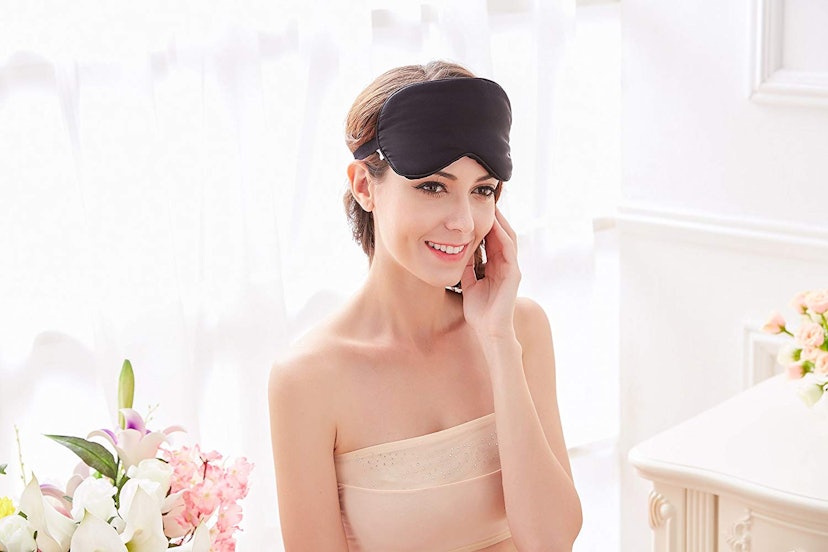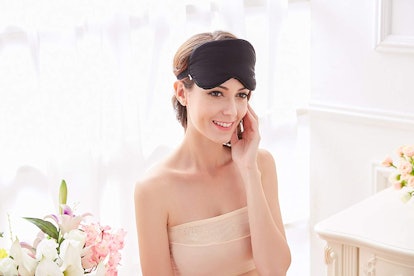 Babo Care Silk Sleep Mask
$12
Amazon
Catch a good night's sleep no matter where you are with this silk sleep mask. Made with cool and breathable mulberry silk, the mask features a nose guard which helps block out light even more effectively than standard sleep masks. An adjustable strap ensures you get a comfortable fit without the hair-snagging perils of a Velcro closure.
2

An All-Natural Facial Cleansing Oil With Lavender And Vanilla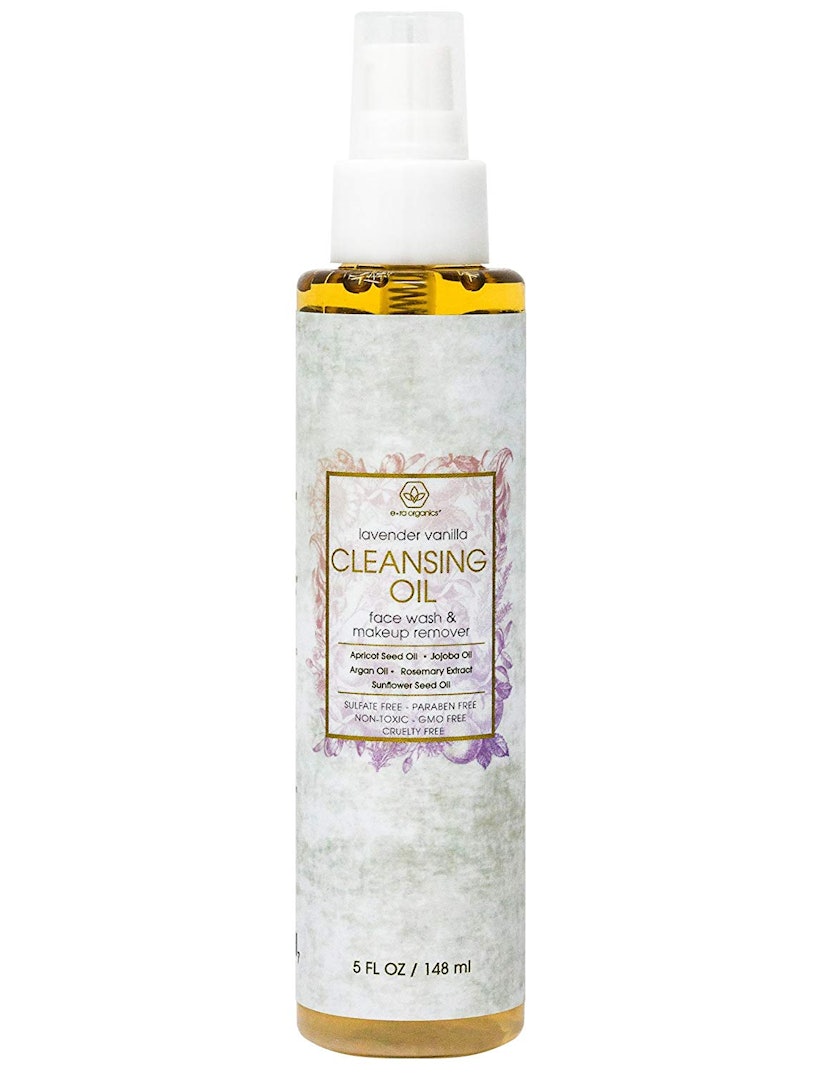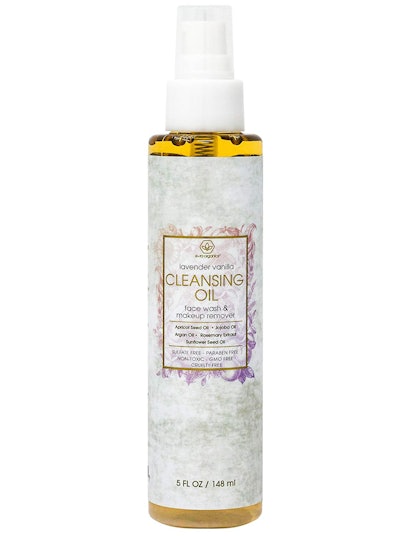 Era Organics Facial Cleaning Oil
$14
Amazon
This organic facial cleansing oil dissolves and removes makeup (even waterproof mascara), while moisturizing and conditioning dry skin. It's formulated with a combination of ultra-hydrating apricot, jojoba, argan, and sunflower seed oils, all of which work to keep skin soft and protected. The addition of rosemary extract soothes sensitive skin — and helps prevent oiliness and breakouts.
3

This Essential Oil Blend That'll Calm Your Nerves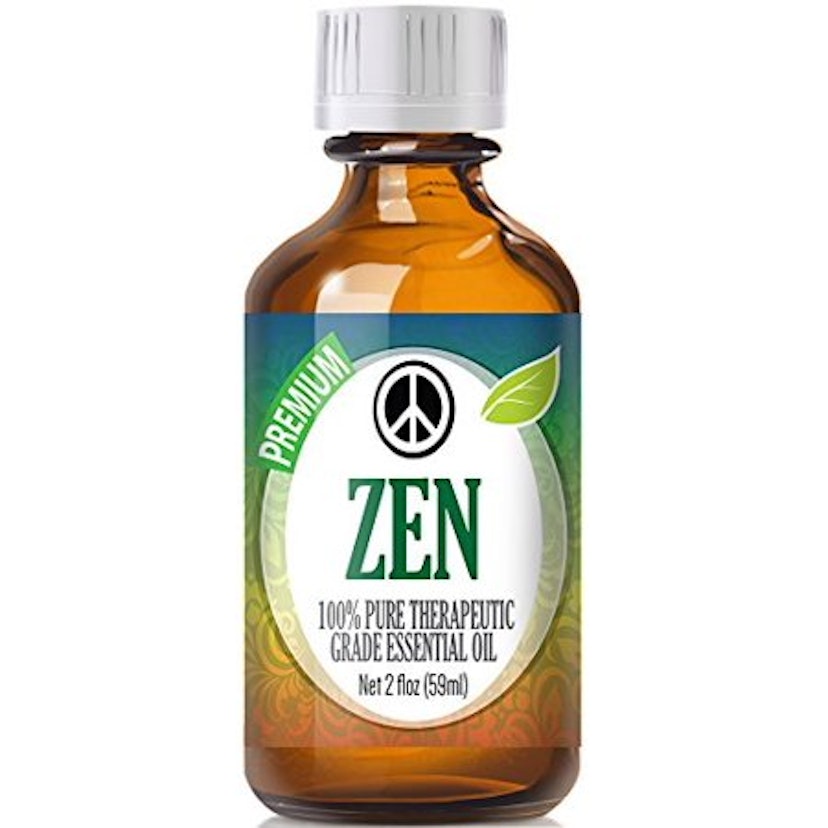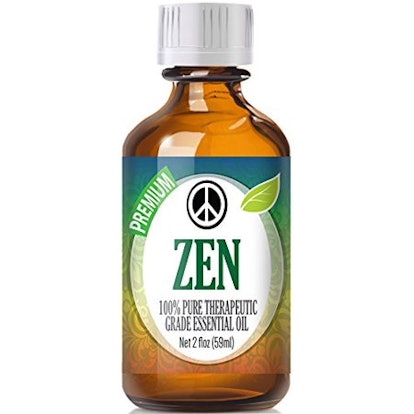 Zen Blend Essential Oil
$10
Amazon
Achieve inner peace with the help of this Zen Blend essential oil. The therapeutic-grade oil is made with a serenity-inducing mix of sweet marjoram, Roman chamomile, ylang ylang, sandalwood, vanilla, and lavender. This reviewer writes: "One of the best smelling oils I have ever purchased. It seriously puts me in a state of relaxation bordering on bliss. LOVE this stuff." Add a few drops to your diffuser after a long day at work.
4

These Battery-Powered Motion Sensor Lights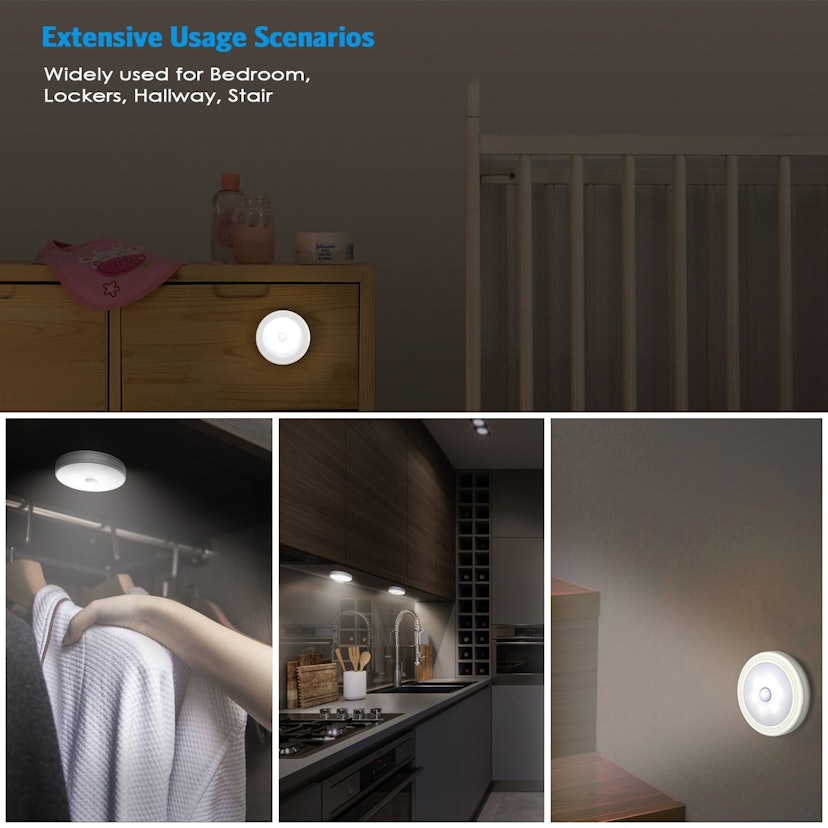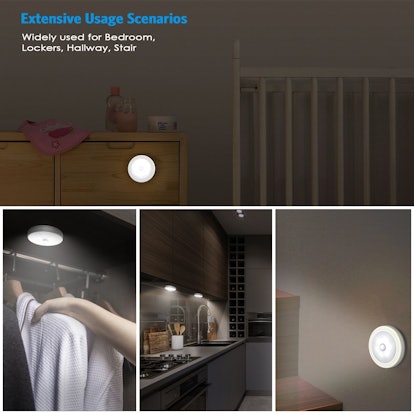 AMIR Motion Sensor Lights
$16
Amazon
If you think you need to hire an electrician to install motion sensor lights — then think again. These motion sensor lights feature built-in magnets that attach to any metal surface. No metal surfaces? Affix them to the wall or ceiling with the help of the included double-sided adhesive pads. The battery-powered LED bulbs light up when they detect motion within 9 feet and automatically turn off after 20 seconds of inactivity. Use them so you don't stumble when you're headed to the kitchen for a midnight snack.
5

A Muscle Roller Stick For Serious Tension Relief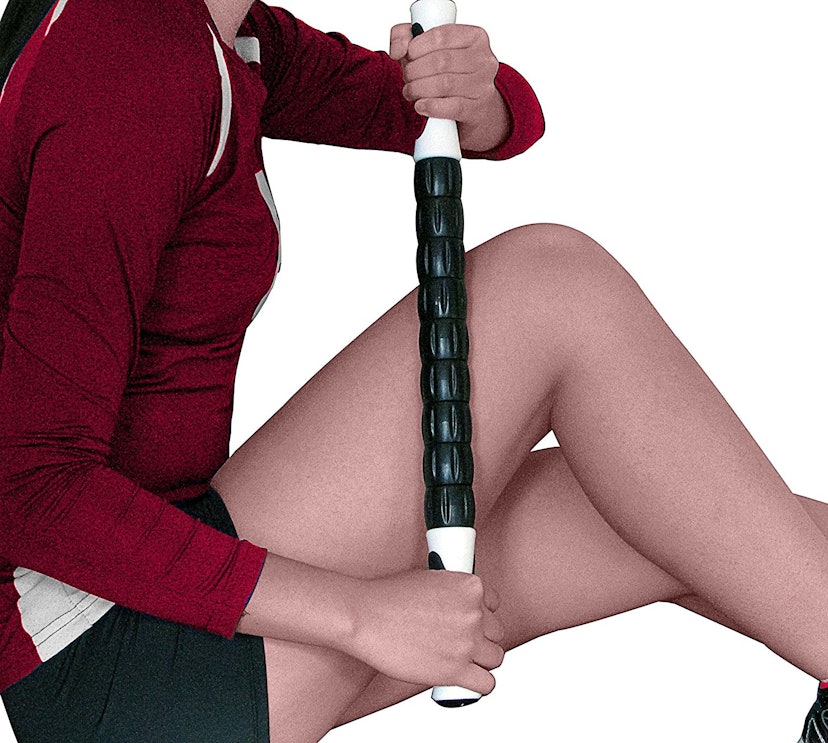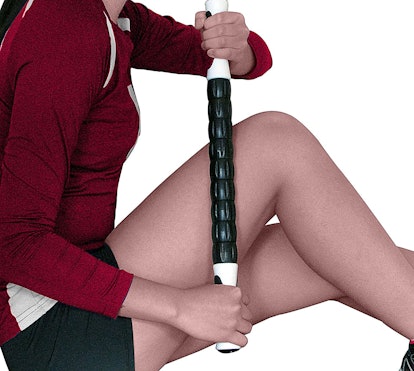 Supremus Sports Muscle Roller
$10
Amazon
Warm up muscles, ease tension, and work out knots with this muscle roller. The massage tools feature nine separate rollers which help support myofascial release, all while stimulating blood flow. The manual roller allows you to control the force of your massage, so you get the optimum of amount of pressure — without the pain.
6

This Rice Cooker That Cooks More Than Just Rice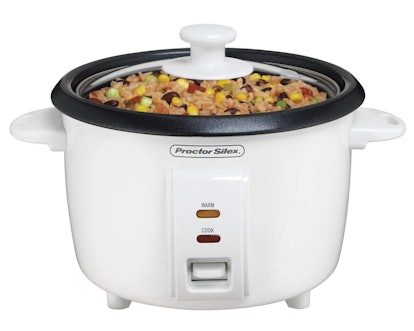 Procter Silex Rice Cooker
$20
Amazon
Steam basmati, jasmine, or good old white rice with this rice cooker. It makes up to 8 cups of rice at once, and the cooker automatically shifts to the warm setting once rice is fully cooked. The cooker is also quite versatile — it can also be used to steam fish, veggies, and other grains like quinoa. The non-stick cooker is top rack dishwasher-safe, so clean-up is a cinch.
7

A Waterproof Phone Case For Underwater Photos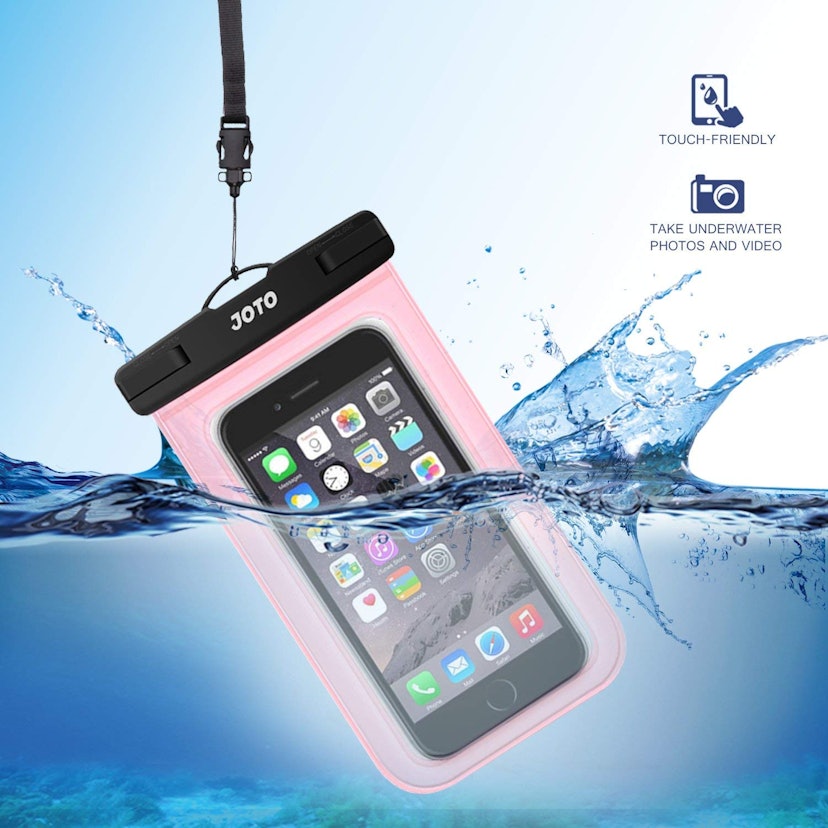 JOTO Waterproof Phone Case
$10
Amazon
Use this waterproof phone case to keep your phone safe no matter where your adventures take you. The securely-sealed case resists dust, snow, and water — and features touch-friendly clear windows so you can continue to check texts, read emails, and snap photos. (Yes, you can even take photos underwater — pretty impressive.) The case comes in 11 color options, and fits all phones up to 6 inches in diagonal diameter.
8

These Beauty Blenders For Seamless Makeup Application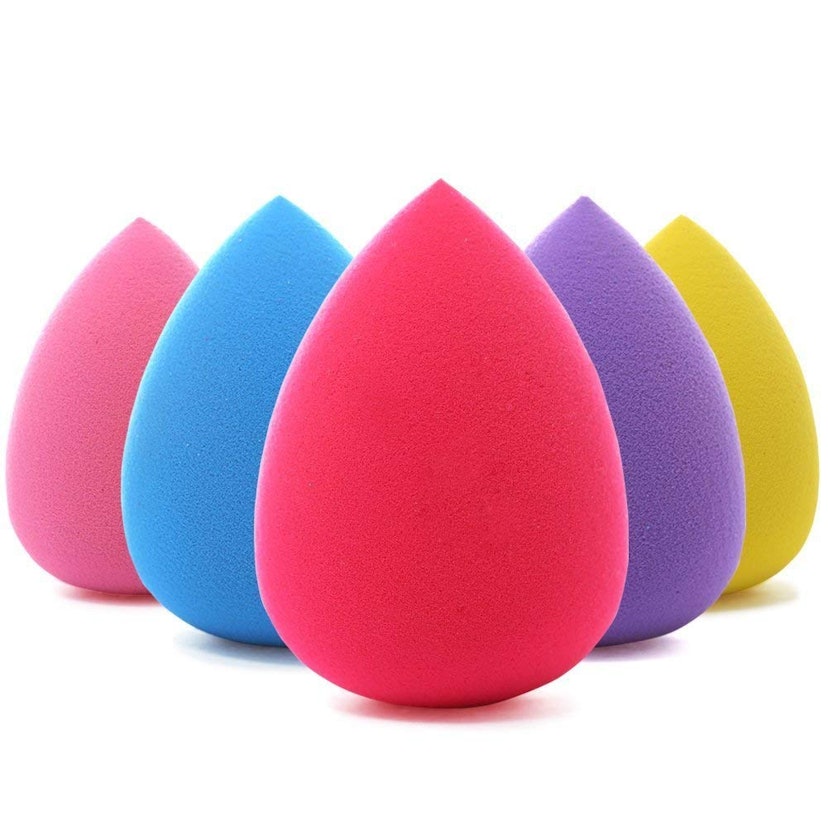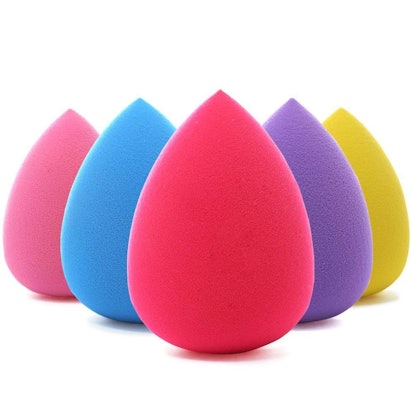 BEAKEY Beauty Blenders
$10
Amazon
A beauty sponge is a key element when it comes to flawless makeup application. Simply dampen the sponge and stipple foundation, BB cream, CC cream, or concealer on your face for a polished but natural look. Use the pointed end under the eyes and around the lips, the rounded sides for the nose and chin, and the flat surface for cheeks and forehead. The blenders are hypoallergenic and latex-free.
9

A Defuzzer That Removes Lint And Pilling From Your Favorite Cardigan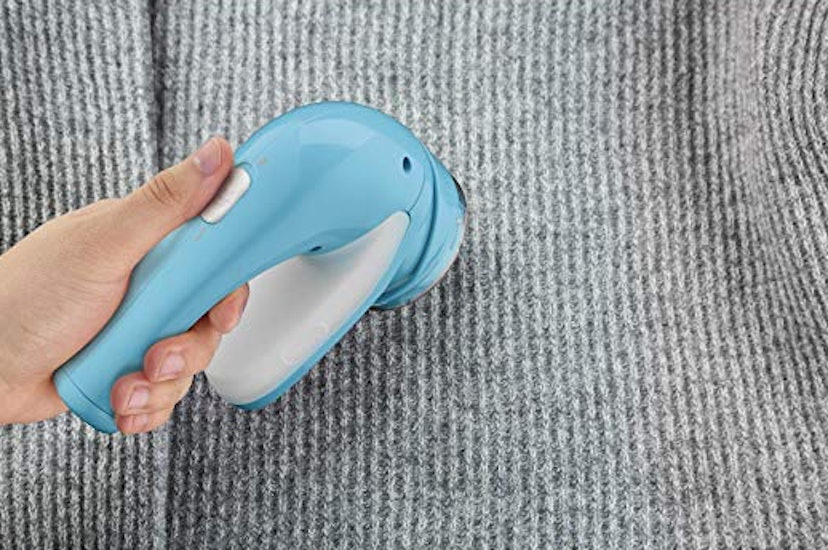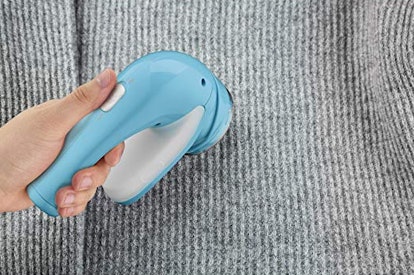 Conair Fabric Defuzzer
$13
Amazon
Well-loved sweaters and knit blankets are bound to pill after awhile, but you can keep them looking fresh and smooth with this fabric defuzzer. The battery-operated device features an extra-large shaving head that removes pills, lint, and fuzz with just a few swipes. Adjustable depth control settings allow you to safely de-fuzz all kinds of fabric, and a built-in lint catcher keeps that fuzz from ending up all over the floor while you shave.
10

A Jade Roller That'll Revive A Tired Complexion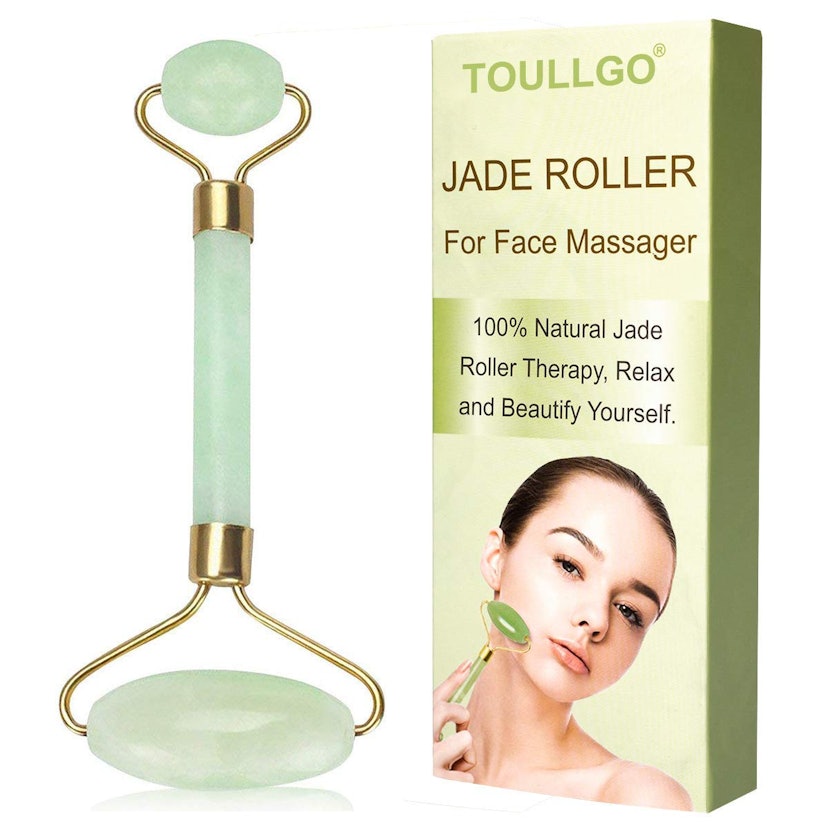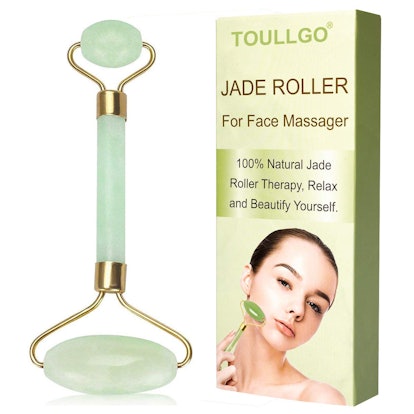 TOULLGO Jade Roller
$19
Amazon
The jade roller is a beauty tool that's been used for centuries in China — and for good reason. The gentle massaging action of the roller promotes circulation, delivering much-needed oxygen to your skin. This helps to reduce puffiness, diminish under-eye circles, and boost firmness. Use a few times a week with your favorite serum or moisturizer for a clear, well-rested appearance.
11

This Facial Cleansing Brush For Deep Exfoliation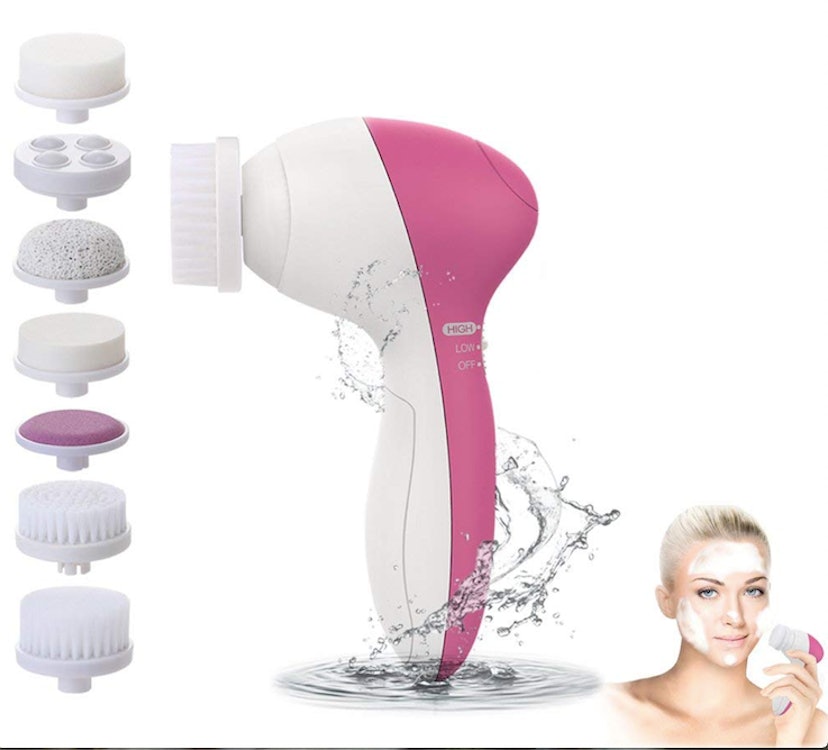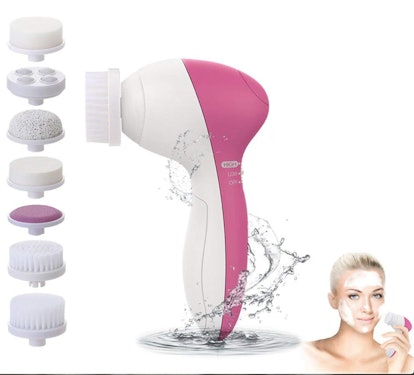 PIXNOR Facial Cleansing Brush
$17
Amazon
With seven head attachments and two speed settings, this facial cleansing brush is incredibly versatile. Use the exfoliating attachments to smooth skin, the bristled heads for deep pore-cleansing, the sponge heads to apply moisturizers and serums, and the massaging head to release tension and boost blood flow. The battery-operated brush is waterproof, so you can use it in the shower without fear of wrecking it.
12

These Silicone Baking Cups You Can Use Again And Again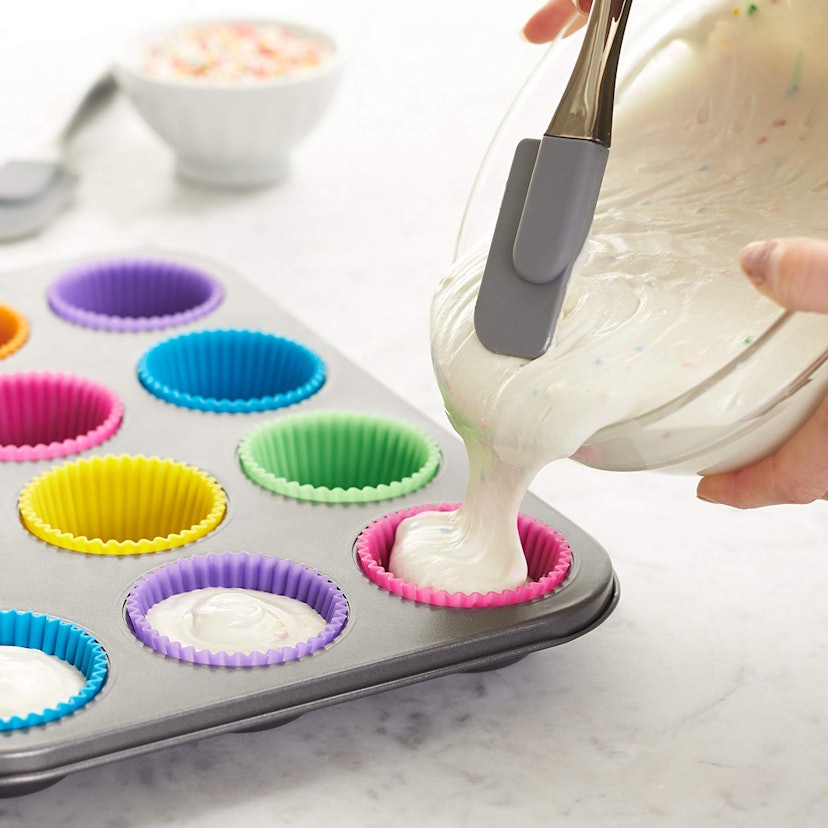 AmazonBasics Reusable Silicone Baking Cups
$9
Amazon
Reduce your carbon footprint (and save money) with these reusable silicone baking cups. The cheerfully-colored cups fit into any standard muffin pan and are microwave and oven-safe up to 500 degrees. When you're done using them, stick them in the dishwasher for easy clean-up. The best part? Unlike paper baking cups, they won't stick to your cupcakes or muffins when you peel them off.
13

A Rose Petal Toner For A Rosy Complexion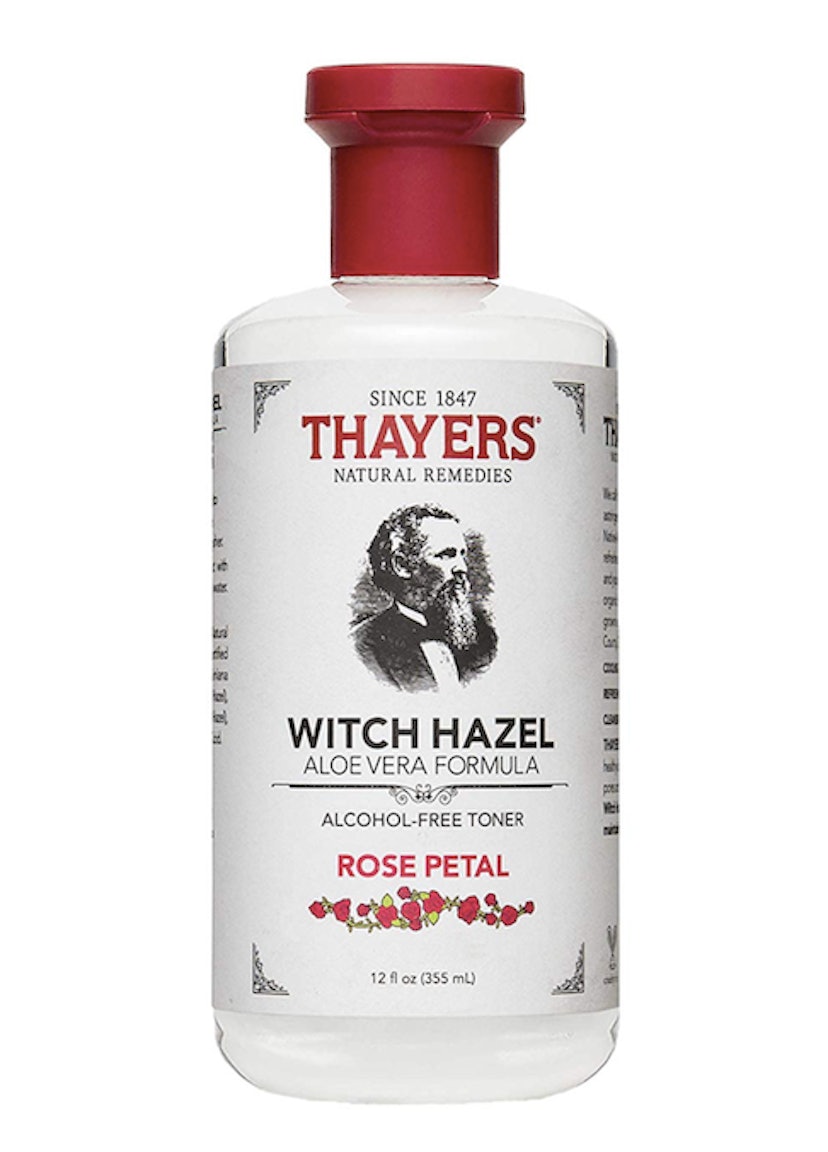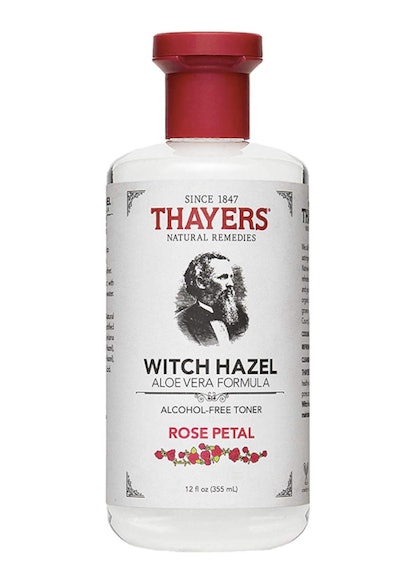 Thayers Rose Petal Toner
$15
Amazon
This alcohol-free toner is formulated with rose petal extract which balances your skin's pH, helping to reduce inflammation and protecting your skin from any future irritation. The addition of witch hazel helps curb acne breakouts while aloe vera deeply hydrates the skin. Swipe a little of this on in the morning and at night for a smoother, clearer complexion.
14

A Microfiber Towel That Prevents Frizzy Hair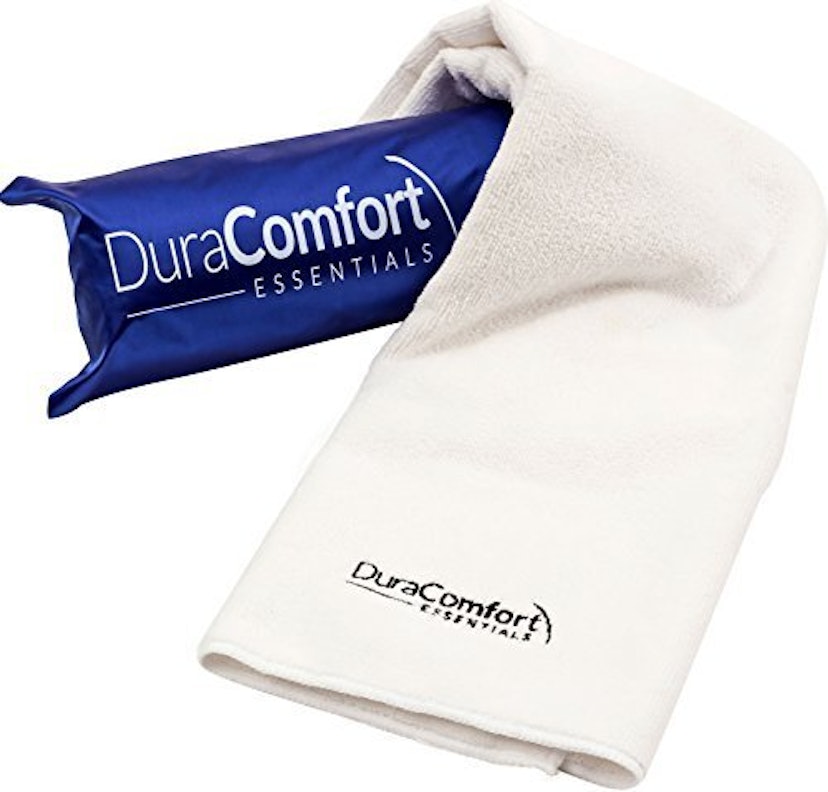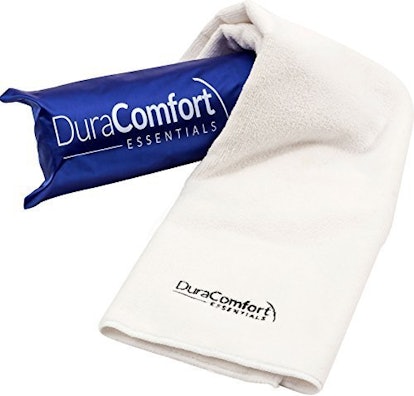 DuraComfort Anti-Frizz Hair Towel
$15
Amazon
Forget about using terrycloth towels on your hair — all those rough fibers can majorly contribute to frizz and breakage. Opt for this anti-frizz hair towel instead — the ultra-fine fibers are gentler on hair and will leave your tresses smooth and frizz-free. Plus, the super-absorbent microfiber material soaks up a ton of water, which means less time spent with a hair dryer in your hand.
15

This Flexible Reading Light You Can Hang Around Your Neck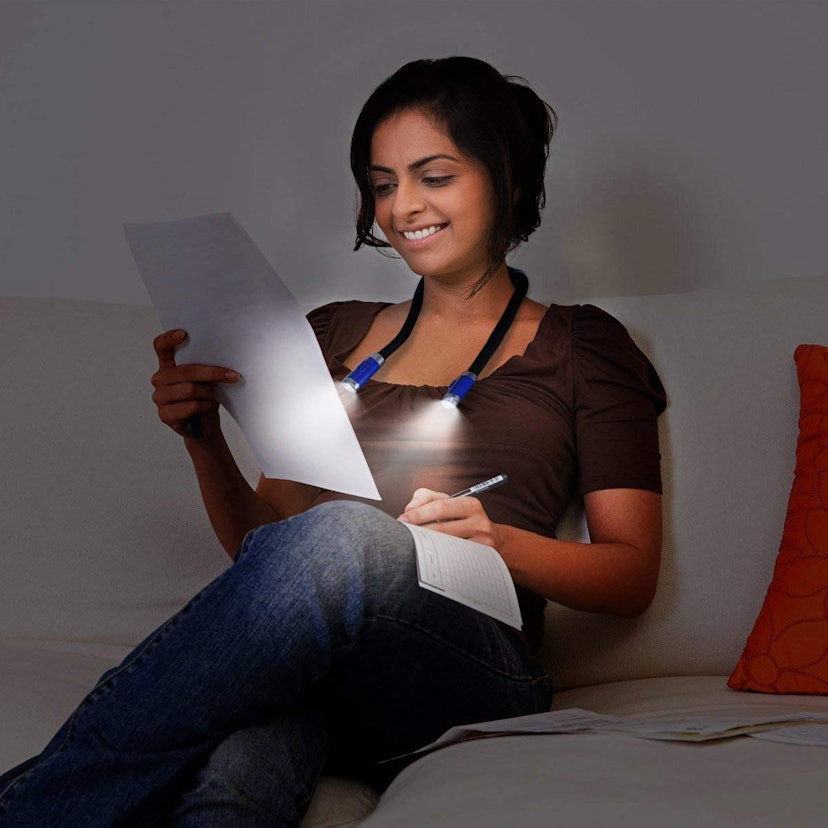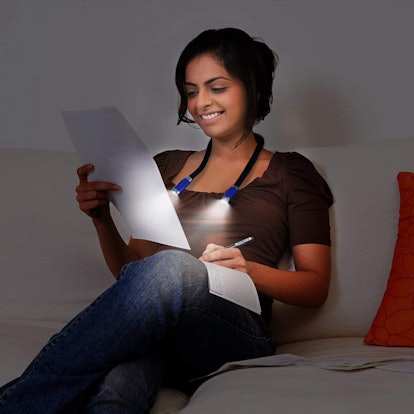 CeSunlight Reading Light
$14
Amazon
Slip this reading light around your neck to illuminate the pages of that latest true crime story you just can't put down (even though it's long past your bedtime). The soft silicone-covered arms are flexible, so you can adjust them to get the perfect angle. The light is USB-rechargeable and works on three settings: choose between spotlight, floodlight, or a combination of both.
16

A Set Of Packing Cubes That Maximize Suitcase Space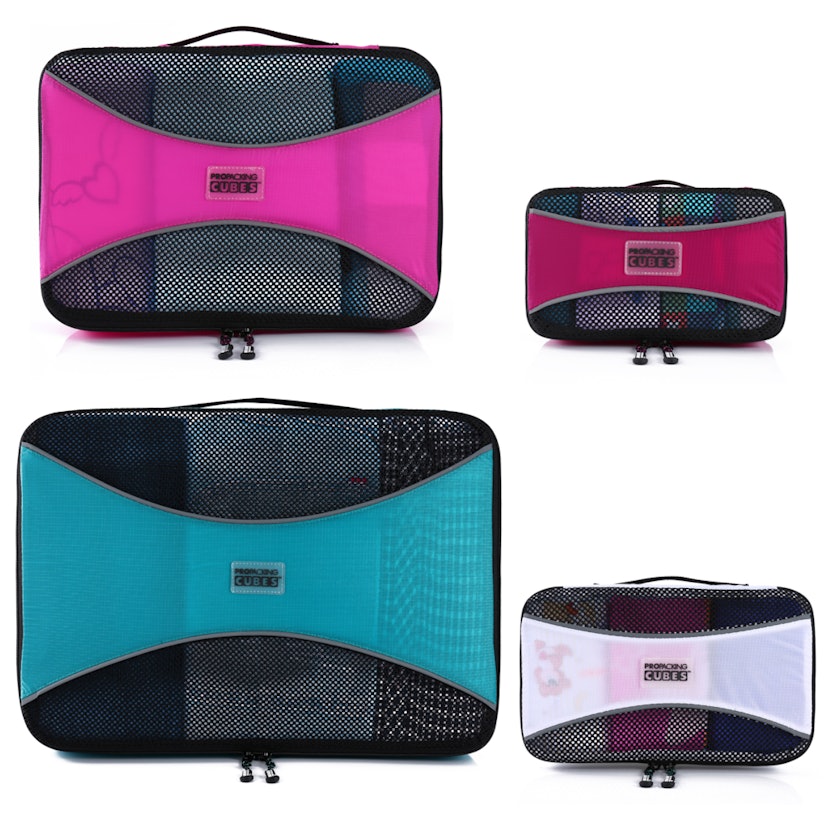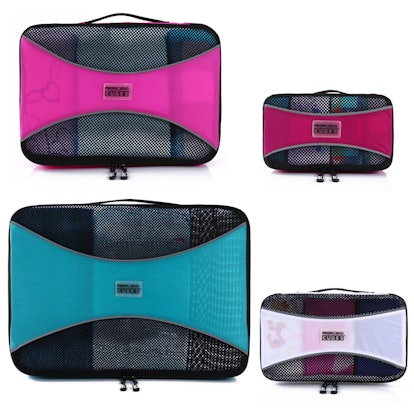 Pro Packing Cubes
$20
Amazon
Make the most of your suitcase space with these packing cubes. When zipped up, the cubes compress clothes, giving you more room in your suitcase for shoes and souvenirs. The set comes with four different-sized cubes. Use the larger ones for sweaters, jackets, pants, and towels, and use the smaller ones for T-shirts, socks, and underwear. The cubes are durable, but lightweight — in other words, they won't tip you over luggage weight limit.
17

A Self-Help Book That Tells It Like It Is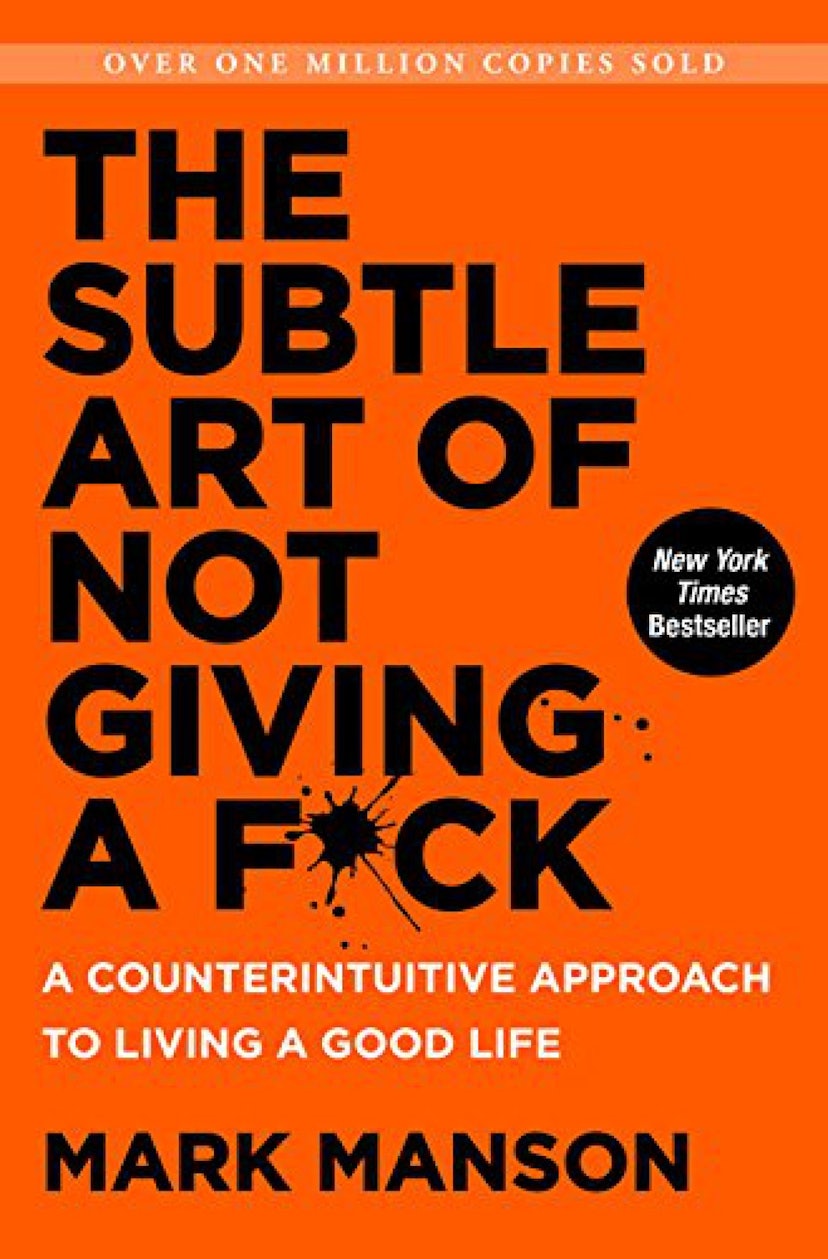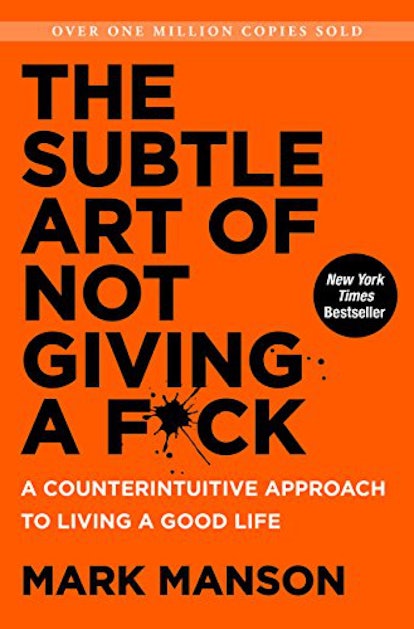 The Subtle Art Of Not Giving A F*ck
$13
Amazon
If you're tired of self-help books that laud the power of positive thinking, The Subtle Art Of Not Giving A F*ck is going to be right up your alley. New York Times best-selling author Mark Manson argues against the mindset of "turning lemons into lemonade". Instead, he encourages readers to accept the limitations, flaws, faults, and disappointments that come with being alive. Read this when you're ready for some no-holds barred advice that just might help you learn to live a more peaceful, contented life.
18

A Set Of 10 Makeup Brushes For Better Blending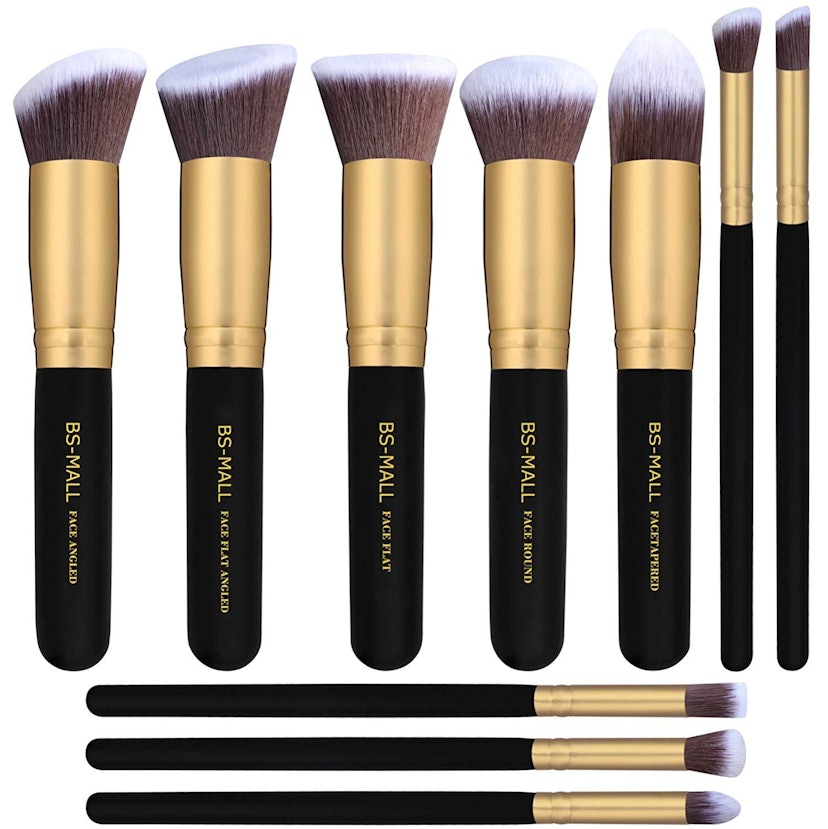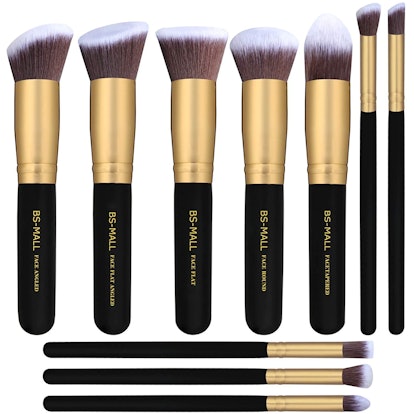 BS-MALL Makeup Brushes
$9
Amazon
Buying a set of good-quality makeup brushes doesn't have to break the bank. These brushes feature soft, high-density synthetic bristles that ensure smooth and even application. The set comes with 10 brushes for foundation, concealer, powder, blush, contouring, and eyeshadow, This makeup artist writes: "These are amazing. Nice and fluffy and great for blending anything … Best cheap brushes I've found yet."
19

These Eye Masks Made With 24-Karat Gold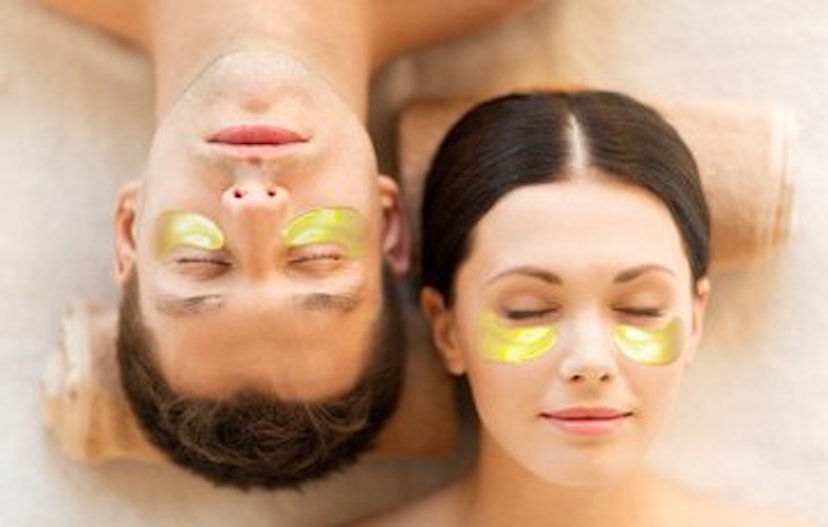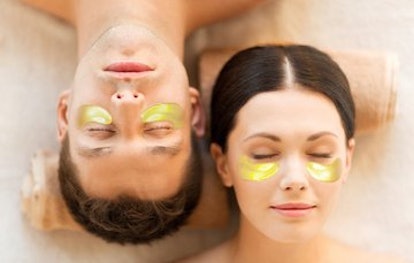 LA PURE 24K Gold Eye Masks
$20
Amazon
When it comes to skincare, gold seriously does have a Midas touch. When applied under the eyes, these gold eye masks work to detoxify the skin, boost circulation, and diminish the appearance of dark circles. The masks also contain super-hydrating hyaluronic acid, antioxidant-rich grape seed extract, and skin-firming plant collagen. Put these on to brighten up eyes after pulling an all-nighter.
20

A Pair Of Streamlined Yoga Pants That Wick Away Sweat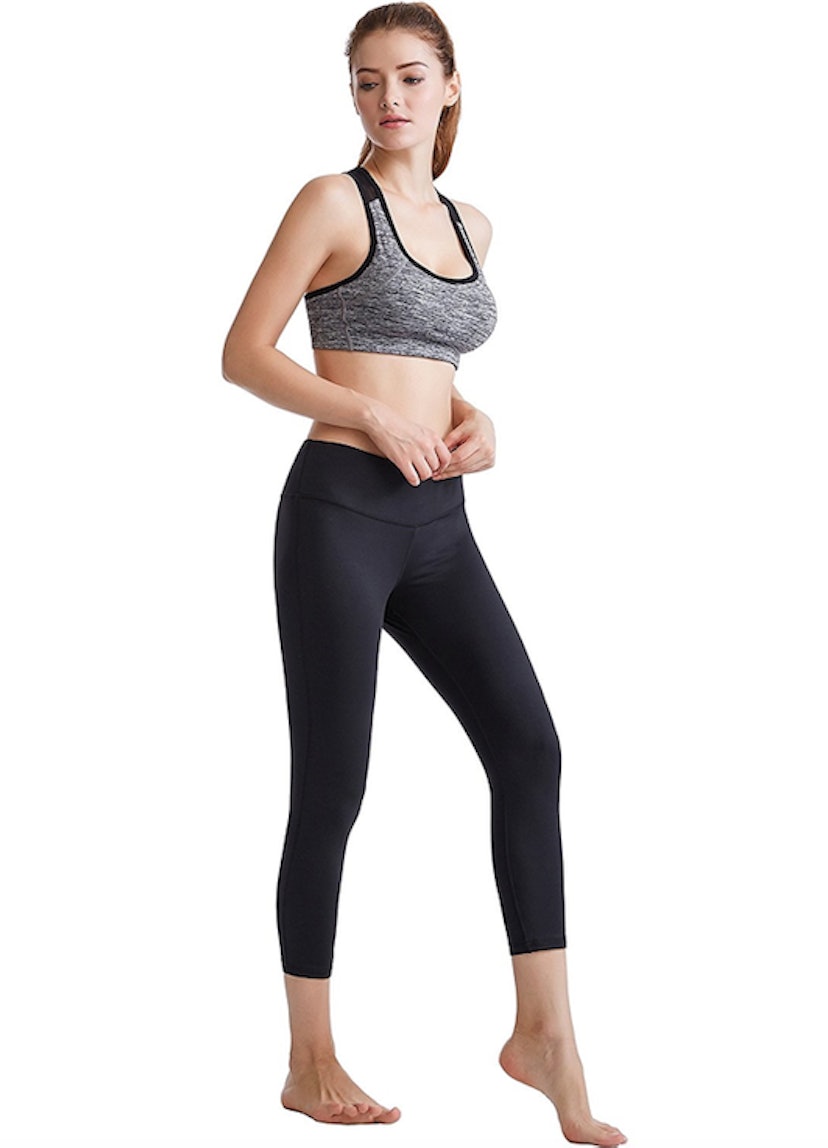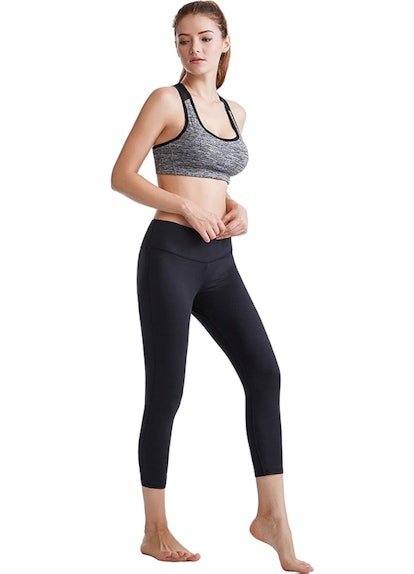 Oalka Yoga Capris (XS-XL)
$20
Amazon
A good pair of yoga pants is a closet staple, but you don't have to spend big bucks at a specialty boutique to get them. These yoga capris are made with four-way stretch fabric that's breathable and moisture-wicking, so you stay cool even during Bikram sessions. A hidden pocket at the waistband is perfect for stashing a key and credit cards. Choose from 18 color options like charcoal, plum, and olive green.
21

These Mats That Help You Get Juicier Burgers Without A Lot Of Messy Clean-Up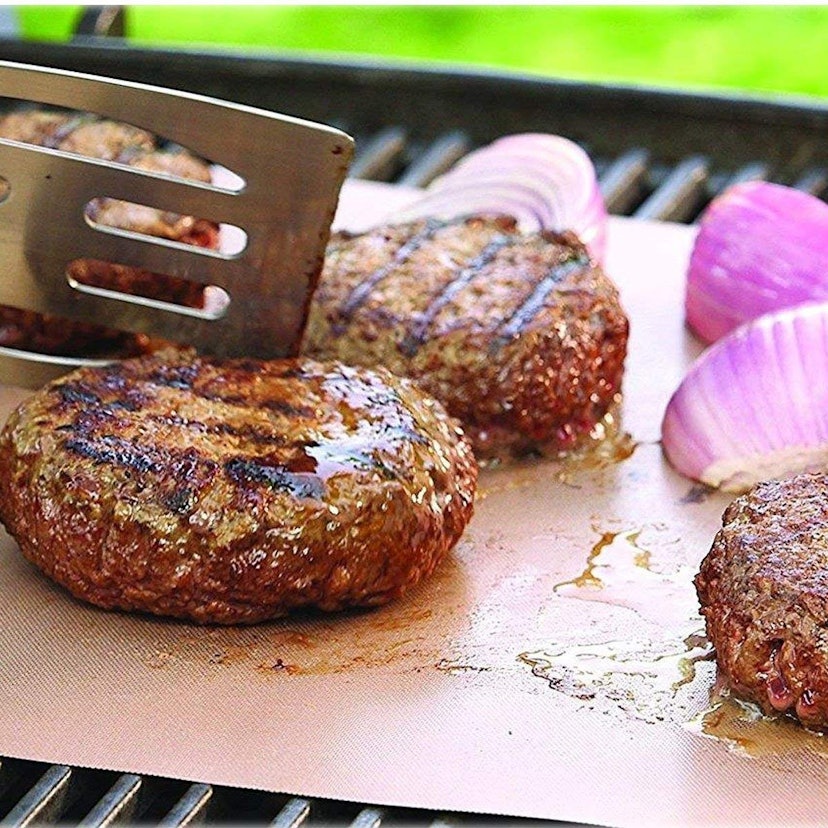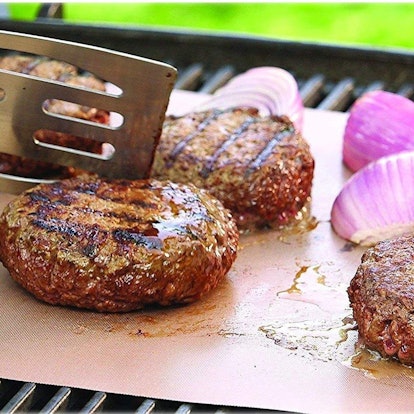 Atiyoc Grill Mats
$11
Amazon
Grilling can be a finicky endeavor. Dripped grease can cause flare-ups — charring your meat and drying it out. But these grill mats prevent drips, ensuring that your meat cooks evenly and retains its juices. The mats also eliminate the annoying task of trying to scrape your grill clean after cooking — simply remove the mats, and wipe them off or stick them in the dishwasher.
22

A Juicer That You Can Also Store The Juice In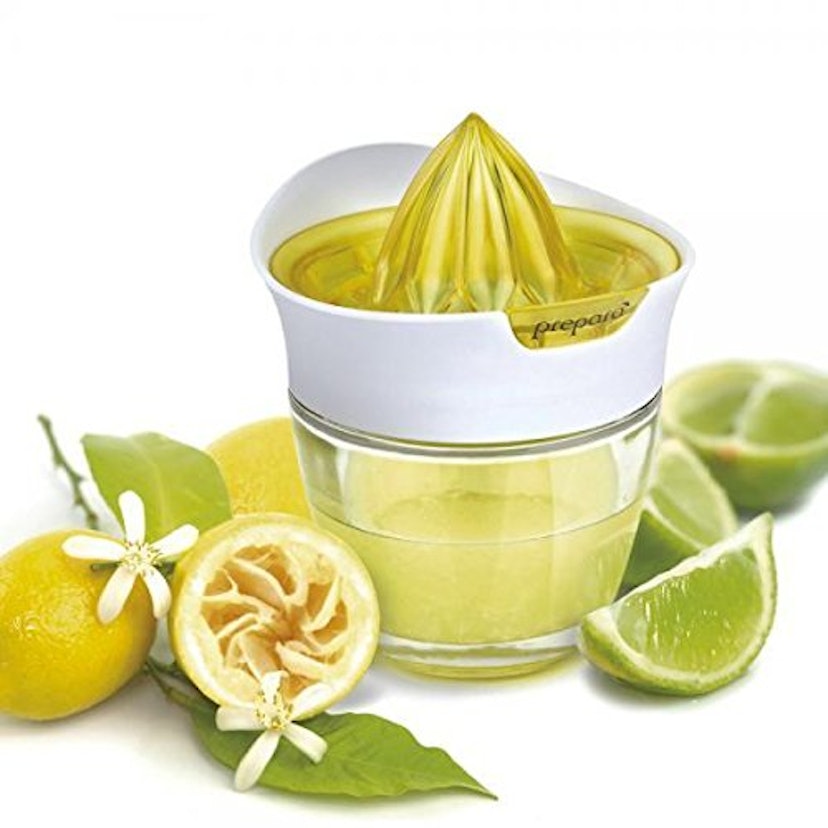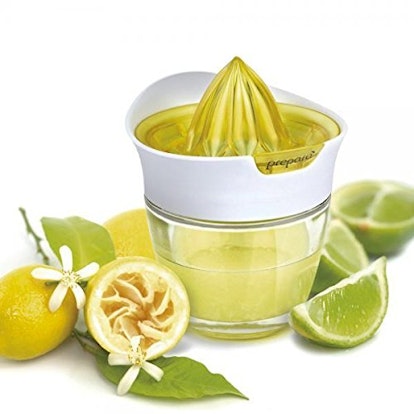 Prepara Citrus Juicer
$16
Amazon
This citrus juicer makes juicing lemons, limes, and oranges a breeze. The glass juicer features dense fluting and steep angles so that you can easily extract juice with just a few twists. The BPA-free juicer holds up to 5 ounces, and comes with a lid so you can store any leftover juice in the fridge. Use it for fresh orange juice and margaritas.
23

A Backpack That Folds Up So You Can Put It In Your Suitcase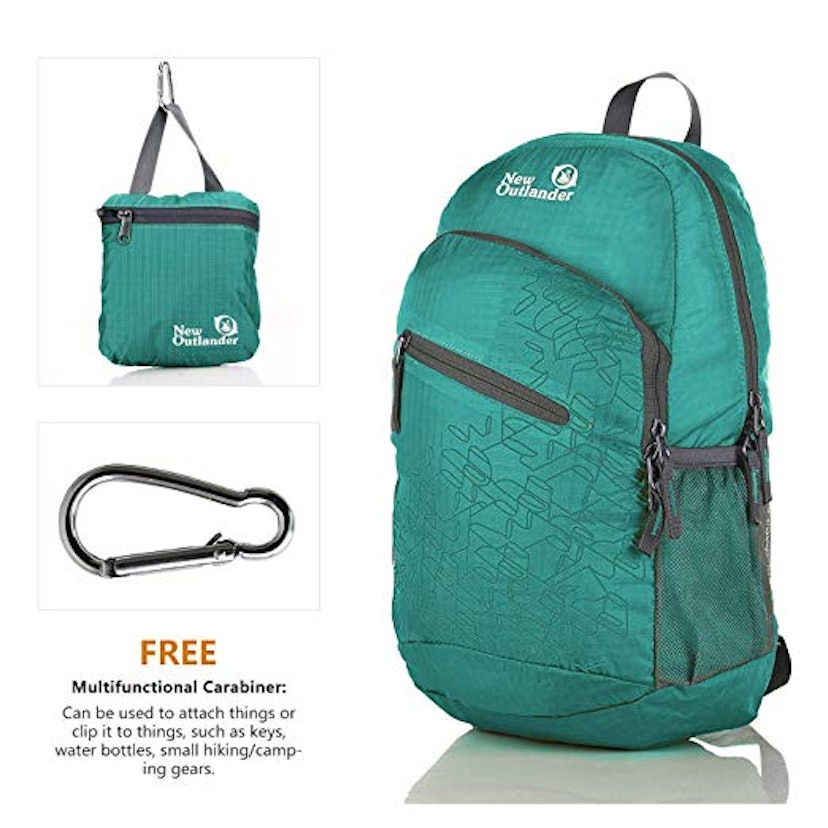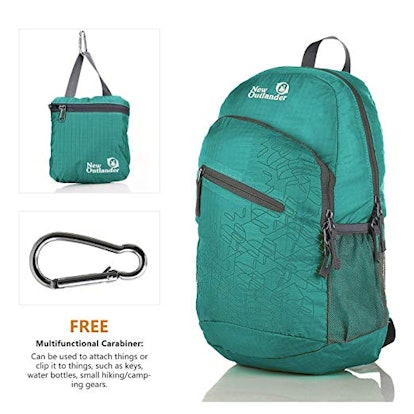 Outlander Foldable Backpack
$18
Amazon
Taking a backpack along on your next trip but don't want it to take up valuable space in your suitcase? Use this foldable backpack, which collapses into a compact square that takes up virtually no space. Made from water- and tear-resistant nylon, the backpack has one main compartment, two front compartments, and an internal security pocket for the important stuff — like your passport and wallet. The shoulder straps are made with breathable mesh and feature plenty of padding.
24

An Ultrasonic Essential Oil Diffuser So You Can Set The Mood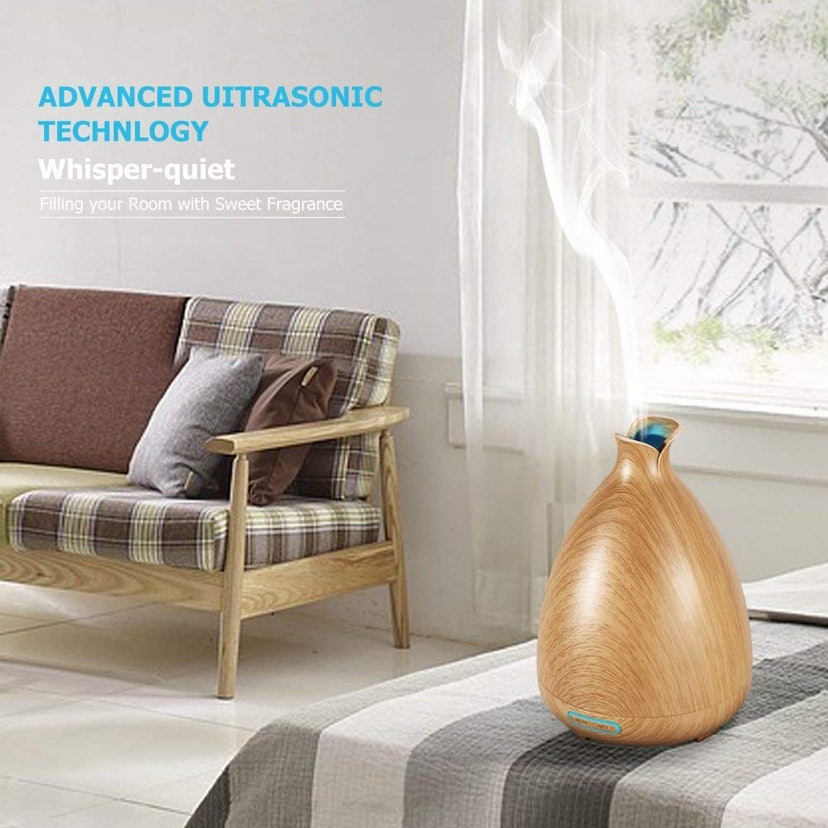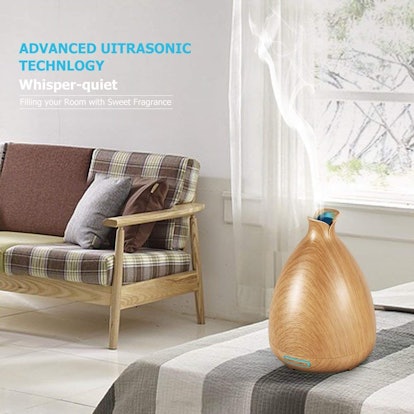 URPOWER Essential Oil Diffuser
$20
Amazon
Add a few drops of lemongrass oil to this essential oil diffuser to energize your morning. Or try a few drops of vetiver to unwind at the end of the day. The ultrasonic diffuser produces an ultra-fine mist that can be released either continuously or intermittently, and seven color-changing LED lights add a touch of mood-setting atmosphere. An automatic shut-off feature kicks in whenever the water runs low.
25

This Charging Station That Keeps All Your Devices Powered Up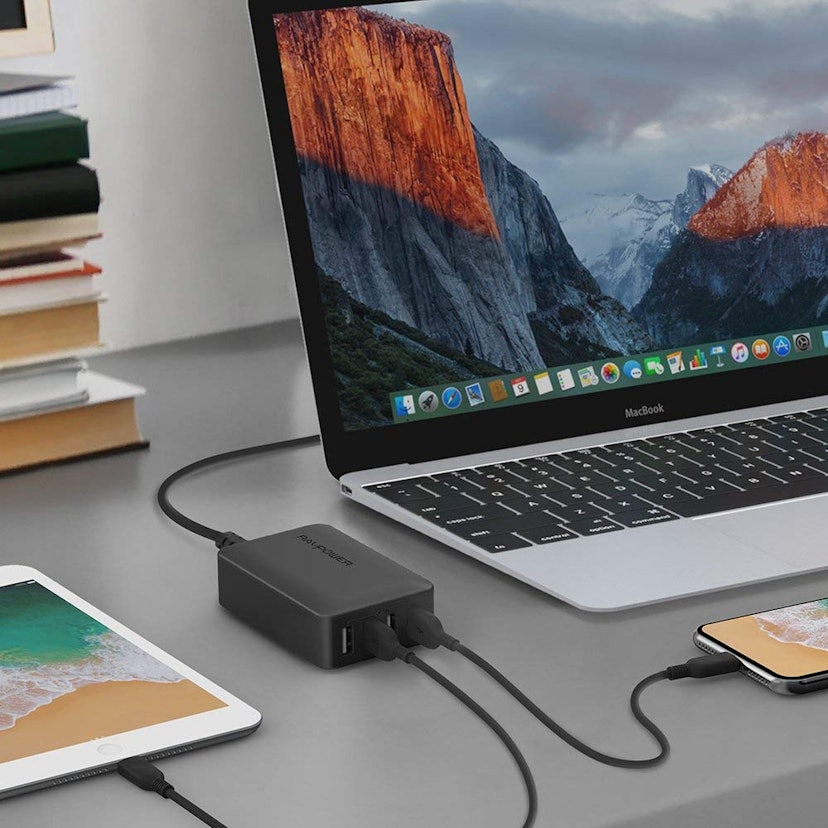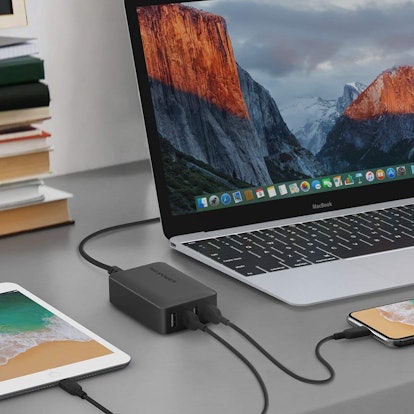 RAVPower Charging Station
$20
Amazon
Use just one outlet to charge four devices at once with this USB charging station. The station is compatible with smartphones, tablets, headphones, and power banks, and is powerful enough to charge up to four tablets simultaneously — and at full speed. A rubber base keeps the charging station from sliding around on your desk, and the 5-foot cable connects it to a wall outlet.
26

A Hair Texturizing Spray For Major Volume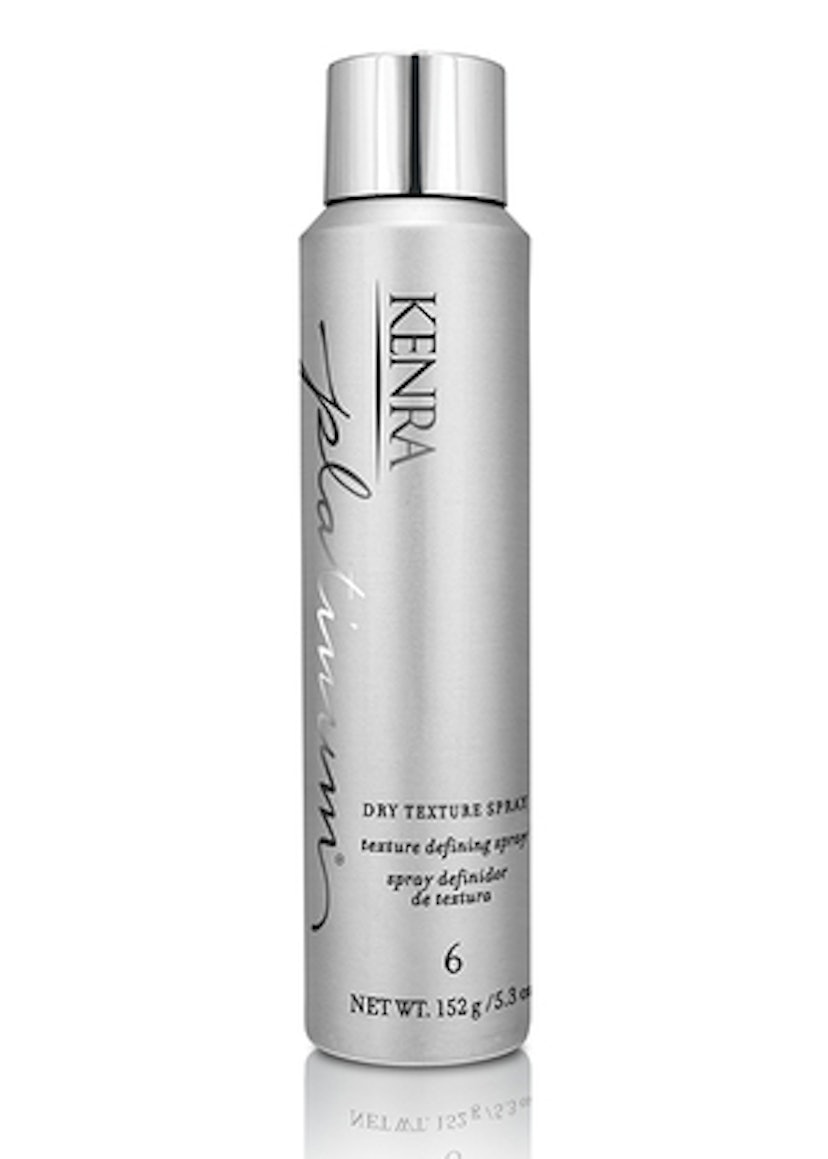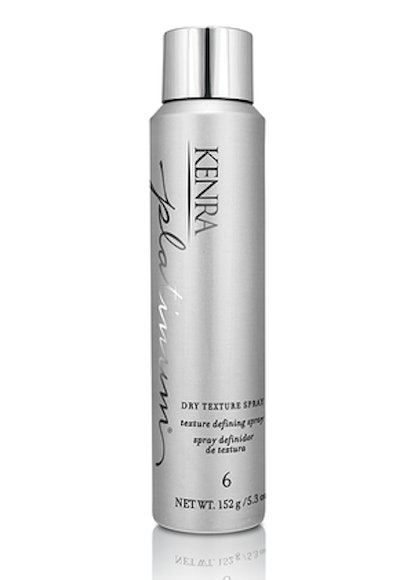 Kenra Platinum Dry Texture Spray
$16
Amazon
Channel your inner Brigitte Bardot with a few spritzes of this texture spray. The spray adds va-va-voom volume, transforming fine hair into that just-got-a-professional-blow-dry look. The formula also doubles as a dry shampoo, absorbing oils and other impurities. This reviewer writes: "I have very fine hair but a lot of it and could never get my hair to keep a curl. This is the best product for that! I now have this in my must have list for hair products!"
27

A Barrier That Keeps Things From Falling In Between Your Car Seats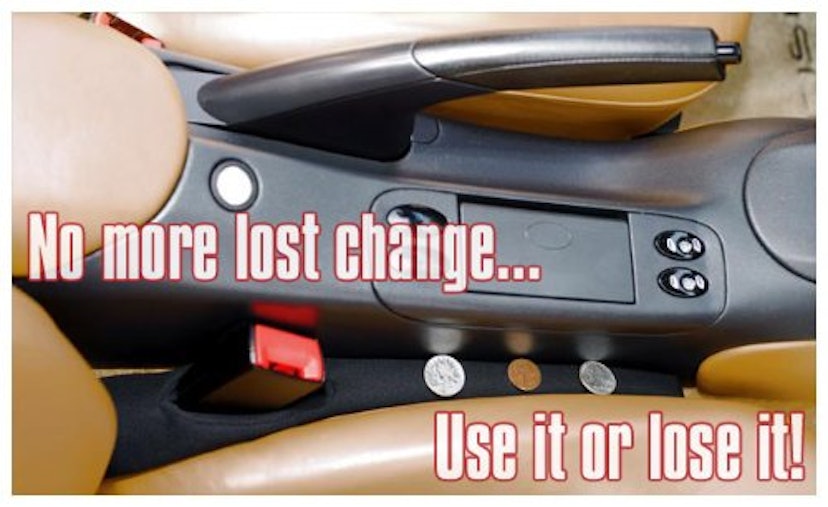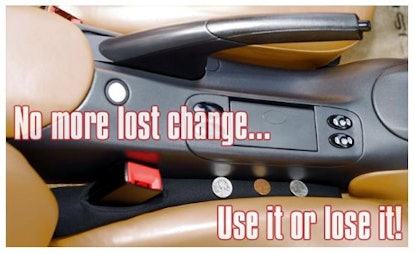 Drop Stop
$20
Amazon
You can pretty much bid a permanent farewell to any item that slips in between your car seats. Or you can use the Drop Stop. A Shark Tank contender, the Drop Stop is a neoprene barrier that fits seamlessly in between your car seats and center console, effectively catching loose change, phones, credit cards, and food crumbs before they have a chance to drop to the floor where they get lost.
28

This Self-Massage Tool To Work Out All The Knots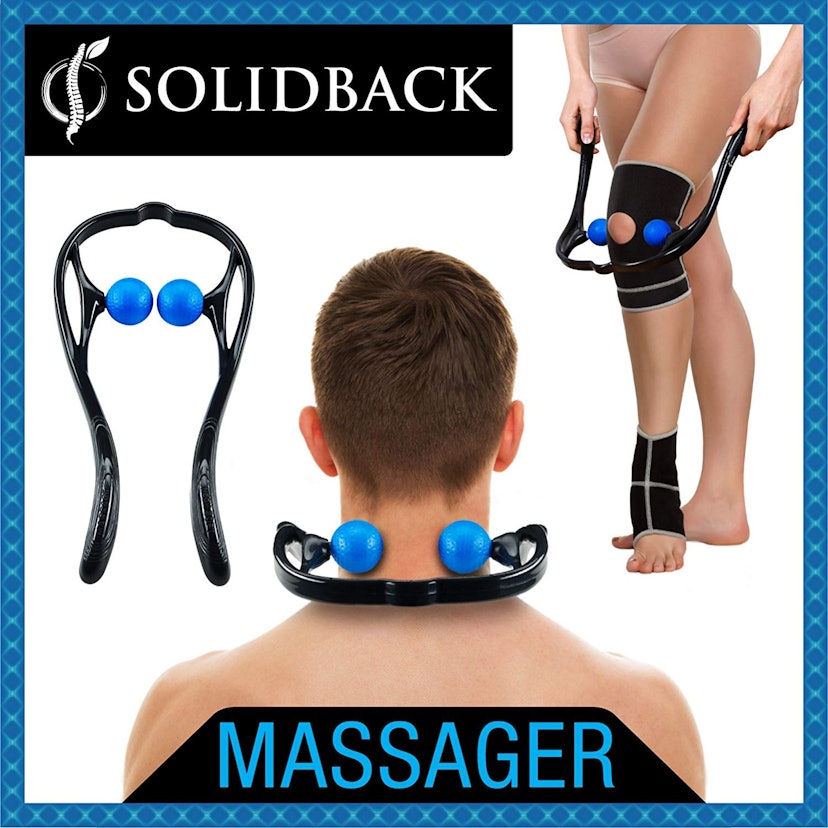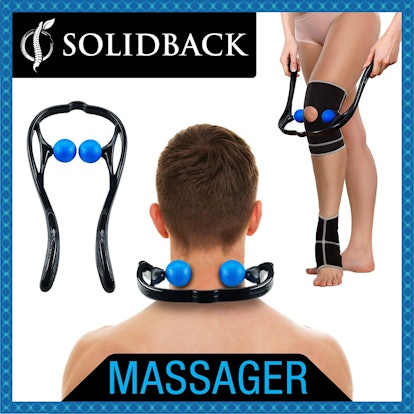 SOLIDBACK Self Massager
$11
Amazon
If only we all had a buddy around to give us a quick neck massage anytime we needed it. Most of us aren't that lucky, but this self massager is a pretty good stand-in. Just slip the U-shaped massager around your neck, feet, shins, or hamstrings, and let the golf-balls sized rollers work out any kinks and knots.
29

A Makeup Setting Spray Made With Organic Tea


Bella Jade Makeup Setting Spray
$12
Amazon
All too often, you put on a full face of makeup in the morning, only to have it all melt off by the time dinner rolls around. Keep everything in place with this makeup setting spray. Made with organic rooibos, white, and green tea extracts, the non-irritating mist ensures foundation, concealer, eyeshadow, and blush stay put until you're ready to remove it at the end of the day. The formula is non-sticky and won't dry out skin.
30

A Mini Waffle Maker For Deliciously Golden Waffles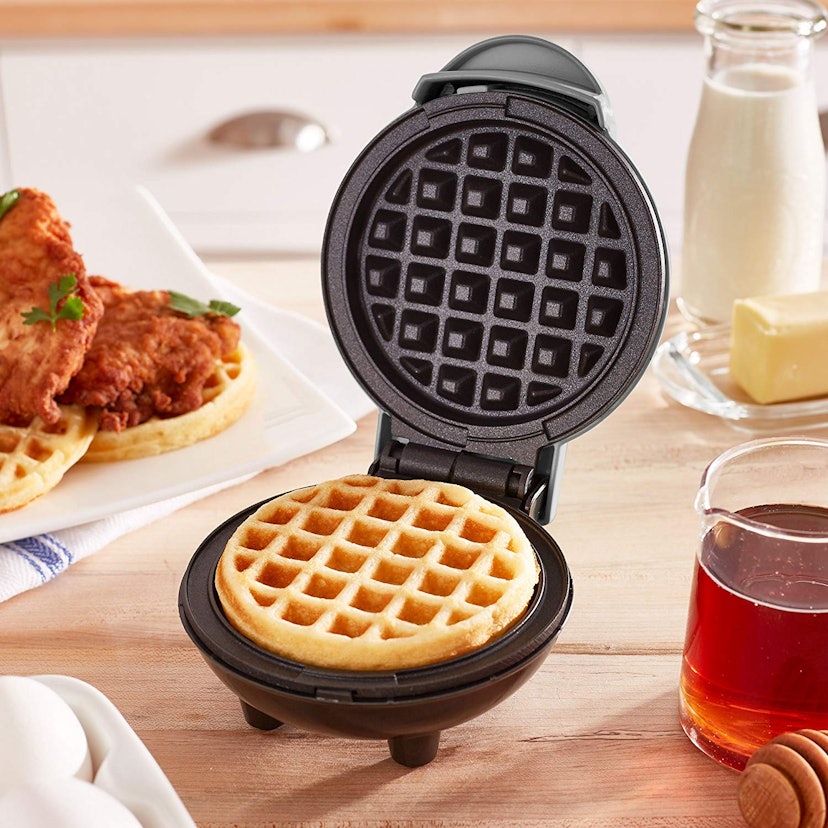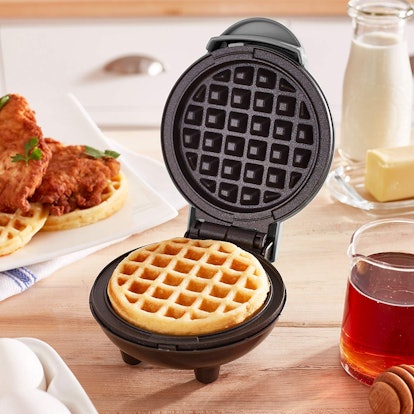 Dash Mini Waffle Maker
$15
Amazon
Want a side of waffles with your breakfast? Put this mini waffle maker to work. It heats up in minutes and makes perfectly golden, crisp waffles with just the touch of a button, and the dual non-stick plates ensure your waffle remains intact when you remove it. Choose from fun colors like aqua, red, copper, and pink.
31

An Egg Cooker That Makes Eggs Any Way You Like 'Em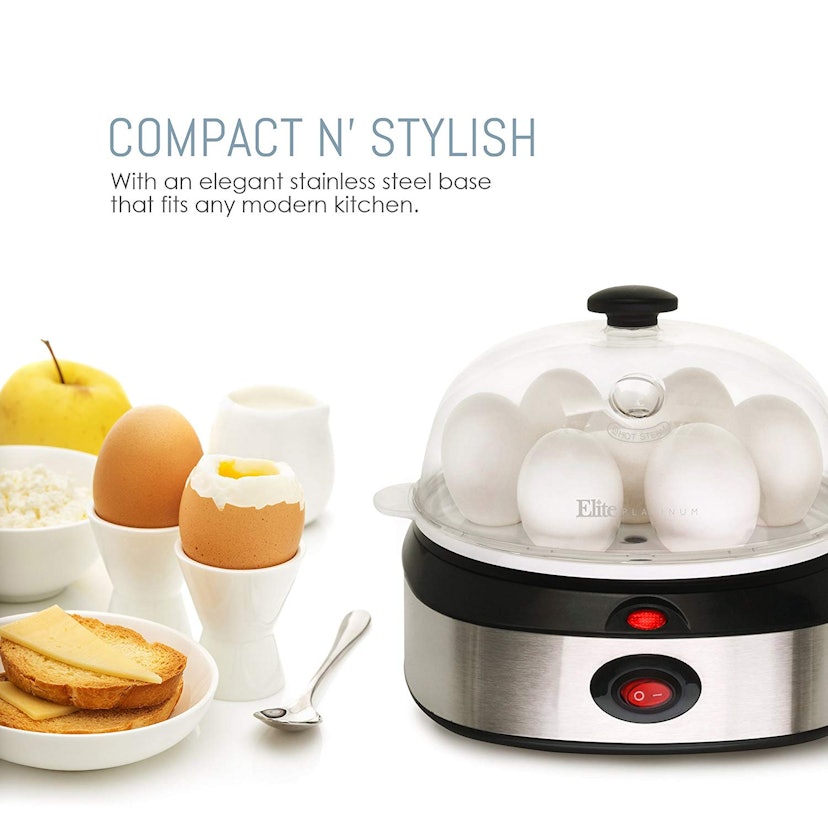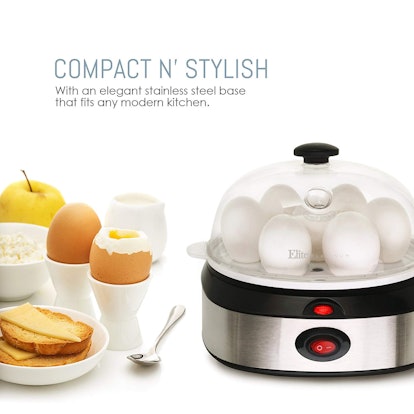 Elite Cuisine Egg Cooker
$19
Amazon
This egg cooker pretty much does it all. It comes with three removable attachment trays: the first one boils up to seven eggs at once, the second one poaches eggs, and the third one makes fluffy omelets. A guided measuring cup helps you determine the correct amount of water for hard or soft-boiled eggs, and an automatic shut-off feature helps prevent over-cooking.
32

An-All Natural Cuticle Oil For Stronger Nails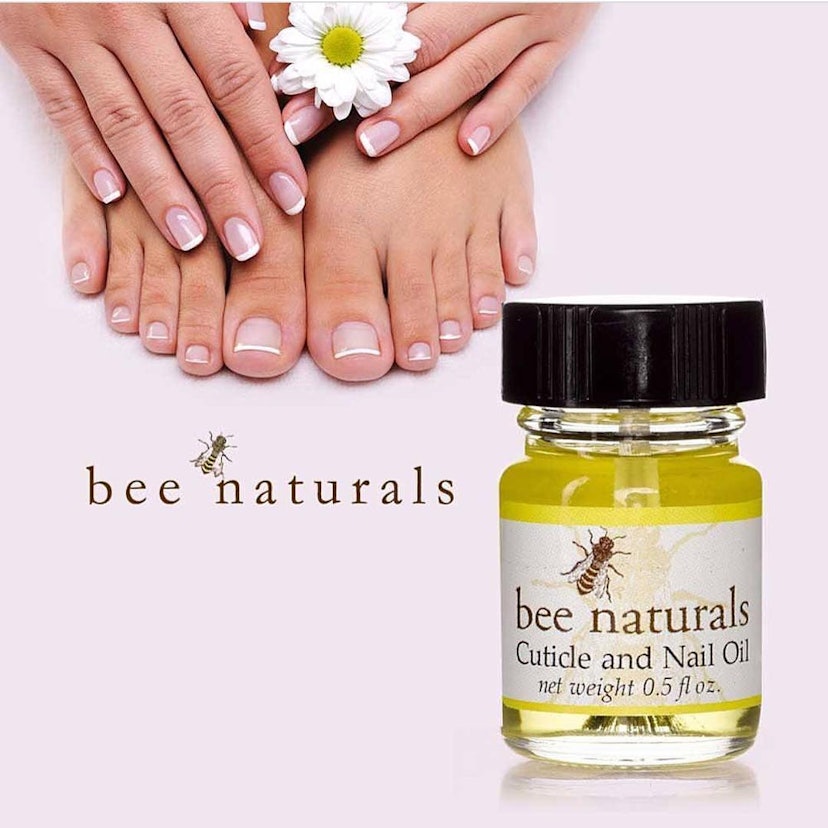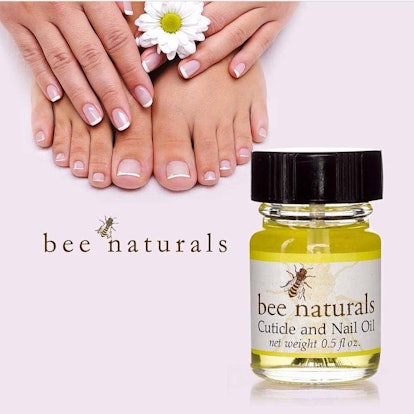 Bee Naturals Cuticle Oil
$18
Amazon
Prevent ridges, cracking, and peeling with this all-natural nail and cuticle oil. The oil is made with three key ingredients: vitamin E-rich avocado oil which strengthens and nourishes, tea tree oil to fight off fungus and bacteria, and lavender oil. This reviewer writes: "After years of having healthy nails my nails starting splitting, cracking and breaking! … I've been putting oil on my nails religiously for a couple of weeks and I can see a big difference. I actually think I will be able to get my nails back to long and healthy again!"
33

A Stainless Steel Travel Mug That Keeps Your Coffee Hot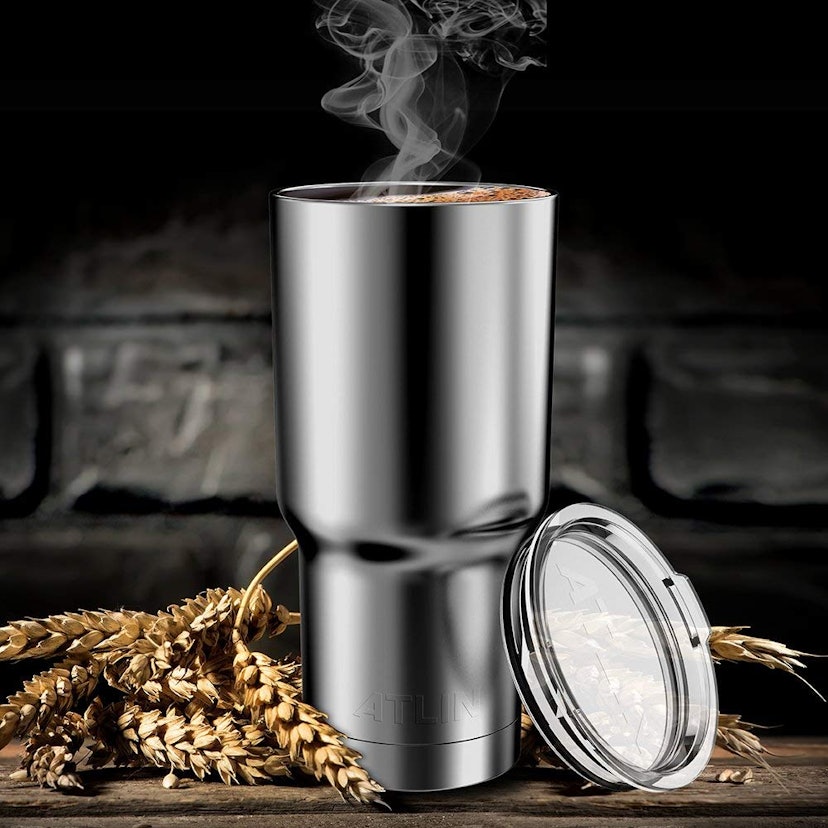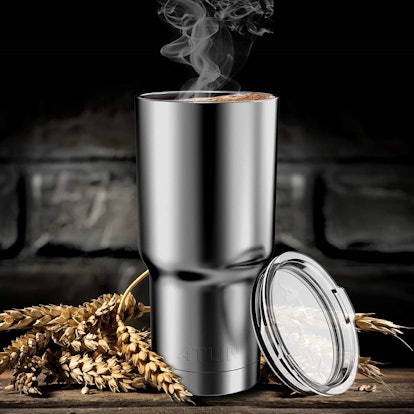 Atlin Sports Travel Mug
$14
Amazon
This sleek, stainless steel travel mug looks expensive (it isn't) and has a ton of great features to boot. The BPA-free mug is vacuum-insulated, so it keeps coffee and tea piping hot for up to six hours, and juice and sodas cold for up to 24. It holds up to 30 ounces, is dishwasher-safe, and even comes with a reusable metal straw.
34

A Travel Hair Dryer You Can Pack In Your Carry-On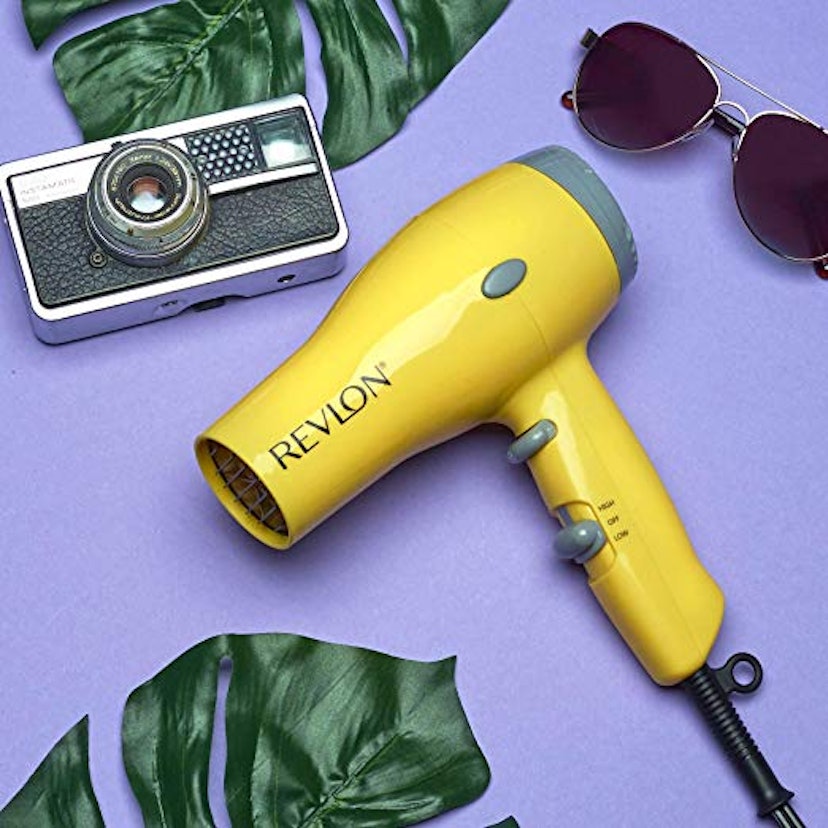 Revlon Travel Hair Dryer
$10
Amazon
With this travel hair dryer, you can rest assured you'll have good hair days no matter where your travels take you. The compact, lightweight dryer works on two heat and speed settings, and features ionic technology that reduces frizz and boosts shine. When you're done drying, hit the cold shot button to lock your style in place.
35

These Bluetooth Headphones That Won't Break The Bank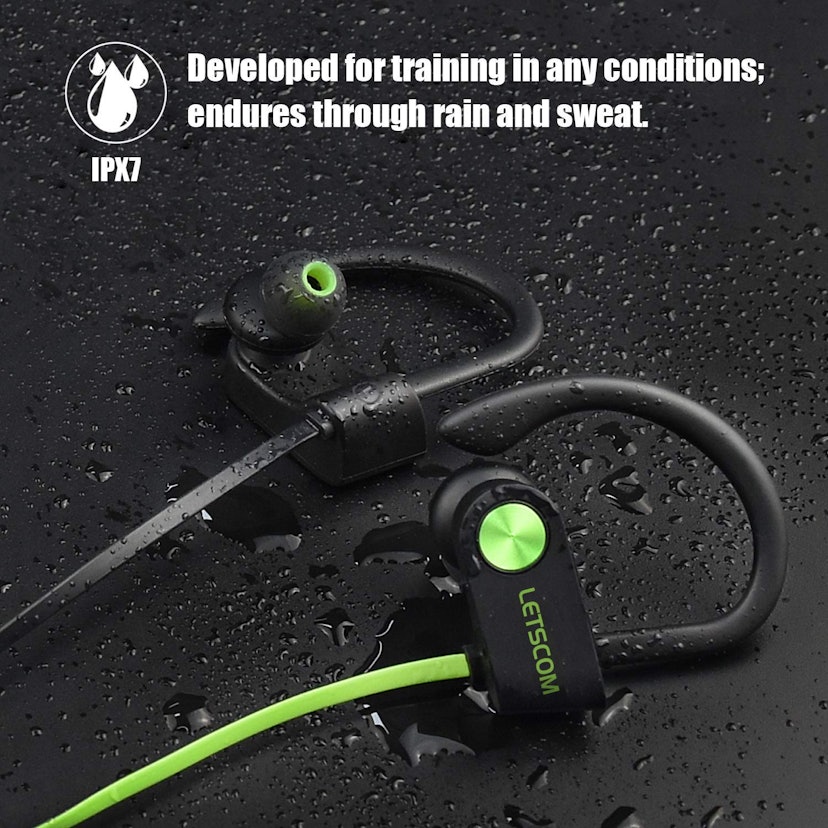 LETSCOM Bluetooth Headphones
$20
Amazon
You don't have to go into the red just to get a good pair of headphones. These Bluetooth headphones are affordable, but still offer a ton of great features, like noise cancellation and a microphone so you can take calls. Built-in control buttons allow you to adjust volume, pause, and skip tracks. The headphones play music for up to eight hours on one charge, so you don't have to worry about them dying on you when you're just 1 mile into a 5-mile jog.
36

A Pizza Cutter So You Can Divvy Up That Homemade Pepperoni Pie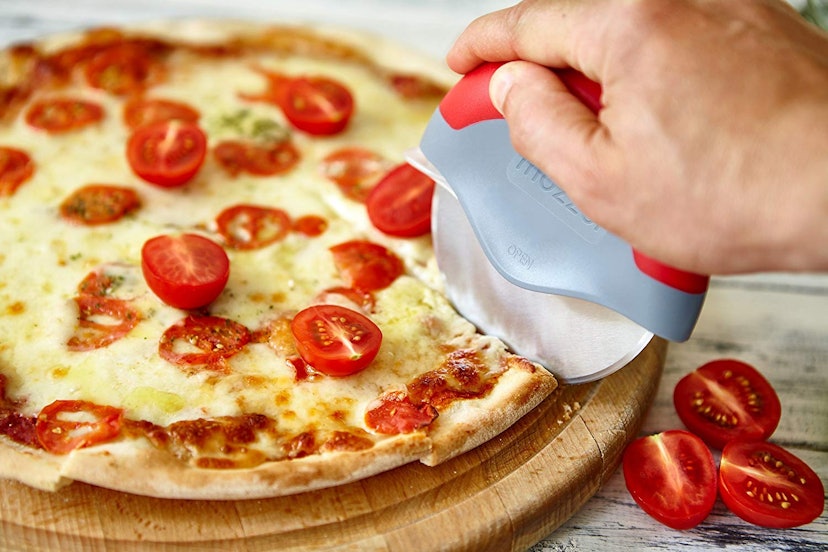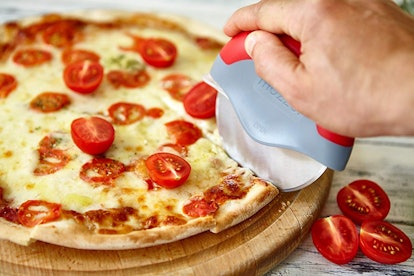 Mozzbi Pizza Cutter
$11
Amazon
This ergonomically-designed pizza cutter fits easily in the palm of your hand, and features a laser-precise blade that slices through pizza, focaccia, and pastries in just one run. The cover protects hands from the sharp stainless steel blade, but detaches easily so you can stick it in the dishwasher for easy cleaning.
37

This Coffee Grinder For A Fresher Cup Of Java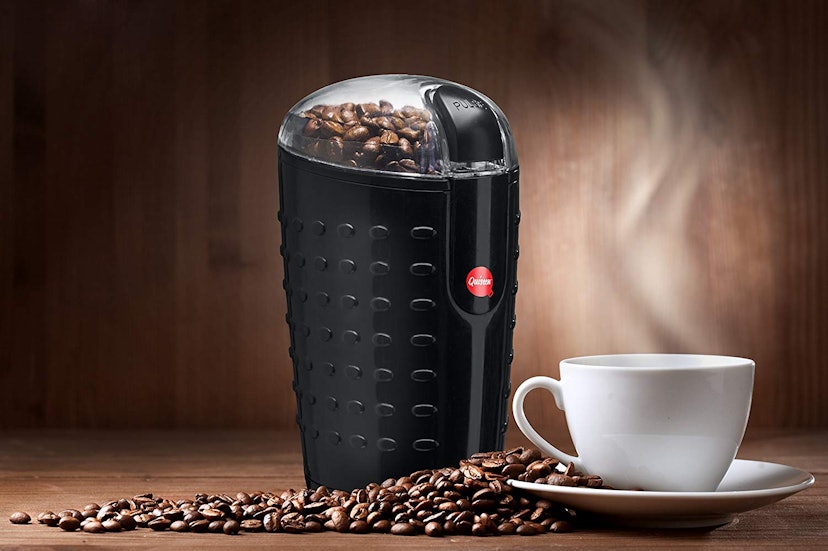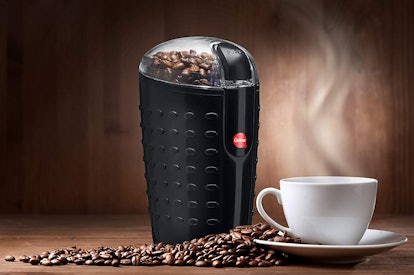 Quiseen Electric Coffee Grinder
$20
Amazon
Freshly-ground beans make for an extra flavorful cup of coffee, and this electric coffee grinder makes grinding those beans a cinch. Holding up to 2.5 ounces of beans at a time, the the grinder is outfitted with stainless steel blades and a powerful motor for quick-grinding. And it's not just for coffee — you can use it to grind nuts and spices too.
38

A Silicone Basket For Veggie Steaming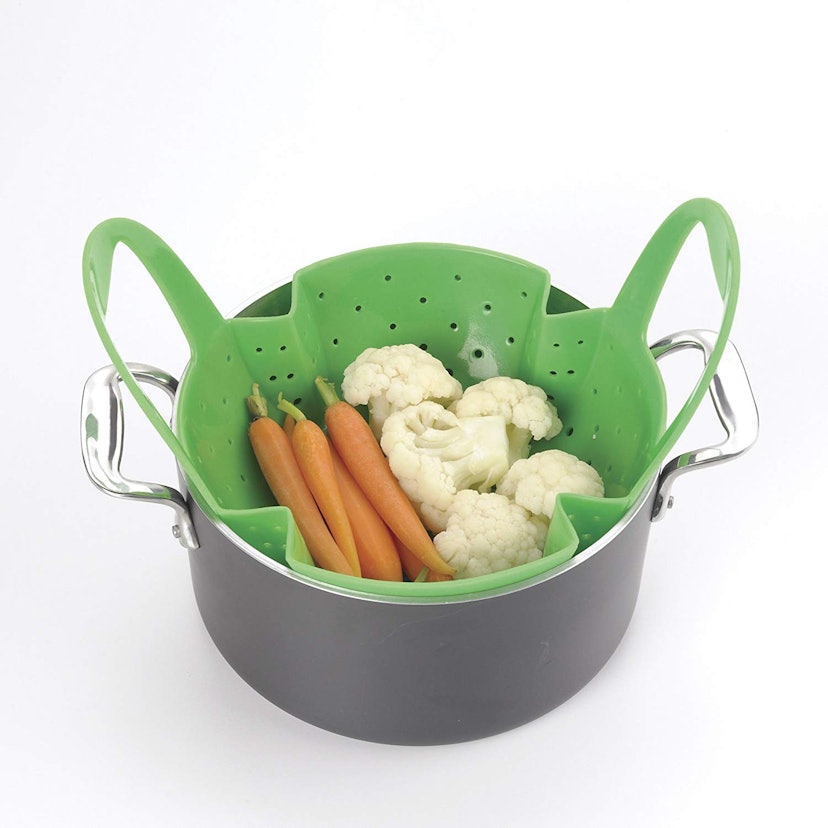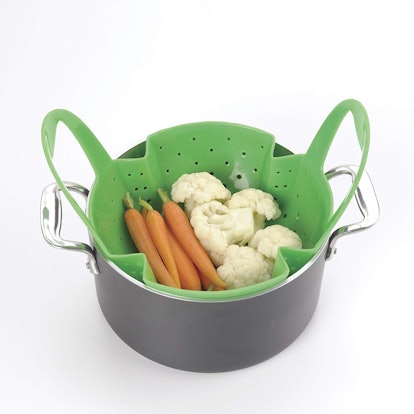 OXO Good Grips Silicone Steamer
$12
Amazon
With convenient carrying handles, this silicone steamer is easy to lift out once your veggies are done cooking. The extra-high walls keep food safely away from boiling water, and the foldable, pleated design means the steamer can fit into pots of all sizes. It's dishwasher-safe, and works great with pressure-cookers.
39

This Silk Pillowcase That's Actually Good For Your Hair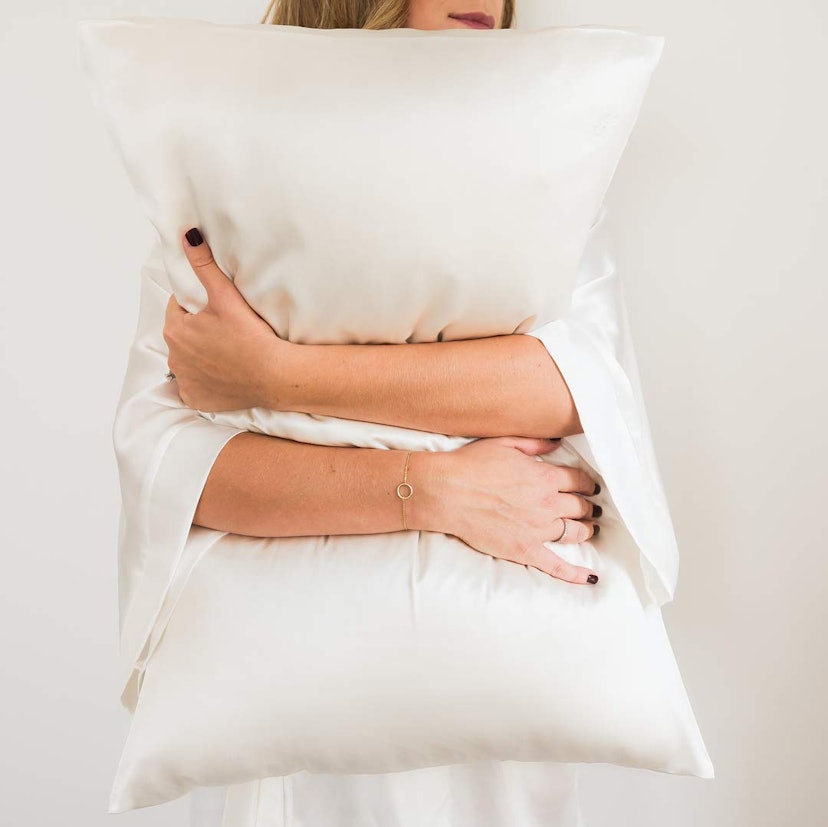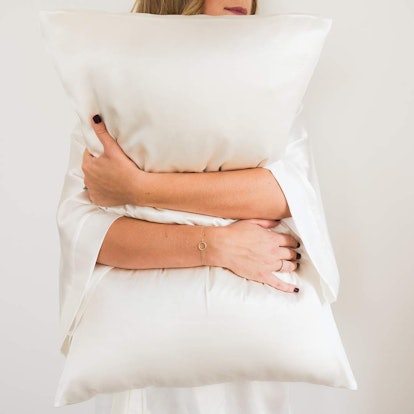 YANIBEST Silk Pillowcase
$20
Amazon
You probably use a protective spray on your tresses when you're heat-styling, but did you know you hair could also use a little protecting while you sleep? Cotton pillowcases can act like Velcro on hair, snagging it and contributing to breakage while you toss and turn. Use this mulberry silk pillowcase instead — the slippery surface won't catch on hair, ensuring your locks remain healthy and intact.
40

A Splash-Proof Speaker You Can Use In The Shower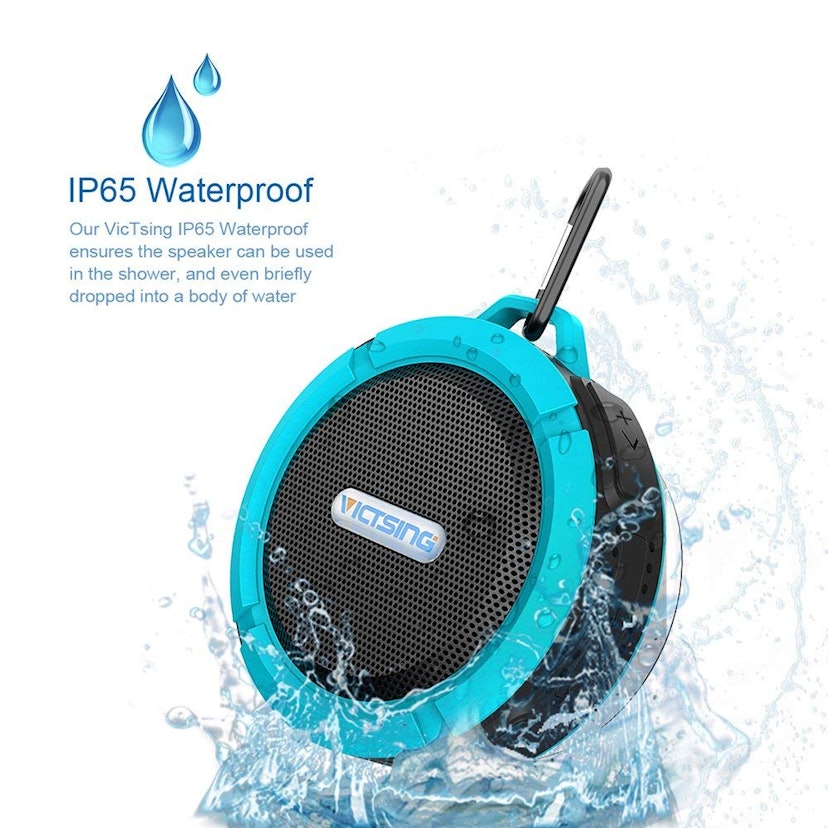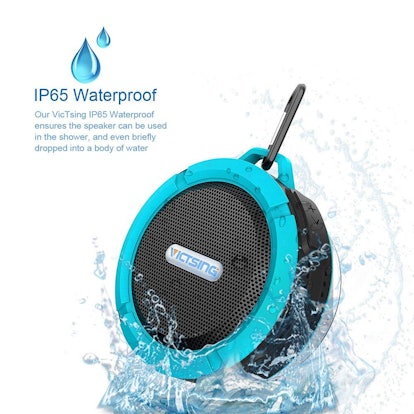 VicTsing Shower Speaker
$20
Amazon
Belt out your favorite show tunes while you shampoo — with a little help from this shower speaker. Covered in protective silicone, the speaker is splash-, shock-, and dust-proof — so you can use it in the great outdoors an in the shower. It plays up to six hours of music on one charge, and comes with a built-in bluetooth microphone so you can answer calls while you wait for the conditioner to sink in.
41

This Cookbook From Everyone's Favorite Celeb — Chrissie Teigen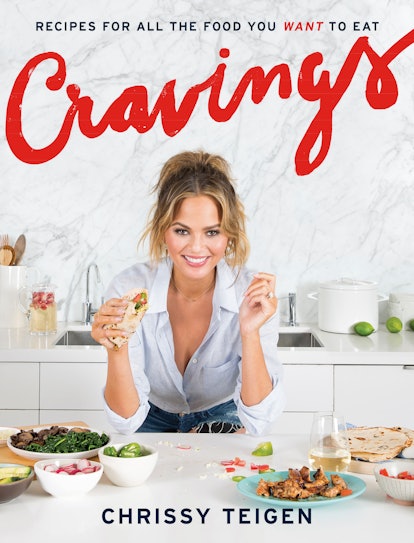 Cravings
$14
Amazon
Cravings is the cookbook from the always delightful and hilarious Chrissy Teigen, who tackles cooking with joy and irreverence. Teigen dishes out recipes for chicken wings with spicy honey butter, cacio e pepe, and a whole slew of Thai classics passed down from her mom. Hungry yet?
42

A Purse Hook That Does The Heavy Lifting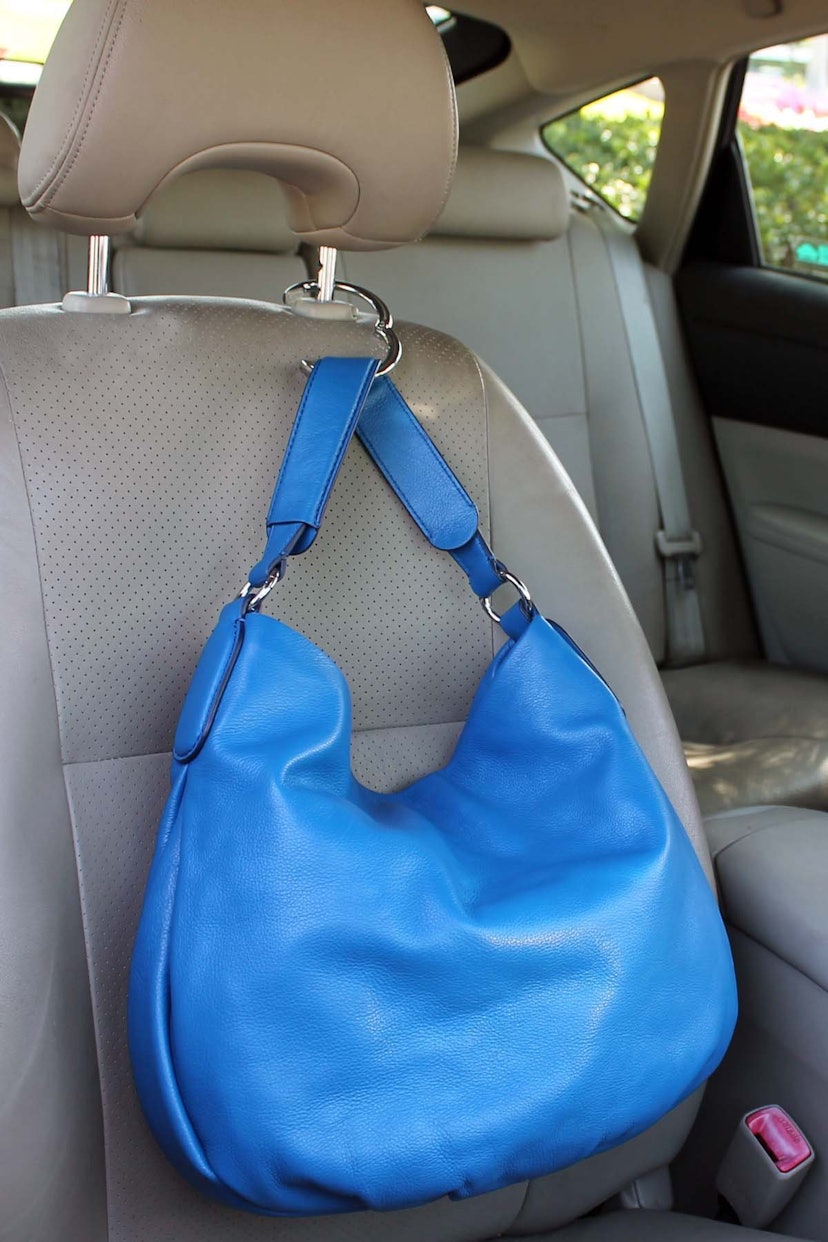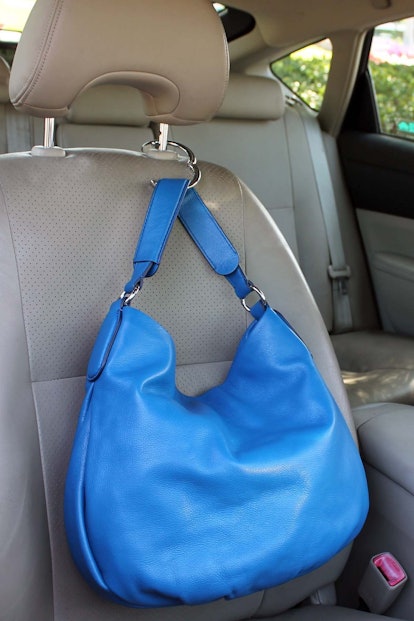 Clipa2 Bag Hanger
$15
Amazon
This bag hanger is super lightweight, but strong enough to hold bags up to 33 pounds. Made with triple-plated alloy, the spring-shut hanger attaches to countertops, tables, restroom doors, and car headrests, so you can keep your purse secure and off the floor. Choose from gold, silver, or hematite.
43

This Calming Lavender And Chamomile Aromatherapy Mist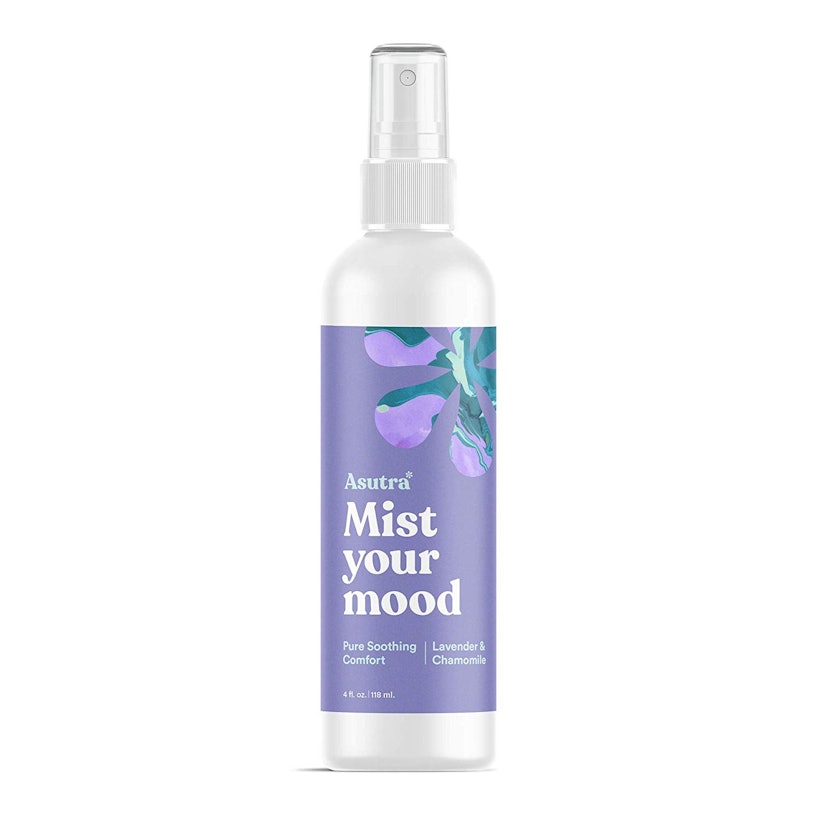 ASUTRA Aromatherapy Mist
$15
Amazon
The magical benefits of essential oils knows no end, and this aromatherapy mist is proof of that. A few spritzes of the lavender and chamomile spray will take you from stressed to serene in seconds. They moisturizing jojoba oil and aloe-based formula is hypoallergenic and alcohol-free, so it's completely safe to use on even the most sensitive skin. Stock up on the other six scents too, so you have an aromatherapy mist to fit all your moods.
44

A Clip-On Strainer (Because You Don't Have Three Hands)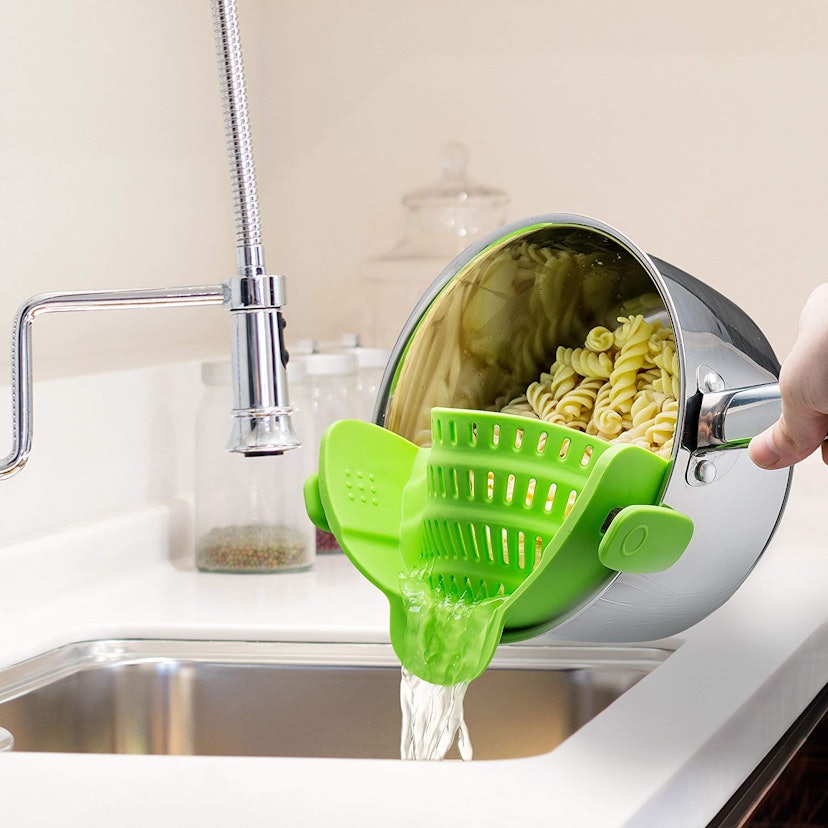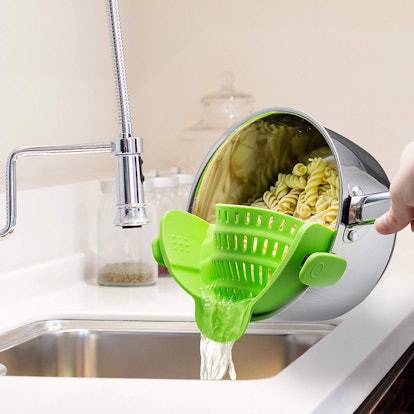 Kitchen Gizmo Snap 'N Strain Strainer
$14
Amazon
Straining water is perhaps the most awkward of cooking tasks — you really need three hands to do it effectively. This strainer, though, clips onto the rim of your pot, freeing up your two hands so you can use them to tilt the pot and drain the water off. The dishwasher-safe strainer fits pots, pans, and bowls of any size, and is strong enough to withstand even heavier foods like potatoes.
45

This Tile That Actually Helps You Find Lost Keys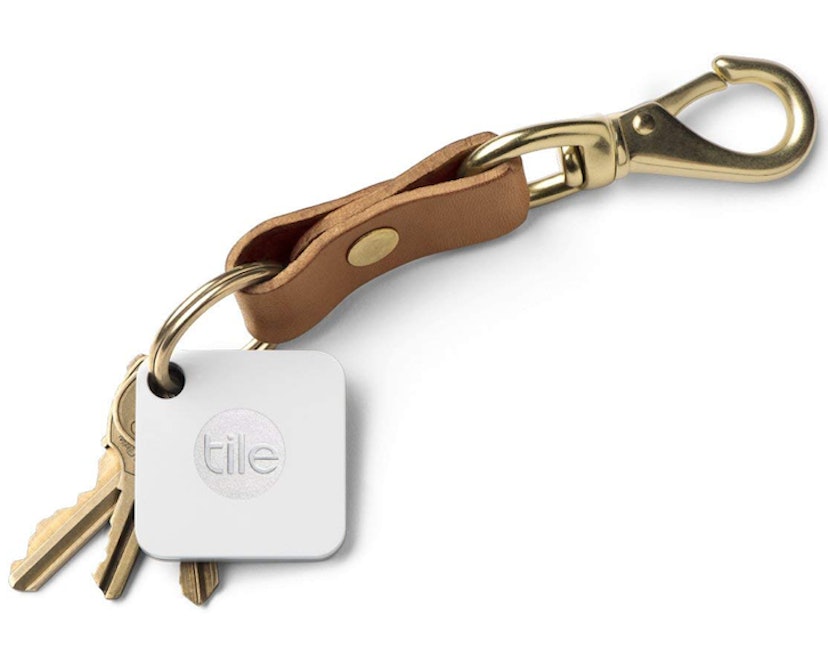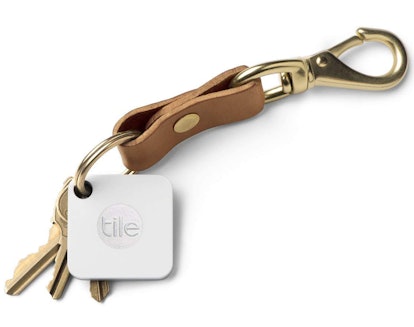 Tile Mate Key Finder
$15
Amazon
A life-changing invention for those of us who are scatterbrained, this key finder connects to an app on your phone so you can locate your lost set of keys. (How did they end up in the fridge?) The finder works if you lose your phone, too. Just press the button on the tile, and it'll even ring your phone — even if it's on silent.
46

A Cosmetics Bags To Keep Your Makeup Organized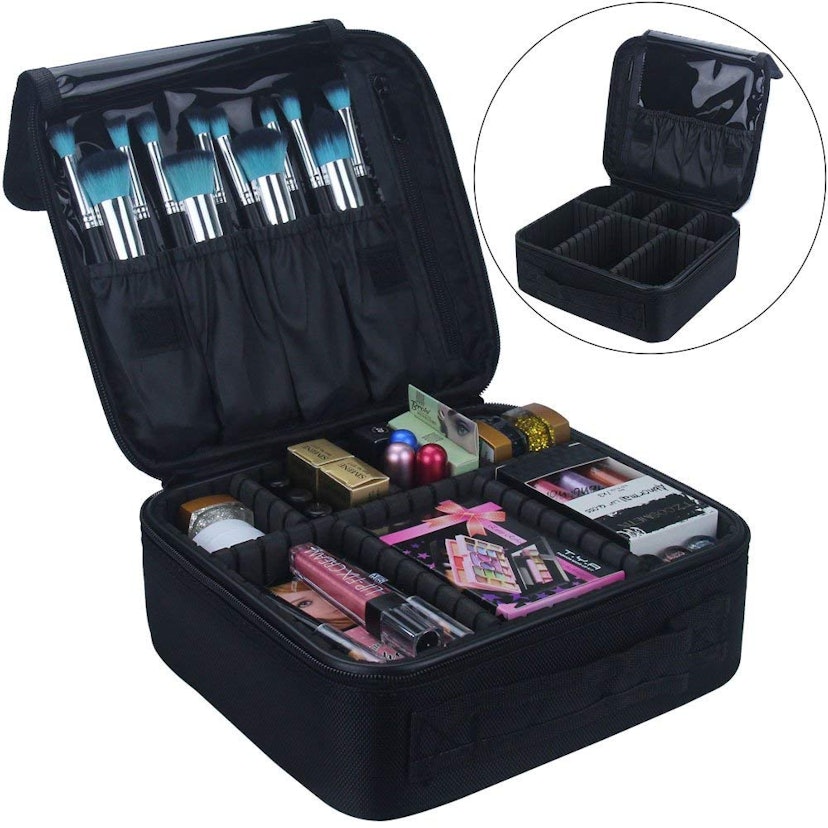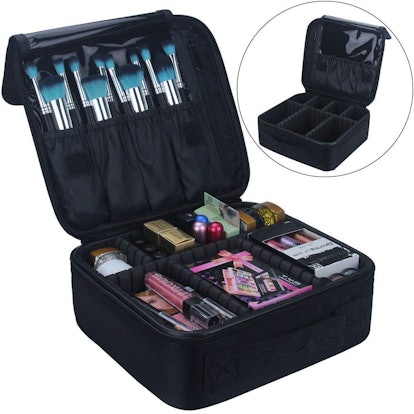 Relavel Cosmetics Case
$19
Amazon
There's nothing more frustrating than searching for your favorite eyeliner in a haphazard makeup bag, but you can keep your eyeliner — and everything else — in order with this cosmetics case. Made with high-quality Oxford cloth, the bag has adjustable compartments for eyeshadow, lipstick, mascara, and eyeliner, so you can always find exactly what you're looking for. There are even pouches on top for your makeup brushes.
47

This Candle With A 'Sexy Man' Scent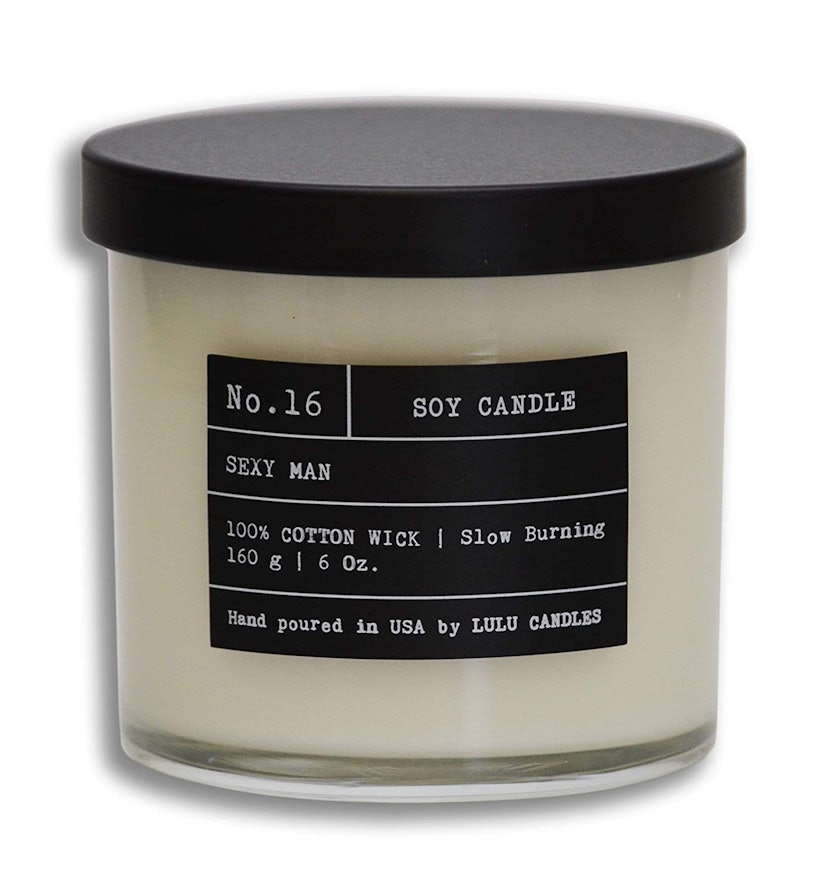 Lulu Candles 'Sexy Man' Soy Candle
$14
Amazon
Tom Hardy and Michael B. Jordan are busy making movies, so you'll just have to hang out with this deliciously scented 'sexy man' candle instead. Made with eco-friendly soy wax, the candle has an extra-long burn time, so it'll last you through any Jordan or Hardy movie marathon. This reviewer writes, "These candles never fail to delight me … Burn time is slow and steady … Perfect for a nice gift or to treat yourself!"
48

This Gadget That Cooks Your Pasta In The Microwave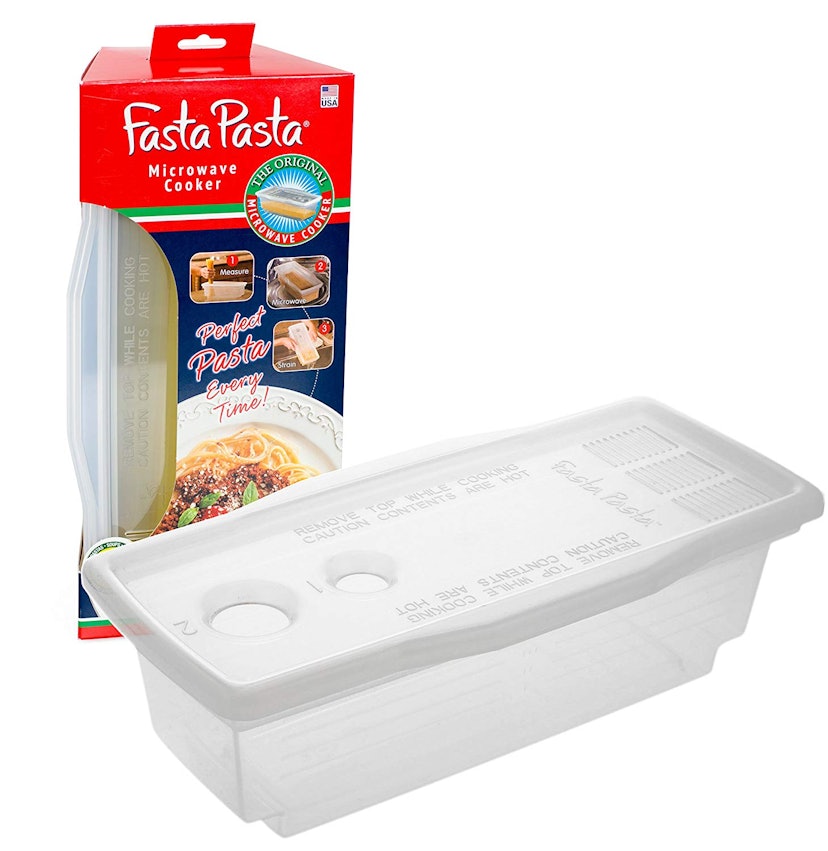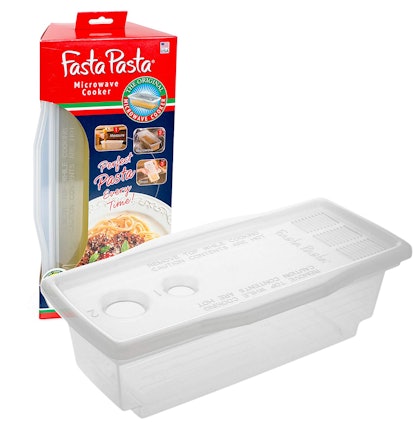 Fasta Pasta Microwave Pasta Cooker
$11
Amazon
As they say, a watched pot never boils — which is not such a great thing if you've only got a few minutes to make dinner before rushing out the door. Fortunately, this microwave pasta cooker requires zero pot-watching. Just fill the reservoir with pasta and water, and stick in the microwave — your fettucine or penne will be al dente within minutes.
49

An Under-The-Desk Pillow For Your Feet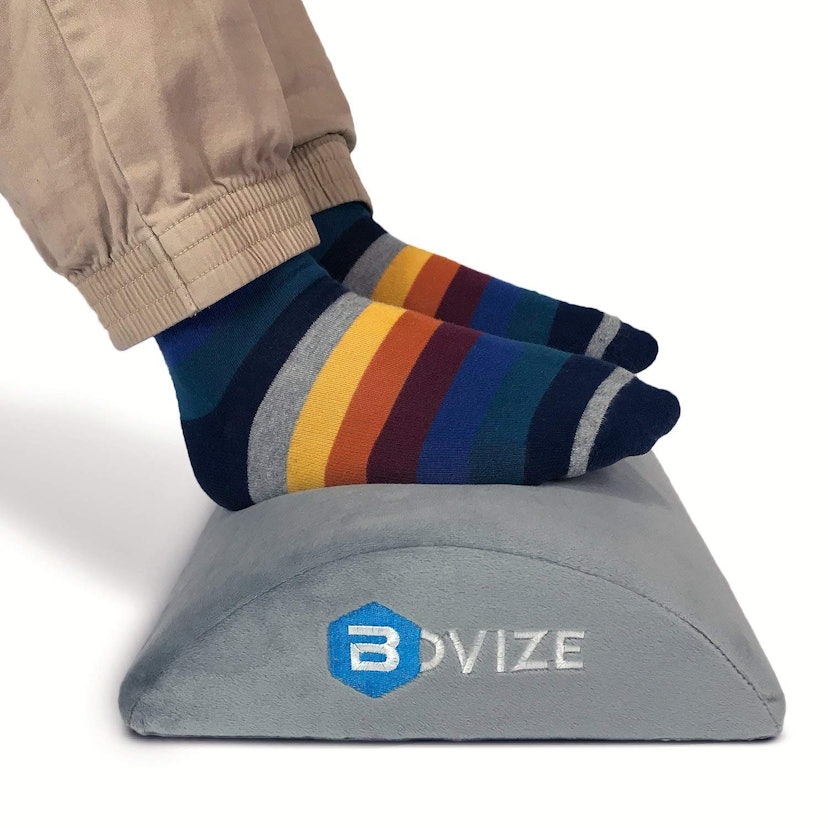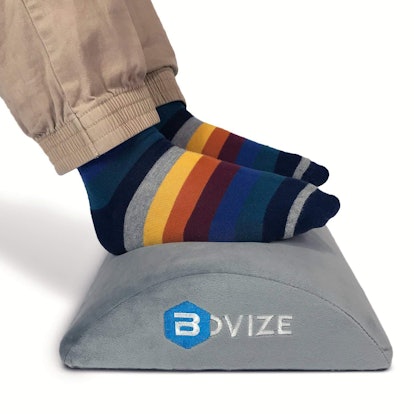 Bovize Foot Rest Pillow
$19
Amazon
Long hours spent at a desk can be hard on your legs and back. Use this foot rest pillow to switch up your position and alleviate muscle tension. The supportive foam cushion has an anti-slip bottom, so it won't slide around on hardwood or laminate, and the plush covering can be removed and machine-washed. Hot tip: the foot rest is especially helpful for those whose feet don't quite reach the ground
50

This Soft Bath Pillow To Support Your Neck While You Soak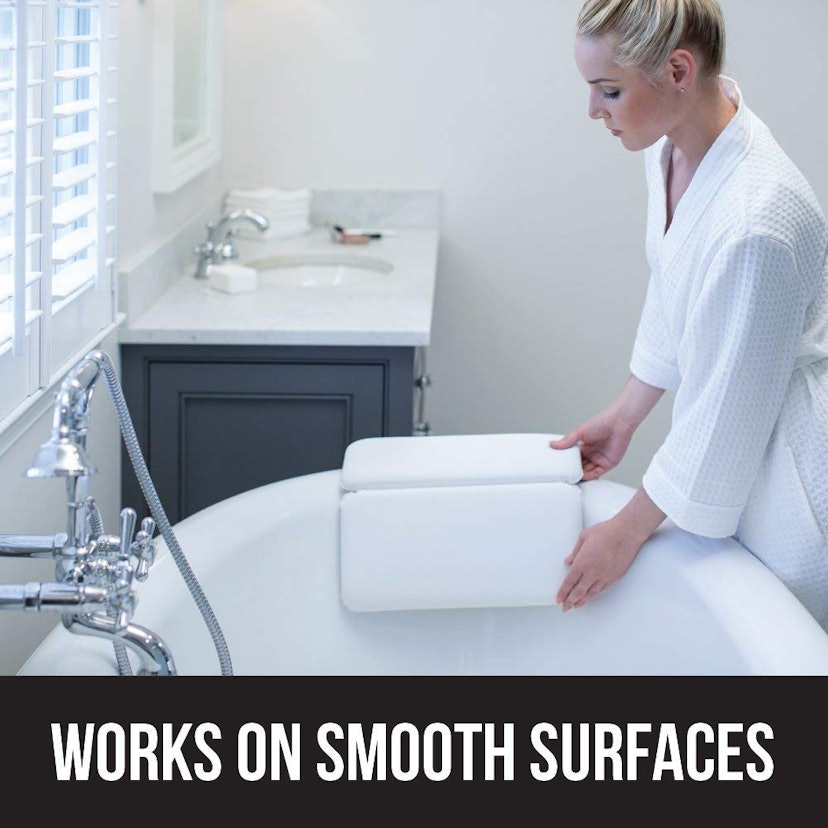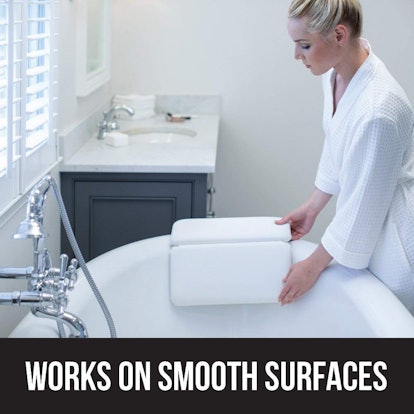 Gorilla Grip Bath Pillow
$15
Amazon
Don't cut an indulgent bath night short because you're getting a crick in your neck from propping it up on the edge of the tub — use this bath pillow instead. Made with 2 inches of thick foam, the pillow features seven suction cups on the back, so it's guaranteed not to slip around. Even better? The two-panel design ensures you get optimal support for your head, neck, and shoulders.
51

A Hot Sauce That's Made With Coffee And Habanero Peppers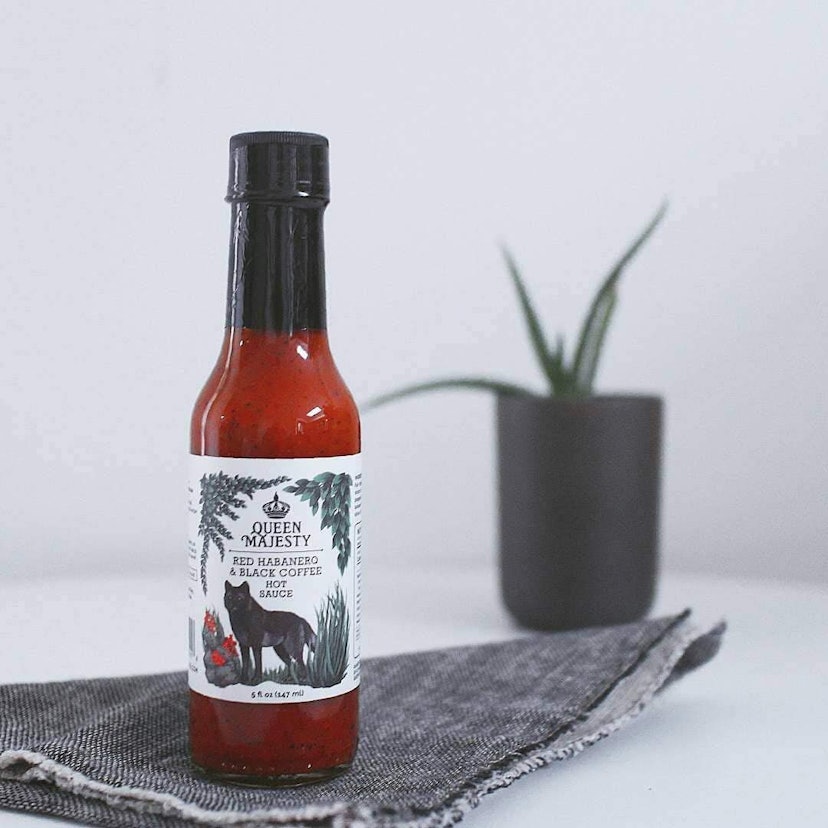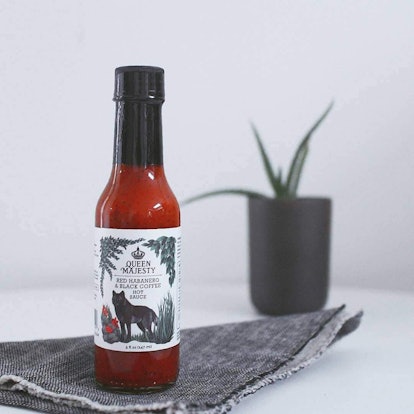 Queen Majesty Habanero & Black Coffee Hot Sauce
$0
Amazon
Take a break from Tabasco and Tapatio — and give this habanero and black coffee hot sauce a try. The heat of red habaneros is nicely matched with the subtle smokiness and complexity of coffee, while apple cider and balsamic vinegar add tang and depth. Add it to pizzas, stews, and chilis for an extra kick. This flavor aficionado writes: "I love my hot sauces and this is my favorite sauce in a pool of over 30. It's not too hot – has a decent quick burn and then it's calm again." The sauce is vegan, gluten-free and non-GMO.
52

This Tranquility-Inducing Aromatherapy Neck Pillow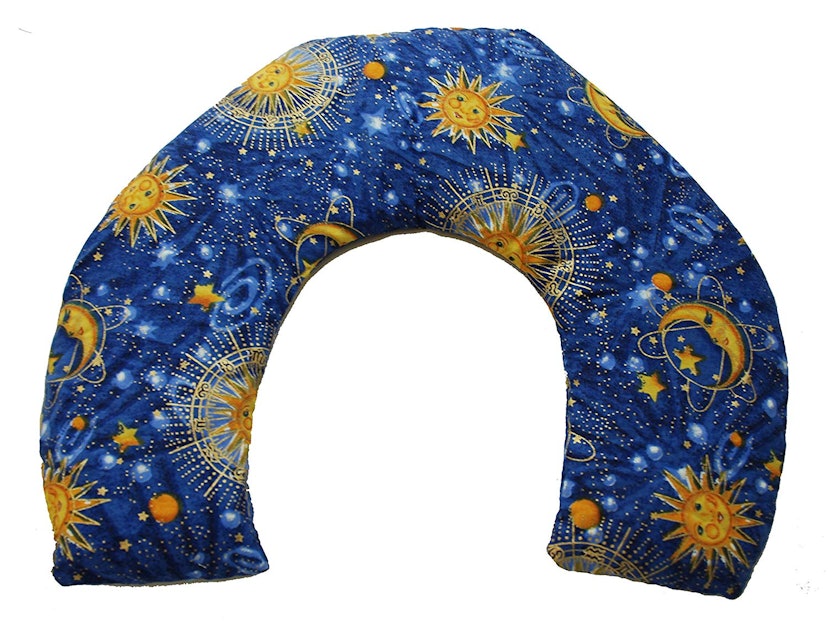 Nature's Approach Aromatherapy Neck Wrap
$9
Amazon
This aromatherapy neck pillow supports your head while calming your senses. Made with 100 percent organic materials, the pillow is filled with the comforting aromas of herbs like chamomile, lavender, lemongrass, clove, valerian root, and white willow. Put the pillow in the microwave for some heat therapy, or keep it in the freezer and use as a cold compress.
53

This Infinity Scarf With A Hidden Pocket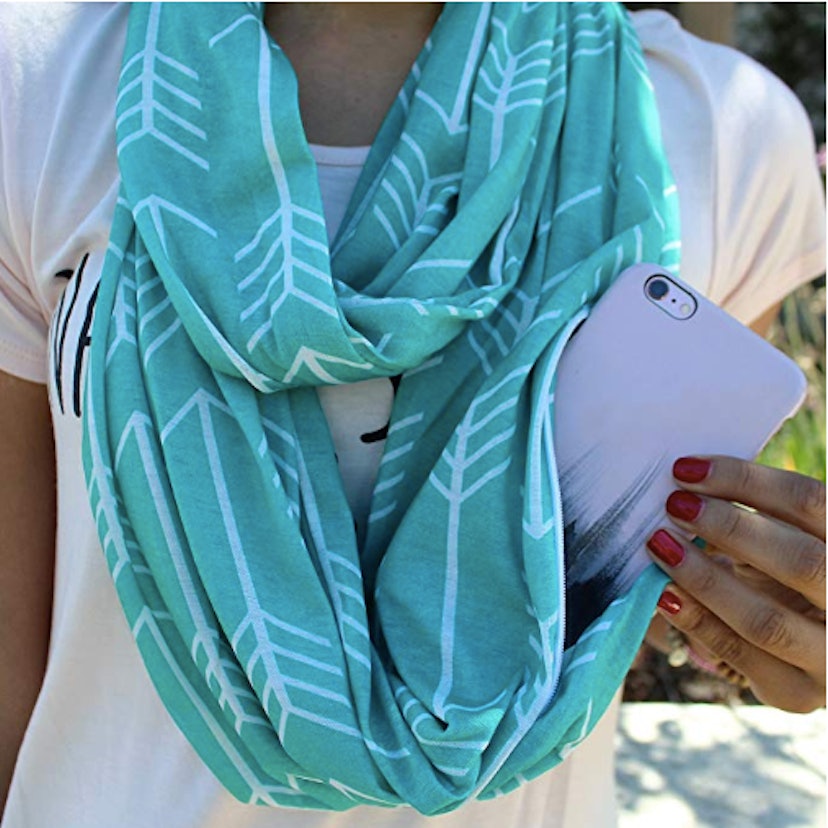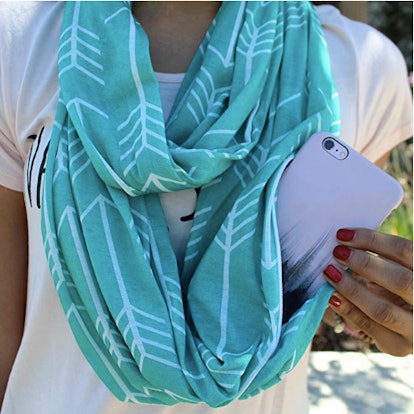 Pop Fashion Infinity Scarf
$15
Amazon
This arrow-patterned infinity scarf has a hidden zippered pocket where you can stash your phone, keys, or lip gloss. It's warm enough to keep you cozy on rainy days, but lightweight enough to keep wearing once the the balmier days of spring roll around. Choose from teal, orange, navy, black, white, or gray.
54

An Ice Mold That Makes Giant Ice Spheres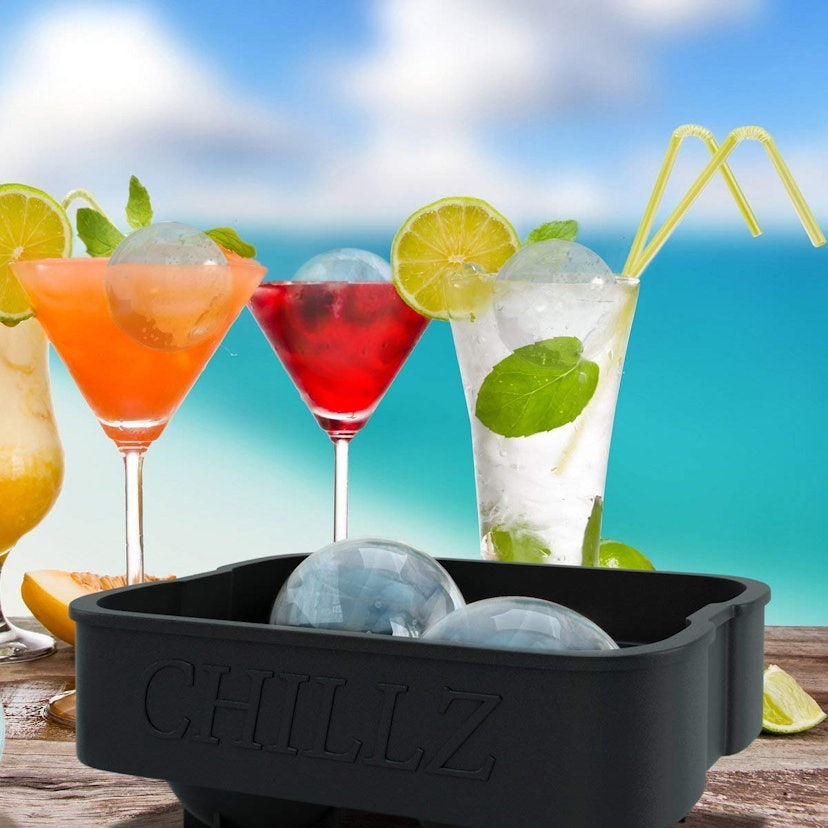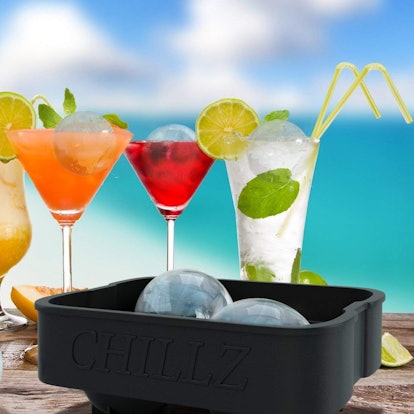 Chillz Ice Cube Mold
$10
Amazon
Get craft cocktail-grade ice cubes with this ice mold. The four-slot silicone mold makes extra-large ice spheres that melt much more slowly than standard ice cubes — which means you can nurse your drink on the rocks all night long without it getting diluted by water.
55

This Spring-Loaded Car Phone Mount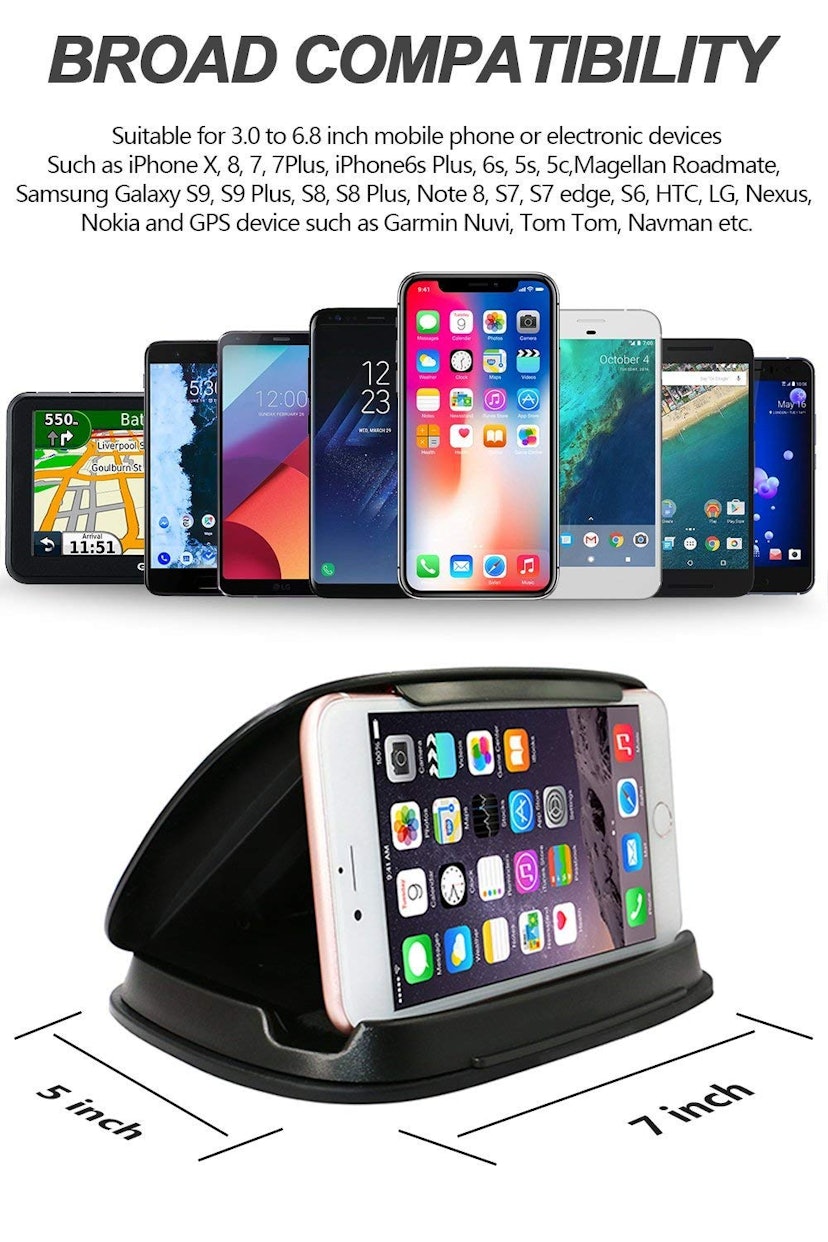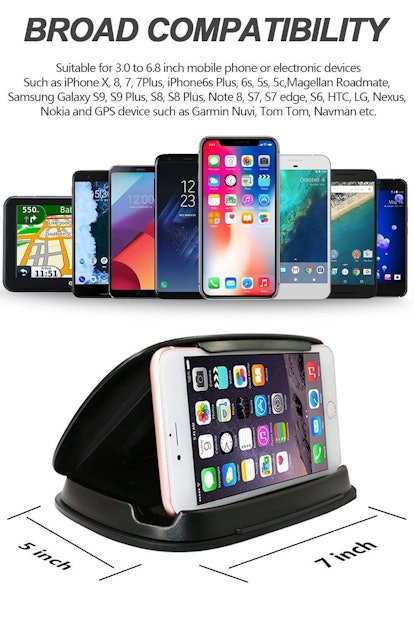 Bosynoy Phone Mount
$13
Amazon
Keep your GPS in easy view with this universal car phone mount. The spring-loaded mount holds your phone securely, and non-scratch rubber padding ensures your phone stays in good condition. The mount affixes to your dashboard with double-sided silica gel, which can be easily removed. The best part? Since it doesn't hook onto your air vents like other mounts, it won't interfere with that much-needed air conditioner during the dog days of summer.
56

A Memory Foam Resting Pad For Your Wrist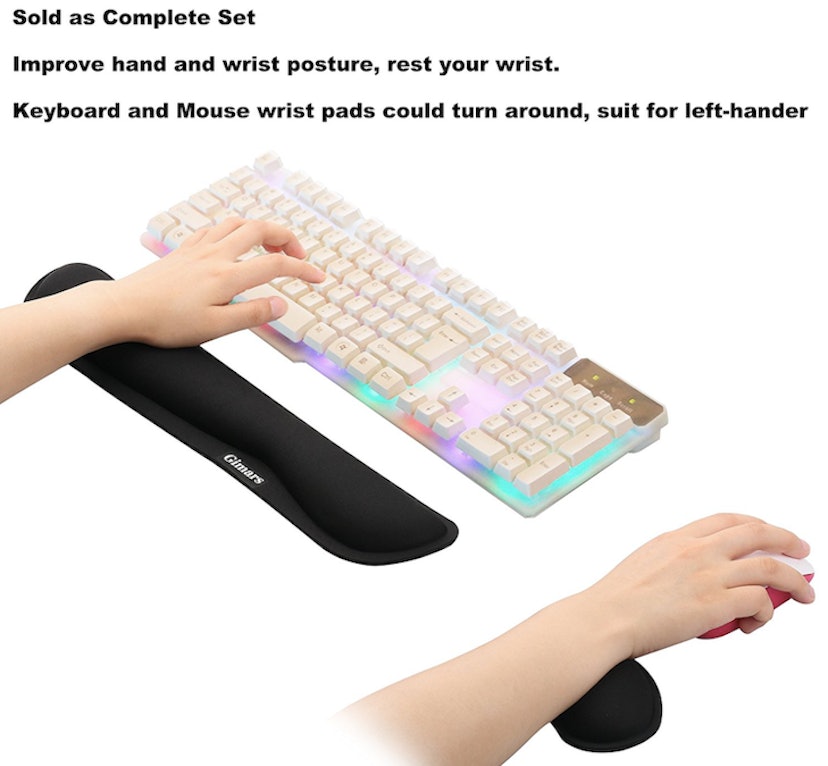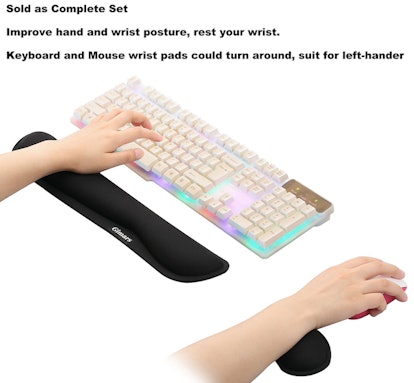 Gimars Memory Foam Keyboard Rest
$11
Amazon
Keep your wrist from cramping up while working at your computer with this keyboard wrist rest. Made with super comfortable memory foam, it'll offer full support whether you're hitting the caps lock or the space bar. The rest comes with a smaller contoured pad that's perfect for those who use a computer mouse.
57

An Exfoliating Scrub Made From Himalayan Salt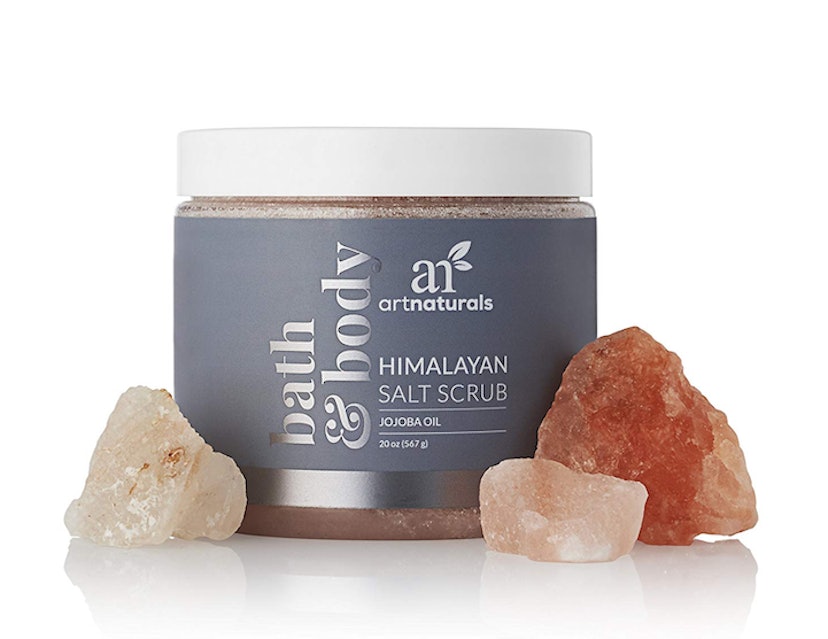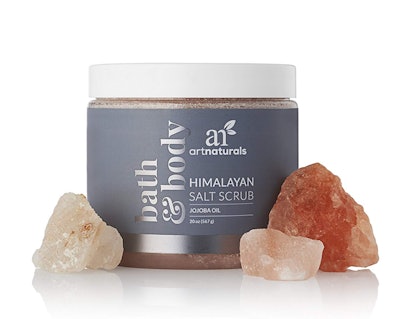 ArtNaturals Himalayan Salt Body Scrub
$13
Amazon
Bring rough, dull skin back to life with this Himalayan salt body scrub. The salt rocks offer next-level exfoliation, and also help revive the skin by promoting circulation and drawing out toxins. Moisture-rich jojoba, sweet almond, and argan oils add hydration to parched skin, so you step out of the bath feeling all baby-smooth and soft.
58

This Ingrown Hair Solution For Bump-Free Skin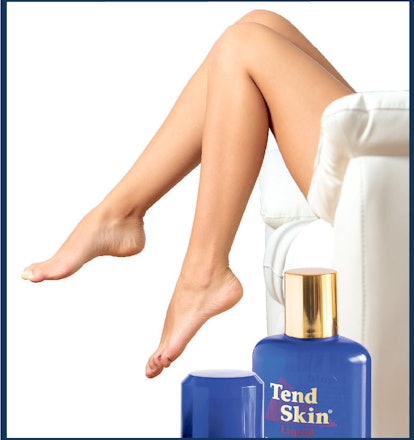 Tend Skin Ingrown Hair Solution
$15
Amazon
Apply a thin layer of this ingrown hair solution to skin before and after shaving to prevent ingrown hairs and reduce redness. (You can also use it before and after waxing or electrolysis if those are your preferred hair removal methods.) Already have an ingrown hair or razor bumps? Apply a little dab to the affected area to clear it overnight. The non-toxic solution is safe to use on all parts of the body.
59

An LED Light-Up Compact Mirror With Intense Magnification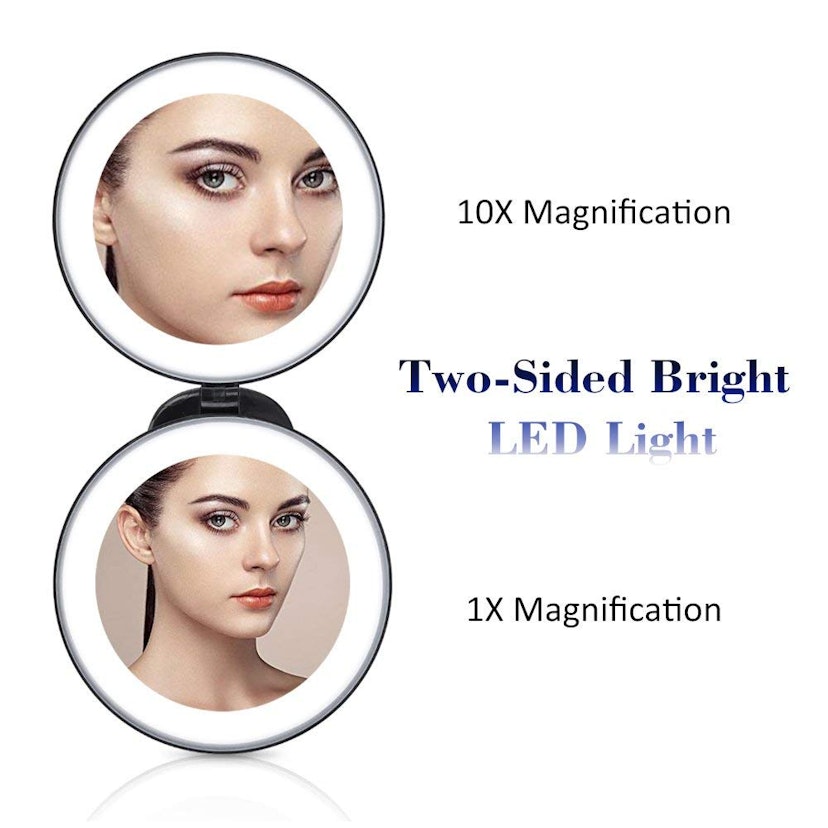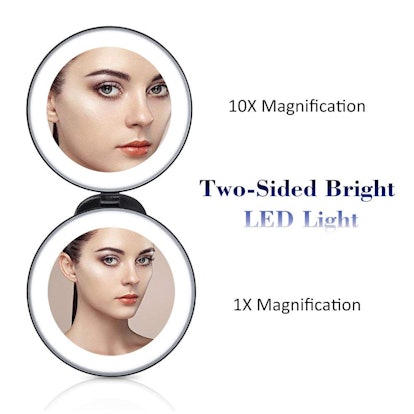 KEDSUM LED Compact Mirror
$19
Amazon
You can precisely apply a bold red lip no matter where you are with this light-up compact mirror. The battery-operated mirror features bright LED lights on both sides for optimal illumination. Use the bottom mirror for one times the magnification, or the top mirror for 10 times the magnification.
60

A Solution To Help Break The Nail-Biting Habit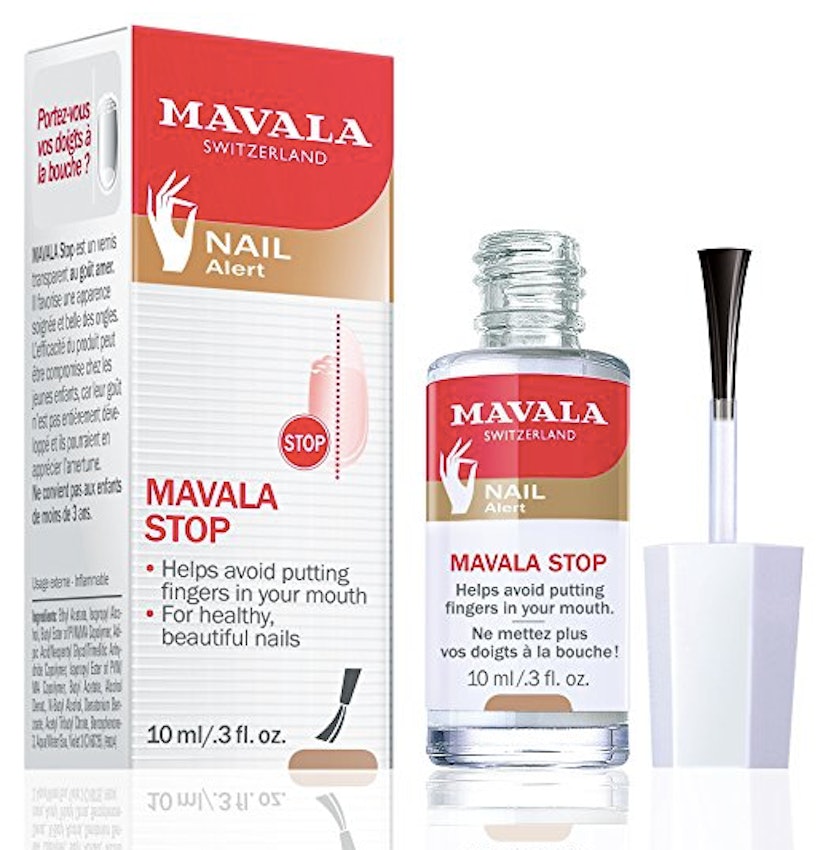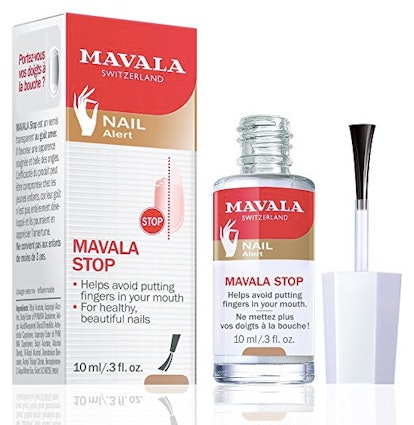 Mavala Nail Biting Solution
$16
Amazon
Can't quit that stubborn nail-biting habit? Swipe on a little of this clear nail biting solution — the not-so tempting bitter taste will remind you to leave your nails alone (which — bonus — will also help keep your manicure intact.) And although the solution tastes bad — it's completely safe and harmless.
61

A Detangling Hairbrush That Fits In The Palm Of Your Hand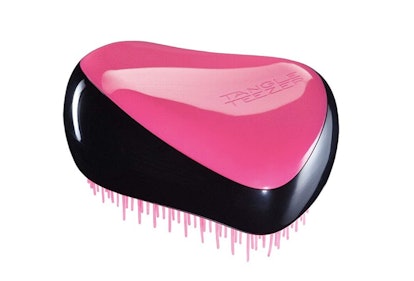 Tangle Teezer Hairbrush
$13
Amazon
Work out knots and tangles with this super clever detangling brush. The ergonomic brush fits perfectly in the palm of your hand (and in your purse side pocket), and features two tiers of bristles: longer bristles to get rid of tangles, and shorter bristles to smooth the hair cuticle and increase shine.
62

These Compression Socks That Offer Superior Leg Support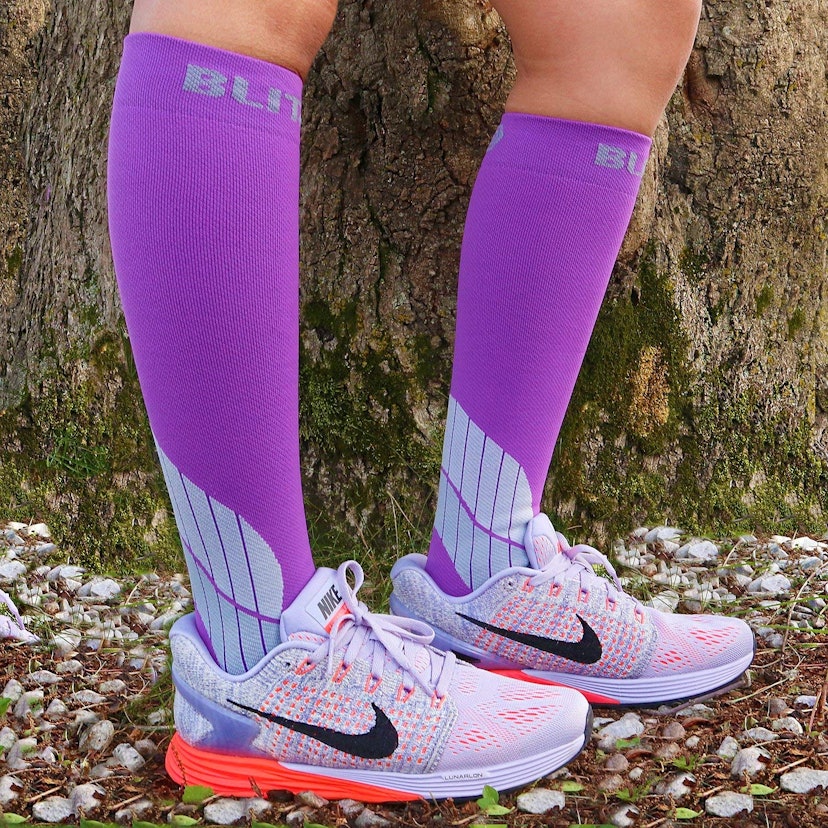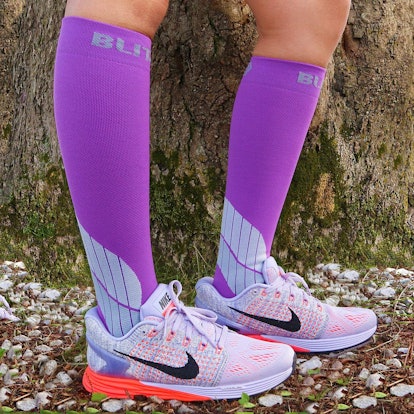 BLITZU Compression Socks
$16
Amazon
A good pair of compression socks will boost circulation, reduce swelling, relieve pain, prevent cramping, and speed up muscle recovery after a strenuous workout or long hours spent on your feet. This pair of compression socks reaches just below the knee, offering full support for feet, shins, and calves. Choose from fun colors like orchid and flamingo — or opt for neutrals like black and white.
Elite Daily may receive a portion of sales from products purchased from this article, which was created independently from Elite Daily's editorial and sales departments.This article reflects price at publication and may change.
Source: Read Full Article