Holiday gift giving is fun and all that but it can be kinda stressful when you're in a relationship. How TF are you supposed to find something that's not too spendy (yet not too cheap), fun and also appropriate for the exact level of your current relationship status? (If you've even given or gotten a gift that says "I'm waaaaay too into this"—it is the true height of cringe.)
Luckily, the best gift you can give your partner for the holidays is you. And even better than the gift of you is the gift of you AND a fun new sex toy you two can play with. You know when you're a kid and you want to rip open a present and start playing with it immediately? Sex toy gifts are like that.
You can make your gift as romantic and/or kinky as you want, depending on what you're into. If you're a beginner, start by getting an overview of how to use every sex toy or check this list of the best sellers of 2020. From there, you can branch off into toys for couples, lesbian-friendly toys, for BDSM, for penises, even things specifically for the butt. No hole shall go unfilled this holiday season.
If you're not attached rn, get something sexy for your friends or go ahead and treat yo' self. And if you want to keep the gifts coming (er…) night after night, sex toy advent calendars are a real thing that you (might) need.
The Big Present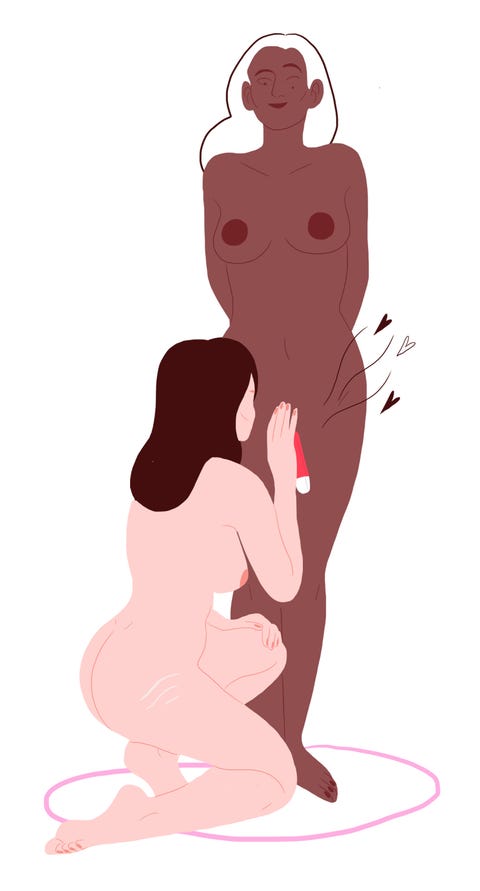 Go big with a jumbo kit of couples toys. Take turns picking one or two things out a night and figuring out how to have your way with them. Wrist cuffs + G spot vibrator? A vibrating stroker and a blindfold? Hmmmm. So many possibilities.
Shop Now Wicked Weekend Jumbo Couples Sex Toy Kit (12 Piece), $85, Lovehoney
Candy Cane Dreams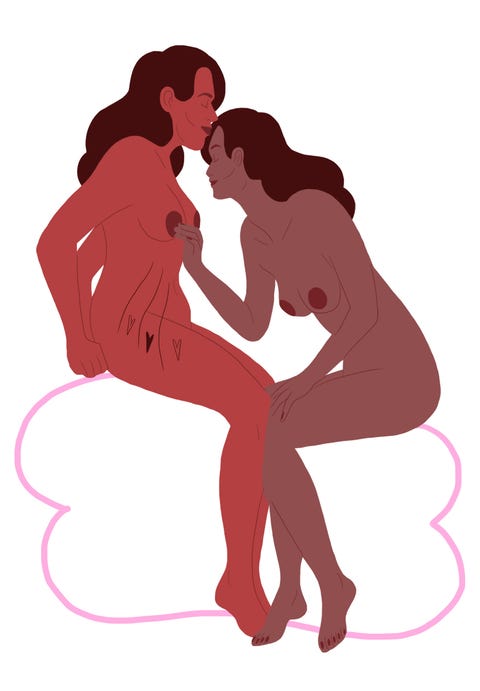 Arousal gels and creams help focus your attention and increase sensations. Try an arousal cream with a little bit of menthol, cinnamon or mint (seasonal!)—penises, nipples and vulvas read the tingliness as arousal. (Some can be a bit much on tender bits, so start off with a wee amount and be ready to flee to the shower if it's less sexy and more burny.) Get a selection and try them out dabbing them on slowly for maximum build up.
Shop Now Sensuva ON Natural Arousal Orgasm Oil for Her, $23, Lovehoney
Shop Now ID Pleasure Tingling Sensation Lubricant, $15, Lovehoney
Shop Now Play Arousal Gel, $21.99, Babeland
The Chimney Sweep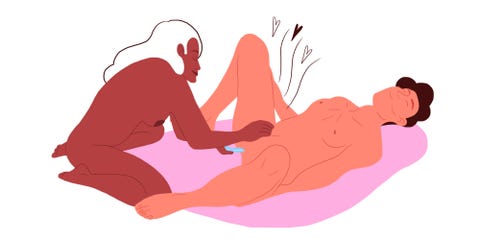 If your partner has a prostate, move beyond the basic finger-in-the-butt move to a toy that gives him deeper, more direct stimulation. For the best results, stimulate their penis until they are very aroused. Slowly slide a lubed up prostate vibrator into their butt, pressing it on the upper wall until you find the nerve-rich prostate gland a couple of inches inside. People with penises report that orgasms with prostate stimulation can feel deeper and more intense. Which, Merry Christmas.
Shop Now Sliquid Booty Water-Based Lubricant, $19, LoveLifeToys
The Mmmelter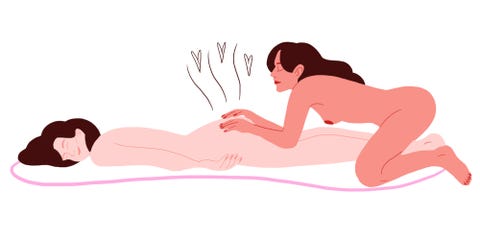 Gift them a set of candles that melt into warm, silky massage oil as they burn for some fun wax play. It's sexy lighting that gently scents the room as you pour warm drops of the oil into the small of your partner's back, between their toes, down their inner thighs. Rub as you go and watch them melt for you, then slip your hand under their hips for the best massage of all. (Use regular lube if anything's going inside of someone.)
Shop Now Hemp Seed Massage Oil Trio, $20, Adam & Eve
The Shake It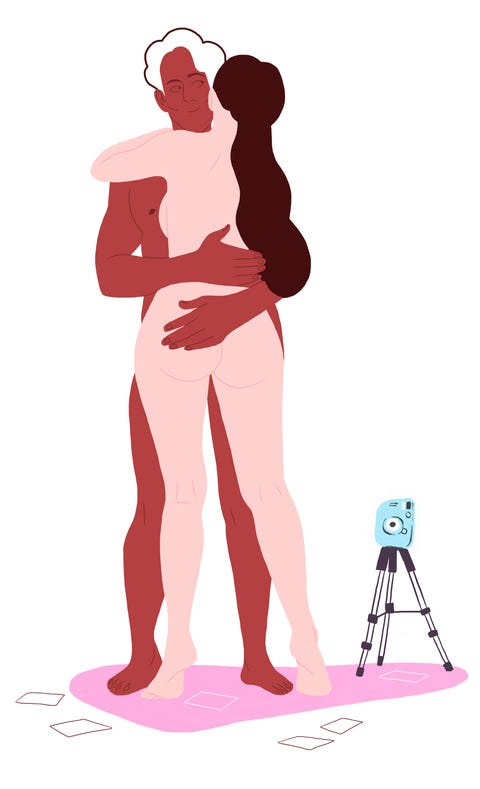 Couples boudoir photography is becoming more and more of a thing, but if you don't want your naked self in a photo studio, go with an instant film camera, so you can do whatever the hell you want with the naughty photos. Go soft-core sexy (like placing their hand on your boob), or super raunchy (like a POV shot of them about to go down on you), or turn the timer on and let it capture you ravishing each other.
Shop Now Fujifilm Instax Mini 11, $69, Urban Outfitters
The 12 Days Craze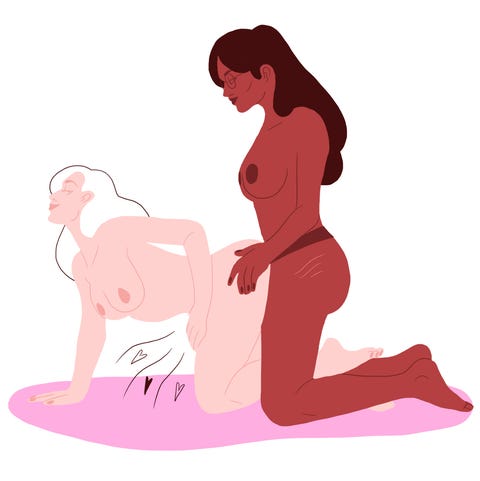 12 Sexy Days is like an Advent calendar, but instead of mediocre chocolates, each little compartment is filled with a sexy toy, like a blindfold, a diamond-shaped vibrator (fancy!) or the MAZE Tassel Choker that has a secret life as a whip. Treat yourself every day, and then some.
Shop Now Bijoux 12 Sexy Days, $99, Good Vibrations
The Steam Press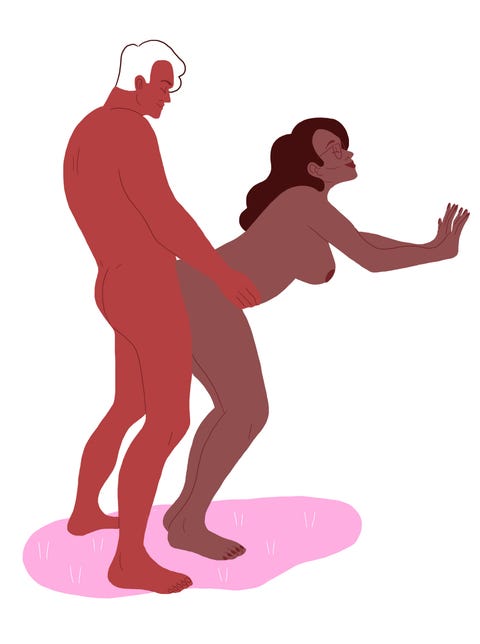 Make shower sex workable with something to hang onto to get yourselves where you need to be. Press yourself tightly into the corner while they hang on to the handles, propping their foot up on the footrest to get in deep and close. Kind of like spooning while standing, but more intense. (If you accidentally leave the stuff up, it's good for shaving your legs too).
Shop Now Suction Cup Shower Sex Foot Rest, $8, GOOP
The Mixologist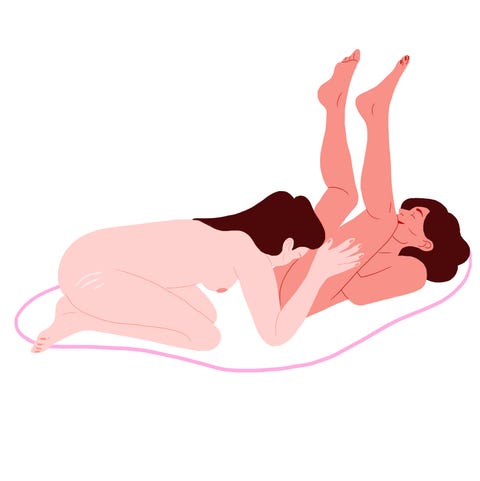 Mix edible flavored lubes like a MFing lube artisan. For a coffee lover, try a trickle of salted caramel with mocha java leading up your thighs—instant caramel mocchiato! For a morning toss, try pomegranate and cinnamon bun for a tart/sweet breakfast theme. Or create a makeshift appletini (lil' shot of vodka for them, followed a dollop of candy apple on your boobs). Don't forget to return the favor, since this is supposedly a gift for them, after all.
Shop Now Wicked Aqua Flavored Lubes, $15, Adam & Eve
The Magic of the Season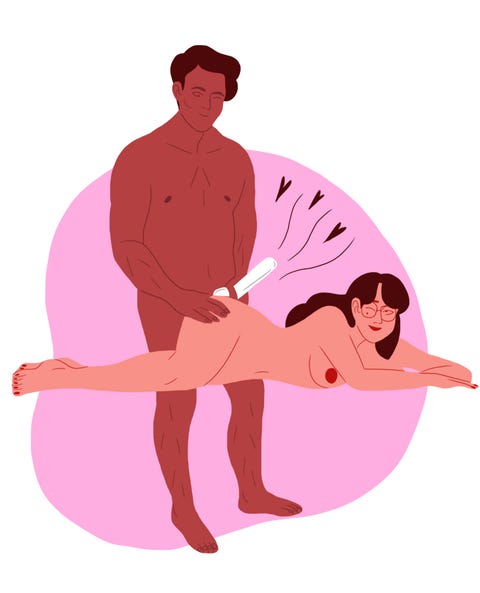 No matter what you or your partner have going on in their pants, there is fun to be had with a Wand vibrator. Most clit owners know the glory of the wand, but if your partner has a penis, let them in on its powers by having them stand at the edge of the bed, pressing the wand into the base of their shaft to create a Magical Vibrating Penis for you and some serious throbs for them.
Shop Now Hitachi Magic Wand Original, $90, Lovehoney
Holidays on Ice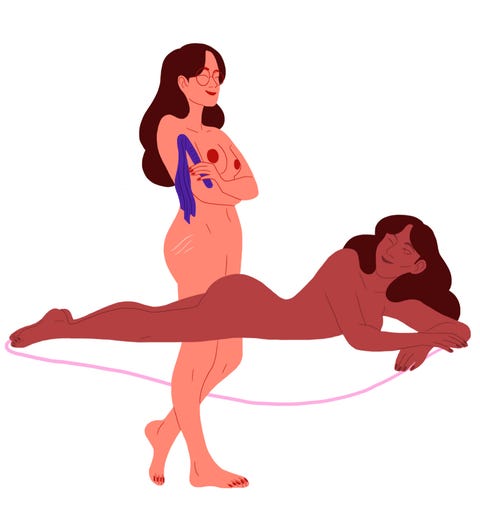 For a pretty broad hint that you'd like to go Fifty Shades, spring for a big ol' box of toys. Test it out with one of you lying face down with your wrists bound via cuffs. Try a few flicks with the flogger and go from there. Pleasure/pain mixes work best, ie. ice followed by your warm mouth, or a smart smack, then a gentle caress. (If you're not feeling spendy, put together a starter BSDM kit with a spanking tool, blindfold, and soft restraints in a fancy box from the dollar store).
Shop Now All You Need Bondage Kit, $160, Lovehoney

The Wet and Wild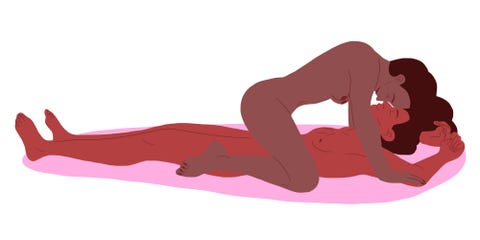 If you like things wet (no further questions), get yourself a lush throw that lets you get as messy as you want and no one left with the sad, cold wet spot. Pick a blanket side (velvet microfiber or satiny), then lube the hell out of each other. Seriously, drench yourselves 'til you can barely hang onto each other. Lie on top of your partner, chest to chest, and slide back and forth, trying to keep them inside you while rubbing your clit on their pelvic bone.
Shop Now Fascinator Throw, $150, Babeland
A Novel Evening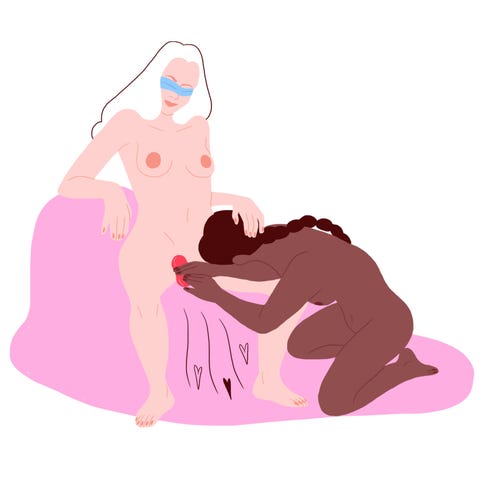 Pamper your sapiosexual with a sexy literary subscription box. Every three months a new box ships in a secret faux-book storage case (shhh!) and features 5 full-sized products centered around a theme. New subscribers start with "The Rendevouz" with its erotic story, bondage tape, bullet vibrator, blindfold, candles and lube. Break out the blindfold, the bullet vibe, and let the plot thicken.
Shop Now Novel Erotics subscription box, starts at $28.33 every three months, Cratejoy.com
Lord of the Ring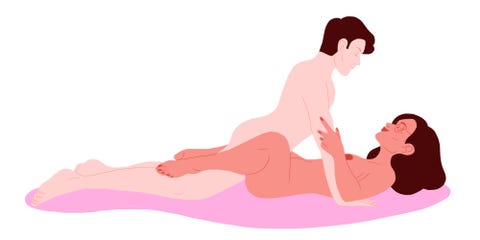 For a gift that's secretly for you too, give your favorite penis owner a luxe vibrating cock ring. It keeps him harder longer for more explosive orgasms (and provides perfectly-placed clit vibrations for you.) Try a more grinding than thrusting missionary so you can angle yourself against "his" gift.
Shop Now TOR 2, $115, Lelo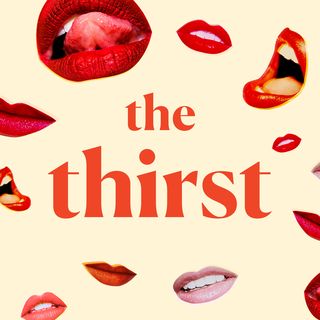 Want to get the hottest sex positions, the wildest confessions, and the steamiest secrets right to your inbox? Sign up for our sex newsletter ASAP.
Subscribe
Source: Read Full Article