From their first public appearance, to their engagement announcement, to their beautiful royal wedding, Prince Harry and Meghan Markle have found more than one way to make our hearts melt. The most recent fuel to the fire that is my obsession with the Duke and Duchess of Sussex are these photos of Prince Harry and Meghan Markle at charity events. I mean, c'mon! They're oh-so in love, and their full-time job is to stand up for the philanthropic causes that are important to them. How much more perfect can these two be!? Seriously.
Along with being a beautiful couple, Harry and Meghan are also a part of something much bigger: the Royal Family. And with that comes a whole lot of responsibility. Doing charity work in some way, shape, or form is one of the most crucial jobs of a Royal Family member. According to their official website, over 3,000 organizations refer to a member of the Royal Family as their patron or president. "Members of the Royal Family have links with hundreds of charities, military associations, professional bodies and public service organisations," their site reads. But in order to be able to dedicate enough time to each charity they serve on, the Royal Family has to limit the amount of organizations they work with. They can't lend their time to every cause, as much as I'm sure they'd like to, but you can bet that the ones they do work with are special to them.
Here are 10 shots of Meghan and Harry doing their duties as the Duke and Duchess of Sussex.
1

They don't just support their personal charities, they incorporate the Queen's as well.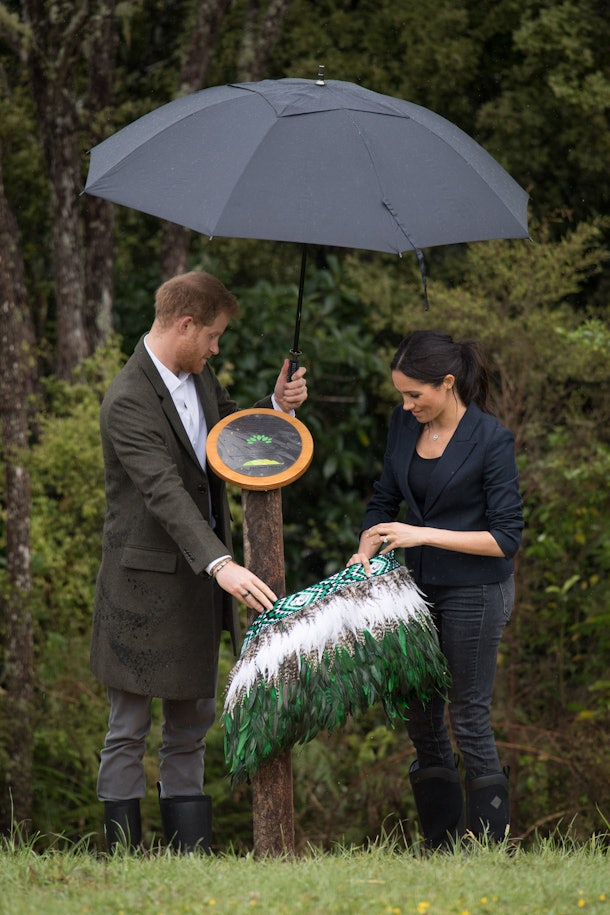 During their 16-day tour across Australia, Fiji, Tonga, and New Zealand, the Duke and Duchess of Sussex attended a ton of charity events. Here, the couple dedicated land to The Queen's Commonwealth Canopy, which was "made to all 53 Commonwealth nations to contribute areas of indigenous forest to be preserved in perpetuity to mark Her Majesty's lifetime of service to the Commonwealth," according to their official website.
2

They stand up for so many causes.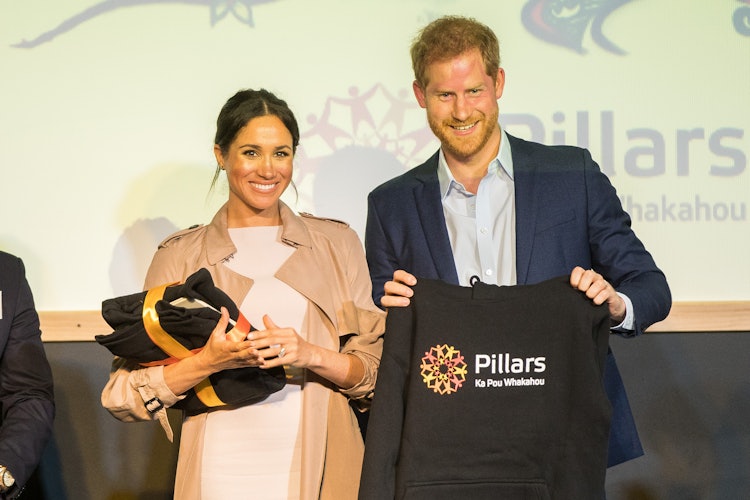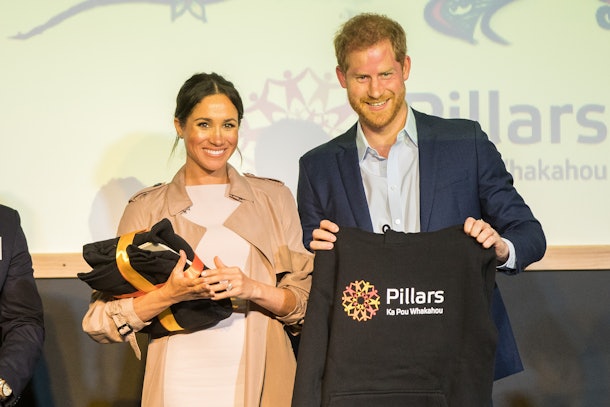 Harry and Meghan also visited Pillars during their trip, which is a charity that provides mentoring for children who have a parent in prison across New Zealand.
3

Of course, the Invictus Games.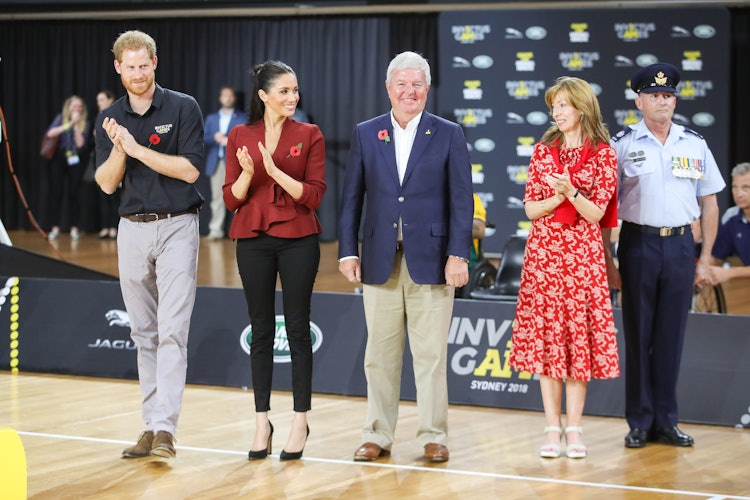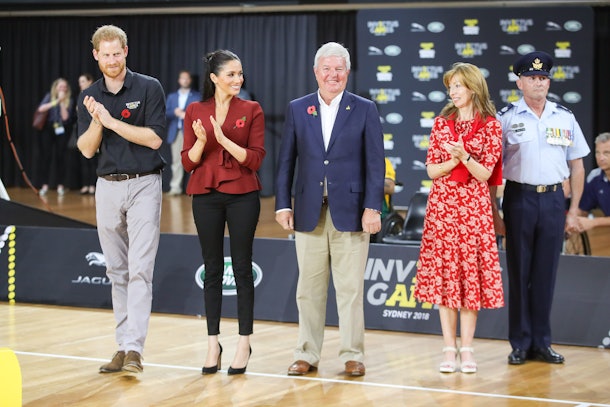 The Invictus Games are near and dear to Harry's heart because of its connection to servicemen and women. (He served in the British Army for 10 years.) The Games "is an international adaptive sporting event for wounded, injured and sick servicemen and women, both serving and veteran," the royal website reads. Harry and Meghan attended this year's Games during their tour across the Eastern Pacific, and they attended last year's games, too.
4

They make mental health a priority.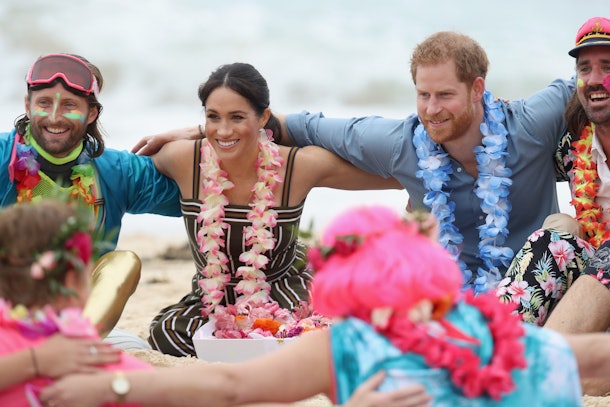 The Royal Family, as a whole, does a lot to raise awareness about mental health. Meghan and Harry sat down with members of OneWave in South Bondi Beach, Australia, during their tour as well. The organization's website states it's "a non-profit surf community tackling mental health issues with a simple recipe …saltwater therapy, surfing and fluro." (By fluro, they mean the brightest possible outfits! According to their website, "Fluro makes people smile and it gets people asking important questions, which are normally avoided about mental health.")
5

Accessible medicine is so important.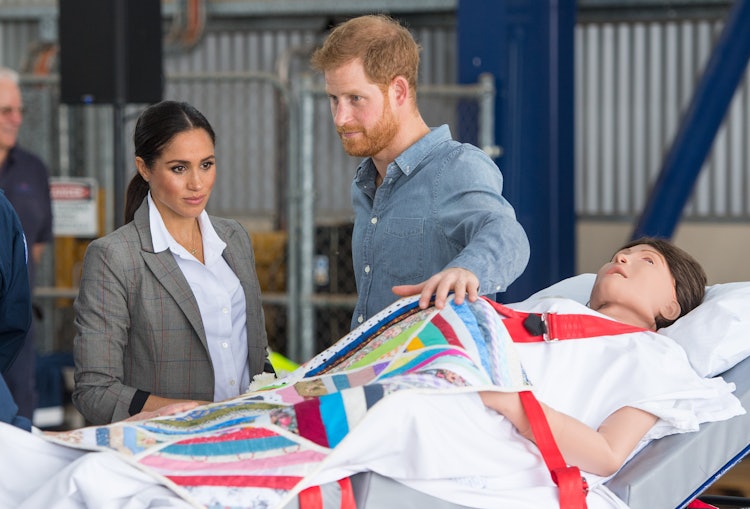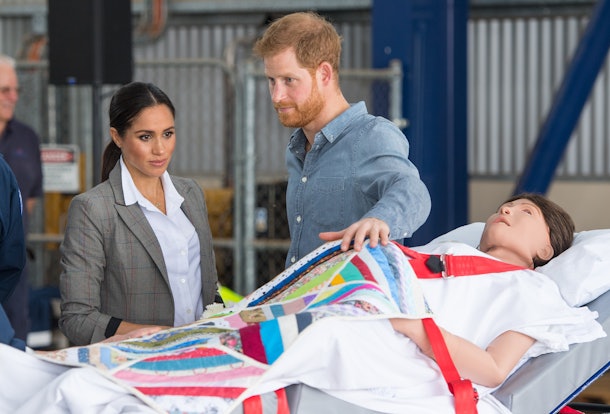 Harry and Meghan were also present at the unveiling of a new aircraft in the Royal Flying Doctor Service, which is a flight service that provides medical assistance all across Australia, 24 hours a day, seven days a week.
6

They are extremely hands-on.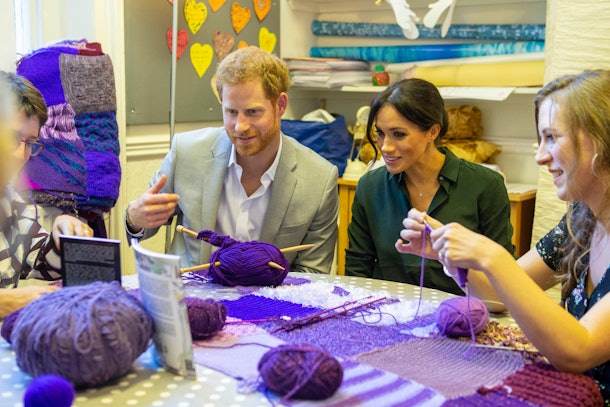 During their visit to their namesake, the Duke and Duchess of Sussex attended an event at the Survivors' Network, which supports victims of sexual abuse.
7

They're working toward lowering unemployment rates among young people in the UK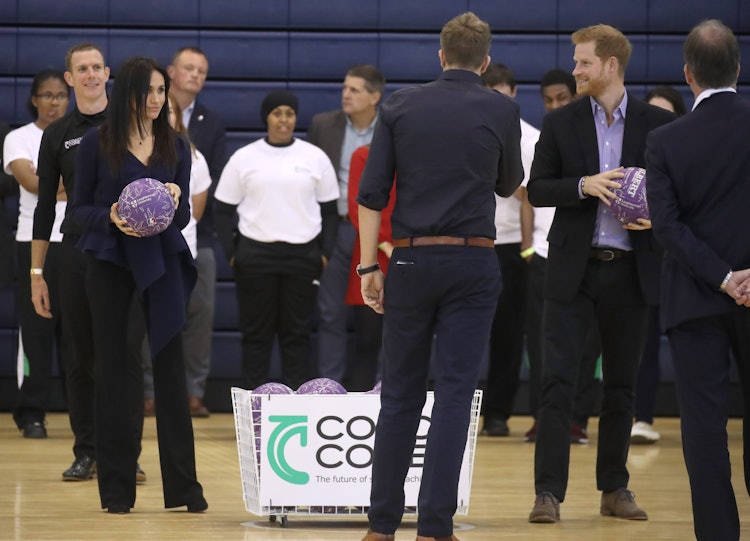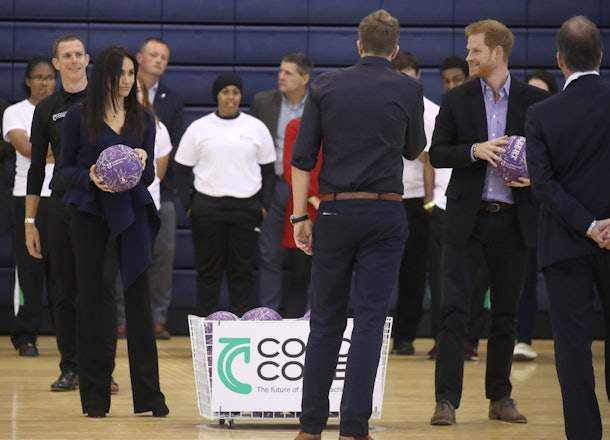 Together with the Duke and Duchess of Cambridge, Harry has worked with Coach Core to increase the availability and quality of sports coaches across the UK. The program "helps train young people as professional sports coaches while they are still in education." One of the foundation's main purposes is to create employment opportunities for young people, too. Here, Harry and Meghan were attending the Coach Core Awards in Loughborough, England.
8

So, so sweet.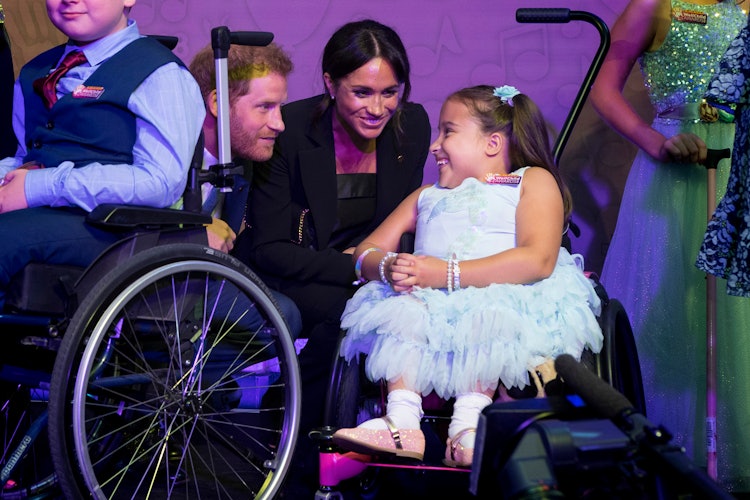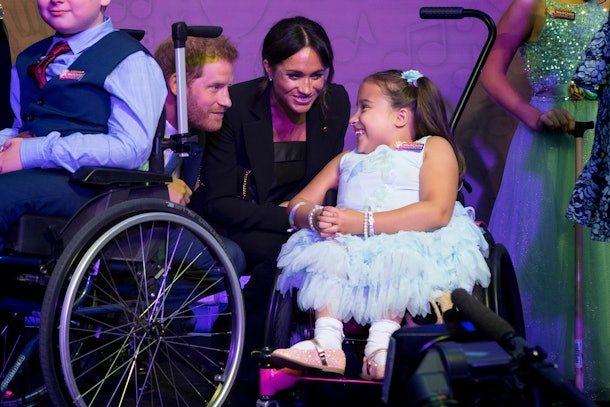 In early September 2018, the couple attended the WellChild Awards in London, which celebrated "the inspirational qualities of the UK's seriously ill children and young people, along with those who go that extra mile to make a difference to their lives." In this photo, Meghan and Harry are seen chatting with 7-year-old Mathilda Booth. Booth's mother Sharon later told People that the Prince made Mathilda pinky promise to never stop smiling. And no, I'm not crying. You're crying.
9

"Hamilton" & Raising HIV Awareness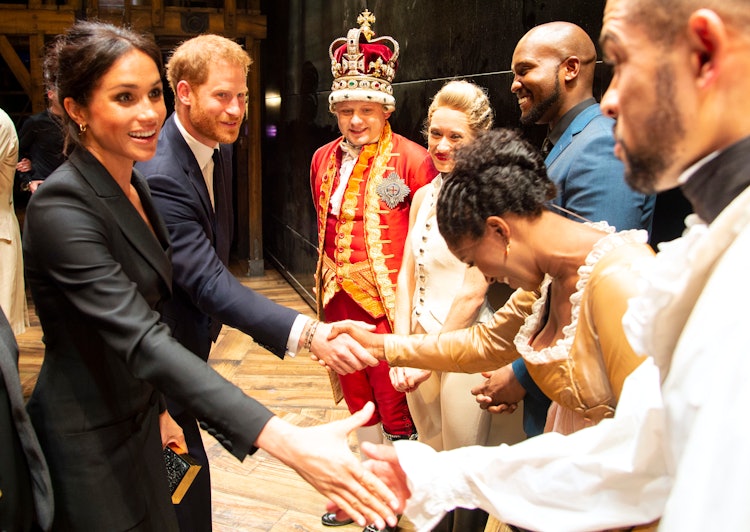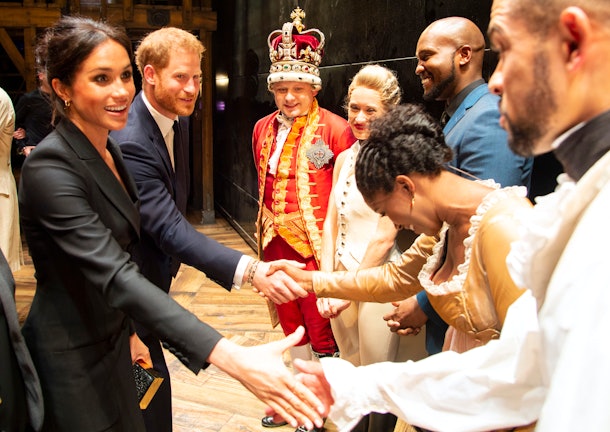 In August, Harry and Meghan attended a gala performance of Hamilton in London to support Sentebale. According to its website, the foundation focuses on mental health and the well-being of children and young people in Lesotho and Botswana who are affected by HIV. Harry started the foundation together with Prince Seeiso of Lesotho in 2006. They chose the name "Sentabale" because it's the word people in Lesotho use to say goodbye; it means "forget me not," the royal website states. "It was chosen as the name of the new charity because the two Princes see its work as a memorial to the charity work of their own mothers, and because its aim as an organisation is to ensure that Lesotho, and the current plight of its children, is not forgotten."
OK fine, now I'm crying.
10. Here they are before they got married, and already standing up for what's important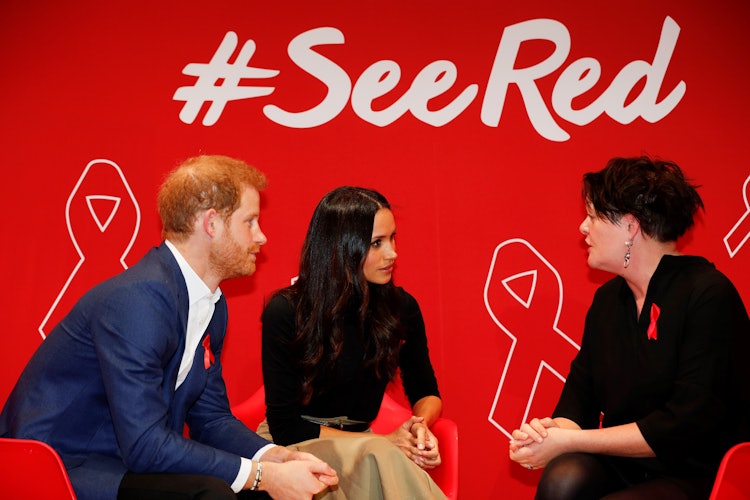 Even before they were married, Harry and Meghan were making it a point to work for the causes they held dear. Here, just three days after Kensington Palace announced their engagement, they attended the Terrence Higgins Trust's World AIDS Day charity fair in Nottingham.
Whether they're standing up for the Queen's causes or their own, Meghan and Harry are putting their incredible influence to good use. Keep doing you, Your Highnesses.
Source: Read Full Article