Sole Mates is a weekly HYPEBEAST series that asks one simple question of its participants: "why do you love shoes?" Searching for a deeper meaning beyond hype, Sole Mates uncovers each subject's sneaker origin story, letting them wax poetic on why a particular shoe means so much to them.
---
In 2020, Bobby Hundreds is the author of a best-selling book and a co-founder of The Hundreds, a seminal streetwear brand that's 17 years deep in the game and boasts one of the most recognizable logos in all of street culture. However, in the late '80s and early '90s, Hundreds — born Bobby Kim — was a California kid with big dreams, lusting after the latest and greatest sneakers like so many other teenagers of the era. Like many others, however, his footwear ambitions were at the mercy of his parents and their back-to-school budget.
This meant he'd often hit California's famous swap meets. These West Coast flea markets and the utilitarian, no-frills product offered at them provided much of the inspiration for The Hundreds' own clothing, which is heavily influenced by '90s workwear. It was at these flea markets that Hundreds also unintentionally fell in love with a sneaker much more subtle — but significantly more storied — than the flashy shoes worn by his peers: Converse's classic Chuck Taylor All Star.
For the latest installment of Sole Mates Bobby Hundreds looks back at his formative experiences with the Chuck Taylor, ranging from wearing them to get a "pass" at school to learning about their subcultural cachet with musicians, gang members and more. Hundreds also explains just why he thinks the Chuck is the archetypal anti-establishment sneaker, speaks on why newer models like the Chuck 70 and Chuck II just don't do it for him and talks about a few of his favorite collaborations. For all that and more, see his full interview below.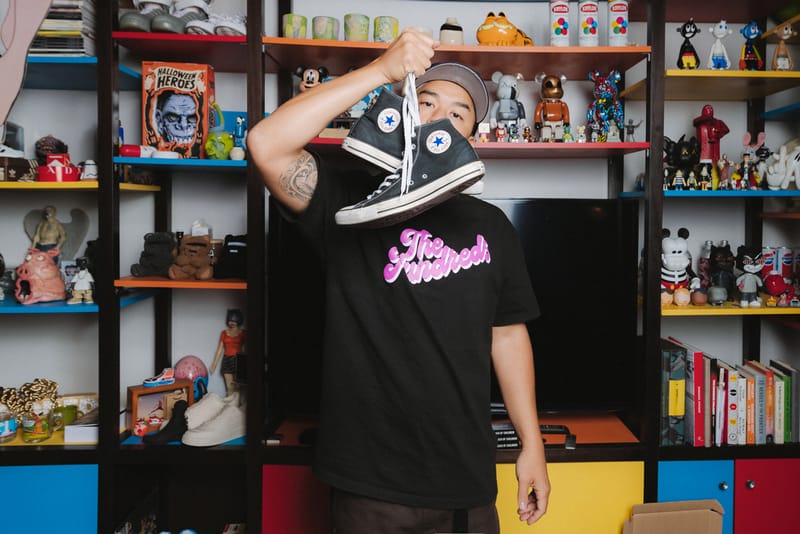 Beth Saravo/@baeth
HYPEBEAST: Who or what got you into sneakers?
Bobby Hundreds: I grew up in the '80s, the '90s and sneaker culture was a vastly different animal at that time. It was really starting to burgeon with Jordan Brand and Nike marketing basketball shoes as luxury items. That was the first time I was conscious of what was on my feet. Shoes were a status symbol to many kids [in my neighborhood]. It wasn't so much about the design, it was more about who had the most expensive sneaker — whether you liked it or not was almost secondary.
So this was around the time when the Air Jordan line was really gaining steam?
Yeah, the late '80s. I never had access to [expensive] shoes, they were purely aspirational to me. It wasn't normal to have sneakers like Air Jordans and high-end Nikes for many kids in my generation. There were maybe one to three kids in your entire class whose parents would spoil them enough to buy them those shoes. For example, the kid in my class who had 'em, his parents were the biggest lawyers in town and would drive him to school in a Ferrari Testarossa. My parents would pick me up in a red Volvo station wagon, and we'd go to Payless to buy Velcro Pro Wings.
Honestly, they wouldn't even get me those for a while. They were buying me these Velcro shoes from Korea. Their soles were so thin and where I grew up [Riverside, CA] was so hot in the summertime that the pavement would literally burn through the soles and scorch my feet if I spent too much time on the basketball court.
When did you become aware of the Chuck Taylor? Do you recall when you got your first pair?
The Chuck Taylor is one of those pillars of Americana that's always been there, like rock and roll and apple pie. Since it was always around, I don't remember a specific milestone or marker where I was introduced to it. However, I do remember when I entered my teens, I became much more conscious of the clothes on my back and identifying myself with the particular subcultures that those clothes conveyed.
My parents didn't give me the cash to shop at the mall or the fashion boutiques where the "cool kids" shopped. They took me to the swap meet to buy back-to-school clothes. The Chuck Taylors you'd find at the swap meet, wrapped in saran wrap on the wall of shoes, was the default choice for me because it got a pass. It was affordable and you wouldn't get teased for wearing it. I can't recall the exact price at the time, but it was probably a 30-dollar shoe.1 of 2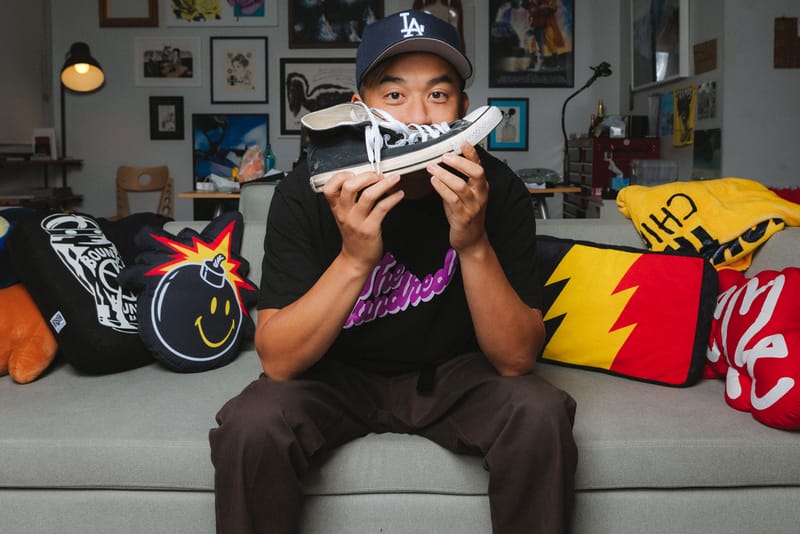 Beth Saravo/@baeth2 of 2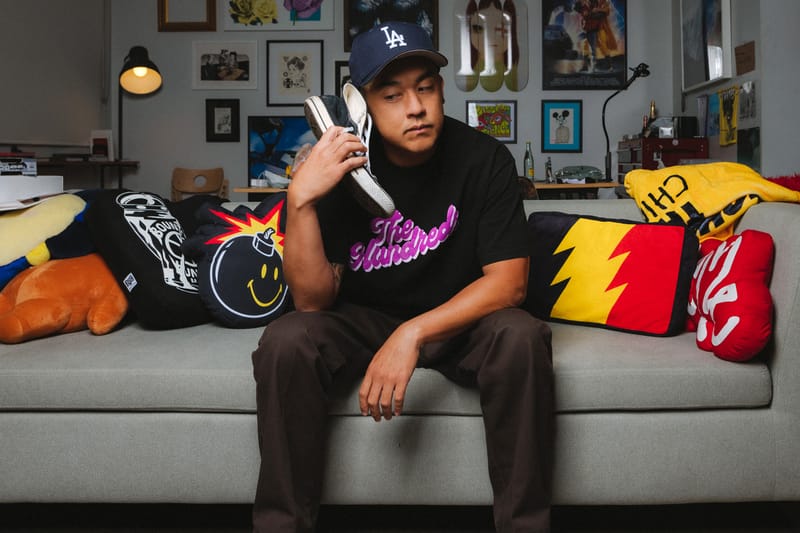 Beth Saravo/@baeth
You could get a black pair, or if you were feeling a bit more generous you could snag a blue pair because the way they wore in and faded was really dope. I'd get a fresh pair of those before school, grab a starched pair of Dickies or Ben Davis pants, some blank Triple-A tees that were three for 10 bucks. It was a perfectly legitimate outfit to wear back to school, and one you'd get for 50 bucks in total.
I wore a lot of Chucks in school too, and what interested me then — and still interests me now — is this: Why does the Chuck, out of all the inexpensive shoes you could get, get a pass from your classmates? Do you think there was a specific reason?
Yeah, I think so many different subcultures like punk, skateboarding or even Southern California gang culture identified themselves with Chuck Taylors. It was an egalitarian style that everyone could have: canvas upper, metal eyelets, rubber sole, simple colors.
It's not outlandish, garish or a trend. Footwear trends date themselves quickly because they're very pertinent to a particular window of time. However, the Chuck is the alpha and omega: it's always been around and available. It was the fundamental shoe for basketball players until it got outmoded in the '70s, then it became a lifestyle shoe associated to music subgenres. To me it's really the essence of what a casual lifestyle shoe is.
Many subcultures try to differentiate themselves with their own lingo, sartorial preferences and actions. Why do you think the Chuck is a unifying thread between these often divergent groups? Is it because of that easily accessible nature?
I think so. Like we discussed, it's accessible and affordable. That always goes a long way, especially in the '80s when shoe prices were skyrocketing with stuff like $110 Reebok Pumps [roughly $231 in 2020 dollars]. The "cool" people were scrappy, and often did not come from means. The Chuck really represented that because everyone could buy a pair.
Looking at it from a more broad perspective, I think that the Chuck has always been symbolic of counter culture. In the '60s and '70s, to wear your basketball shoes off the court was definitely an iconoclastic move. James Dean, for example, adopted that sneaker, and he was really the prototypical rebel at that time. Later on, all the punk kids, The Ramones and Nirvana took the shoe because it symbolized rebellion. It was even in The Outsiders, one of my favorite books and films. By the time I was a kid in the '80s, the cool kids had been wearing the Chuck for generations, and swung back even harder against the proliferation of expensive basketball shoes with it.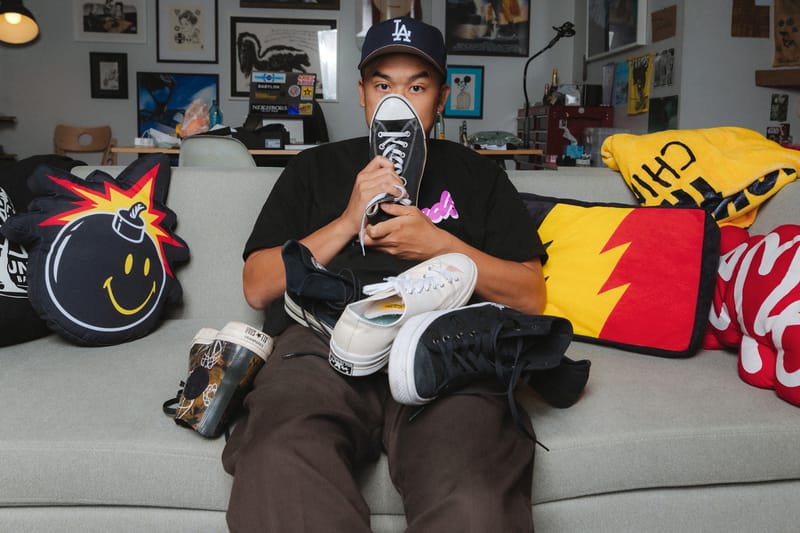 Beth Saravo/@baeth
Today, I think the Chuck is a really loud reply — if not an opposing statement — against the materialism that surrounds modern sneaker culture. To wear a Chuck Taylor today speaks louder than ever about the type of character you have and the ideals you stand for. It's popular to believe this idea that all the "cool" kids want the adidas YEEZY and Nike Dunk and Travis Scott x Air Jordan 1 now. However, there's also a vast demographic of cool young people that aren't into that. And what's the perfect shoe for them to wear? The Chuck Taylor.
When things started picking up for you with The Hundreds and you were finally able to afford these more expensive sneakers you couldn't have as a youngster, did you put the Chuck on the backburner for a bit or was it always at the forefront of your footwear rotation?
It's always been a part of my life and my sneaker choices. When I'm picking my footwear for the day, I'll often gravitate back to a pair of Chucks. It's crazy: as far as technical innovation has progressed, I still think that Chucks are the most comfortable shoe! Maybe it's because I have a flat foot … maybe it's just my familiarity with it because I grew up wearing it. It's kind of like your favorite restaurant that you grew up eating at, and then someone who comes to visit you at your hometown tries eating there and is like "this is gross" and you're like "it's all I've ever known" [laughs].
Was there any Chuck influence in any of The Hundreds' original footwear silhouettes when you guys were producing your own shoes? I recall a style called the Valenzuela that seemed to have some Chuck-ness to it.
Yeah! 100%. What I did with The Hundreds' first footwear models was ask myself "what are my favorite shoes? Could I just mash them all together?" For example, the Johnson Mid and Low, the first shoes we did, were a combination of a Chuck Taylor-inspired midsole and outsole with a dash of the Vans Era, Doc Martens and a wino slipper, which is a very Southern California swap meet style.
Next was the Valenzuela, the shoe you mentioned. It was essentially a Chuck Taylor without the toe cap. I asked myself "how can I improve the Chuck Taylor" and the rubber toe cap was the one awkward piece of the design that I never needed. Lastly, there was the Wayne, which was kind of a knock of the Vans Sk8-Hi and the Chuck.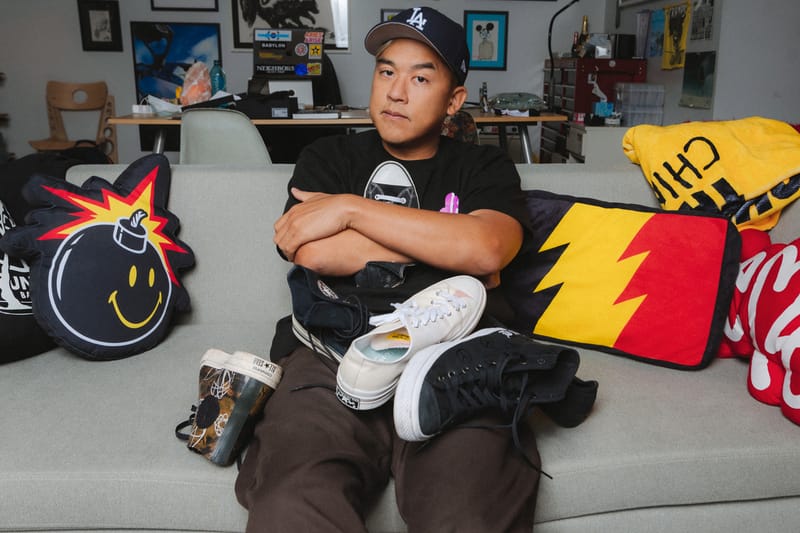 Beth Saravo/@baeth
Do you prefer a more beat up Chuck or a crispy pair? It's one of those rare shoes that looks really good both ways.
I'm all about beating up all my shoes. All shoes look better worn. That's just me. I don't wear fancy clothes. Today I've got on these brown Dickies that I've worn for literally two weeks straight. When my shoes are beat up, they look better, feel better and I feel like myself. I'm not trying to be anything other than a regular dude.
Are you a fan of later models like the Chuck 70 and Chuck II, or are you more partial to the original Chucks?
I prefer the original. I'm assuming they wanted the II's exterior to look the same but fit more comfortably, but that didn't really translate from the pairs they sent me. They were comfy under the foot, but the upper was too stiff. I skated in them and everything, and no matter what I did they just wouldn't break in. The Chuck 70 is cool, but I'm just a purist who likes the originals. If it isn't broke, don't fix it. 1 of 2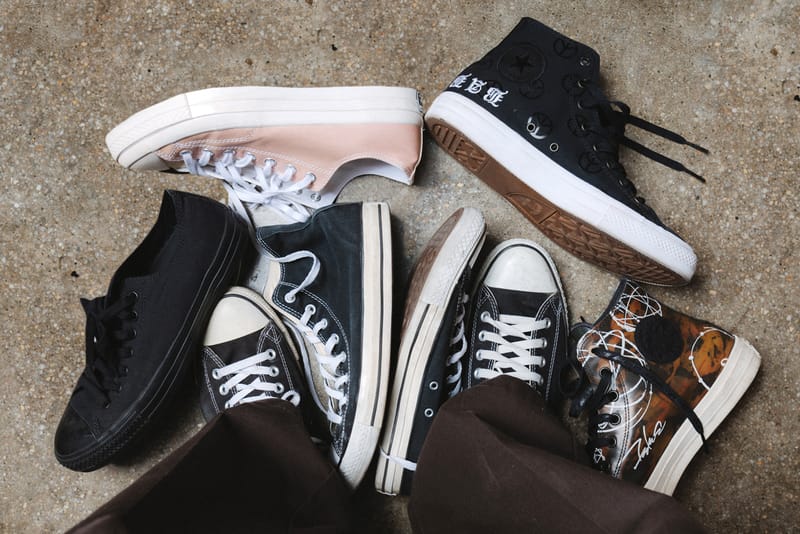 Beth Saravo/@baeth2 of 2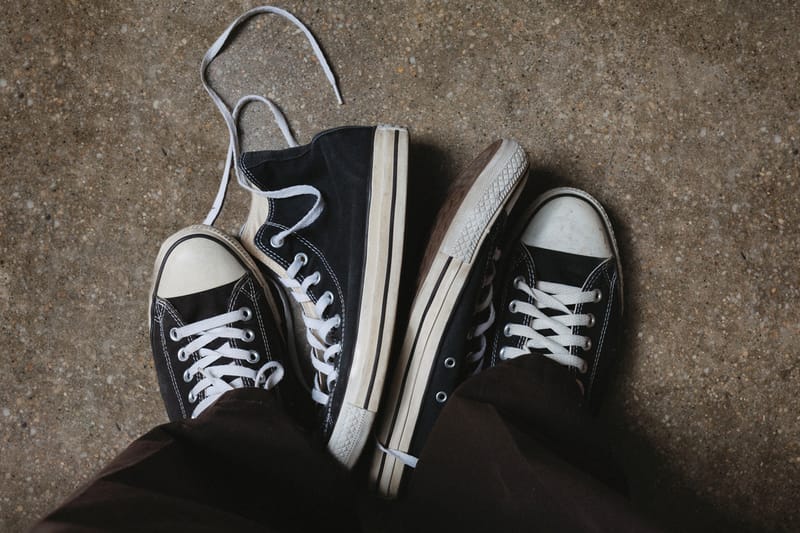 Beth Saravo/@baeth
How about collaborations? Are there any co-created pairs you really enjoy, or do you strictly rock with the in-line joints?
Brain Dead's Chucks are the best ones in recent memory as far as I see it. Hiroshi Fujiwara has done a ton of good fragment design ones too. He designs his Chucks the way I would if I did one. Like I said before, "if it isn't broke don't fix it," so much like Hiroshi I'd just do some little tweaks and really understated accents. Real subtle and nuanced. On the other end of the spectrum though, I love the boldness of Kyle Ng [Brain Dead founder]'s design as well. Now that I think about it, I gotta find a pair of those to buy [laughs].
How are sneakers and the stories they carry significant to you?
The sneakers that I've worn through my life have really been a mirror of my mindset and my take on the world and life. When I think of the Chuck Taylor, so much of what we've done with The Hundreds is really modeled along the same lines of what the Chuck is. What I strive for in my work, design and brand is to make something to hold on to, something that's timeless. Longevity is important to me. I'm not trying to be the loudest and trendiest guy in the room.
I want The Hundreds to be like the Chuck or a pair of Levi's jeans: they may have not gotten the news headlines, but you look up in 10 years and you're like "wow, they're still here and they're still humming while a lot of the competitors have fallen by the wayside." 17 years later, The Hundreds is still here, and we're still something that you can wear to be passable, accessible and feel good about yourself, just like a Chuck Taylor. In that way, shoes have really been a reflection — or even an inspiration — as to how I've lead my life and built my brand.
Source: Read Full Article