Fashion icon and former First Lady Michelle Obama attended the Biden-Harris Inauguration on Wednesday, showing her support for the new administration's highly-anticipated and historic day. When it came to her outfit, Obama did not disappoint, donning a magenta-colored jacket with matching monochromatic turtleneck sweater and wide-leg trousers. She completed the chic look with a gold belt, black leather gloves, a simple Christy Rilling black silk mask, and suede block-heeled boots by Stuart Weitzman; she wore her hair down in bouncy curls for the occasion.
Obama's outfit was designed by Sergio Hudson, a Black designer from South Carolina who also dressed the Vice President-elect on Wednesday. Hudson explained on The Bakari Sellers Podcast that Obama's outfit was inspired by a look from his Fall '20 collection.
"We did the pants instead a dress, and we did the top as a sweater instead of a dress," he said. "And, it's pretty much the exact same look and we dropped the coat to the floor just for a little bit more drama, and that's how we got where we got."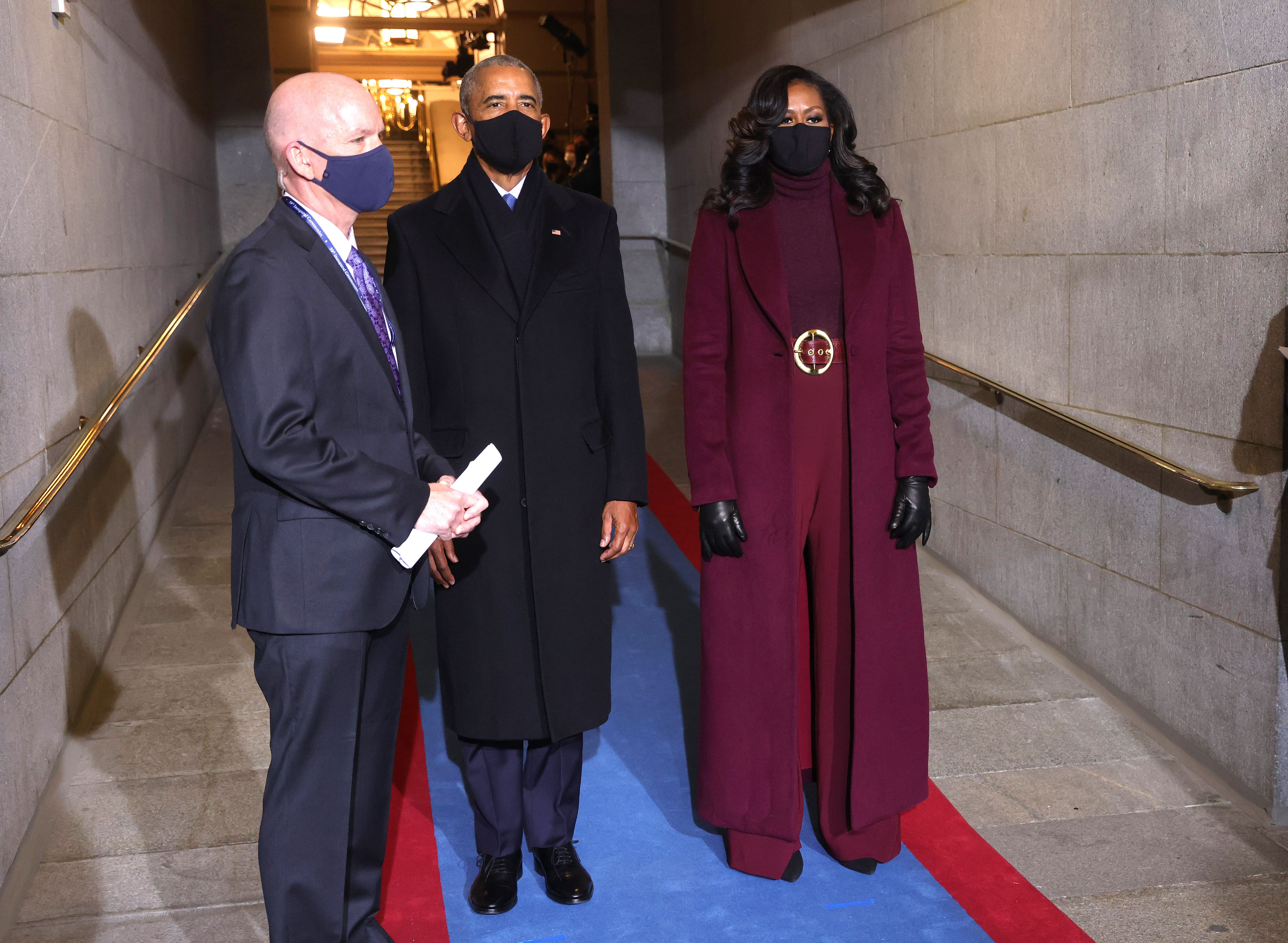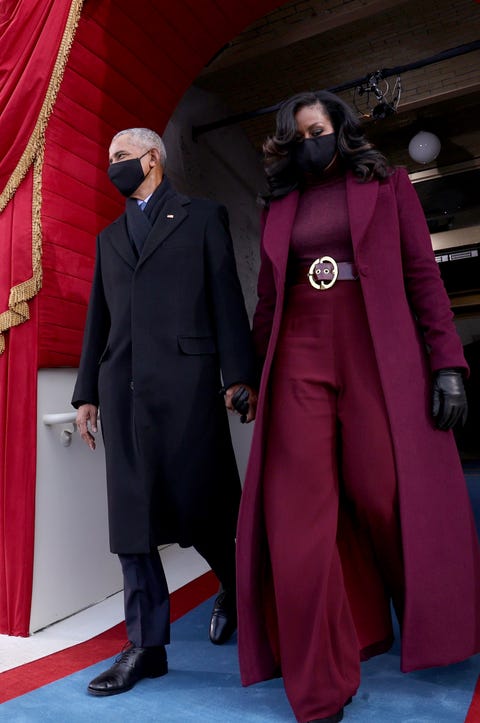 Purple was clearly the color of the day, with the Vice President-elect wearing a bright violet jacket paired with her signature pearl necklace and purple gloves. Former Secretary of State and First Lady Hillary Clinton donned the color head-to-toe, wearing an inky purple pantsuit, while Sen. Elizabeth Warren tied a lilac scarf around her neck. Purple is typically meant to represent bipartisanship—a clear cornerstone of the new administration after four years of divisiveness.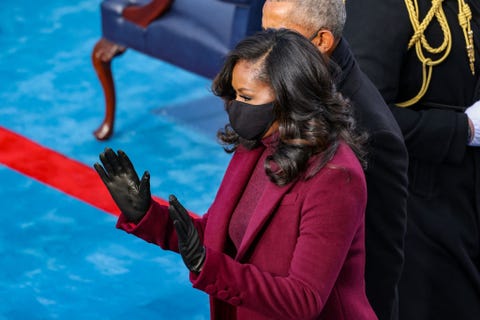 Obama's stylist, Meredith Koop, took to Instagram the day after the inauguration to reveal more about the decisions behind the outfit and to celebrate the success of the look. "When MO returned afterwards, she said, 'I was so comfortable!' Literal music to my ears," Koop penned on social media. "I have learned to respect her consistent sense of practicality and pragmatism (Capricorn) dressing her in pieces she can live, move and inspire in." Koop and Obama have worked together since 2010.
https://www.instagram.com/p/CKUhptYgJHA/?utm_source=ig_embed&utm_campaign=loading
A post shared by Meredith Koop (@meredithkoop)
Koop revealed that she immediately knew she wanted pants for the day: "Ah, the liberation of pants! No skirts, no dresses. Practical beautiful pants." And because she wanted to channel "sleek, chic and modern," she opted for dark, jewel tones and blacks and grays instead of brighter hues.
She dubbed the First Lady's outfit as "wineberry plum," and then revealed that it wasn't a political statement to opt for "bi-partisan purple" as many outlets had assumed. "That's a cute story, but it wasn't the intention," she wrote.
Koop also explained that she had first considered styling Obama in matching plum-dyed shoes, mask, and gloves, but decided "last minute" to go with black accessories. "It felt modern and more how women tend to dress," Koop said.
https://www.instagram.com/p/CKUikxfAR4H/?utm_source=ig_embed&utm_campaign=loading
A post shared by Meredith Koop (@meredithkoop)
While the stylist offered up plenty of praise to Hudson for his "exceptional" designs, she also gave most of the credit for the look to Obama herself, saying that the clothes simply allowed the former FLOTUS to stand out and represent who she is to America.
"This particular outfit is about the woman wearing it more than anything," Koop wrote. "She is powerful and she needs to move. She is stunning and she represents what is possible. She is relatable and she is aspirational. She has consistently articulated over the years what has been in the hearts and minds of so many. She has taken a look at the rule book and turned the page. She leads, she inspires and she slays."
From: Marie Claire US
Source: Read Full Article