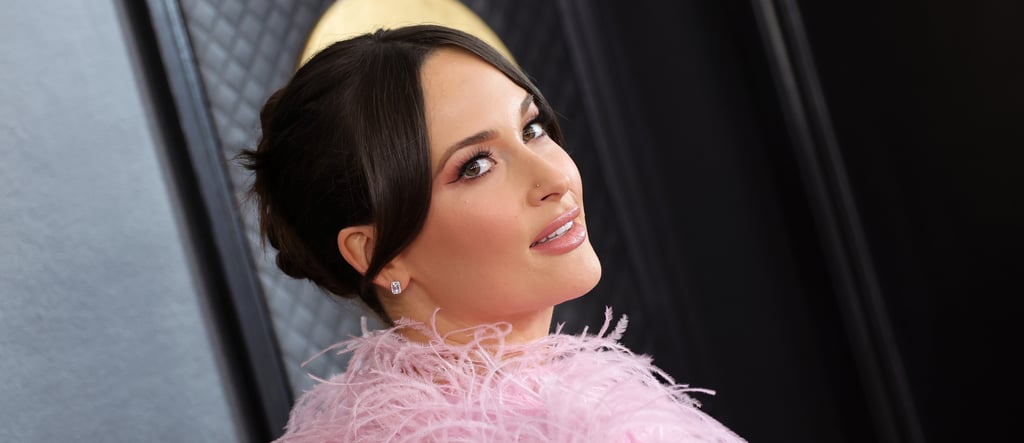 Kacey Musgraves Pairs Her Pink Catsuit With a Feather Cape at the Grammys

Kacey Musgraves and Maison Valentino are a match made in heaven, and Musgraves's latest outfit is suited for a very trendy angel. On the red carpet for the 2023 Grammys on Feb. 5, the singer wore an ultrafitted, baby-pink bodysuit, accented by a cape of feathers from the brand, styled by celebrity stylist Erica Cloud.
Although the "Rainbow" singer isn't afraid of mixing hues, she kept things monochromatic on the red carpet, wearing bubblegum pink from head to toe. It's far from the first time the singer's used bold color and texture to make a fashion statement. Other recent examples include her sparkling New Year's Eve minidress and the '90s Versace look she wore in her "Simple Times" music video. This time around, most of the texture came from the thick, floor-length cape of feathers Musgraves wore over her catsuit. To keep her skin-tight unitard looking seamless, she opted for pointed-toe pumps in the same color. For jewelry, she wore a pink morganite and double diamond halo ring and matching studs from Nicole Rose Jewelry.
True to the theme, Musgraves coordinated her outfit with her makeup. She opted for diffused, vibrant pink eyeshadow with natural lashes and a natural, glossy lip.
The pink Maison Valentino look is most likely one of a couple style moments for the night. Later in the evening, the "Golden Hour" artist is set to perform using Loretta Lynn's guitar in an homage to the country icon.
Keep scrolling for a closer look at Musgraves's monochromatic moment on the red carpet.
Source: Read Full Article