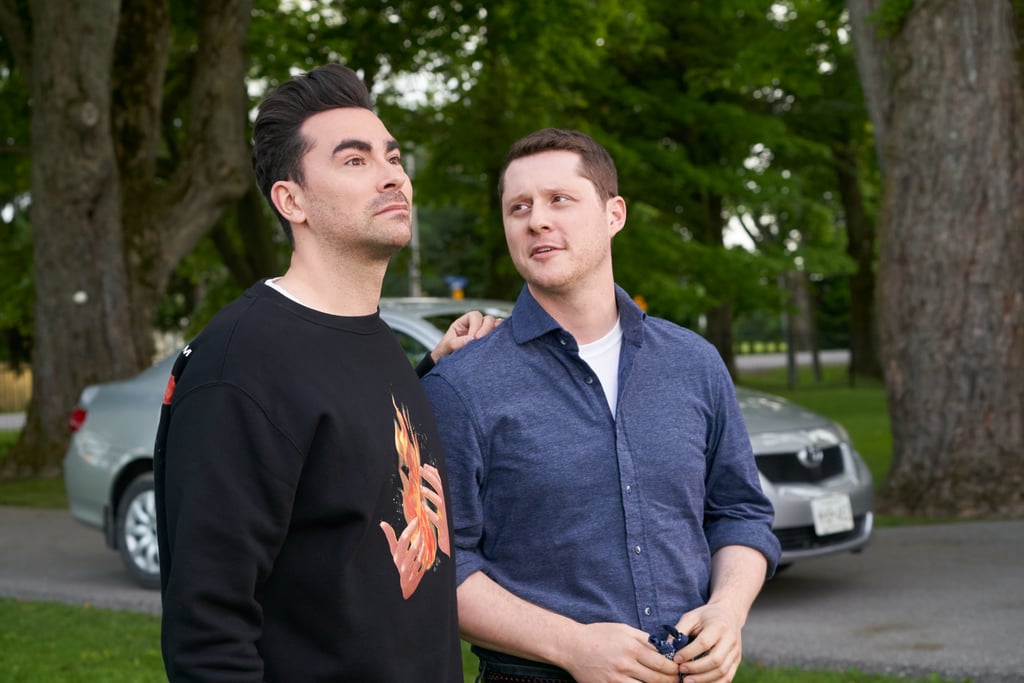 ICYMI, There's a Sentimental Meaning to David Rose's Flame Sweater on Schitt's Creek

Just call Dan Levy the Easter bunny, because he sneakily hid a very sweet Easter egg in part one of the Schitt's Creek series finale — so sneakily, in fact, that you may have totally missed it. In the 13th episode of the Canadian sitcom's sixth and last season, David Rose whips out yet another designer sweater from his extensive collection: a long-sleeved Off-White number featuring the image of two hands cupping a flame. He wears the piece while checking out the adorable cottage he and Patrick Brewer hope to move into together.
At first glance, the flame-print sweatshirt may appear to merely be a display of David's quirky style, but it's actually a sweet, very intentional nod to a moment that really ignited Patrick and David's relationship. Let's take things back to the sixth episode of season four when David and Patrick host an open mic night at Rose Apothecary. While Patrick adorably serenades the crowd with Tina Turner's "Simply the Best," David wears a Givenchy sweatshirt covered in a bright orange flame-inspired pattern. What's more is that the opening line of Patrick's song choice mirrors David's fiery outfit choice, as he croons, "I call you when I need you, my heart's on fire." Ugh, *swoons*.
Source: Read Full Article