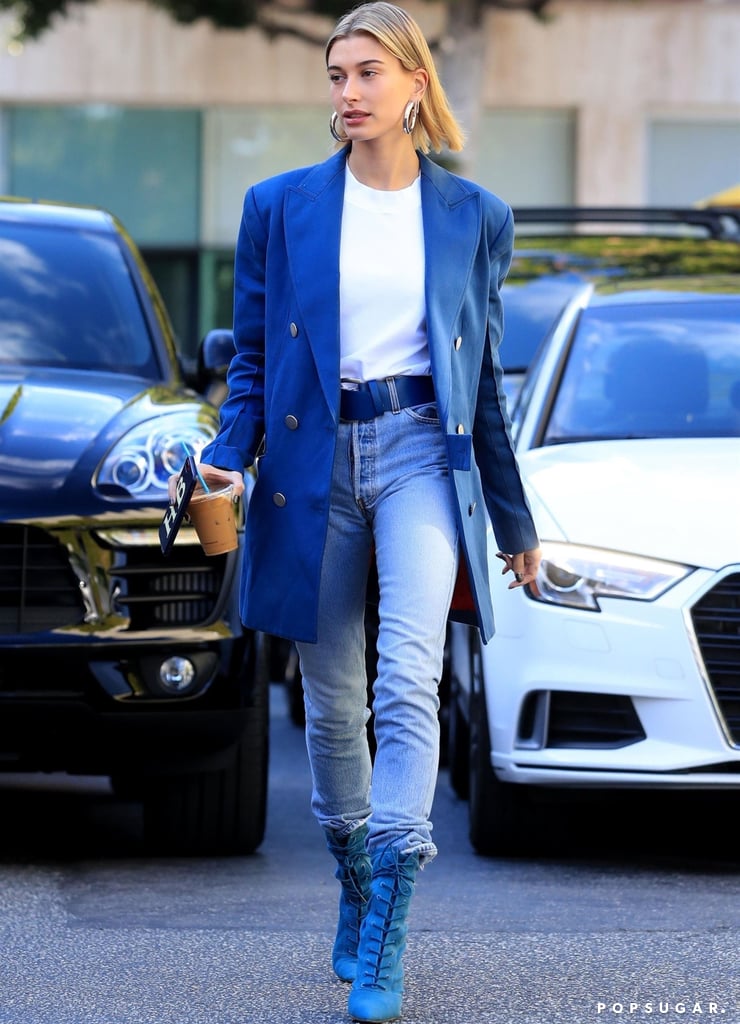 Hailey Baldwin Shows Us the Sexiest Possible Shoe to Style With Skinny Jeans

Hailey Baldwin stepped out in Beverly Hills solo, even though we're getting quite used to seeing her alongside her husband. She was dressed head to toe in blue, but it wasn't the type of monochromatic outfit that stops traffic. It was way more subtle than that. Hailey's stylist Maeve Reilly helped her put together the look: a white Acne Studios tee and Levi's jeans, cinched with a cobalt belt that matched her Sonia Rykiel blazer — all capped off with Jennifer Fisher hoops and lace-up Yeezy boots that retail for $800.
And man, oh man, those boots! How striking they looked pulled tightly around the distressed hem of Hailey's denim. If there ever was a pair of shoes to rock with skinnies, you're looking at 'em. I wouldn't be surprised if Hailey bought herself these stunners as a "something blue" after tying the knot. While I may not be splurging on Kanye West's masterful design myself just yet, I did round up similar footwear that fits the bill, and something tells me you might be interested.
Source: Read Full Article