When Jerry Lorenzo and Alessandro Sartori presented the Ermenegildo Zegna x Fear of God collaboration at Paris Fashion Week back in March it shook the industry. Curiosity arose at how the designers would be able to execute a unified collection that would set the tone for a new era of comfortable dressing – blending the precision of Italian tailoring with the relaxed silhouettes of California.
The result is unparalleled. An amalgamation of structural silhouettes and natural fabrics bridge the gap between business and casual attire. Incorporating elements of sportswear, the extended woven leather belts are cross-tied and hung as if they're sweatpants while staying true to Ermenegildo Zegna's heritage with hand-crafted excellence. The collaborative effort also features an array of hoodies and T-shirts reflecting Lorenzo's distinctive style, with tailored blazers and oversized coats channeling Sartori's aesthetic.
We caught up with Jerry and Alessandro in conversation about the inner-workings of the collaboration.
Jerry Lorenzo: When you were thinking about collaborating with a brand, what made you think of Fear of God?
Alessandro Sartori: We initially met two years ago through a common friend, and at the very beginning, we weren't even thinking about a collaboration. After that moment, we started to see each other quite regularly and then ventured into designing a collection. I always saw your work as uniquely chic and with a luxury, relaxed take. While working together, both of us had the chance to think outside of the structures that we were both used to. Fear of God exclusively for Ermenegildo Zegna collection speaks to both the Fear of God customers looking for tailored pieces and the Zegna customers seeking more relaxed yet refined sportswear with that beautiful laidback American feeling we both love.1 of 2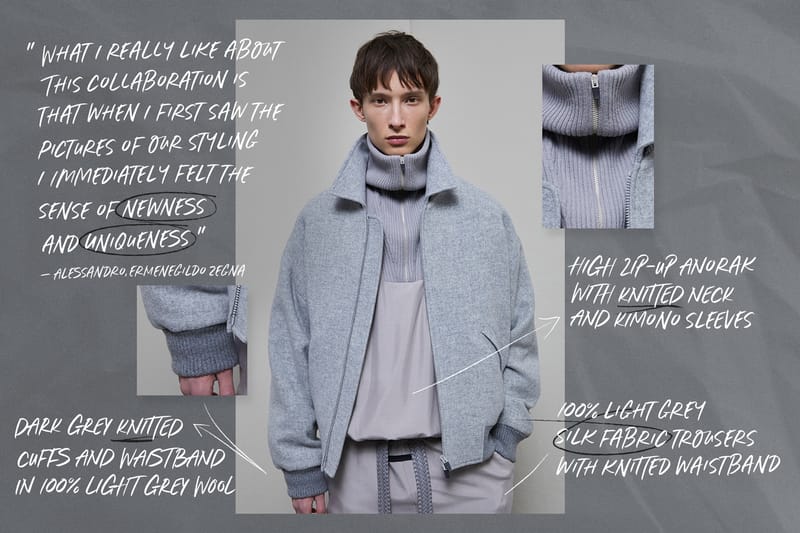 2 of 2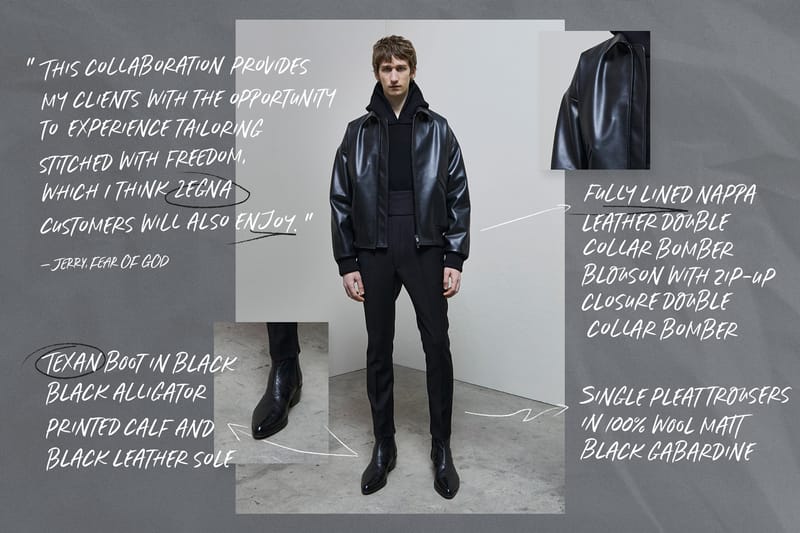 Alessandro: What are your earliest memories of Ermenegildo Zegna?
Jerry: Zegna to me has always represented elegance, sophistication –– so many aspirational things that I've held on to in my subconscious. I've always known about Zegna as it has always served as a signal of excellence, honesty and craftsmanship, so by fusing the Italian craftsmanship of 110-year old Zegna with the point of view of Fear of God, this opportunity has allowed expanding technical vocabulary to another level.
Jerry: What makes this collaboration so unique?
Alessandro: I really like this collaboration because when I first saw the pictures of our styling, I immediately felt the sense of newness and uniqueness that we both wanted. The result was a very natural designing process that started from a white page instead of starting from any marketing and or commercial brief. I find this unparalleled.
Alessandro: So we both know that our worlds are very different. How did you find working with an Italian fashion house? Was it your first time?
Jerry: You are patient and gracious, so I immediately felt comfortable around you and since the beginning, I was able to express my point of view. We saw the world in a similar way even though we came from different backgrounds. This collaboration is based on mutual respect, we understood each other from the very first moment, and this collection naturally evolved from our conversation. I have always been fascinated by Ermenegildo Zegna's clothing and this collaboration provides my clients with the opportunity to experience tailoring stitched with freedom, which I think Zegna customers will also enjoy. The whole purpose of this collaboration was not to be 50/ 50 but to be 100% of both of us.
Jerry: What were the most challenging parts of creating this collection?
Alessandro: At Zegna, we work as a big group. The collection's organization is about seasonality, because of the pre-collection and the main collection. But you've proved that other formats and calendars are working as well. It's a truly honest approach.1 of 2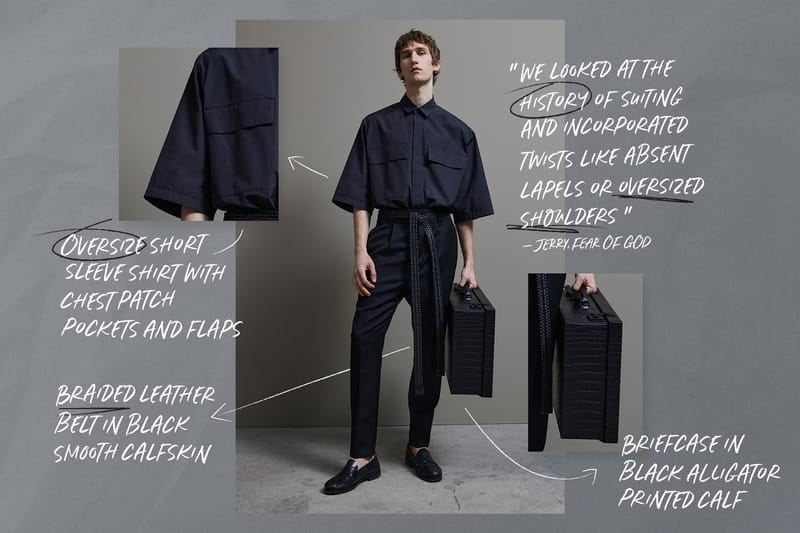 2 of 2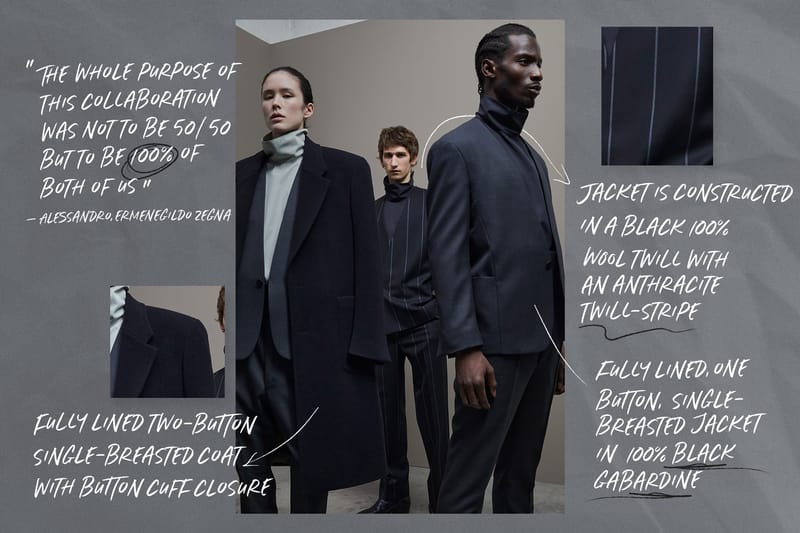 Alessandro: The Zegna x FOG collection blends a variety of fabrics to produce one unified aesthetic, how would you describe that blend in your own words?
Jerry: A sophisticated pot of gumbo.
Jerry: The collection is full of diverse silhouettes and structures, how important was that for this collaboration?
Alessandro: To define new shapes and fresh silhouettes were one of the few targets we both wanted to achieve. But instead of thinking of it in a very structured way, we got to those results during the many different fittings with ourselves (you and myself modeling). This approach gave us a positive experience to feel the collection day-by-day and step-by-step, enjoying the journey but mostly increasing the level of creativity.
Alessandro: How was it understanding the intricate nature of tailoring? Was it something you were familiar with before?
Jerry: The great thing about suiting is that it's all about the silhouette and the shape; it has to be so perfect. Once we agreed that part of it, the Zegna team created that vision — this goes back to 110 years of tailoring. The most exciting thing is putting my point of view and the way I see things, all the way down to the shoulder detail, to the highest level of craftsmanship. It's taking this idea of a hand-me-down and making it luxury, and that's exciting. We looked at the history of suiting and incorporated twists like absent lapels or oversized shoulders. There's oversize, and there's a way to refine that, and you have been extremely helpful, taking the idea and perfecting it.
Alessandro: If you had to choose one piece from the collection, which one would it be?
Jerry: The Oversized Cashmere Henley. It speaks equal parts elegance and comfortability.
Jerry: Likewise, for you?
Alessandro: There are few pieces that I regularly wear, but my favorite ones are the Drop Shoulder Black Tailoring Blazer and the Tobacco Suede Oversized Leather Shirt.
Check out the images and the lookbook in the galleries above and sign up for the pre-order wait list, with pre-orders starting on Sept 14, on Ermenegildo Zegna's website [INSERT LINK].
Source: Read Full Article