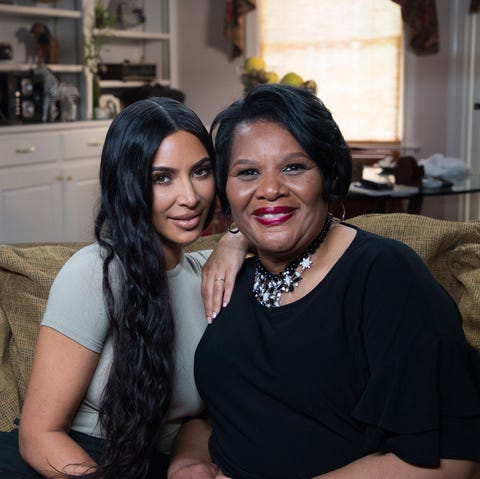 This May, President Trump met with Kim Kardashian about Alice Marie Johnson, a first-time non-violent drug offender serving a life sentence in a prison in Alabama, and eventually granted her clemency.
In this week's season finale of KUWTK, Kim makes the call to tell Alice that she's getting out of prison, and it's a super emotional moment.
Kim and Alice's lawyers are all on the call, and they patch Alice in from prison and Kim delivers the news. When she got on the phone, she thought Alice already knew, but she was the one to tell her.
Kim, who's in full makeup and hair when she gets the call, jokes that she's at a shoot so she can't cry. She tries to fan away tears at multiple points. Save the mascara, Kim!!!! The whole interaction is really sweet.
In case you need a quick refresher, Kim first tweeted about Alice's case in 2017, and she started working with her lawyers to see what she could do about it. Fast forward a few months and one Donald-Trump-meeting later, the POTUS signed the papers for Alice to be released.
Great meeting with @KimKardashian today, talked about prison reform and sentencing. pic.twitter.com/uOy4UJ41JF
After her release, Alice sent Kim a letter that Kim later shared on social media. "I was drowning and you have thrown me a life jacket and given me hope that this Life jacket I'm serving may one day be taken off," she wrote. "I am so humbled by what you are doing and have already done on my behalf."
Watch the whole thing on the season 15 finale of KUWTK, which airs this Sunday night at 9 on E!. Kim will be a guest on Busy Tonight right afterward to talk about the episode.
Follow Emma on Instagram.
Source: Read Full Article