Willie Garson, the actor best known for playing Stanford Blatch in Sex and the City, has died. Garson, 57, was set to appear in And Just Like That… and was filming the reboot at the time of his death. In the months before his death, Garson was seen filming in and around New York City with friend and co-star Sarah Jessica Parker and his on-screen husband, Mario Cantone. Cantone and others from around the industry are paying tribute to the late actor on social media. 
When did Willie Garson die?
Garson died on Sept. 21, 2021. According to People, Garson's death came after a short illness. A family spokesperson told the publication that Garson was surrounded by family at the time of his death. Garson, an adoption advocate, was the father of one.
Willie Garson's son, Nathen Garson, appeared to be the first to share the news of the famed actor's passing publicly. He paid tribute to his father on Instagram with a series of personal photos and home videos. The caption read, "I'm so glad you got to share all of your adventures with me and were able to accomplish so much." The younger Garson, 20, is a college student. A family spokesperson later confirmed the death to the media. 
The cast and crew of 'Sex and the City' are paying tribute to Willie Garson 
News of Garson's death has hit the Sex and the City cast and crew especially hard. Several cast members have taken to social media to express their deep sadness and pay tribute to their fallen friend. Mario Cantone, who plays Garson's on-screen partner, Anthony Marantino, took to Instagram to share his thoughts. Cantone wrote, "Taken away from all of us way soon. You were a gift from the gods, sweet Willie." 
Sex and the City and And Just Like That… executive producer, Michael Patrick King, issued a statement to Variety. Of Garson, he said, "His spirit and his dedication to his craft was present every day filming 'And Just Like That.' He was there — giving us his all — even while he was sick. His multitude of gifts as an actor and person will be missed by everyone. In this sad, dark moment we are comforted by our memory of his joy and light."
Evan Handler, the actor who portrays Harry Goldenblatt, described the loss as a tragedy for the cast, Garson's family, and the world. Cynthia Nixon also issued a statement via Twitter. She called Garson a consummate professional and took time to recall how proud Garson was to be Nathen's father.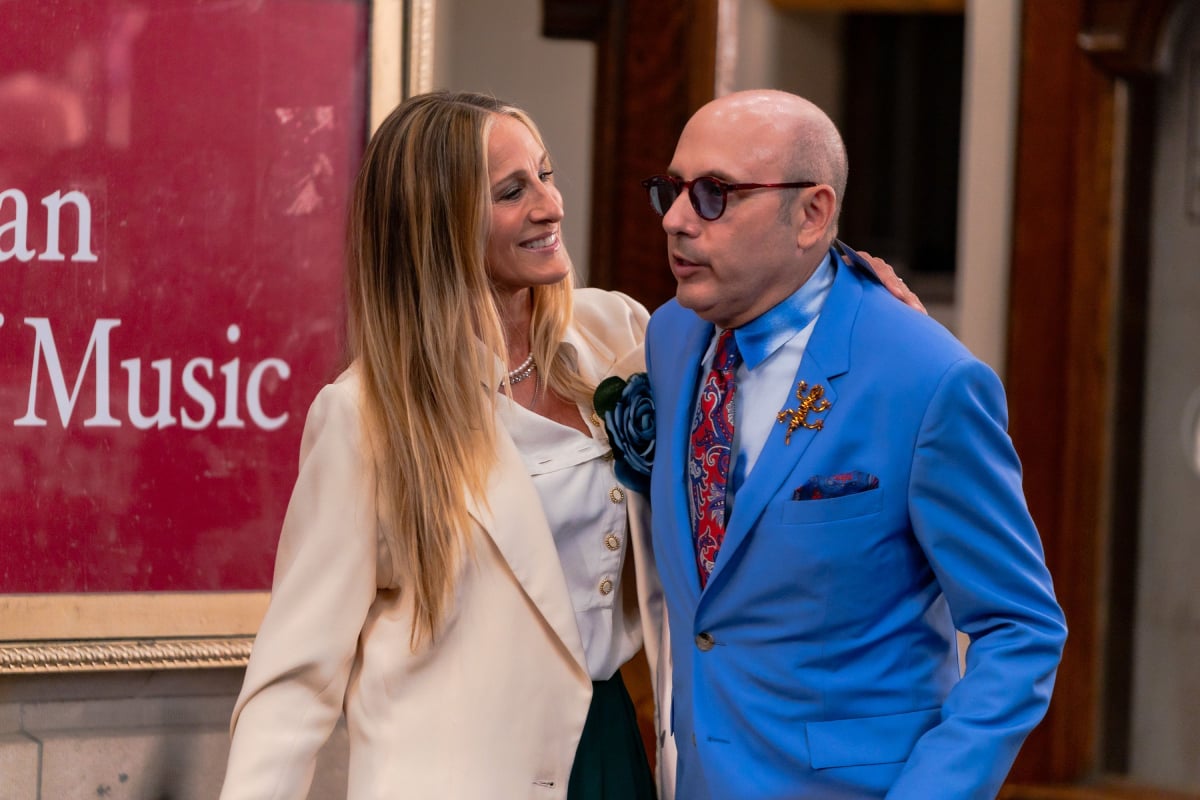 As of print time, Sarah Jessica Parker has not made a public statement. Parker and Garson were close friends. The pair were introduced at a dinner party long before playing on-screen friends. Their friendship endured long distances and several decades. Garson spoke about their friendship during an appearance on The Bradshaw Boys podcast last year. 
Fans and friends from around the entertainment industry are also paying tribute to Garson
The Sex and the City family aren't the only people in Hollywood devastated by the sudden passing of Garson. People from across the entertainment industry have taken to social media to remember Garson for his work ethic, sense of humor, and good nature. Most of all, Garson is being remembered for his kindness. Mia Farrow and Ben Stiller both shared their thoughts on Garson's death on social media. Farrow retweeted Garson's last Tweet and thanked him for his good heart. Stiller addressed Garson's son directly, reminding him that his father was not only funny but wholly committed to his philanthropy. 
Garson's final Tweet, posted on Sept. 4, urged everyone to be kind to each other. While his exact cause of death remains unknown, fans are drawing parallels between Garson's sudden death and the passing of Norm MacDonald. Macdonald died on Sept. 14 after a private battle with cancer. Both Garson and Macdonald were beloved by colleagues and fans. 
Source: Read Full Article