Setting the record straight about her diet, the 'Pitch Perfect' actress stresses that it 'was NEVER' hers, and asks news outlets to stop spreading false information.
AceShowbiz –Rebel Wilson finally spoke up against misleading information plaguing her weight loss journey. On Monday, April 18, the "Pitch Perfect" actress slammed long-standing rumors about her using the Mayr Method diet plan to drop more than 77 lbs.
Debunking the rumors, the 42-year-old actress released a simple clarifying statement via her Instagram Story. She posted a screenshot of Daily Mail Australia's news about her diet and wrote a caption over it that read, "This was NEVER my diet, please stop writing this stuff."
In a following Story, the "How to Be Single" star added, "Thanks everyone – it's really annoying when people use my image unlawfully or in misleading ways." She further stressed that she did "NOT want anyone to get scammed." She concluded her post by saying, "Love you guys xoxo."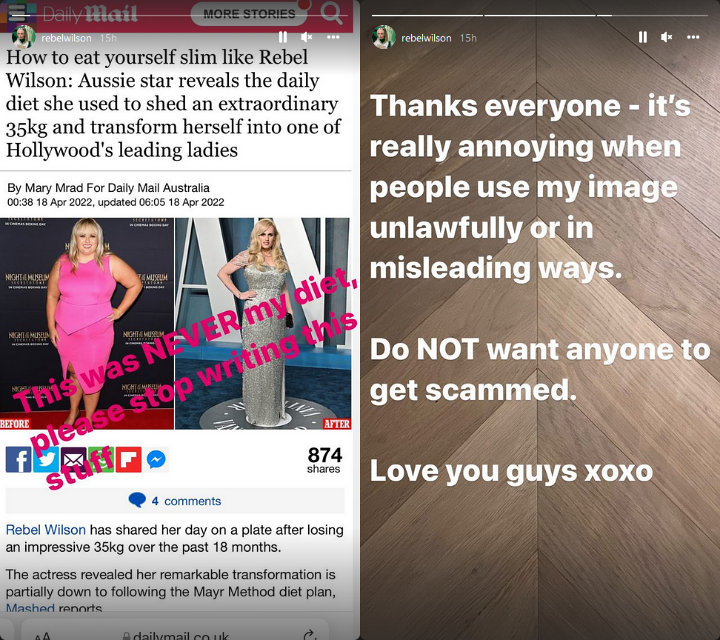 Rebel Wilson debunked misleading information about her weight loss diet plan.
Rebel did spend time at a wellness center that used Dr. Mayr's techniques in the past. Her initial visit was in 2019, and she went back for a second visit in 2020. She boasted about her second stay on her Instagram account. "Thank you to Dr Schubert and all of the team @vivamayraltaussee in beautiful Austria," she wrote in the caption.
"I'm going to start 2021 in an amazing place, with a healthy body and mind…and boosted immune system!" she continued, "Love the care you all put into your patients – I am so grateful! Now on to maintaining the weight loss and the healthy lifestyle!"
PEOPLE was the first to release a report suggesting that Mayr Method diet plan might have contributed to the "Isn't It Romantic" star's drastic weight loss. The publication wrote that a source close to the actress claimed she had been seeing amazing results since adapting the diet during her stay at VivaMayr wellness center in Austria. The story was quickly picked up by other news outlets.
Rebel Wilson warned her followers against false advertisement that used her image.
Mayr Method diet aside, Rebel also used her April 18 Story to warn her followers against being fooled by magic weight loss pills advertisement that used her image. The Australian actress clarified that she had never endorsed any kind of diet pills. She told fans to "report it as a scam – do not send it to me as a DM – report it on the social media site you see it on when you see it." She stated that any kind of endorsement she did would only be uploaded on her official social media account.
Source: Read Full Article