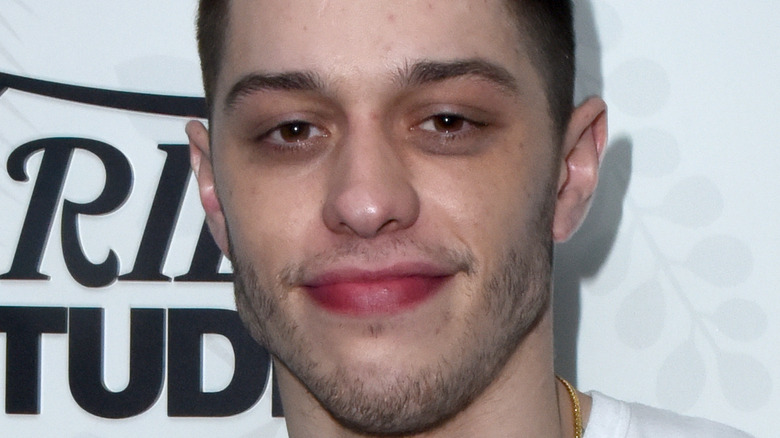 Vivien Killilea/Getty Images
By Angela Andaloro/Aug. 30, 2021 2:40 pm EDT
Pete Davidson once treated his body as a canvas. The actor is surprisingly heavily tattooed, having over 100 individual tattoos in total. Davidson has recently made the decision to start getting his tattoos removed as he pursues acting and grows as a person.
Davidson has been candid about getting tattooed as a coping mechanism in the past. He initially began getting tattoos to cover self-harm scars. "I cut my chest," he revealed in a February 2020 interview with Charlamagne tha God (per Inked Magazine). "That's why I started getting tats on my chest, to cover them. It's just a release, if you can't get a tattoo … When [I'm] so manic and upset, sometimes that's the only thing that will work for me."
Davidson explained that going to rehab taught him better coping mechanisms. In a recent interview with People, he shared it'll take a while to get all of them off. "I get my next treatment [in] like a month or so. They said by the time I'm 30, they should all be gone," he shared. "So they got like two more years left of this." Here's a look at all the ink Davidson's gotten over the years.
If you or someone you know is struggling with mental health, please contact the Crisis Text Line by texting HOME to 741741, call the National Alliance on Mental Illness helpline at 1-800-950-NAMI (6264), or visit the National Institute of Mental Health website.
Pete got his first tattoo at just 17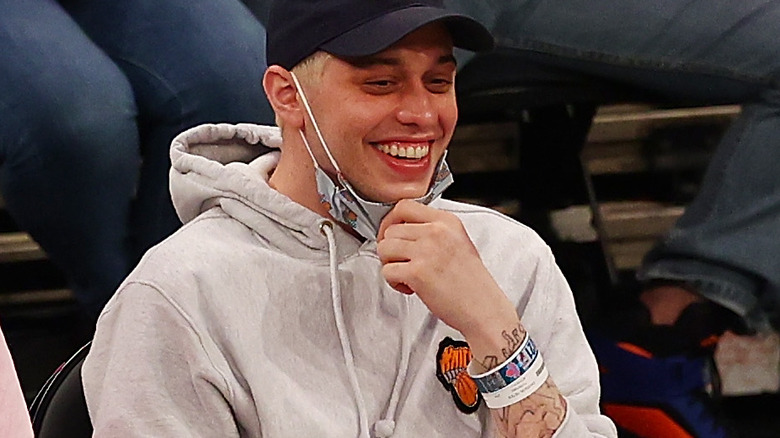 Pete Davidson got his first tattoo when he was just 17 (per Screen Rant). The tattoo said "Swerve Life," a lyric from Big Sean's song "Mercy." It was a matching tattoo with a friend, one of many that Davidson would get over the years. There were other silly tattoos that Davidson got early on in his experiences getting inked, like "Jokes come and go, but Swag is forever," which would later be covered up by a huge killer shark head.
There are certainly quite a few phrases in Davidson's collection. Underneath the shark head reads "Don't let the bastards get you down" (per Body Art Guru). "Thank goodness" is on the right side of his chest, with "goon" right next to it and "MOM TATTOO" in red underneath it. A large keyhole tattoo appears under it with the phrase "Bada Bing" beneath it. "Pure Imagination" is on his right arm, as well as "warning" and "light up the dark." On his right hand is "REDRUM," also in red ink. A smiling heart on the left side of his chest had the word "wobbly" added to it.
There's also some old fashioned ink dedicated to Davidson's upbringing in Staten Island, New York. He has a the Verrazano bridge on his left shoulder with a Wu-Tang bat symbol (per Complex Magazine). He also has "shaolin," another Wu-Tang reference, across his belly. 
Many of Pete's tattoos were in honor of his late father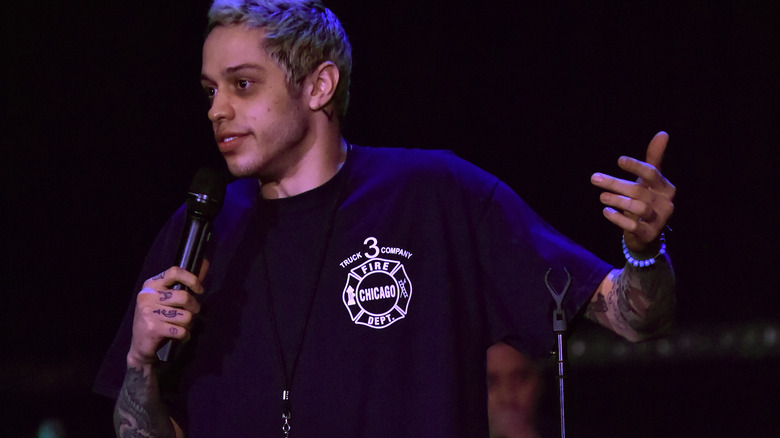 Pete Davidson lost his father, Firefighter Scott Matthew Davidson, in the September 11th, 2001 attacks on the World Trade Center. Pete was just 7 years old (per The Things). He has a number of tattoos in his honor. There's an "11" tattooed behind his left ear and "XI", the Roman numeral for 9, denoting the month of his father's death. He also has a copy of his father's driver's license tattooed.
Davidson also has a half-sleeve firefighter kneeling with his helmet on the ground on his left arm (per Body Art Guru). Next to it, he has a portion of the firefighter's prayer, which reads "enable me to be alert and near the weakest shout". 
On his left forearm, he has his dad's badge number, 8418. Underneath it is a firefighter's helmet with the number 343, the number of firefighters who died on 9/11 (per ABC News). His initials are also on Pete's inner left arm. Pete also has their last name, Davidson, inked down his left side.
Pete also had a habit of getting tattoos related to girlfriends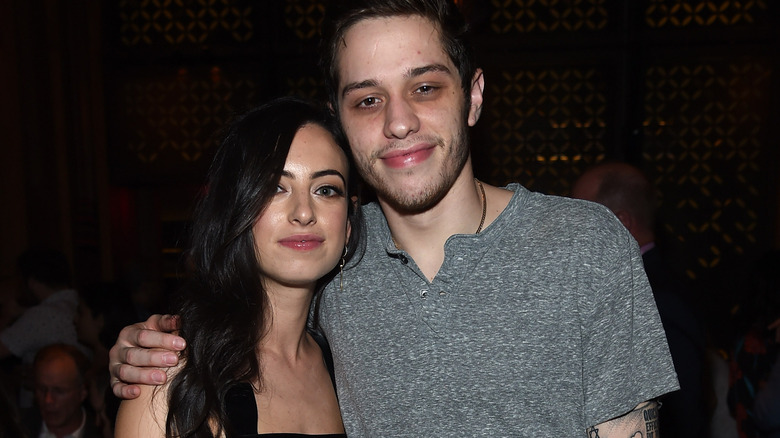 For Pete Davidson, tattoos became tokens of affection for a while. He got a number with and for girlfriend Cazzie David, who he dated for 2.5 years from 2015-2018 (per Insider). Davidson had gotten David's name tattooed on his left ring finger. Her favorite emoji was on his next finger. Davidson also had a caricature of David on his inner right arm. According to David, she discovered that he'd gotten all the tattoos covered within 24 hours of breaking up with her over text. 
"My name, which had been written in cursive across his ring finger, was now covered with black ink," she wrote in her essay collection, "No One Asked for This" (per E! Online). Her favorite emoji was covered with a cloud emoji, Ariana Grande's favorite. "And that is the exact moment when all emojis were ruined forever and I began living in a 'Black Mirror' episode," David wrote.
Davidson would get many of the tattoos covered with one big forearm forest-themed tattoo, but if you squint, you can still see David through the trees.
Tattoos were a major part of Pete and Ariana's relationship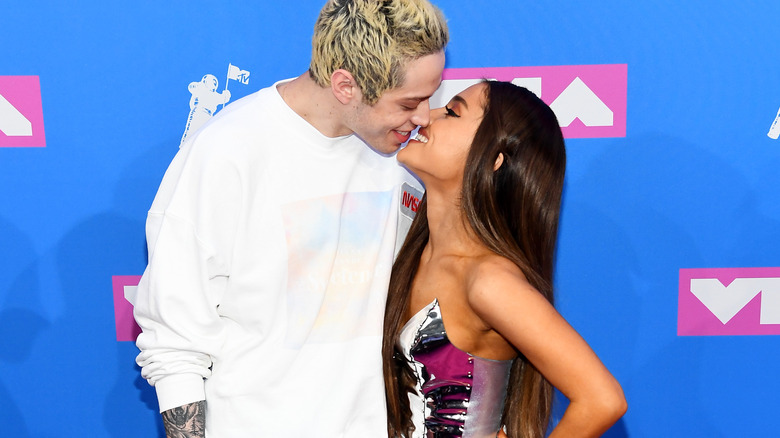 Pete Davidson and Ariana Grande truly shared a passion for ink. The cloud emoji Davidson got as a cover-up of a Cazzie David tattoo matched one Grande got on her finger (per People). He later added the signature "Dangerous Woman" bunny ears. At the same day, he got AG inked on his thumb. 
The bunny ears were later covered up with a big black heart, accompanied by a dainty little letter "A." More tattoos came when the couple got engaged in June 2018 (Per The Sun). Both marked the occasion with the word "reborn" on their thumbs. Later, they added "H2GKMO," an acronym for an inside joke in Grande's social circle (per Teen Vogue). It was later replaced with an arrow. He also got "mille tendresse," which Grande has had for years on the back of her neck, in the same spot. Later, he covered it with a large tattoo that reads "cursed."
Davidson also got a tattoo of the couple's pet pig, Piggy Smallz. When the whirlwind relationship came to an end, however, the coverups began. 
Jon Mesa is a favorite artist of Pete's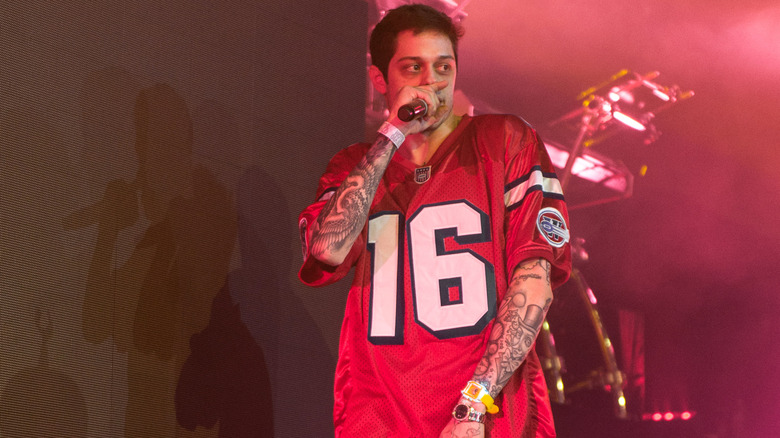 Pete Davidson has a favorite when it comes to tattoo artists. Much of his ink comes from Jon Mesa (per Weight And Skin). Mesa is responsible for Davidson's Cazzie David forest cover-up, an enormous and well-done feat. "After we were done, I told Pete, 'Hey, dude, let's just stop with the girlfriend tats until after [Grande's] your wife,'" Mesa told Page Six he advised the comic. "Because relationships come and go, and Pete is a really young man. [But] I think that went in one ear and out the other." 
Mesa has given Davidson some serious portraits (per Body Art Guru). A portrait of the "Tommy's Mother Painting" is on Davidson's right side. He did a lovely little Grinch near Davidson's right elbow as well. In 2016, he added a Hillary Clinton tattoo in honor of her presidential candidacy. He went on to add a portrait of Ruth Bader Ginsburg in 2019.
Davidson has been a canvas for some of Mesa's more traditional work as well. He's added flying eagles, a Claddagh ring, a lightning bolt, a peace sign and a heart, the number "93" (Davidson's year of birth), and boxing gloves to his arms and torso. Next to the boxing gloves is a quote from "Rocky" which reads "It ain't about how hard ya hit. It's about how hard you can get hit and keep moving forward." There's also a faceless profile in a hoodie.
Mesa's also done some cartoonish work on Davidson. He has an alien from "Mars Attacks" skull on his chest and the Tootsie Roll owl in the middle of his back.
Pete has a lot of cartoon character tattoos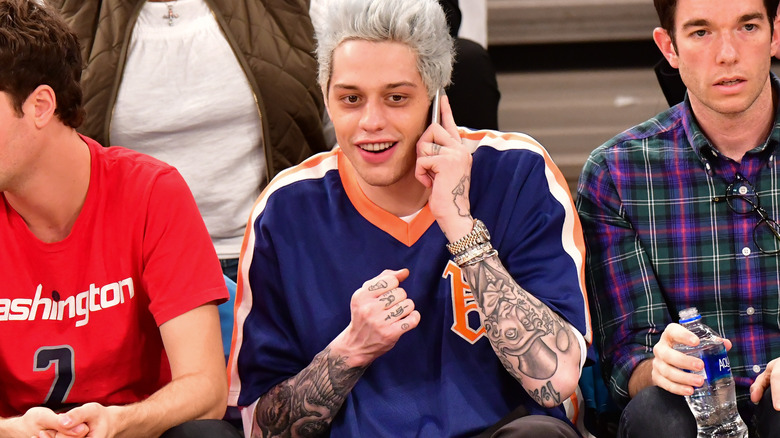 When it comes to cartoons, Pete Davidson has quite a few tattooed. Willy Wonka lives on his left forearm. A sleepy, smiling toaster is on his left arm as well, with Spongebob tattooed underneath. 
Pacman and some ghosts are inked in the middle of his stomach, just underneath a ghost emoji. On the left, he has Winnie the Pooh inked on his side. There's a cartoonized shoe smoking a joint on his back, where another elaborate cartoon tattoo is also inked. On the right side of Davidson's back is a sizable lighting design. Each beam is a different cartoon character, including Mickey Mouse, Marvin The Martian, and Porky Pig (per Body Art Guru).
It's not just Looney Tunes and Disney either. Davidson also has an affinity for Pokemon. A tiny Pikachu lives on his left index finger. On his left pinky finger is a Pokeball. There's even more niche cartoon tattoos, as Davidson has the dog from "The Triplets Of Belleville" on the left side of his chest.
Pete also has a serious amount of Harry Potter tattoos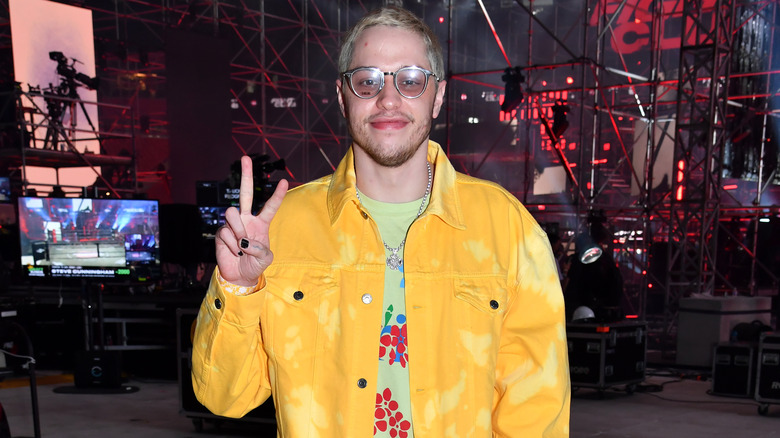 Pete Davidson has quite a few "Harry Potter" tattoos, but it seems like he started regretting the decision before controversy erupted around J.K. Rowling. "I have, like, a bunch of 'Harry Potter' crap [tattooed]," Davidson told Seth Meyers (per Alternative Press). "Here's the thing about the 'Harry Potter' crap. At the time, it seemed like a really good idea, but what if one of the people in the cast is like, a sex offender later on? That's a huge cast, so like, if someone comes out as a sex offender, I'm screwed."
Davidson has the Deathly Hallows symbol on his left wrist and an Order of the Phoenix piece on his right forearm (per Body Art Guru). He's also got some "Harry Potter" finger tattoos. There's a G for Gryffindor on his right ring finger, a sorting hat on his right index finger, and a golden snitch on his right middle finger. He also has a popular Dumbledore quote that reads "Happiness can be found, even in the darkest of times, if one only remembers to turn on the light."
After Rowling came under fire for anti-trans remarks, Davidson doubled down. "I got a 'Harry Potter' tattoo years ago cause I'm not psychic," he said on an episode of "Saturday Night Live" (per Vulture) . "I didn't know J.K. Rowling was going to go all Mel Gibson on us. I have a 'Game of Thrones' tattoo [a direwolf], now I'm terrified one day George R.R. Martin's just going to be like, 'Hey, if you enjoyed what I had to say about dragons and cure wolves, wait till you hear what I think about Puerto Ricans!'"
Pete's remaining tattoos are pretty random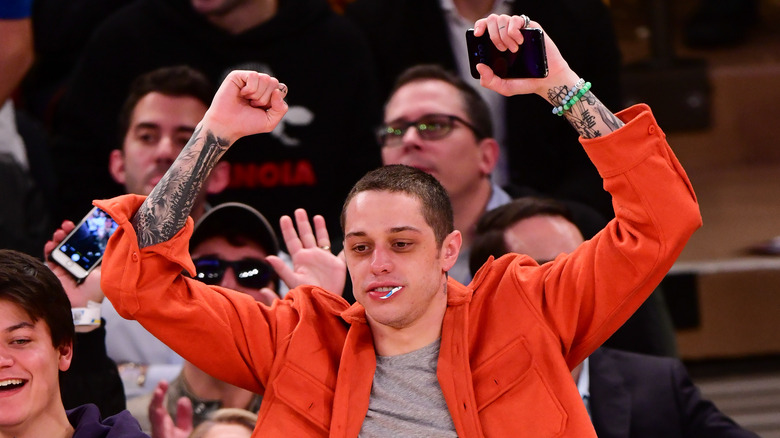 Like a lot of young people, there's not a reason behind every one of Pete Davidson's tattoo. There are some popular tattoo fads in there, however. There's a galaxy tattoo on his left forearm, a shamrock that looks like it may have been from a Friday the 13th tattoo special, a lotus, stars, butterflies, a random assortment of knives, a tiger, and an electrocardiogram on his chest (per Body Art Guru). He's got rubber ducks and a red broken heart, all along with an angel smoking a cigarette.
One thing that does come across about Davidson's tattoos is that for every 5 that don't have a meaning, there are a few with important ones. He has a sentimental side for sure, having the names of two of his friends' children (Leo and Kanan) inked on him.
And of course, no massive tattoo collection would be complete without an enormous unicorn tattoo. Davidson may be getting rid of a majority of these gems, but you can't argue they weren't fun while they lasted, even for his fans.
Source: Read Full Article