Oof. Not only did Game Of Thrones blown a 7-1 lead according to many fans, with its last minute character choices.
The show has also not been on its game when it comes to continuity errors.
However you feel about who ended up on the Iron Throne, we can all agree we shouldn't be spotting boom mics like a bad student film.
Infamously in Episode Four, during the feast following the Battle of Winterfell, there was what looked like a Starbucks coffee cup just sitting on the table in front of Daenerys.
And in the finale, something which has been plotted and thought about for years by everyone behind the scenes, something hundreds of artists worked thousands of hours on…
It happened again.
In arguably the biggest, most pivotal scene in the episode, in which Tyrion is presented before the surviving lords and ladies of the great houses of Westeros — and talks his way out of a death sentence and into electing the new ruler of Westeros…
There's a damn water bottle.
Look!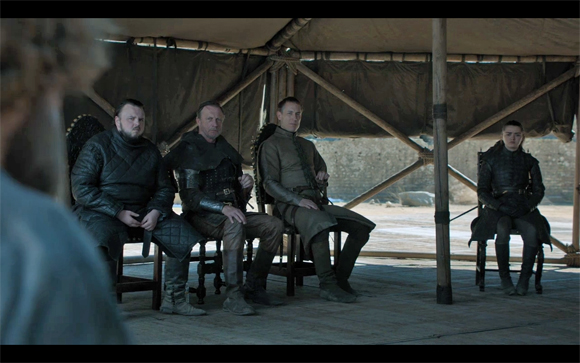 Yeah, not as apparent as the coffee cup, but like Daenerys slaughtering hundreds of innocent children, you can't exactly UNSEE it once you've been shown.
Here: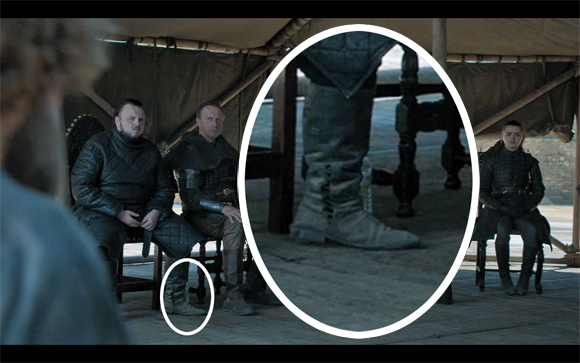 We'd say someone is getting fired for all this, but…
Well, it's all over at this point anyway, right?
Besides the directors of the episode were showrunners David Benioff and D.B. Weiss (who also wrote it). So really they should have been the ones to see the thing.
Of course, if it's anything like the coffee cup, the water bottle will be digitally removed from the episode in a matter of hours.
One mistake that can't ever be fixed?
The entire episode DIDN'T EVEN AIR in China.
A company called Tencent Video holds exclusive streaming rights to the HBO hit in China; fans pay a monthly fee to get their favorite U.S. shows.
But a freakin' HOUR before the show was supposed to air (9:00 a.m. Beijing time btw, those fans had to PREPARE for this), the service announced the show would be delayed indefinitely!
A message told viewers:
"Dear users, we regret to inform you that the sixth episode of the eighth season of Game of Thrones will not go online at the intended time due to media transfer issues. We will keep you informed of the broadcast time."
WTF?!?
What even are "media transfer issues"??
Outraged fans took to the comments section; here are a few: 
"Thank you Tencent, due to your delay, the ending has been spoiled for me. I specifically purchased the membership for the purpose of avoiding spoilers"
"I took a day off work just to watch the finale! Should I head back to the office or not?"
"All those paying members and their trust, and this is how you repay them"
But the top ranked comment is perhaps the most intriguing.
One user asked:
"Is it the result of the trade war between the U.S. and China?"
For those who have been too overwhelmed to keep up with Donald Trump's consistently horrifying decisions, they're talking about the trade war he started with China.
Trump declared trade wars are "good and easy to win," but this one alone was reportedly costing American businesses over a billion dollars a month BEFORE the recent escalation, in which both countries increased tariffs.
The conflict may well have hit streaming services trying to import TV.
Depriving Game Of Thrones fans of the finale after all this time? Imagine if that happened to YOU last night!
That's just cruel.
Source: Read Full Article