Kylie Jenner decided to kick off the Valentine's Day season a little early by launching her V-Day Kylie Cosmetics line today. Weirdly, she might have inserted herself into the Kim Kardashian/Taylor Swift/Kanye West feud in the process.
Here's how this all went down. Kylie was doing a casual unboxing on her Instagram Stories, labeling all the products with their names, when she dropped this bomb on everyone.
In case you forgot, "Story of Us" and "Forever and Always" are both Taylor Swift songs circa 2011 and 2008, respectively.
And in case you double forgot, Kylie's older sister Kim Kardashian was in a major feud with Taylor Swift for, like, ever. So it's a little weird that Kylie would pick these names for her shades, especially considering they're not super common phrases or expressions.
But, in a surprising plot twist, Kim actually talked about the Taylor feud just last week, saying she'd rather be stuck in an elevator with Taylor than with Drake, which is saying something. "Over it," Kim said when Andy Cohen asked. "We've all moved on."
Okay, guess that settles that!
Follow Emma on Instagram.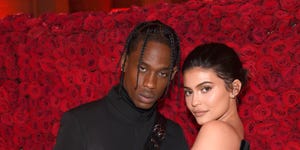 Source: Read Full Article