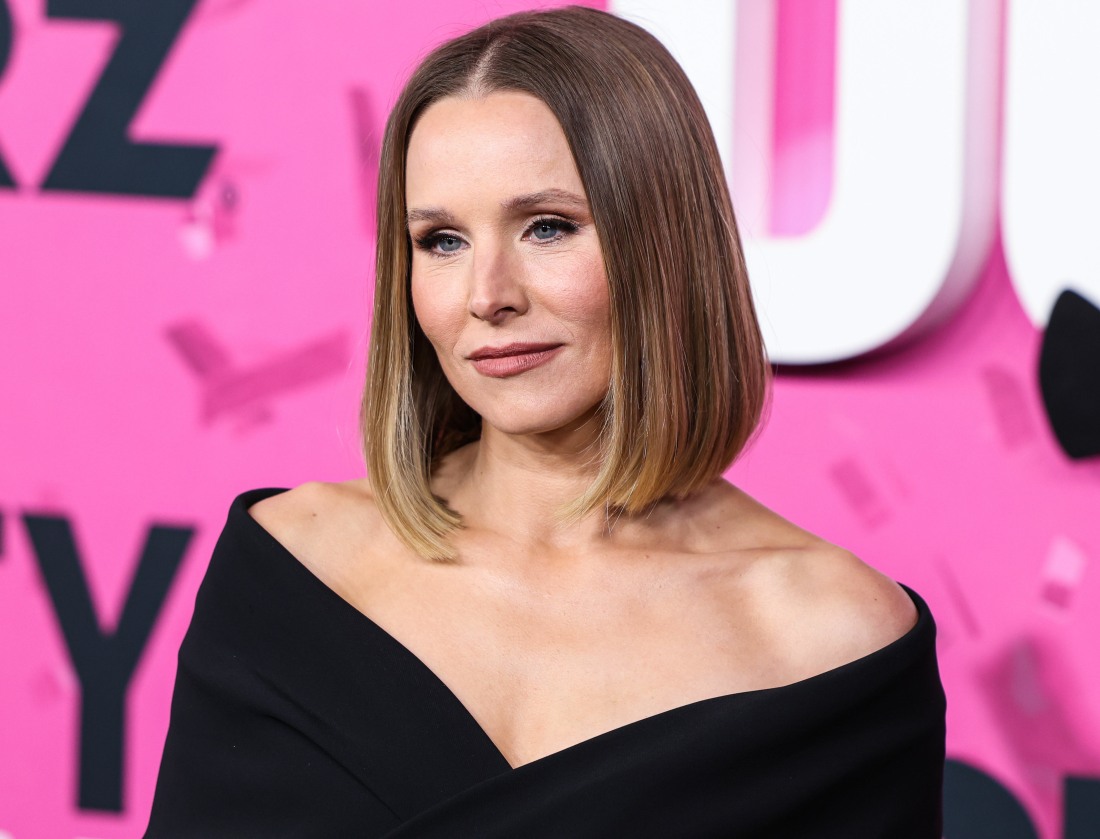 It is still so funny to me that Kristen Bell and Dax Shepard make this big deal about "protecting their children from being photographed," yet they are constantly telling their kids' business to everyone. While I have no idea what Delta and Lincoln Shepard look like, I already know way too much about them, including how infrequently they bathe, and how they don't shower until they "stink." Well, for years, Kristen has been telling everyone that her kids drink non-alcoholic beers. She told the story again this week while appearing on The Kelly Clarkson Show, and Kristen added a new twist. Her daughters (aged 8 and 9 years old) actually order non-alcoholic beer in restaurants now.
Kristen Bell's kids have very mature taste. While appearing on an episode of The Kelly Clarkson Show, the Good Place actress, 43, chatted with host Kelly Clarkson, 41, about letting her two daughters — Delta, 8, and Lincoln, 9 — drink non-alcoholic beers.

Although she admitted that it "sounds insane," Bell said that "context is important," since her 48-year-old husband Dax Shepard is a recovering addict.

"He's a recovering addict," Bell said of Shepard, "but he likes non-alcoholic beer, so he'd pop one open, he'd have [our oldest daughter] on his chest, and we'd walk and look at the sunset," she told Clarkson. "As a baby, she was pawing at it, and sometimes she'd suck the rim of it. So I think it feels to her like something special, something daddy, something family."

Bell went on to say that the drinks contain zero percent alcohol and that since establishing this routine, her kids have asked for non-alcoholic beer at restaurants.

"We've been at restaurants where she's said, 'Do you have any non-alcoholic beer?' And I'm like, maybe we just keep that for home time," said the actress.

"But then I'm sort of like, you can judge me if you want, I'm not doing anything wrong," added Bell. "That's your problem."
[From People]
Kids that age just want to feel like grownups and they copy their parents' behavior too. I loved ordering Shirley Temples when I was a kid because it felt like I was ordering a cocktail, like I was a grownup. I've seen teenagers order virgin pina coladas too, because it feels like a thrill, like they're doing something naughty. Technically, Kristen is right – it's not like she's doing anything wrong. I mean, except for telling her daughters' business to everyone. She and Dax should introduce their kids to Shirley Temples.
https://www.instagram.com/p/Cq7Ev0yOcJN/
Photos courtesy of Avalon Red.
Source: Read Full Article