On Wednesday, Tristan Thompson turned 28… and ex Khloe Kardashian didn't give two s**ts!
That day, the Revenge Body host did not post anything on social media in honor of the cheater's birthday.
However, as seen on Instagram Story, KoKo shared video of daughter True Thompson's first photoshoot for mom's Good American label.
As seen here:
View this post on Instagram
✨
A post shared by Khloe Snapchat (@khloesnapchats) on
View this post on Instagram
A star is born ✨✨
A post shared by Khloe Snapchat (@khloesnapchats) on
On Thursday, cryptic Khloe struck again and shared a quote on Insta Story about "forgetting someone."  The statement — which may or may not be about her ex — read:
"There's really no shortcut to forgetting someone. You just have to endure missing them everyday until you don't anymore."
As seen here: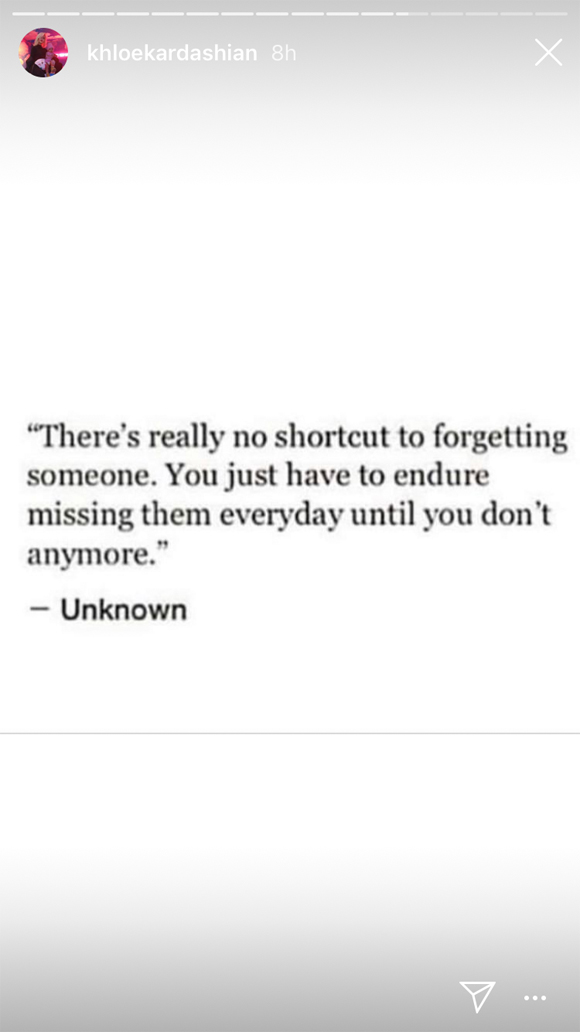 According to an Us Weekly source on Wednesday, the KUWTK star is not happy with her baby daddy regarding his involvement in their daughter's life. The insider revealed:
"Khloe is getting extremely upset with Tristan because he isn't really making any effort to be involved in their daughter True's life."
While Khloe is understanding of the athlete's NBA schedule, she is not pleased with his alleged lax approach to parenting.
"Khloe understands he is on the road because of basketball and lives in Cleveland, but she just feels that Tristan has moved on… Tristan's attitude seems to be, 'I will see True when I see her.'"
However, there have been conflicting reports whether Khloe wants (or does not want) Tristan in their child's life.
According a previous Us Weekly source, KoKo "is never going to take True away from Tristan as long as he's a good father to True and his part. Khloe will always allow Tristan to be in True's life as much as he can be."
The insider added:
"She's not a bitter or petty person. Khloé wants a healthy environment for True."
Additionally, earlier this month, an ET source said:
"Khloe and Tristan are still communicating and always will. Khloe is very big about 'I'm having the father of her child staying in her life no matter how bad things get.'"
However, a RadarOnline insider said the 34-year-old reality TV personality is "trying to prevent" the 28-year-old from seeing their daughter.
The source revealed that Khloe "does not want Tristan anywhere near her or their baby," adding:
"Khloe is trying to prevent Tristan from seeing True and it is really starting to p**s him off."
As we reported, Kardashian reportedly broke up with Thompson after he allegedly had an affair with Jordyn Woods.
In an interview with Red Table Talk's Jada Pinkett Smith, Kylie Jenner's BFF DENIED hooking up with Thompson, except for a goodbye kiss that HE allegedly initiated.
Source: Read Full Article