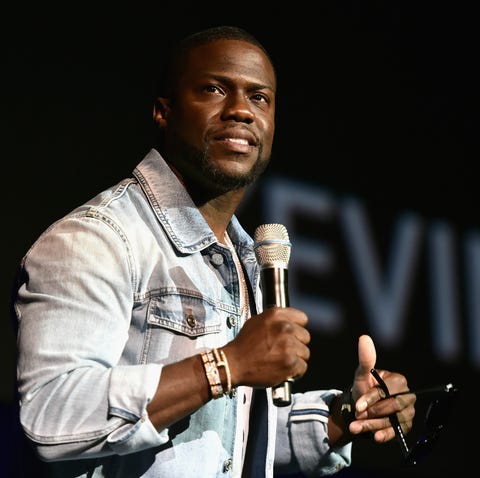 In the wake of Kevin Hart's Oscars hosting debacle, he's taken to Twitter to share some inspirational messages about the entire thing.
Specifically, he quoted the late Martin Luther King Jr., basically saying that how he acts in this situation says more about him than anything else.
The ultimate measure of a man is not where he stands in moments of comfort and convenience, but where he stands at times of challenge and controversy. Martin Luther King, Jr.
Hm. Okay, sure! Doesn't seem like exactly what MLK had in mind when he said it but whatever.
In case you need a refresher of what's gone down in the last 12 hours, Kevin was slated to host the Oscars this coming year. Then, the internet dragged up some homophobic tweets of his from years ago. The people who run the Oscars gave him an ultimatum: he could either apologize for the tweets or surrender the hosting gig. Basically, he didn't want to apologize.
View this post on Instagram
I know who I am & so do the people closest to me. #LiveLoveLaugh
A post shared by Kevin Hart (@kevinhart4real) on
"I passed on the apology. The reason why I passed is because I've addressed this several times," he said. "This is not the first time this has come up. I've addressed it. I've spoken on it. I've said where the rights and wrongs were. I've said who I am now versus who I was then."
But in a quick turn of events, he ended up tweeting that he was in fact stepping down from the gig, and he also sort of apologized.
I have made the choice to step down from hosting this year's Oscar's….this is because I do not want to be a distraction on a night that should be celebrated by so many amazing talented artists. I sincerely apologize to the LGBTQ community for my insensitive words from my past.
I'm sorry that I hurt people.. I am evolving and want to continue to do so. My goal is to bring people together not tear us apart. Much love & appreciation to the Academy. I hope we can meet again.
The MLK tweet came after these, as well as a bunch of others about how many people had attended his show in Sydney (27,500 apparently). Word.
Follow Emma on Instagram.
Source: Read Full Article