Despite the fact that they literally just moved into Adelaide Cottage, it looks like the Prince and Princess of Wales are expected to move into Windsor Castle proper now that King Charles is, well, King. But Kate and William are delaying the move—at least for a little while.
According to The Telegraph, "they have indicated to courtiers that they want to give their children a chance to settle into school and avoid any more upheaval for as long as possible."
And as a source put it, "They won't be starting from scratch when it comes to decisions on what happens to all of the royal properties because there have been lots of conversations about that over the years, but things can change when family dynamics are taken into account and they will want as little disruption to their children's lives as possible right now. They are very happy right now at Windsor and for the next decade or so everything will be pretty much dictated by what is right for the children."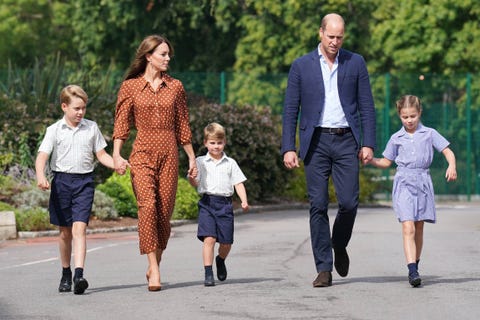 The Daily Mail previously reported that there is "radical drive to overhaul the vast Royal estate," which includes moving the Duke and Duchess of Cambridge into Windsor Castle proper, and that "Charles's wide-ranging plans include turning Balmoral into a museum to the Queen and moving the Duke and Duchess of Cambridge into Windsor Castle."
Meanwhile, disgraced royal Prince Andrew is "anxious" about whether or not he'll get to keep his home in Windsor (the Royal Lodge), while his daughters Princess Beatrice and Princess Eugenie "will be vying for accommodation in the reshuffle."
So far, no information has been released about the fate of the Royal Lodge, or where the Princesses may be living, but stay tuned!
Source: Read Full Article