Kate Hudson and her father, Bill Hudson, have never been close. The actress considers Kurt Russell, Goldie Hawn's longtime partner, her dad, and even went so far to say her biological father abandoning her was a "blessing." Before she called their estrangement a blessing, Bill gave an emotional interview telling Kate and her brother, Oliver Hudson, to stop using his last name.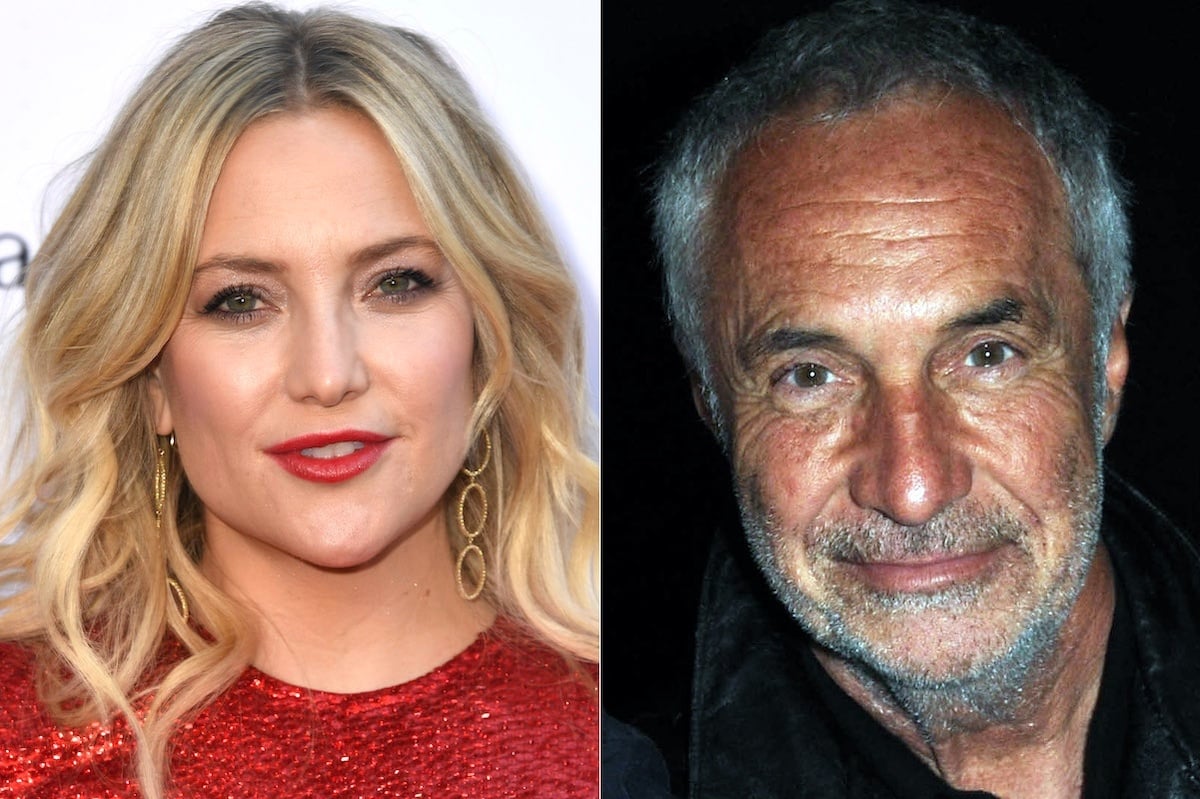 Bill Hudson and Goldie Hawn were married from 1976 to 1982
Goldie and Kurt have been together since 1983, right after the First Wives Club star's divorce from Bill. The two got married in 1976, the same year Oliver was born, and then they welcomed Kate in 1979. After their divorce, Bill was reportedly largely absent from the kids' lives, and Kurt raised them alongside Goldie. (Kurt and Goldie had their son, Wyatt Russell, in 1986.)
Kate told Jenny McCarthy in a February 2016 interview on her SiriusXM show that she was grateful Bill abandoned her and Oliver, but she doesn't harbor resentment toward him.
"We can sort of laugh at what the challenges that we faced together," she said. "I actually feel like it was a blessing. And no matter what [Bill] goes through, I am all forgiveness."
In September 2016, the Fabletics founder admitted that she recognizes how hard it must be to not have a good relationship with your children. (She has 3—Ryder, Bingham, and Rani.)
"I really do recognize whatever those issues are, it's just something that he has to live with, and that must be painful for him. So I forgive him," she said in an interview with Howard Stern.
Bill Hudson publicly told Kate and Oliver Hudson to change their last name to Russell
In 2015, however, Bill had strong words for his kids with Goldie. In two separate interviews, the musician slammed his kids for the Father's Day posts they shared on Instagram. Oliver shared a throwback photo of the three of them captioned, "Happy abandonment day," which he told Stern in 2018 was just supposed to be "darkly comedic."
For her part, Kate shared a photo her and Kurt, whom she and Oliver call "Pa."
"Pa… I love you to the moon and back," she wrote.
In an interview with The Daily Mail, Bill said his two kids were "dead" to him and that Goldie "poisoned" them against him.
"I say to them now, 'I set you free,'" he said. "I had five birth children but I now consider myself a father of three. I no longer recognize Oliver and Kate as my own."
"I would ask them to stop using the Hudson name," he continued. "They are no longer a part of my life. Oliver's Instagram post was a malicious, vicious, premeditated attack. He is dead to me now. As is Kate. I am mourning their loss even though they are still walking this earth."
In an interview with Inside Edition the same week, he edited his harsh remarks.
"I did not say they're dead to me, I said it was like a death to me," he said.
Referencing Oliver and Kate's Father's Day posts, Bill said, "It makes me feel horrible. If that's what it takes to make you feel better, then change your name to Russell. It doesn't mean I love you any less. It doesn't mean I wouldn't want this to go away. Doesn't mean that I wouldn't want to resolve this, but shut up already."
Bill Hudson said Goldie Hawn made it hard for him to see their kids
Bill noted in his interview with The Daily Mail that he didn't think he abandoned his kids, rather Goldie made it impossible for him to see them.
"Goldie poisoned them against me," he claimed. "She told the kids I'd moved to Portland. I did go to Portland for eight months to make an album but then I came back to LA. I never abandoned my family. I never walked away. I wanted to be a father to Kate and Oliver but Goldie made it harder and harder for me to see them. It's all about control. What Goldie wants, Goldie gets."
He also claimed to have written letters to Kate and Oliver frequently after the divorce, but he didn't know if they ever received them. In a new episode of Kate and Oliver's Sibling Revelry podcast that aired Jan. 8, 2021, Kate expressed interest in reconciling old woulds.
"You know what I've been thinking about lately? Dad," she said. "I've been thinking about our sisters that we don't spend any time with and our brother…brothers. We've got four siblings we don't spend any time with."
Perhaps time can heal all wounds.
Source: Read Full Article