Insisting that she didn't steal the look of Kanye West's estranged wife, the current girlfriend of the rapper clarifies she wore the blue chest mold outfit that's similar to Kim's back in Halloween 2021.
AceShowbiz – Julia Fox has denied the notion that she's trying to imitate Kim Kardashian's style amid her romantic relationship with Kanye West. After she's accused of copying the reality TV star's look, the actress has taken to her Instagram Story to set the record straight.
Recently, the Gotham Award-winning actress uploaded a photo of her wearing a blue chest mold. While the avant-garde piece was right up her alley, many outlets pointed out that the outfit was similar to the one worn by Kim in a KKW Fragrance ad from a few weeks ago.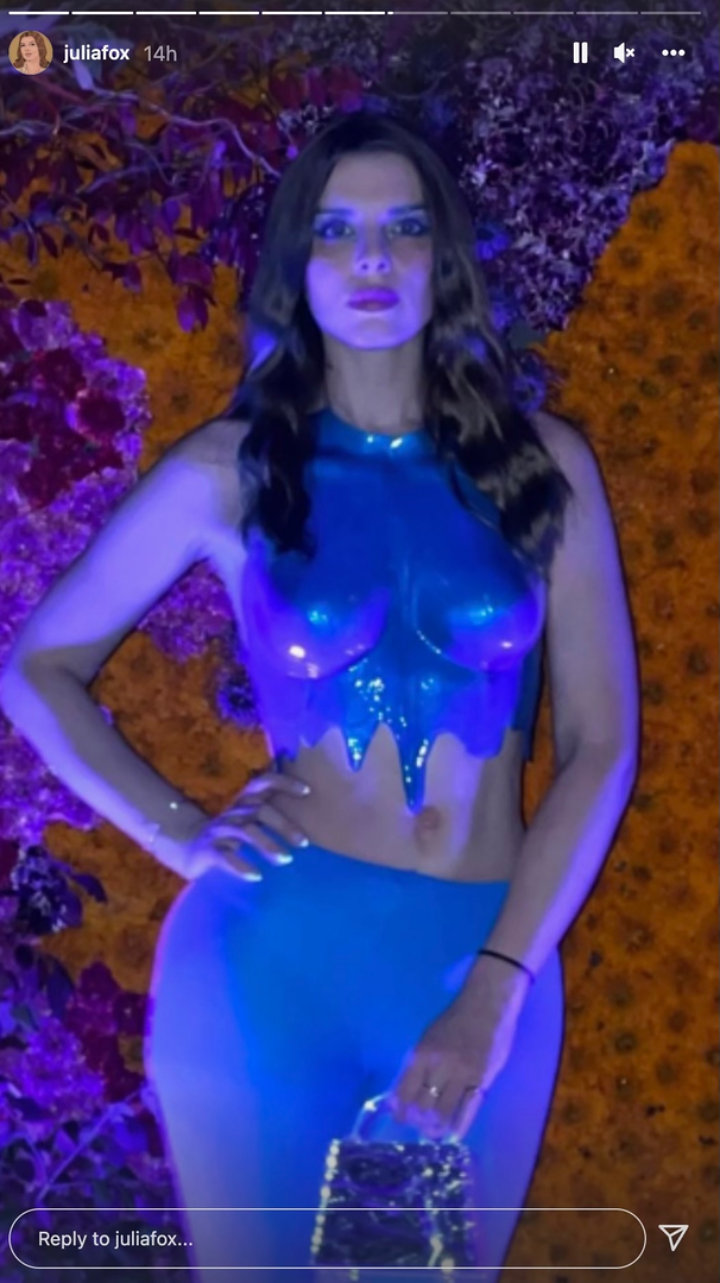 Julia Fox shared a photo of her wearing a blue chest mold.
Responding to the allegation that she possibly copied from Kim's fashion catalog, Julia posted a screenshot of Page Six's headline which read, "Julia Fox channels Kim Kardashian in high-fashion breastplate" along with an explanation that she did it first.
"FYI I wore this on Halloween 2021 and I was supposed to be a slutty Smurf. I forgot to post it," the "Uncut Gems" star wrote over the image.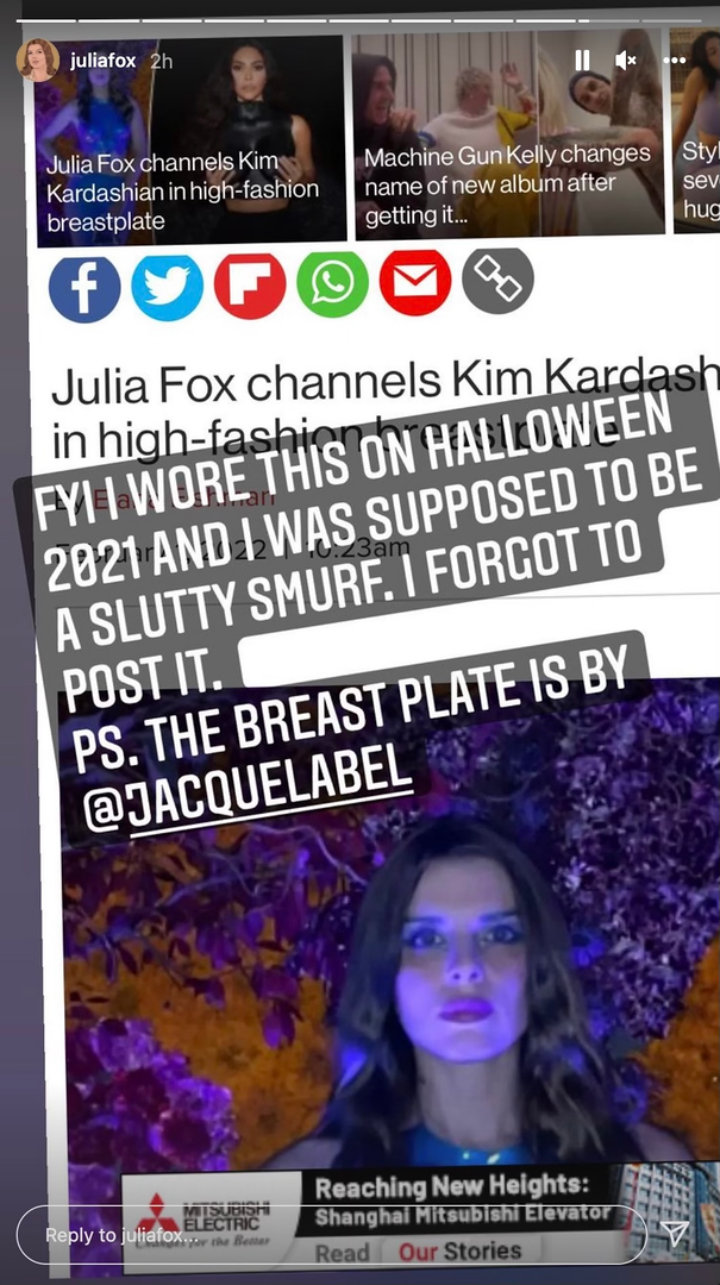 The actress denied claims that she stole Kim Kardashian's look.
While the Story has now been deleted, Julia also shared a message from a follower, who hailed her for doing just what she believes and she thinks is the best for her. "My intent is not to name drop or equate clout with success. I want to really share a philosophy I can closely relate to her own," the person began.
The fan continued writing, "Trust value, and show off the 'shadows' of which you grew from. Ftw for doing and feeling what you're SUPPOSED to do and feel. Do NOT do what you're SUPPOSED to do and DOESN'T feel just right. DO what feels good and right to you."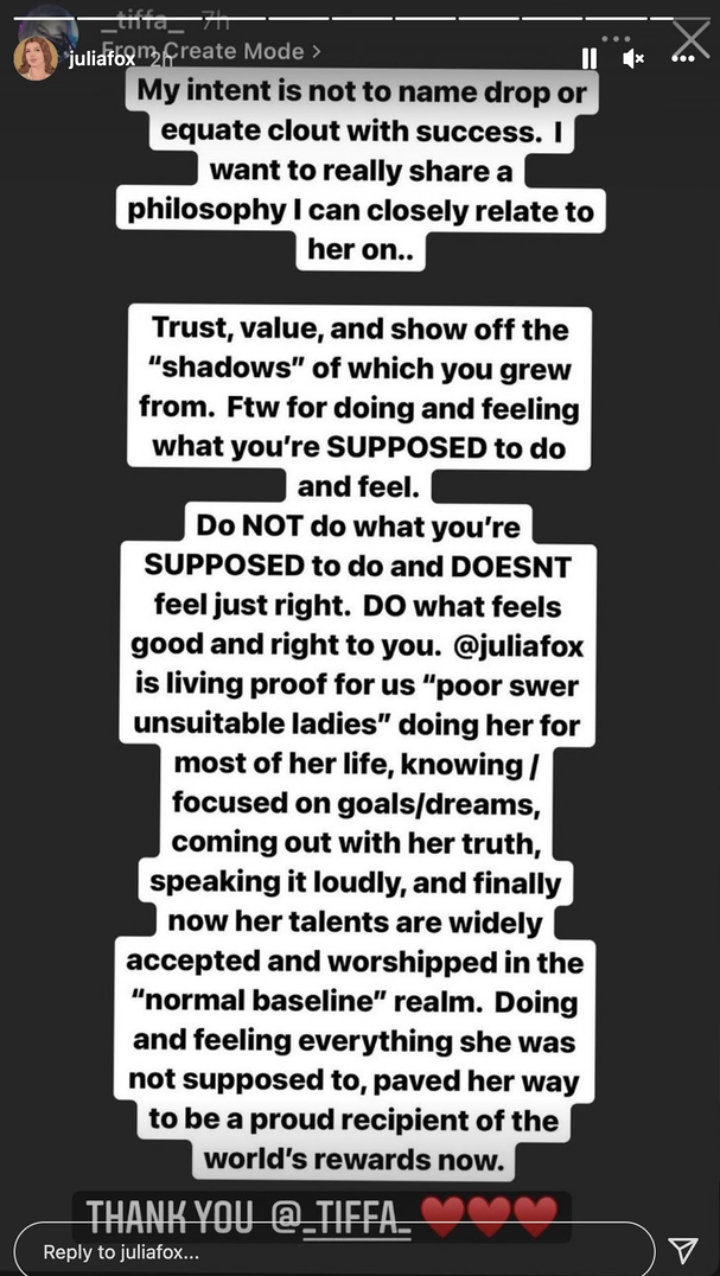 The 'Uncut Gems' star shared a message from a fan.
"@juliafox is living proof for us 'poor [sex worker] unsuitable ladies' doing her for most of her life, knowing/focused on goals/dreams, coming out with her truth, speaking it loudly, and finally now her talents are widely accepted and worshipped in the 'normal baseline' realm," the message further read. "Doing and feeling everything she was not supposed to, paved her way to ve a proud recipient of the world's rewards now."
Source: Read Full Article