In addition to desperately asking his husband of four years to sign the paperwork, the 'Tiger King: Murder, Mayhem and Madness' tells him to 'go away' in a social media post.
AceShowbiz –Joe Exotic has filed for divorce from Dillon Passage. Seemingly desperate to get out of his marriage to his husband of four years, the "Tiger King: Murder, Mayhem and Madness" star urged his spouse to sign the papers.
Making use of his Twitter account on Thursday, March 31, the 59-year-old reality star, whose real name is Joseph Allen Maldonado-Passage, wrote a public message to Dillon. "Dillon, please just sign it and go away," he said.
Joe also included a release in his post that stated Joe filed for divorce on March 31 in Santa Rosa County. "While it was rumored that [Joe] had filed for divorce almost a year ago upon his public announcement on social media, [Joe]failed to serve his husband and did not follow through with obtaining a divorce through the legal system," read the statement.
"[Joe] and Dillon Passage last lived together as a married couple with the intent to remain married in Gulf Breeze, Florida," added the statement. It's also said that Joe "still lives in the area and in Florida."
The statement continued to explain that Joe "has tried to obtain information about Dillon and his whereabouts" so that they "could enter into what he hopes to be an amicable divorce" but his attempts to get Dillon to contact him "have failed." The note stressed, "It is the hope of the 'Tiger King' that they can both move on with their lives and divorce quickly and amicably."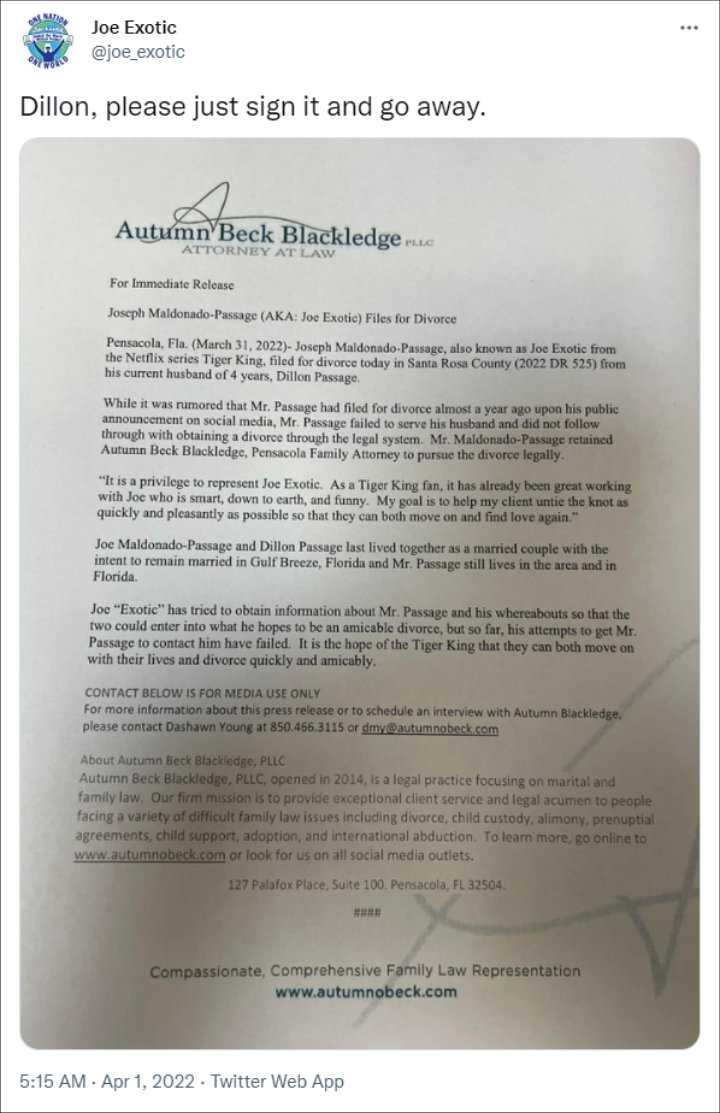 Joe Exotic desperately asked husband Dillon Passage to sign divorce papers.
Last March, Joe's husband Dillon announced via Instagram that they were going to pull the plug on their marriage. "To answer the main question the public wants to know, yes, Joe and I are seeking a divorce. This wasn't an easy decision to make but Joe and I both understand that this situation isn't fair to either of us," he declared. "It's something that neither of us were [sic] expecting but we are going to take it day by day."
A few days later, Joe's lawyer stated that the Netflix star, who tied the knot with his husband in December 2017, managed to convince his spouse to "stay married." At the time, his attorney told TMZ that Joe sent him an email that read, "Me and Dillon have talked and we are not going to get in a hurry and get a legal divorce."
"This has been tough on both of us and he is going to do what he thinks he needs to do and I prefer to stay married right now so things don't get complicated and if I live through this great we will figure it out then," the message continued. "[Dillon] still answers the phone three times a day and will continue to be my support."
Source: Read Full Article