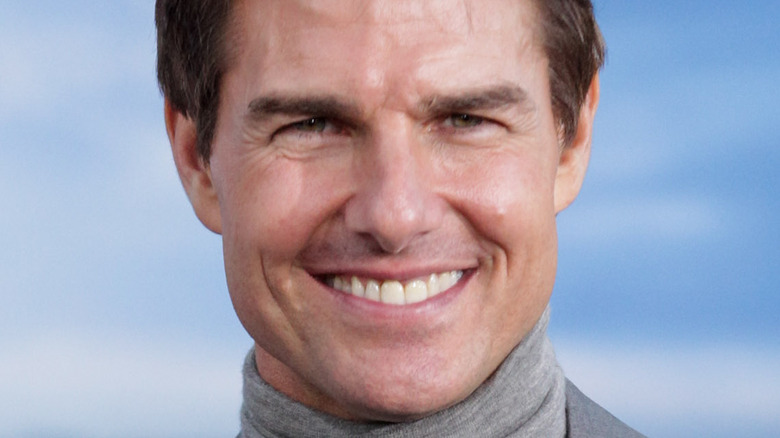 Box office superstar Tom Cruise has had his fair share of Hollywood romances with other A-list celebrities but has only been married three times during his long career that spans nearly 40 years. Each of his wives has been a member of the Tinseltown scene herself, but each marriage also ended in divorce.
Cruise first came to fame in the early 1980s with smaller parts in "Endless Love" and "The Outsiders," but it was 1983's "Risky Business" that truly put him on the map and his star quickly rose after playing a geeky teenager who changes his entire life while his parents are away. Cruise was barely in his 20s when he landed starring roles in hits like "Top Gun" and "Rain Man" (via IMDb). 
During the '80s, he was also romantically linked to several stars, including Melissa Gilbert, Cher, and Heather Locklear, according to Hollywood Life. But it was an actress six years his senior who he chose to marry when he was just 24 years old.
Tom quietly married Mimi in a secret ceremony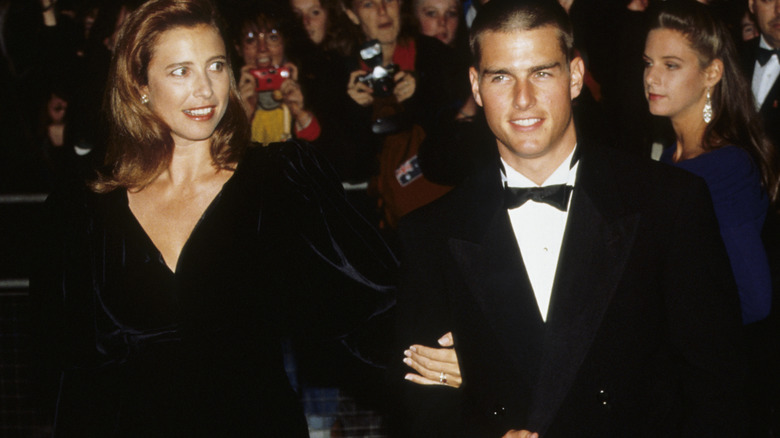 On May 9, 1987, Tom Cruise wedded actress Mimi Rogers with only his mother as a guest and Emilio Esteves as his best man, according to Entertainment Weekly. Rogers made a name for herself appearing on a variety of TV series throughout the 1980s, including "Hill Street Blues" and "Paper Dolls" (via IMDb). She had already been divorced from Scientologist Jim Rogers for seven years at the time and was reportedly the person who introduced Cruise, one of the world's most famous Scientologists, to the practice.
According to Hollywood Life, Cruise spoke lovingly of his wife in 1990 for a Rolling Stone interview published only days before the couple split for good. "I'd never been in love before. Since I've been with her, it's opened me up a lot. I think it's helped me be a better actor," Cruise said. "We live a lot of life together. We share everything," he gushed, later adding, "I care about my wife more than anything in the world. She's my best friend. I just really like being with her, you know? I love her."
Entertainment Weekly reports that Rogers has left Scientology in the years since her marriage to Cruise ended.
Tom marries another A-lister before she was an A-lister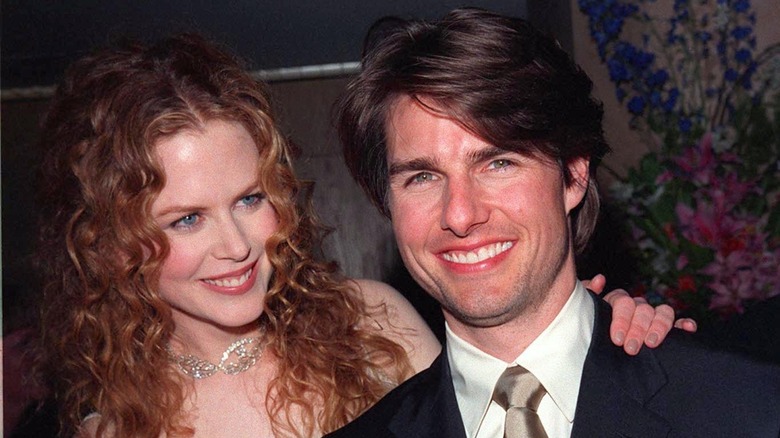 Tom Cruise and Nicole Kidman were a top Hollywood couple from 1990 to 2001. Cruise and the Australian-born Kidman met on the set of the race car movie "Days of Thunder" in which Kidman played Cruise's love interest. It was the first major movie for Kidman and she and Cruise wed soon after shooting the film.
In the subsequent years, they adopted two children, Connor and Isabella. Fans were shocked when Cruise suddenly announced he was leaving his wife in February of 2001, just saying, "Nicole knows why," according to The Mirror. In 1999, the pair had appeared in a second movie together, "Eyes Wide Shut," and there were rumors that problems started while filming the flick. Kidman knocked those rumors down in a 2020 New York Times interview.
"We were happily married through that," she said. "We would go go-kart racing after those scenes. We'd rent out a place and go racing at 3 in the morning. I don't know what else to say. Maybe I don't have the ability to look back and dissect it. Or I'm not willing to."
The Daily Beast reported that although Kidman tried to become a Scientologist like her husband, she rejected it by 1992 and also got Cruise to leave it behind for a while as they filmed "Eyes Wide Shut." However, their two children eventually chose to live with their father and practice his beliefs (via Vogue).
Tom Cruise's third marriage didn't end well either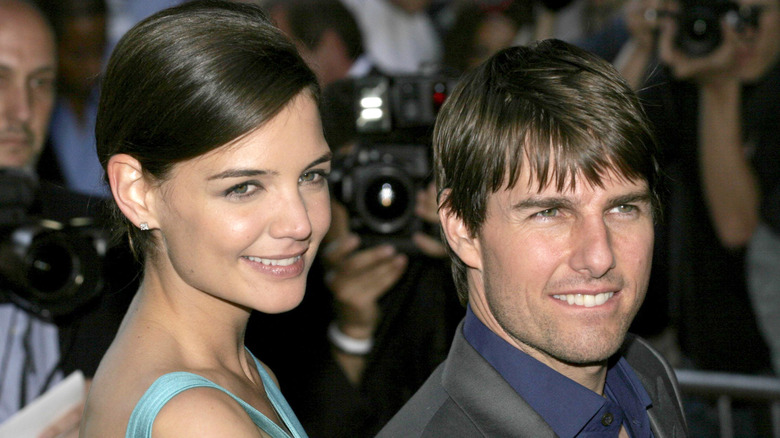 Four years after ending his marriage to Nicole Kidman, Tom Cruise stepped out with actress Katie Holmes, who was 16 years his junior. Holmes made a name for herself on the young adult drama "Dawson's Creek" and her romance with Cruise seemed like a whirlwind.
Not long after they began dating, Cruise appeared on "The Oprah Winfrey Show" and excitedly declared his love for his new girlfriend. "I'm in love," he shouted. "I'm in love and it's one of those things where you want to be cool, like, 'Yeah I like her' … That's not how I feel … I wanted to meet this person and I met her and she's extraordinary," (via Insider).
It was 2005 and everything seemed to happen in quick succession. Holmes soon announced her conversion to Scientology and she and Cruise became engaged. Just months later, the pair announced they were expecting their first child together and by April of 2006, baby Suri was born. Six months after that in November of 2006, her parents tied the knot.
The next few years seemed to go smoothly for the couple as they publicly declared their love for one another. However, by 2012, Holmes filed for divorce, according to Insider. It was just one month earlier when Cruise gave an interview to Playboy and said, "I'm just happy, and I have been since the moment I met her. What we have is very special."
Source: Read Full Article