Gather round and come hither, it's time to get some tea on WTF is going on between Kylie Jenner and Travis Scott this Christmas. Like…are they spending the holiday together with their daughter Stormi? Is Kylie just gonna chill with Drake? Truly, the world (read: me, living vicariously through the Kardashians) needs answers.
Welp, according to an E! News source (KRIS JENNER, BLINK TWICE IF IT'S YOU), Kylie and Travis plan to spend a ton of time together this coming week so that Stormi gets to enjoy the holiday season with both her parents.
There are rumors that Travis and Kylie are getting back together (he thirstily liked her bra pic the other day), but the source says "Regardless of what their relationship status is, there's no doubt they will all be together for Christmas. They are a family and that hasn't changed. It's very important to Kylie and Travis that Stormi has both of her parents there. They are making memories with her that they hope will last forever."
Meanwhile, another source says "They want to keep things 'normal.' Travis is invited to all of the family events and will be there. Him and Kylie are on really good terms and want to spend every occasion together as a family of three. Kylie would never shut Travis out of holidays with Stormi and she is glad that he is included."
Kewl, good to know.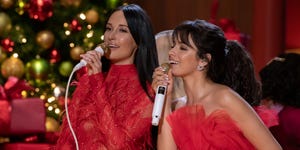 Source: Read Full Article