Not to be that person who gets way too into celebrity relationships, but it was pretty dang heartbreaking when Jason Momoa and Lisa Bonet announced their split after 16 years together. So naturally, the internet has wasted no time pivoting straight into denial and has convinced itself that Jason and Lisa are about to get back together. And honestly? There is kinda some evidence that supports this. Here's everything the former couple has said about where they stand.
For starters, Jason and Lisa's statement about the split has disappeared…
They initially wrote this:
And now it's nowhere to be seen. Although apparently they were being somewhat trolled over this post, so that could be the reason.
There have been claims they're working on their relationship.
A source told Hollywood Life back in March that Jason and Lisa had reunited and moved back in together, claiming, "Jason moved back in with Lisa about two weeks ago and they are very much back together. They decided to work on things rather than throw in the towel because they have so much invested in each other." The source also added, "Lisa is, and always has been, the only woman that Jason has ever loved."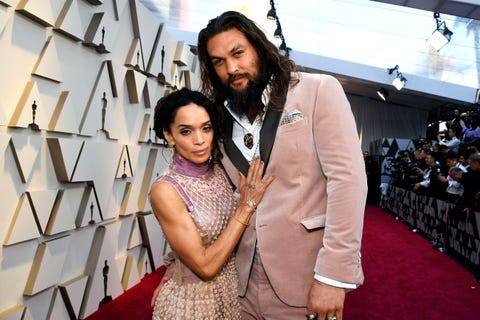 But then in early March, Jason seemingly confirmed the split again…
Jason stepped out to support his stepdaughter Zoë Kravitz in The Batman and shared a bunch of sweet pics on Instagram, writing in the caption, "So excited for everyone to see @thebatman @zoeisabellakravitz your perfect as cat woman i'm so proud of you. so excited for @snl next week your going to kill it. we had a wonderful time in NYC. mahalo to the fans and press for being generous and giving us space for the children it's hard enough separating in the public eye. we appreciate the continued privacy through these times aloha j."
https://www.instagram.com/p/Cap5mdMPepY/?utm_source=ig_embed&utm_campaign=loading
A post shared by Jason Momoa (@prideofgypsies)
And Jason also shut down reconciliation rumors in an Oscars red carpet interview.
Jason was asked about whether he and Lisa were giving it another try by Access Hollywood at the Oscars on March 27, and he said, "No no no, we're not back together, we're family…we have two beautiful children together. We're family forever."
It sounds like Jason and Lisa are obviously still extremely close as they coparent their kids, and a source tells People, "It's not going to be some scandalous divorce where they trash talk each other. They are both very spiritual and believe in a higher power."
And who knows…maybe a reconciliation could be in the future? Either way, we'll keep you updated when either of them chat about their relationship due to being nosy and unable to stop stanning.
Source: Read Full Article