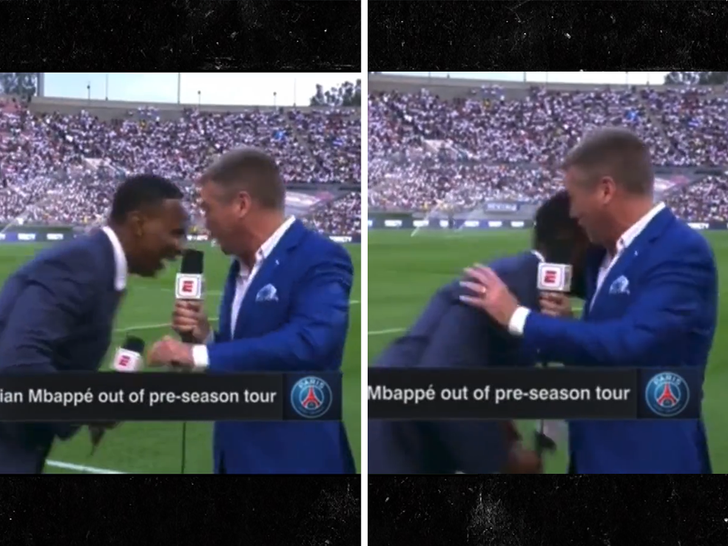 Terrifying moment before the Real Madrid vs. AC Milan game on Sunday … ESPN analyst Shaka Hislop collapsed while he and his broadcast partner were live on-air breaking down the upcoming action.
As Dan Thomas and Hislop were on the Rose Bowl turf in Pasadena giving their pregame report for ESPN … Hislop — a former MLS goalkeeper — appeared to drift in and out of consciousness.
He took a couple steps backward … before he stumbled forward, falling into Thomas, who wasn't able to catch the 54-year-old as he crumpled to the ground.
Immediately, Thomas called for help … and medics raced to the scene to tend to Hislop.
The former footballer was eventually helped off the field … and, thankfully, Thomas announced later in the game his good pal is seemingly going to be OK.
"As it stands, it's good news," Thomas said. "He's conscious, he's talking. I think he's a little embarrassed about it all — he's apologized profusely."
"Obviously far too early to make any sort of diagnosis," Thomas continued, "but the important thing is that Shaka's conscious."
Thomas then said he had also spoken with Shaka's family following the scary medical issue, and they told him "things are looking OK."
Hislop — who also played for Newcastle United and West Ham United — became a noted soccer analyst following his retirement from the game in the late 2000s.
Get well soon.
Source: Read Full Article