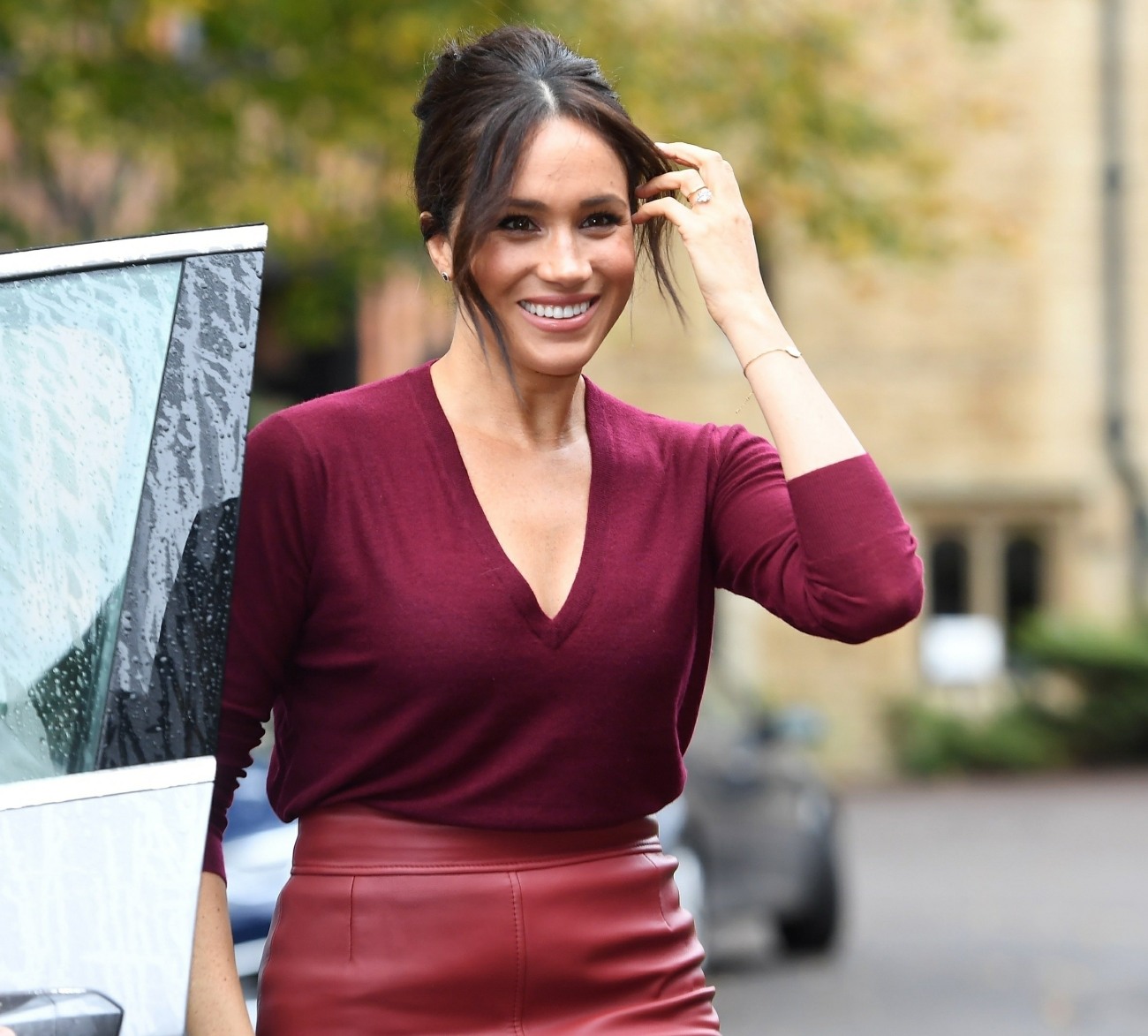 Happy birthday to the Duchess of Sussex, who is 40 years old today. Barely any fuss in the American media, but the British media has been hyping Meghan's birthday for weeks. They wanted to remind everyone that Meghan is the big 4-0, but they were also hoping to cause drama. The Sun ran this lengthy, hilariously stupid piece about what British people should expect from Meghan's birthday, as in "who will send birthday greetings" and whether Meghan will post a photo of Lilibet Diana. As you can see at the end of this post, Kensington Palace, Clarence House and Buckingham Palace coordinated their happy-birthday messages to drop within five minutes of each other on Twitter (but not Instagram). I actually think Kensington Palace chose the nicest photo of Meghan, which is how you know staff did it and not the Keens. As for the British media's dream of Lilibet's first photo….
Meghan Markle could share a family photo with Lilibet to mark the proud mum's 40th birthday in what would be the first glimpse of the eighth-in-line to the throne, royal experts have claimed. The Duchess of Sussex and Prince Harry welcomed their daughter into the world on June 4 but the newborn baby is yet to be seen.

Royal commentator Phil Dampier told The Sun Online: "I think it's likely we will see a picture of the family. It wouldn't surprise me, if Meghan does release a pic of her with Lilibet to mark her 40th birthday, as they'll want to emphasise what a happy family unit they are. And it will be interesting to see what messages she gets from the royals – I suspect they will post messages, even though in private they are very upset about was has happened."

But other royal experts have warned sharing a photo of their daughter could be in "bad taste".

Richard Fitzwilliams, another royal expert, told The Sun: "The Sussexes are very unpredictable, but I think she will mark her 40th with something like a photo of Lili. I would expect something online, as they are very savvy about online posting, and their brand has a great many fans, and Meghan's 40th is a very big milestone. I would say they would do something to play to their substantial number of fans, and be of worldwide interest, hence the conclusion we would see photos of Lili – I don't know. Royal fans have been wanting to see a photo of her for some time."

He was echoed by royal author Adam Helliker, who told The Sun he believed "it's possible" a first pic of Lilibet will be released on Wednesday. But he warned that should that happen, it "would be slightly in bad taste, as it would be seen as helping to promote the Sussexes' brand". Mr Helliker said that "given the propensity for Harry and Meghan" to grab the limelight, "I wouldn't be surprised if she released a photo of her with Lilibet to mark her 40th birthday".
[From The Sun]
As of this moment, no new photos have gone up on Archewell and I'm not expecting anything other than a thank-you message for all of the birthday wishes, perhaps tied into a request to donate to a particular charity. I really don't think we'll be seeing a photo of Lili Montecito for some time. Maybe I'm wrong! I actually hope – like the British media – that we do get a family portrait at some point, but I'm also fine with them not giving us anything. These clowns are just desperate to get a photo so they can criticize the Sussexes for timing, for exploiting their kids, for yadda yadda yadda. These bozos still think they have a say in what the Sussexes do. They do not.
Here are the birthday messages from the palaces:
— The Royal Family (@RoyalFamily) August 4, 2021
— The Prince of Wales and The Duchess of Cornwall (@ClarenceHouse) August 4, 2021
— The Duke and Duchess of Cambridge (@KensingtonRoyal) August 4, 2021
Photos courtesy of Backgrid, Avalon Red.
Source: Read Full Article