Luna Legend celebrated her third birthday at the Happiest Place on Earth!
John Legend and Chrissy Teigen took their daughter to Disneyland over the weekend to celebrate her big day, where smiles and magical times undoubtedly ensued. The couple shared several shots of the family outing in Anaheim, California on their respective Instagram pages, with Luna looking like the epitome of a birthday princess.
The Grammy winner posted a shot (above) of the birthday girl sitting on top of his shoulders wearing a pink Princess Aurora dress — but, in his caption, he made sure to remind fans that the perfect birthday celebration sometimes requires a little white lie.
Specifically, lying to the birthday girl about it being her actual birthday, when, in fact, it is not. He wrote:
"Luna had a Disneyland birthday today! (As far as she knows, her birthday is today. Don't tell her it's Sunday please. Daddy has to work on Sunday. Thank you.)"
Ha! Our lips our sealed, John!
While the day of rides and mouse-eared whimsey was definitely all about the birthday princess, Legend revealed he was on another quest during the family's trip: to make it on the DILFs of Disneyland Instagram account.
He captioned another picture:
"@mrmikerosenthal and I are submitting this to @dilfs_of_disneyland"
Based on the photo, we'd say the All Of Me singer and photographer pal Mike Rosenthal were strong contenders: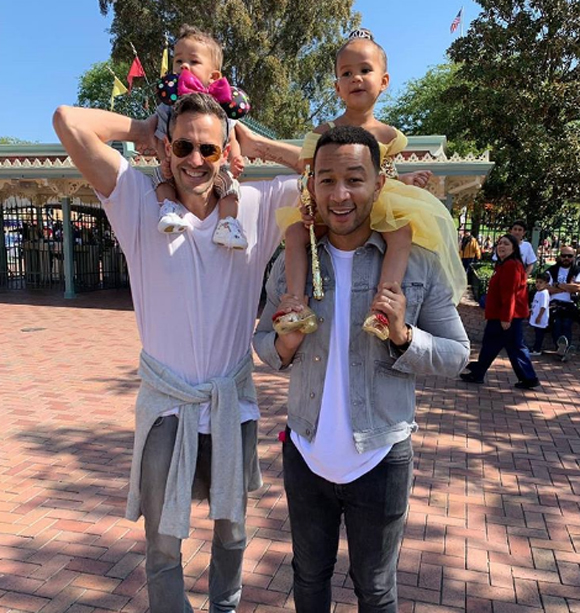 To ensure his consideration for official Disneyland DILFdom, the pianist submitted a second shot with Luna in a stroller, writing:
"This is my last, desperate attempt. Your move, @dilfs_of_disneyland."
See his desperate attempt (below):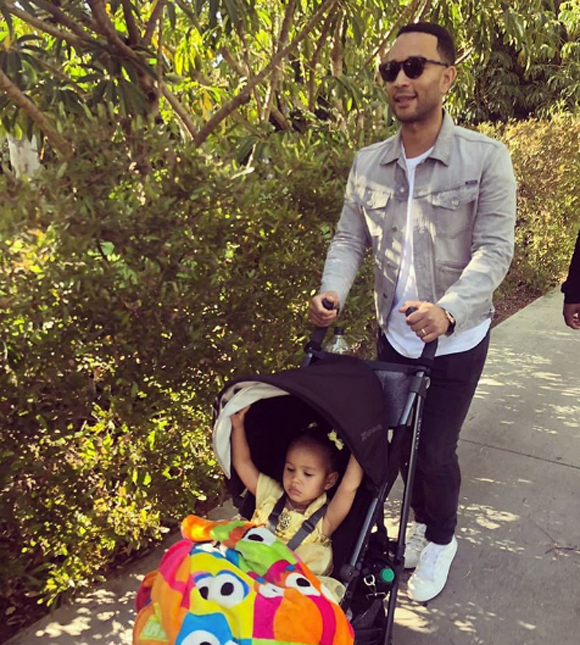 Thankfully, the kind folks who run the Instagram page agreed that Legend was indeed "the definition of #strollermeat," sharing:
View this post on Instagram
John, how could we even make you wait this long… you are the definition of #strollermeat ?? ??? #dilfsofdisneyland #dadsofdisneyland #dilf #hotdads #dadsquad #johnlegend #disneydads #chrissyshusband
A post shared by DILFS Of Disneyland (@dilfs_of_disneyland) on
Touched by the recognition, Legend wrote on the page's post that he was "so honored." But his wife didn't let this effort pass without a bit of public shaming, writing, "you loser you can't ASK to be a dilf, someone has to submit you for dilfness you desperado!!!!!."
LOLz! Good thing Chrissy isn't the one running the account!
While John was focused on getting inducted in the Disneyland DILF hall of fame, his wife was making sure Luna had the best birthday possible. The model later documented the family's trip to the hotel pool, showing her daughter looking adorable in a white-and-black bathing suit and pink sunglasses:
View this post on Instagram
happy birthday weekend, my loonie toons!!!
A post shared by chrissy teigen (@chrissyteigen) on
Sounds like it was a great day for everyone… particularly official Disneyland DILF, John Legend.
Source: Read Full Article