Jess Margera, who previously told police that his brother hit him in the head during an altercation earlier this week, claims that the former 'Jackass' star has developed an addiction to meth.
AceShowbiz –Bam Margera's brother has expressed his concern about the stunt performer, who has been wanted by police following their altercation earlier this week. Jess Margera says that his brother is on the run with his girlfriend and her child, and he's "extremely worried" about the young girl.
In a series of tweets posted on Wednesday, April 26, Jess made alarming allegations about his brother. Seemingly criticizing police who have not been able to locate Bam, Jess wrote, "I mean I can talk to my lightbulbs. My car can back out of the garage and pick me up at the front door. Police should be able to track a phone right? Apparently I'm the a**hole."
When a fan sent his best wishes to Bam and the family, Jess replied, "I appreciate it man, I'm trying to stay positive." Calling Bam "the sweetest guy when he isn't messed up," Jess claimed that the former professional skateboarder has developed an addiction to meth that allegedly changed him.
"But since his meth habit, hes unrecognizable & I really don't know what he's capable of," Jess shared. "Seeing him screaming @ at a person that wasn't there, hallucinating. It's really scary & heartbreaking."
Explaining Bam's situation on the run, Jess said, "His gf has her phone, I'm obviously very worried about bam but I'm extremely worried about that there is an 8 yr old child w them. I can't even imagine the environment in that car right now. I hope she's okay she is the sweetest kid, she doesn't deserve this unnecessary trauma."
When another follower advised the CKY drummer to "make peace" with his brother, Jess suggested that he didn't understand the issue between them. He tweeted that Bam has allegedly been "screaming at his shadow on the wall" due to his addiction issues.
The rocker additionally claimed that the 43-year-old "randomly attacked" him while he was making a cup of coffee and allegedly screamed about "killing" their father. "I still don't even know what he was mad at," Jess claimed. "This is a one sided meltdown dude."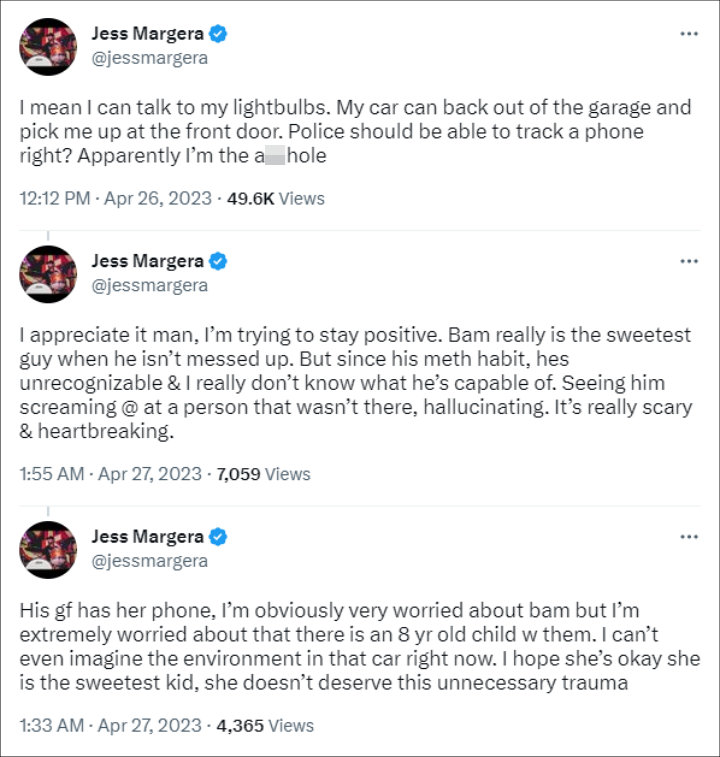 Bam Margera's brother Jess made alarming allegations about the 'Jackass' star.
Bam was involved in a physical altercation with Jess on Monday, April 24 at his family's home in Pennsylvania. Jess claimed Bam wailed on him and struck him multiple times in the head. In the report, cops noted visible injures that they observed. Bam allegedly also said he'd kill everyone in the house, which occupants at the time included his dad Phil and two other women.
When police came, Bam reportedly already "fled the residence on foot to the rear of the property through a dense wooded area." A warrant has been issued for his arrest and the PA State Police are actively searching for him. The authorities are asking the public for help in locating him.
The former "Jackass" star is facing one charge of simple assault, one charge of harassment and four charges of terroristic threats "with intention to terrorize another."
You can share this post!
Source: Read Full Article