Kourtney and Travis Barker, who got engaged in October 2021, exchanged vows at the One Love Wedding Chapel in Las Vegas following the 2022 Grammys though the nuptials were allegedly not legally binding.
AceShowbiz -Alabama Barker seemingly cannot wait to welcome Kourtney Kardashian into her family. The daughter of Travis Barker took to her Instagram account to gush over "The Kardashians" star on Monday, April 18 to honor the star on her 43rd birthday.
Making use of her page, the 16-year-old shared a picture of her posing with the reality star and half-sister Atiana De La Hoya. "Happy birthday to the best soon to be stepmom I could ask for!" so the teenage said of her dad's fiancee. "You deserve the world @kourtneykardash."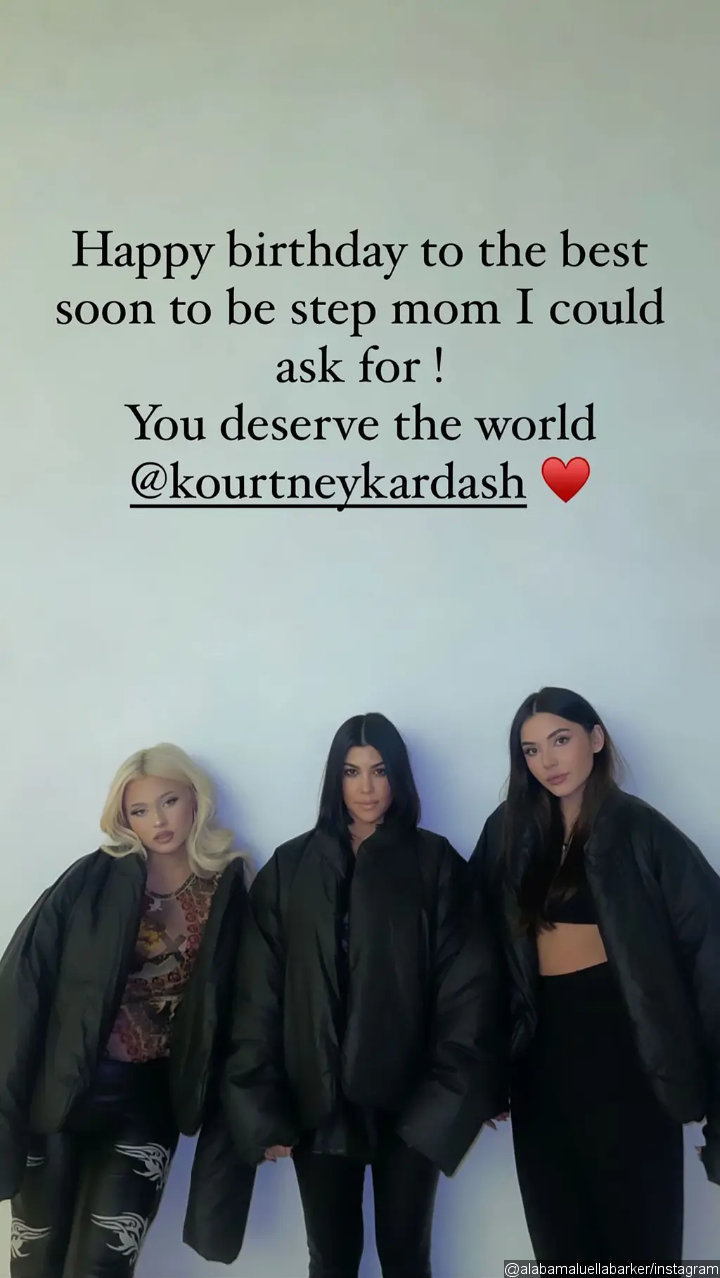 Alabama Barker called Kourtney Kardashian 'the best soon to be stepmom.'
This actually wasn't the first time for Alabama to refer Kourtney as her "stepmom." While playing a game of "Never Have I Ever" back in July 2021, a fan asked the 15-year-old influencer if she's ever met a Kardashian. The teen then answered coyly, "That's my stepmom."
Alabama has been showing support for her rocker dad's romantic relationship with the oldest Kardashian sister. She previously shared a video of the 45-year-old drummer of Blink-182 and the 42-year-old TV star playing "Heart and Soul" on the piano together. Hinting that she loved the sight, Alabama wrote, "This is what I come home to."
Kourtney also showed love for Alabama on social media often times. The teen joked in a comment underneath a post featuring the mom-of-three rocking a bikini, saying that she takes "the best pictures." To that, the Poosh founder replied, "oh yes you do [heart emoji]."
Later in December, Alabama showed off the luxury birthday gift from Kourtney on her Instagram Story. Over the clip, the birthday girl also thanked her soon-to-be stepmom as saying, "Thank you @kourtneykardash," adding a pleading face and a pink heart emoji.
Not stopping there, Kourtney seemingly held a simple birthday celebration for Alabama. The "Keeping Up with the Kardashians" alum shared Instagram videos of the decorations in Travis' home. The main room of the house was filled with silver balloons, including balloons that spelled out Alabama's name and the number 16.
Kourtney and Travis got engaged in October 2021. Earlier this month, the couple later exchanged vows at the One Love Wedding Chapel in Las Vegas following the 2022 Grammys. However, the nuptials were not legally binding.
Source: Read Full Article