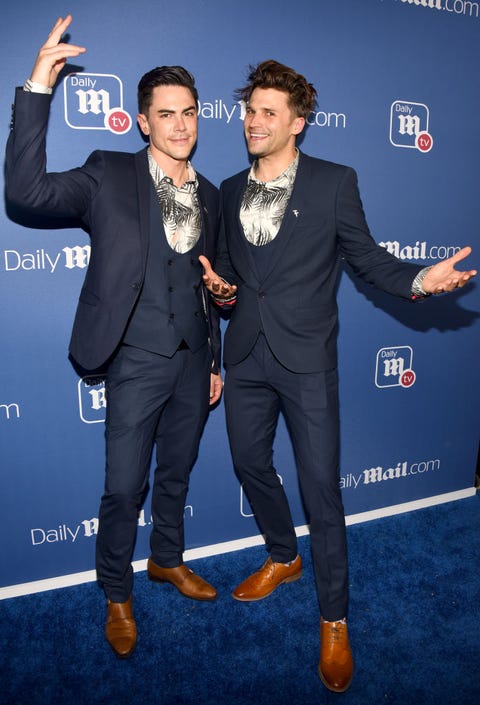 It's not often that you meet your best friend through a Craigslist ad. It's less often that that friendship survives a reality TV series. But that's exactly how it's gone for Vanderpump Rules stars and longtime pals Tom Schwartz and Tom Sandoval when they met years ago in Los Angeles. Fast forward to present day, and the two are now business partners in the newly opened 'Tom Tom' restaurant and bar in West Hollywood. This is all unfolding on the show's newest season, it's seventh. Over the years, we've watched both Toms experience ups and downs in their romantic relationships and work lives, but if there's been one constant in this beautiful mess of a show (that we are not afraid to admit we've been completely sucked into) it's the Toms as an exemplar of male friendship. In honor of the new season of Vanderpump Rules, and the long-awaited arrival of Tom Tom, here are 6 lessons on being a good friend we can take away from arguably the best couple on the show.
1: That Time Sandoval Surprised Schwartz with a Family Reunion
Hanging out and partying with your best friend is fun and all, but when was the last time you did something selfless for them? In season 5, Schwartz talked about how his 3 triplet brothers were dirt poor and only had one cell phone between them, and that they couldn't afford to go to his wedding. Sandoval (and fellow bff Jax) made it his mission to get the three brothers on a plane and fly them to California so they could see their brother get married. Needless today, there were plenty of tears once the surprise was revealed. Schwartz said it was "the nicest thing anyone has ever done for me." While you don't necessarily have to perform such a grand gesture, sometimes putting your best friend first and lending a hand, unprompted, goes a long way.
2: That Time Sandoval Stuck Up for Schwartz When No One Had His Back
Season 5 was a hotbed of emotions for Tom Schwartz as he faced accusations from his fiancée Katie and everyone else that he was unfaithful to her. While he admitted he "made out" with a girl 2 years ago, he said it never went further than that. The rest of the Vanderpump crew didn't believe him and gave him a hard time over the season's first few episodes. On a group vacation, Sandoval had enough of the group's attack mentality and defended his best friend amidst the rumors, saying that Schwartz didn't serve to be bombarded like this and that everyone should leave the guy alone. All while wearing a drag costume and heavy makeup. The lesson: Stick up for your friend like you'd stick up for yourself, even if they won't themselves.
3: That Time Sandoval Gave a Teary Toast at Schwartz's Wedding
Not one to hold back his tears throughout the series, Sandoval gave an emotional toast to his best friend at his wedding in a room full of people, explaining just why Schwartz is the kind of guy no one in their right mind wouldn't love. Whether or not your best friend is getting married and wants you to say a toast at their wedding, a good friend makes sure to let their bestie know just how much they mean to them from time to time. You can do it as simply as a text or as a toast at a birthday dinner. Even though you might think they already know you feel this way, sometimes hearing those things out loud cements the bond.
4: That Time Schwartz Told Sandoval He Was Going to Propose
In season 4, we see Schwartz giddily detailing to Sandoval how he's going to propose to the love of his life. If there's ever a time to be a good friend and keep a secret, it's definitely when a potential engagement is involved. Best friends know when to shut their mouths, and when it comes to life-altering milestones such as this. Your best friend will be honored that you to chose to share something so monumental like this with them. It shows that your trust in them runs deep and that you value their input.
5: That Time Sandoval Conceded His Tom #1 Ranking to Schwartz
Sandoval has always been the self-proclaimed "Tom #1" in his friendship, something Schwartz playfully let him have. But during Schwartz's bachelor party getaway, Sandoval decided to concede that honor to Schwartz by taking off his "Tom #1" T-shirt and pass it on to Schwartz (revealing a "Tom #2" T-shirt under it in the process.) While this particular act of friendship is a play on the fact that they share the same first name, what's more telling is how Sandoval turned a lighthearted joke between the two into something more sentimental. If you feel like you're the more outgoing amongst your buddies, don't be afraid to share the spotlight sometimes. Humility and selflessness always goes a long way.
6: That Time Schwartz Accompanied Sandoval to the Spa
It's no secret that Sandoval has a peculiar self-care regimen—does anyone else actually shave their forehead? Between the man buns, body tanning and eyebrow threading, the guy spends a lot of his free time keeping up appearances. Which means Schwartz in hanging with his buddy, often tags along for the ride. Now the two best friends take monthly spa trips to get massages and visit the steam room. While some guys might scoff at the idea of taking bro trips to the spa, these guys are secure enough in themselves that such activities make as much sense as watching a football game over a plate of wings. If you and your best friend like to goof off and do things together others might feel are embarrassing, by all means live your best life and do it because you love it.
Source: Read Full Article