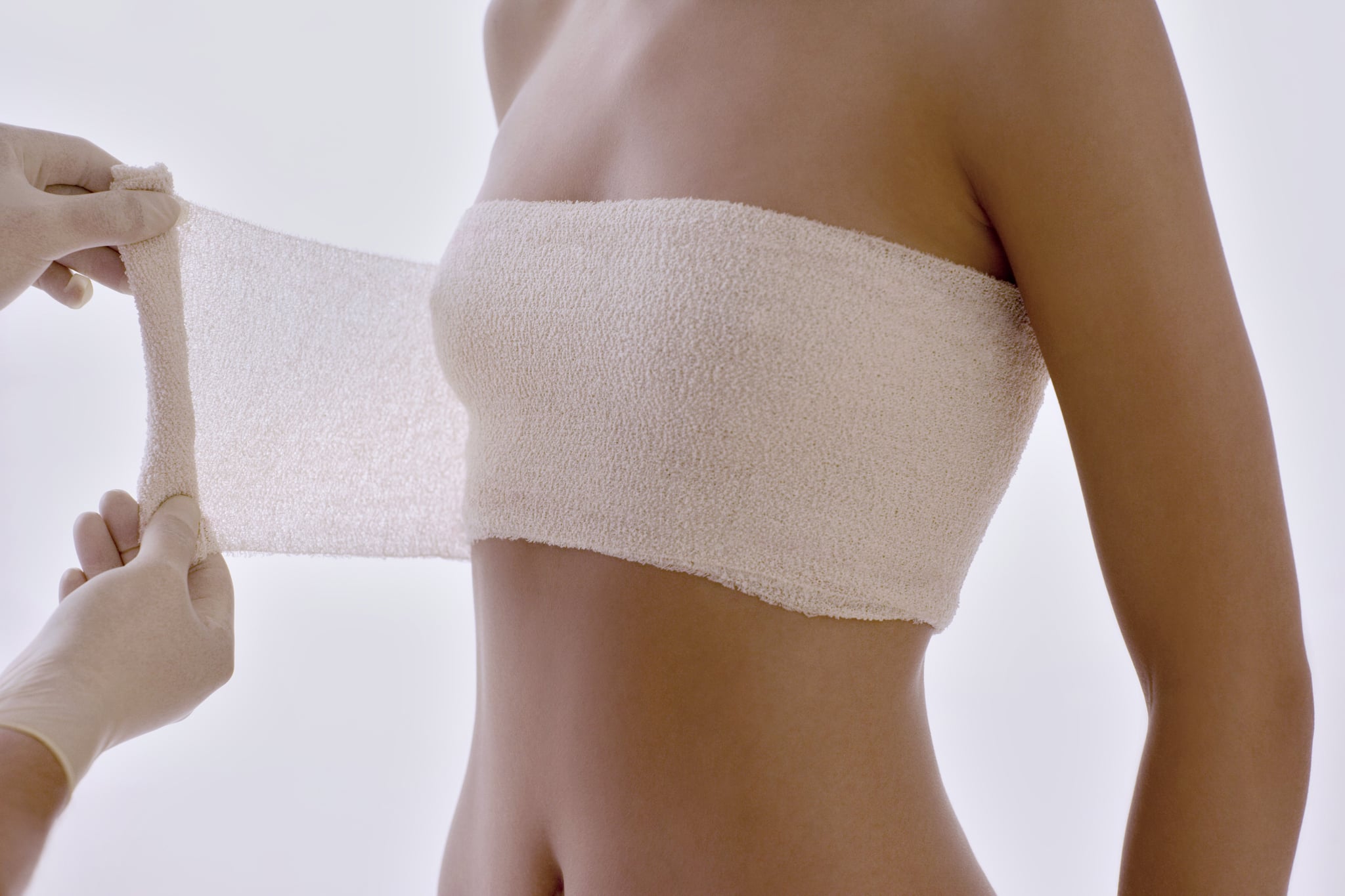 Internal bras provide lift to the breasts but differ from breast augmentations.
The plastic-surgery procedure, called internal splints, gives you a long-lasting lift.
Learn about the breast-enhancement surgery from plastic surgeons.
If you're looking to enhance your breasts — be it to lift or increase volume — you have options. Breast augmentation with implants and a fat transfer are two of the most common types of breast surgeries, but there's also something called an internal bra. If you've never heard of this procedure before, that's probably because it's a little more obscure than the two aforementioned surgeries, but it's still worth looking into just the same.
Internal bras, aka internal splints, offer slightly different benefits than breast augmentations. As you may have inferred from the name alone, the key goal of this procedure is to lift the area. Ahead, two plastic surgeons break down the surgery and share all of the basic information you should know about internal bras.
What Is an Internal Bra?
Another name for internal bras is internal splints. "It means an internal splint or support to keep the breast elevated and the nipple in a forward-looking position," plastic surgeon Norman Rowe, MD, of Rowe Plastic Surgery, tells POPSUGAR.
Internal bras can provide additional support during a breast lift, augmentation, or reduction. The implantation looks a bit like a strapless bra, except it's made from silk, biologic mesh, or scaffold.
"It is generally performed by placing an absorbable material along the bottom of the breast for support," says Dr. Rowe. Plastic surgeon Smita Ramanadham, MD, FACS, adds: "This decreases future sagging of the breast and maintains a perkier shape."
There are a couple of reasons this sling may be necessary. "If the patient's tissue is not strong enough to support a larger implant or there has already been malpositioning of the implant, an internal bra may be used to help support the breast implant and breast tissue to maintain an appropriate shape," says Dr. Ramanadham. "If combined with a breast augmentation or breast lift, however, the bra can help add additional support." Internal bras are not typically needed in cases of fat transfer as "the fat is injected directly into the breast tissue," she says.
How Do Internal Bras Work?
Like with other breast surgeries, you'll be put under general anesthesia for this procedure. "It entails an incision around the areola, down the breast, and underneath the breast," says Dr. Rowe. "The lift is performed and reinforced with the sling."
Internal bras offer different benefits than traditional breast augmentations. "An augmentation and fat transfer does not really offer much support, or at least not as much as an internal splint," Dr. Rowe says. Therefore, if you're satisfied with the fullness and shape of your breasts but looking to lift them up, an internal bra may be best for you.
"Breast skin stretches with weight gain and loss, pregnancies, and breast feeding, and often loses its ability to hold its shape," Dr. Ramanadham says. "[Internal bras] can help maintain the position of the breast implant as well."
You'll get a long-lasting lift out of your internal bra, just as if you're wearing a permanent bra 24/7, but Dr. Rowe stresses that it "does not lead to much increase in cleavage. An implant can only do that."
Internal-Bra Surgery Aftercare
The recovery period is similar to other breast procedures and takes about two weeks. "Your surgeon may limit your activities for four to six weeks," Dr. Ramanadham says. "Final results typically take six months to one year. Some patients may choose to take a couple of days to one week off or longer, depending on the activity required at work." You'll also want to avoid or change the type of bra you wear during the recovery period.
Risks Associated With Internal Bras
The potential side effects of internal bras mirror those of breast implants. "You're placing a foreign material in the breast that can get infected and interfere with mammograms," Dr. Rowe says.
To lower your risk of infection, Dr. Rowe says to "go to a board-certified plastic surgeon. This is a very specialized procedure." Dr. Ramanadham seconds this, adding: "This procedure requires expertise, and there is little room for error. Suturing of the mesh must be precise to avoid puckering the skin or contour irregularities of the inframammary fold (editor's note: the natural lower boundary of the breast) and lower breast."
Your doctor will be able to tell you if this procedure is right for you and answer any follow-up questions you have.
Source: Read Full Article