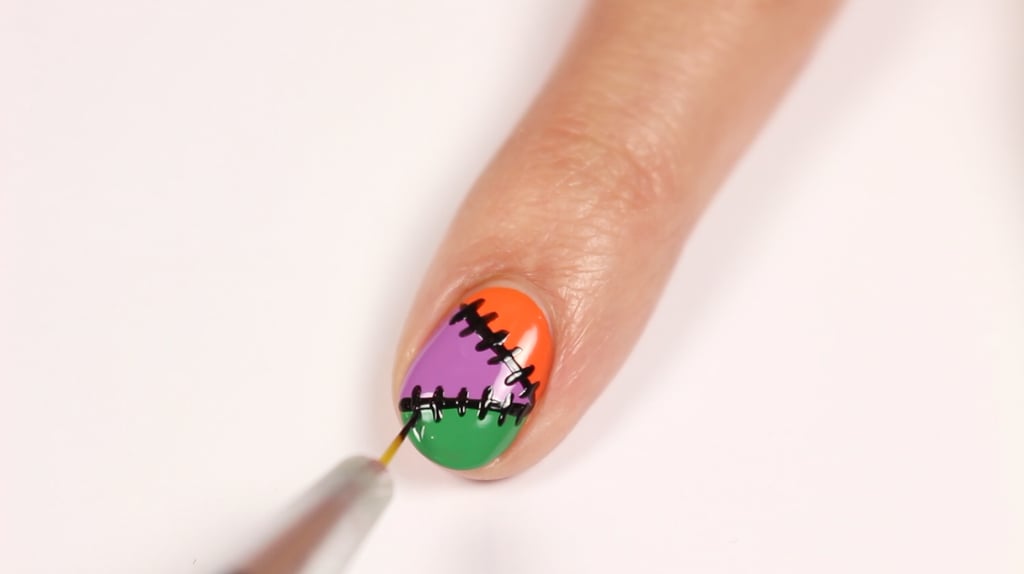 Easy Halloween Nail Art in Just 5 Steps? Sign Us Up For This Stitched Manicure

Maybe you've picked up nail painting these past few months. Maybe you want to dabble in a new kind of Halloween costume this year. Maybe, just maybe, you're looking for something to keep your hands away from your eyes and out of your mouth while watching Fright Night . . . for the first time in forever.
No matter what Mistress of the Dark spirits compelled you to search for "Halloween nail art," there's no better design for the ghoulish holiday than one that's fun and freaky — but easy as hell to do. To help us with the former, we enlisted Hannah Lee, a manicurist and ambassador for Sally Hansen.
"I wanted to do a nail-art look that was sweet but with a tad of spooky, so I took inspiration from creepy scarecrows, Frankenstein, and patchwork designs to put together this stitched Halloween look," she told POPSUGAR.
The end result? This five-step, so-easy-your-grandma-could-do-it manicure. Using the new Sally Hansen x Sour Patch Kids collection, plus a few key nail-art tools, Lee is walking us through the play by play ahead. (Just be forewarned: It's scary good.)
Source: Read Full Article