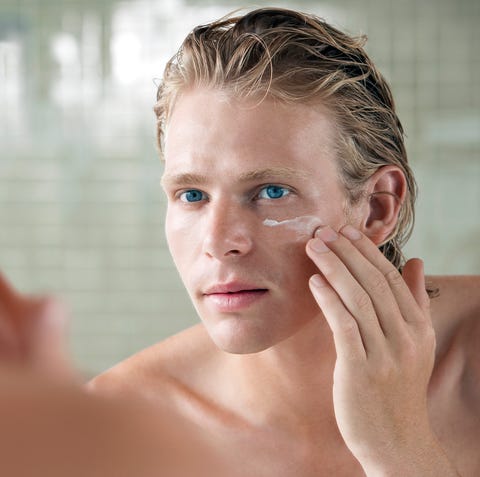 Men experience the exact same skin blemishes, trouble spots and dark circles as women. So guys, why wouldn't you use products that are proven to cover up those problem areas?
For many guys, the thought of dabbling in makeup may conjure images of glossy lipstick, bright eyeshadow and heavy eyeliner, which isn't everybody's look. But according to celebrity hairstylist and men's groomer Kristan Serafino—whose grooming clients include Ryan Reynolds, Shawn Mendes and Jake Gyllenhaal—most men who experiment with some sort of makeup application approach it from a different perspective.
"It's a very unspoken rule that most guys don't want to talk about wearing makeup in general," she says. "When it comes to delving into makeup, it's not so much a decorative element as more of a fixer, instead. There has to be a problem first and then a solution, so they're happy."
If you're waking up to baggy under-eyes or dry, chapped lips, some light makeup touches are a great quick fix—especially if you need to look your best for an important meeting or social event.
The best makeup products for guys starting out are the ones that achieve a "no makeup-makeup" look. Ideally, you'd want to use products the provide the appearance of a smooth complexion and evenly-toned skin without looking like you fell face-first into a department store beauty counter. In fact, plenty of Hollywood leading men regularly use makeup artists to help them look their best for their red carpet or TV appearances.
So what products should a guy keep on hand? Whether your beard needs to be filled in or your eyebrows are thinning out, we've rounded up 5 key items—you don't necessarily need more than that—to help you on your new 'no makeup-makeup' journey.
The Foundation
Whether you have scarring left over from your acne days or some variation in your skin tone, a foundation will even out and smooth your complexion—not to mention make you look more youthful and healthy. Foundations can come in the form of powder, liquid, and cream.
Sandy Flores, a certified makeup artist at Sephora, recommends that guys try a liquid version first, as it's less messy and doesn't require a brush, and you have more control over how much you want to apply. The lightweight formula in this popular moisture foundation from Koh Gen Do visibly blurs pores, fine lines and imperfections for that natural, smooth luster.
If you decide to apply foundation all over, consider using a primer as a base layer. It'll help smooth out your face completely and prevent you from having to touch up your foundation later. A primer is also good for guys with facial hair, so the foundation doesn't sit on the hair follicles. "The Silk Canvas Primer by Tatcha is a good protective primer that keeps makeup out and acts as a barrier for your skin," Flores says.
BUY IT HERE [$70]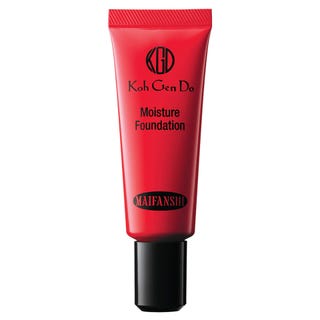 Dermstore
The Concealer

Serafino says that using a concealer is the easiest way to get started using makeup, because you're covering a blemish or lightening a mole. It's more of a corrector; guys with visible aging signs or dark under-eye circles can use it to hide their problem areas. "Get one that doesn't require a brush," she says. "Guys can apply it themselves easily with their ring finger, dab whey they need it, and watch their dark circle, red blemish or scar disappear." It's important to get a concealer that blends with your skin color. If you're not sure what tone to get, Serafino says you can get matched at a Sephora or other beauty counter.
Flores recommends guys start with the NARS Radiant Creamy Concealer, which provides a medium-full coverage but is still lightweight. "Just a little goes a long way," she says.
BUY IT HERE [$30]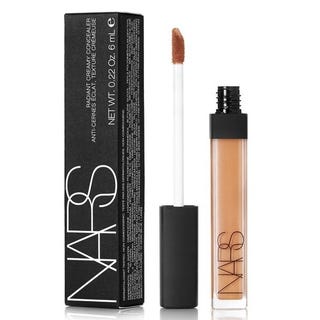 ULTA
The Brow Filler
Everyone's eyebrows are different. While some guys may think the area is best left untouched, adding some thickness, shape and definition can do wonders for framing the entire face and achieving a well-groomed look. Serafino swears by the Color Wow Root Cover Up, an on-the-spot concealing powder that instantly makes your brows look denser and thicker. Best of all, this tool can also be used to fill in your hairline, sideburns, and beard—and camouflage those pesky gray hairs that pop up. Other options include pencils like Boy de Chanel that come with a brush on the other end, as well as Glossier's cult-favorite boy brow with its popular creamy wax formula.
BUY IT HERE [$24]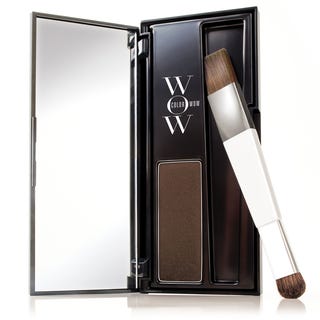 Color Wow
The Bronzer

Achieving that sun-kissed, freshly-tanned look is a popular goal for men and women. Some people resort to spray tans when they need that summery glow, but a quick bronzing gel or powder can also do the trick. Tom Ford, who started his luxury grooming line for men in 2013, developed a bronzing gel because he wanted it for his own personal use. It's a water-based, oil-free gel bronzer that blends naturally onto skin while mimicking the look of absorbing a few minutes of sun.
Flores also recommends the Bobbi Brown Bronzer, which gives a matte look and stays on all day without that orangey appearance. "It really works great on different skin tones. It has five different shades, but golden is my personal favorite," she says. There's also the Becca Sunlit Bronzer if you want a nice glow without being too shimmery.
BUY IT HERE [$41]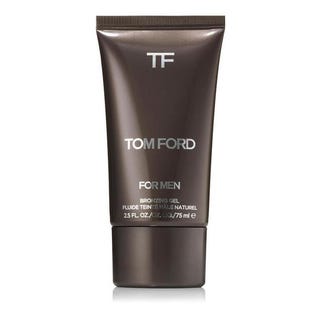 Tom Ford
The Lip Balm
You may not think of lip balm as "makeup," but it's still an important step in putting together your look.
According to Serafino, the best lip balms for guys are those rendered in a matte finish, so you don't actually feel like you have stuff on your lips. (Lip balms with shine can make this feeling more pronounced). In order to get healthy, clear lips, apply some lip balm overnight while you sleep. Then put some on in the morning to keep your lips hydrated and crack-free all day. Chanel's recently-launched men's makeup line includes a lip balm that smooths and hydrates the lips with a transparent, non-shiny formula that nourishes for over 8 hours.
BUY IT HERE [$38]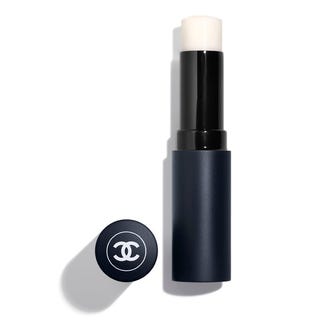 Chanel
Source: Read Full Article