Reserve Bank governor Philip Lowe has declared falling house prices will not "derail" the economy while conceding the drop may be hurting some households.
Delivering his opening comments to the House of Representatives economics committee, the governor said the larger risk facing the economy was soft household consumption, which was being driven by a sharp slowdown in income growth.
Economists are increasingly expecting the Reserve Bank to slice interest rates in the face of a slowdown in the economy.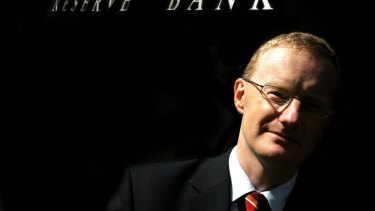 RBA governor Philip Lowe says house prices are correcting and won't derail the economyCredit:Tamara Voninski
But Dr Lowe said the bank's central forecasts for this year – growth around 3 per cent, unemployment at 5 per cent and inflation at 2 per cent – were not "a bad set of numbers".
He said while there had been a correction in the Sydney and Melbourne housing markets, prices there were still up to 70 per cent higher than where they stood a decade ago.
"I understand that these swings in housing prices are difficult for some in our community. We should, though, take some reassurance from the fact that our economy and our financial system are resilient," he said.
"This adjustment in the housing market is not expected to derail the economy."
Dr Lowe said the bigger issue was around income, noting that for "year after year" many people had failed to see a material increase in incomes.
"Since 2016, aggregate household disposable income has grown at an average rate of around 2.75 per cent per year. This is down from an average of 6 per cent over the preceding decade," he said.
"It is plausible that households have responded to this extended period of weaker income growth by progressively downgrading their spending plans. For many people, it has become harder to see the lower growth in income as just a short-term development that can be looked through."
Dr Lowe said there were some positive signs for incomes.
"On this front, we are expecting better news ahead, with growth in disposable income forecast to increase," he said.
"Wages are rising more quickly in almost all industries and in all states than they were a year ago. This is good news and we expect this gradual lift in wages growth to continue.
"Disposable income will also be boosted by the announced tax cuts. Faster income growth will support household spending."
Financial markets have priced in an interest rate cut by the end of the year. This week, Westpac chief economist Bill Evans predicted rates would be cut twice this year.
Dr Lowe said the RBA still expected its policy settings to help the economy, which pointed to higher rates being appropriate "at some point".
A rate cut would require a major deterioration in the economy.
"It is also possible that the economy is softer than we expect and that progress towards our goals is limited," he said.
"If there were to be a sustained increase in the unemployment rate and a lack of further progress towards the inflation objective, lower interest rates might be appropriate at some point."
Source: Read Full Article