Hello! In case you weren't aware, this was supposed to be Lady Gaga's year for literally everything, including at the Golden Globes. But your girl just got robbed and lost to Glenn Close in the Best Performance by an Actress in a Motion Picture – Drama category, and let's just say Twitter has some THOTS to share.
Some people are pissed, while others decided that this was the appropriate time to make jokes. SMH.
I think I would've liked A Star Is Born more if Glenn Close played Ally.
STYLIST: Deep V's are in.
GLENN: Take it all the way up and put a bow on it. #GoldenGlobes pic.twitter.com/f86itlWG0D
pic.twitter.com/TTxnfldDGt
pic.twitter.com/V1aSyoxiPu
There can be a hundred people in a room, and sometimes one of them is Glenn Close.
Amy Adams and Lady Gaga are going to find the darkest dive bar in East LA tonight. #GoldenGlobes
if Lady Gaga doesn't win the Oscar the academy burns
WHAT?! ARE YOU FUCKING KIDDING ME!! BULLSHIT!! BULLSHIT!! THAT IS THE BIGGEST BULLSHIT I HAVE SEEN IN MY LIFE!! HOW DARE THOSE OLD ASS MEN NOT GIVE @LADYGAGA THE FUCKING GOLDEN GLOBE!! THIS IS THE BIGGEST FUCKERY EVER!! THE #GOLDENGLOBES ARE FUCKING DONE!! IM SO EFFING PISSED!!
Hello I redownloaded twitter just to say that Lady Gaga was robbed and should've won best actress! Okay bye! #GoldenGlobes2019
When Lady Gaga doesn't win Best Actress… #GoldenGlobes pic.twitter.com/wtUGLFLUnA
I did not just waste two hours of my life to watch Lady Gaga get snubbed oh my GOD. pic.twitter.com/HSUS5Joic4
I WAITED 4 HOURS FOR LADY GAGA NOT TO WIN BEST ACTRESS IN A DRAMA?!?! #GoldenGIobes pic.twitter.com/w92IHCNIG9
If you think you're surprised Lady Gaga didn't win, I'll see your shock and raise you a Glenn Close. #GoldenGlobes pic.twitter.com/Lcizl0J7Io
Lady Gaga to the 99 people who didn't believe in her. #GoldenGlobes pic.twitter.com/euyI3qSeF8
Glenn Close stopping by Lady Gaga's table to whisper, "nice try."
Me when lady Gaga didn't win the golden globe 😂😂😂 https://t.co/uKAcZImrdJ
If it makes you feel any better, Lady Gaga did win earlier in the night for Best Original Song, so at least she's going home with a trophy tonight.
The Oscars better make up for this. All I have to say.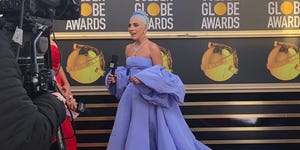 Follow Emma on Instagram.
Source: Read Full Article